BTS member Kim Taehyung, also known as V, attended his first-ever Paris fashion show as a special guest in Celine where he became a highlight of the event together with fellow Korean stars Lisa of BLACKPINK and Park Bo Gum.
Behind the scenes of the fashion show, Filipino blogger Bryanboy got the chance to meet and greet Lisa who appears to know him.
Bryanboy attended the same event and posted a video of his "reunion" with Lisa in his TikTok account with more than 3 million followers.
In the video he uploaded, BLACKPINK's Lisa recognized Bryanboy when she saw him backstage.
Lisa even stood up from her seat just as Bryanboy approached her, then they exchanged a friendly hug.
She then gushed, "Oh my god! How are you?!"
But apart from his familiarity with BLACKPINK's Lisa, some of Bryanboy's followers were curious if he also got the chance to talk to V who was seated with Lisa and other Celine models backstage.
The netizen asked, "Ninang!!! You skipped Taehyung! Do you have photo with V?"
Bryanboy made a separate TikTok video to answer the netizen's question.
Aside from not having an idea who Taehyung was, he appeared to have mispronounced BTS V's real name in such a way that the first syllable sounded like "poop" in Filipino.
"Guys naman hindi ko po kilala yung tae.
"Kayo naman, matagal kong hindi nakita yung kumare kong si Lisa, di ba," Bryanboy remarked.
He continued, "Wag naman po kayong magalit sa 'kin kasi hindi ko naman kilala si V. Saka hindi ko naman kilala si Tae, di ba. Hindi rin nila ako kilala.
"Si Lisa lang po kilala ko. Bawal mainggit."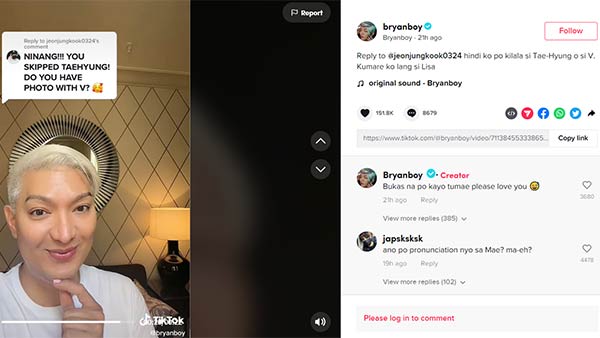 REACTION of v's fans
This drew the ire of V's fans who pointed out that Bryanboy appeared to have deliberately mispronounced V's real name Kim Taehyung.
As expected, BTS fans slammed Bryanboy as "racist" and "disrespectful."
Here are some of the netizens' comments:
"Please help report this Filipino influencer who is purposefully being racist to T**hyung on Tiktok.
"He has millions of followers & posted this video to mock him & intentionally mispronounced his name, making the first syllable to mean poop in Filipino."
"TikTok influencer in the Philippines, which has 3.5 million subscribers, has committed racist acts against T@e to increase the number of views."
"1. Skipping Taehyung and greeting his friend Lisa: absolutely no problem with that 2. Not knowing Taehyung: no problem with that as well 3. Mispronouncing Taehyung's name: understandable BUT 4. Intentionally making fun of someone's name even in the guise of humor: disrespectful."

"U know the meaning of "tae" in the ph but you intentionally call someone that way... and now you're asking if nagtrending ka sa twitter? is this how you should act? and u know na sikat sya kaya mo tinatanong kung trending ka. obviously clout chase"

Some of V's fans also claimed that Bryanboy seemed to be provoking netizens with his remarks about trending on Twitter because of the issue.
As of now, his TikTok video about not knowing who V is has already generated more than 1.8 million views just after 18 hours it was posted.