Article Summary
In this engaging discourse, the PEP.ph team delves into the viral Lea Salonga dressing room situation, discussing different points of view on fame, fan interactions, and the complexities of being a celebrity.
It was the usual disorganized noon hour in our work space.

PEP.ph (Philippine Entertainment Portal) writers were hustling to meet deadlines, editors were figuring out solutions to problematic coverage, news reporters were following through with hot stories, and our video and social-media teams were collating content to get us favorable engagement.
Out of nowhere, our Editor-In-Chief Jo-Ann Maglipon—whom we call "Madam" probably because she's had more editorial experience than any of us— sat at one end of our office table sounding very enthusiastic despite looking totally sleepy just minutes before. She wanted our thoughts on the whole Lea video.
You see, Broadway sensation Lea Salonga recently sparked headlines after someone calling herself a fan shared the video of an encounter with her, raising comments about the star's cold, unwelcoming behavior after the star declined their sudden request for a photo op inside her very dressing room.

With the video going viral, netizens found themselves polarized: Who was right? Was this an invasion of a star's privacy? Was this a diva's way of getting rid of fans? Were the fans too aggressive? Was the star too cold? Who had the right to feel violated? The IDOL or the FANS?
Prompted by this buzz, Madam gathered the PEP Team—we also sometimes like to call ourselves the PEP Squad—and inquired, "What do you think of that video showing Lea with fans in her dressing room on Broadway? Can I get opinions?"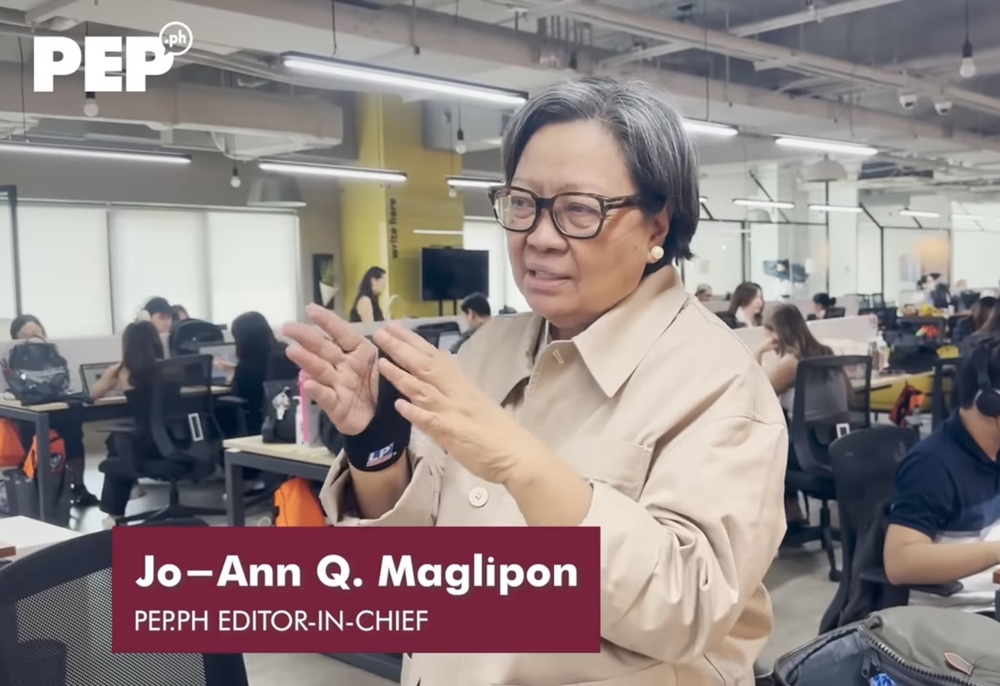 Of course our Video Editor Sir Rommel Llanes was quick to grab his cellphone and record it all.
First to jump in was our YouTube Manager Khym Manalo, who eagerly raised one hand, his gung-ho manner ringing in laughter on a day when gloomy weather filled the skies outside.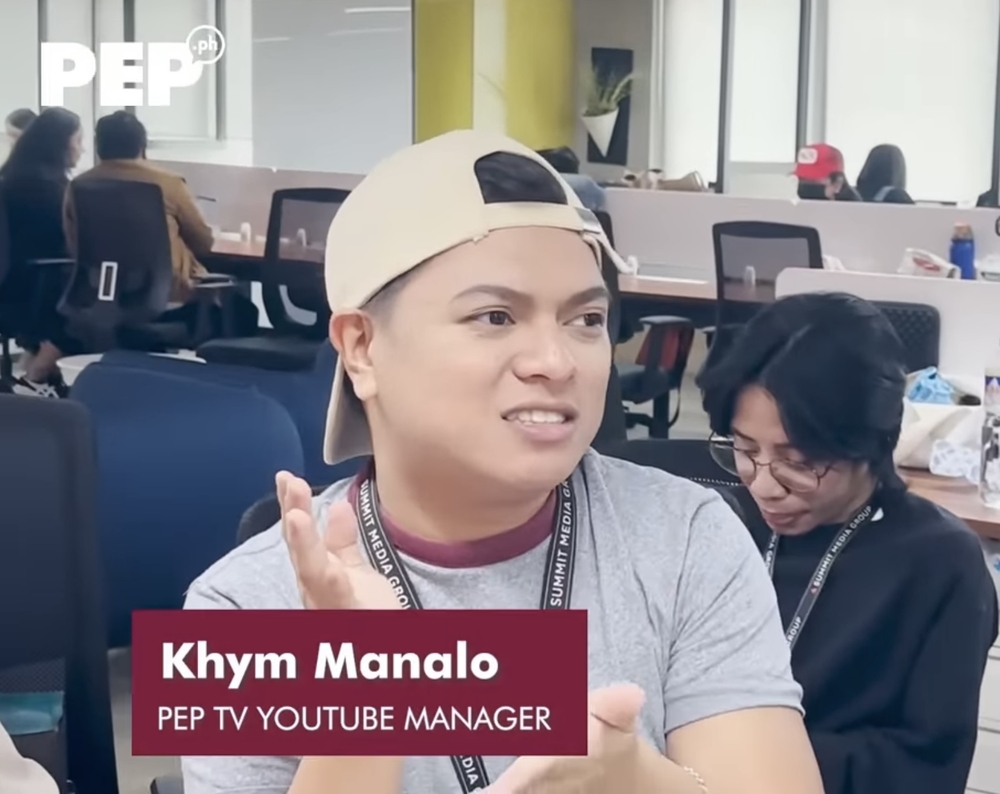 "Ako, Madam, dapat talaga yung audience... dapat hindi talaga siya umabot doon sa dressing room ni Lea. So, irespeto niya yung private space ni Lea. So, for me, yung reaction ni Lea, valid yun."

Senior Lifestyle & Social Media Editor Nikko Tuazon seconded this, before mentioning another common mistake people make: name-dropping.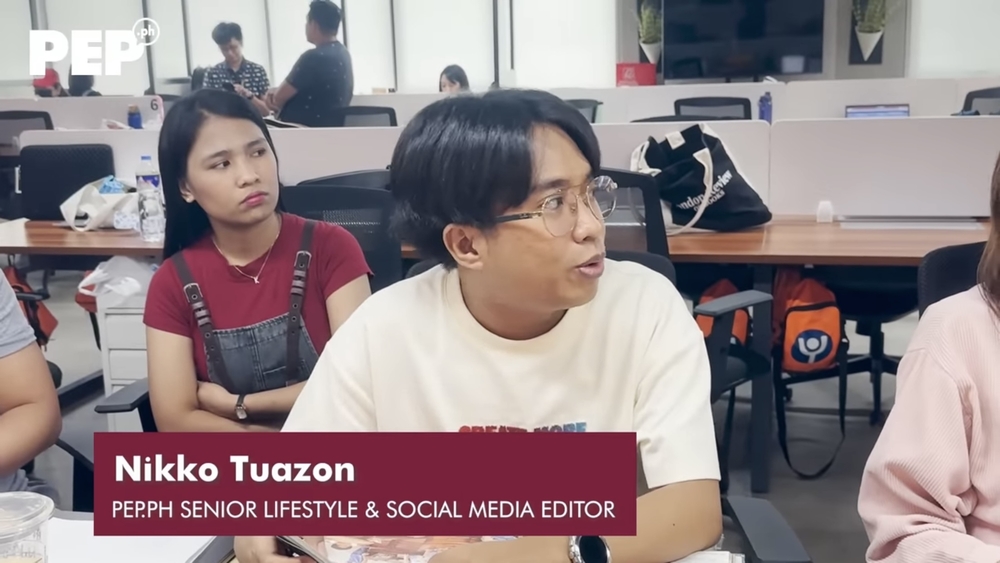 Nikko's comment: "Yung binanggit yung pangalan ni G.Tongi para lang may benefit sila. Laging ginagamit yun ng mga Pinoy, or tao in general na lang—para hindi lang ma-single out mga Filipinos—na mag-name drop ng someone na nasa position para mag-benefit sila. So, yun yung isa sa mga nakita ko rin pong mali."
"And she's not the producer, ha. She's the liaison officer," chimed in our Executive Editor Karen Pagsolingan.
Repeating herself, Ms. Karen said, "G.Tongi is not the producer. She's the liaison officer."
Nikko reminded the others, "Nabanggit kasi sa video na parang, 'Do you know G.Tongi? We are one of the co-producers,' quote ni Ate Girl. So, very wrong naman siya sa part na yon. Dapat nag-wait na lang talaga sila outside."
Madam pointed to Rachelle "Pink" Siazon, Deputy Managing Editor: "What about you, Pink, what do you think?"
Ate Pink started with, "So, definitely po, pag nanonood tayo ng theater, merong protocol, standard protocol na kailangan. May mga ano pa nga yan, reminders, di ba po?

"Kapag bago ka manood: 'huwag makikipagdaldalan,' 'huwag i-on yung phone kapag ongoing yung production,' or 'huwag kang pupunta sa upuan mo kapag nag-start na, ongoing na.'

"So, yung etiquette na yun, kasama yun hanggang dun sa pagkatapos ng program, which is yung kung may meet-and-greet, ina-announce naman nila yan beforehand kung meron talaga."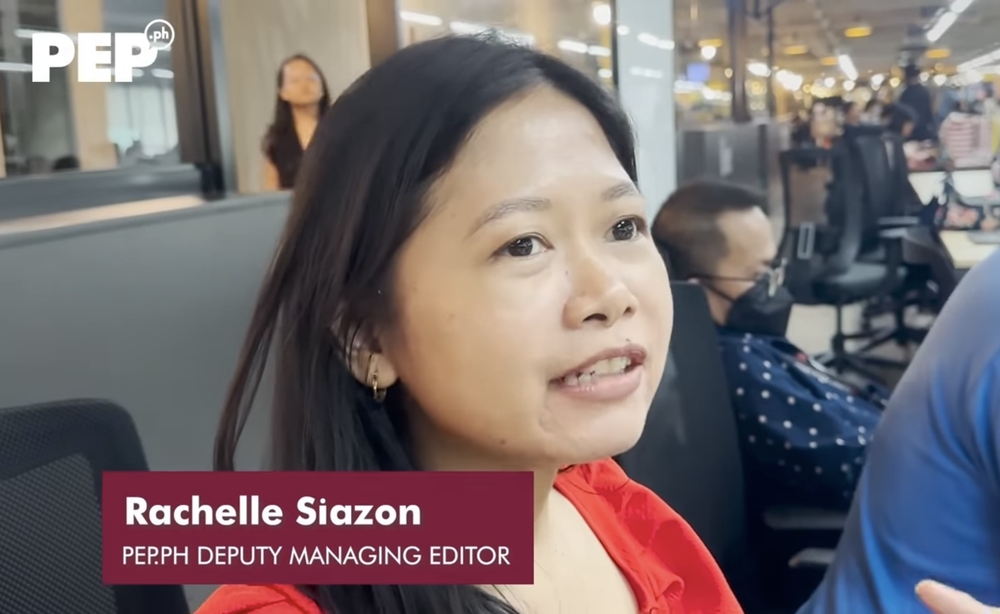 Ate Pink always likes to give a full explanation, so it wasn't surprising that she had more to add: "Pero, for a theater production kasi, very formal event yan e. 'Tas at the same time, kilalanin mo rin yung artista na lalapitan mo. Si Lea, ever since, known na siya in terms of saying na, 'I am very strict with my boundaries.'
"May video pa nga siya before, di ba, yung pagkain, na parang—'I don't take food from strangers kasi turo yun ng mommy ko sa kin.' Okay, good nga yung intention ng pagbigay sa 'yo ng food, pero what if, ano pala yan, gusto kang lasunin or something?
"Kumbaga, may gano'n siya na thinking, mindset. Yung mga kung ano yung tatanggapin niya. So, dun sa naging incident na yun, talaga hindi mo siya puwedeng basta i-approach..."
Ate Pink's conclusion: "Pero, ang kagandahan, nasabi niya in a very firm way without really being disrespectful to the fans."
Nodding in agreement, Associate Editor for Content Erwin Santiago added: "Kailangan natin intindihin kasi, si Lea, yung training niya kasi talaga as a theater artist, gano'n na ka-strict. So, kumbaga, dala-dala niya yun mula nung Repertory [Philippines] days niya hanggang sa umabot sa kung ano yung status niya ngayon.

"Na, parang yung mga tao—tama yung isang nabasa ko e—yung mga tao gumagalaw according to her rules. Kumbaga, na-establish na yung pangalan ni Lea Salonga, e."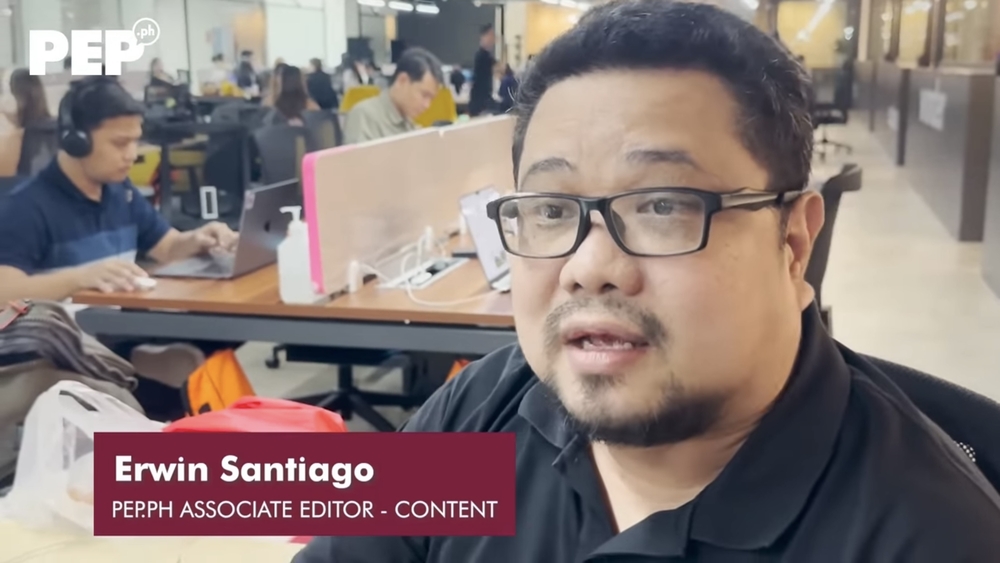 "So, dapat yung mga Pinoy din dapat, huwag natin i-ano na porket Pinay siya... kasi may sinasabi yung nag-upload na 'Nagbayad kami ng mahal, tapos kahit man lang sa papicture sana pinagbiyan kami, tapos Pinoy rin naman kami.'
"Parang hindi yun tama e," Erwin added.
"Yung binayaran mo, yung performance nila. Hindi yun para ma-invade mo yung privacy nila. Hindi yun kasama dun sa binayaran mong mahal. Nagpe-perform si Lea for that, hindi yung for picture-taking, mga ganun-ganun, kasi artist siya. Intindihin natin yun."
News Staffwriter Khryzztine Baylon jumped in as well in her soft voice, sharing something she personally witnessed about theater protocol.
"Unang-una po, yung reaction ko dun, ba't hindi po nagpaalam yung mga fans kung puwede pumasok dun sa dressing room ni Ms. Lea... Dugtungan ko lang po yung sinabi ni ate Pink, naka-try na din po kasi ako sa theater, yung sa PETA po," she recalled.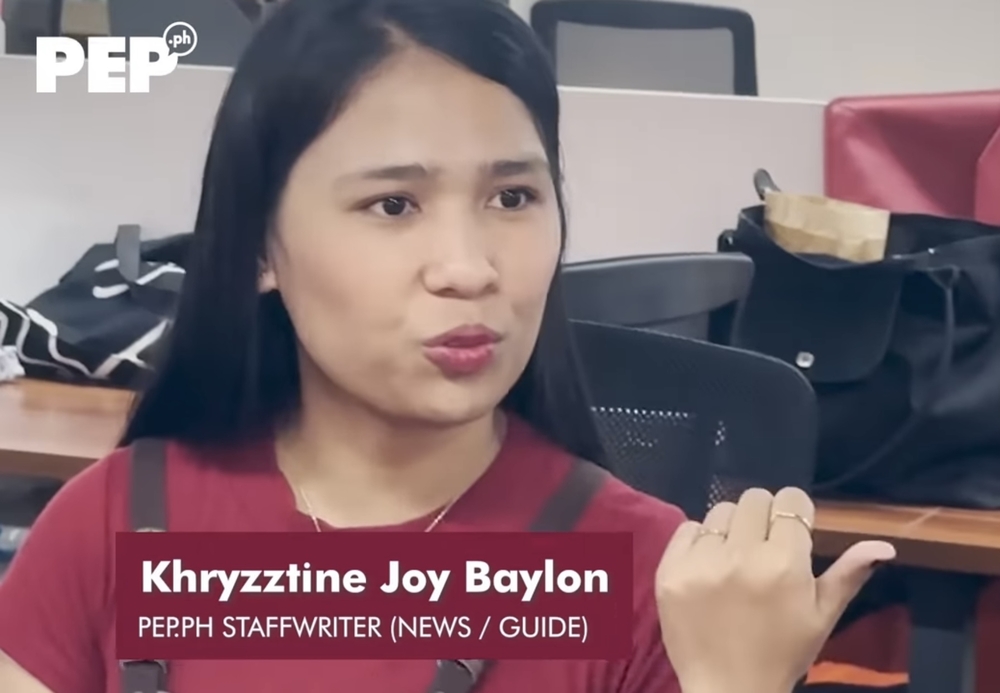 "Tapos po, meron pong mga nangungulit na press na papasukin daw po sila dun sa dressing room ni Alexa [Ilacad] tapos ni KD [Estrada]. Tapos po, hindi po pumayag yung PR na papasukin po yung mga press. Tapos sabi po [ng press] na for interview, ganyan.

"Tapos sabi po nung PR, hindi daw po, kasi privacy daw nga daw po, tapos parang nag-memorize daw po sila. So, bibigyan daw po ng [ibang] time para sa picture-taking, sa interview, ganun po."
Connecting this to Lea, Khryzztine said, "So, yun po, yung kay Lea po, siguro yun lang po yung kulang doon sa mga fans. Na bakit hindi po sila nagtanong kung puwedeng pumasok dun sa dressing room po ni Lea. Tapos nakikita ko naman po doon sa video na polite naman pong nagsabi si Lea na 'next time,' ganyan, yun po."
Ms. Karen, returning to Sir Erwin's earlier point, said, "Unang-una kasi, si Lea became famous not for courting public adulation. Hindi siya nagpa-tweetams, hindi niya pinublicize yung sarili niya. It's really out of her talent kaya siya sumikat and all. She earned it.

"Kumbaga, umakyat siya, naging sikat siya because of how good she is as a singer."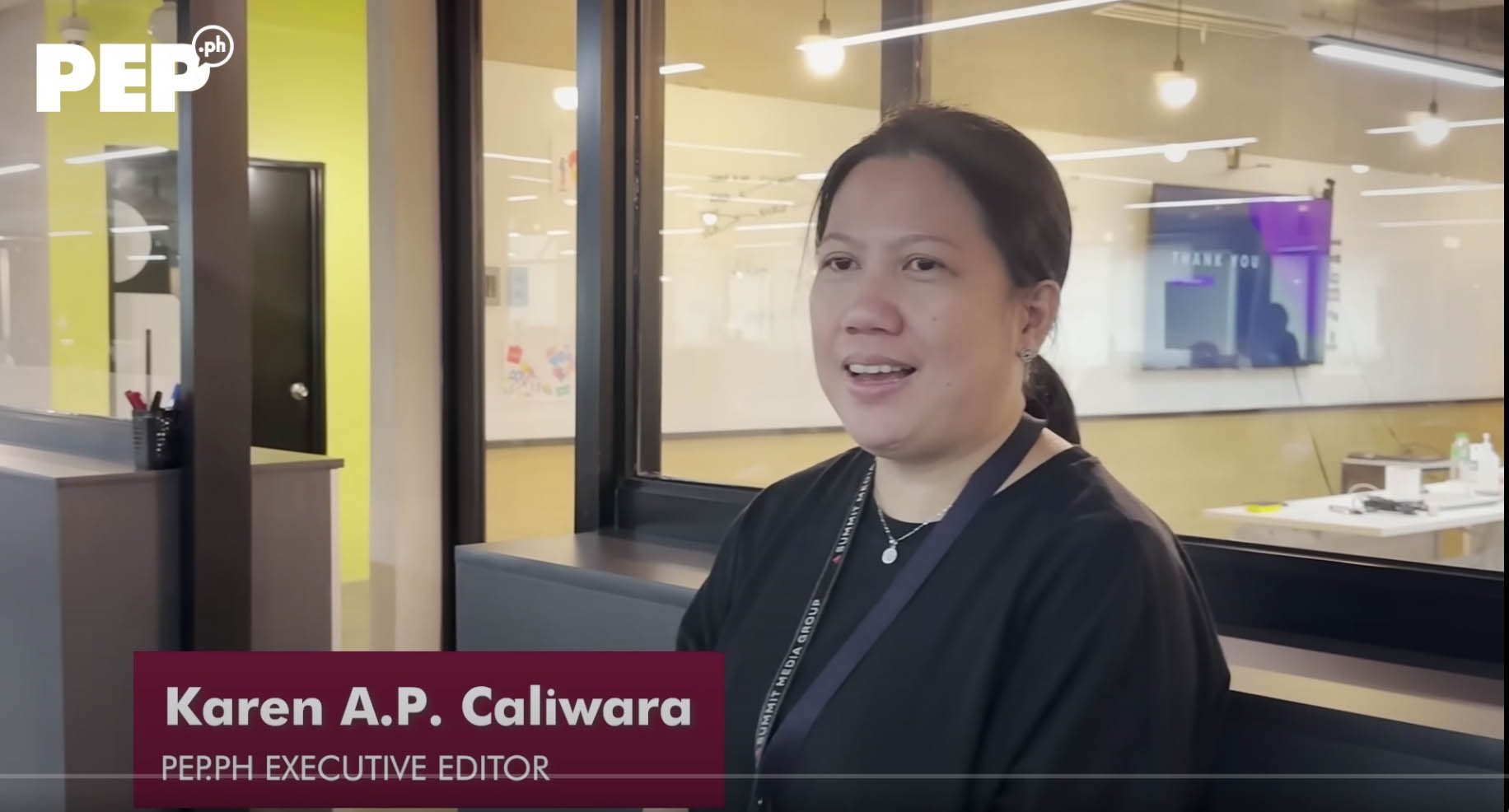 She shared her personal encounter here with an international celeb.

"Pangalawa, I tried kasi going to the backstage ng concert ng aking favorite na si Patti Austin nung pumunta siya rito. We really had to go through the proper channels para mangyari yung dream ko na makapagpa-picture with her. It happened: It was very quick, it was very professional, I had to be escorted by the guard. Hindi yung tipong pagdating ko pa lang ay naka- [placing the camera in front of her]. Hindi, hindi siya ganun. I was actually given the signal to bring out my phone already when it's the right time.
"And then... parang the owner brought a friend who was not part of the list. Kahit ano yun ha, producer na yun ha, kaibigan ng anak ng producer, hindi siya nakapagpa-picture. So, that was how strict [it was]. Dito yun na nangyari sa Solaire. So, yun lang."
She also added: "Pagdating sa entablado, that's fine. Pero, pagdating na doon sa dressing room, kapag tinaas na niya yung paa niya or tinatanggal na niya yung buhok niya—kasi si Patti, nagsusuklay na siya—parang bigay mo na sa kanya yun. Let her breathe, let her relax after the concert. If you're really a fan, you should appreciate that. And to me, I was just grateful that she agreed but I did not actually expect that it would happen."
Before getting to Madam's perspective, I'd like to note that our clips—Bernie Franco, Deputy Editor for Non-celebrity News; Chino, our Social Media Manager; and myself, FK Bravo, Lifestyle Staffwriter—were cut from the video due to an unfortunate tech glitch.

Sir Rommel accidentally pressed something on his cell camera which deleted us three, huhuhu...
So, allow me to say my piece here. Much like my colleagues, I find myself standing with Lea. The reason being that Filipino spectators have grown accustomed to certain practices in the Philippines, like our VIP tickets to concerts, events, and theatrical performances usually including an expected meet-and-greet with the performer.

When I gave my opinion, I might have phrased it like this: "A lot of it has something to do with most Filipinos not being informed of proper Broadway etiquette."
In hindsight, it might've sounded almost condescending, but my intention was really to emphasize the importance of educating Filipinos about abiding by even the smallest of rules. To me, not calling out minor mistakes, like improper etiquette, can add up to a decline in general good behavior.
After listening to everyone's unfiltered viewpoint, Madam dug into her own thoughts. With a serious expression, she said: "If I sum up all that you've said... the point of view that you've taken is that of a media person. [You're] speaking from what you know, from what you've experienced—and you give it to the star.

"The star needs her space, her privacy, her rules. And you understand the fatigue, you understand that it's a performance that she's given just recently, and that she should be allowed to rest.
"...if I were to agree with all of that, I find that I [still] have to say, there was something of a subterfuge in the manner in which the person with the camera was talking. Parang, puri nang puri kay Lea. Medyo nabibigatan ako sa papuri niya.

"Parang masyadong OA, parang, 'Ay, ang ganda-ganda mo. Ang galing mo, talagang nandito kami [for you].' It did not, for a moment there, sound sincere, from my point of view. And true enough, after that, siya yung nag-release ng video because kanya yun, e. So, in other words, hindi ka sinsero, kaya mo nagawa yun e. Kaya mo sinet up."
Then, Madam went on to her main point: "But, this is the other point of view. I'm thinking—Lea could have been more charming, Lea could have been more Pinay, Lea could have been more aware of this "culture" where the idol is practically family. We have a tendency to think of them as belonging to us."

Madam proceeded to say what this "culture" means for the star.

"For the most part, the star benefits from that. That's the reason a star can make money from endorsements. That's the reason a star stays big. That's the reason a star can command salaries and jobs. Not just the endorsements, but just the plain job itself. Because, if nobody noticed you, if you had no fans, you're lucky if a producer fancies you, but otherwise, if there is no buzz—you probably will not remain a star."
Madam then went back to the matter of "charm," this time mentioning stars who exercise this "charm."

"So I think that, if she [Lea] could have had a bit more of the charm of, of say, uh, uh, the wife of,"—Madam, drumming with her arms, was clearly fumbling for the name—"uh, the wife of Matteo?"
As one, the team piped in: "Sarah!"
"Okay, Sarah!" Madam picked up. "Because they're in the same show [The Voice Kids], right? You can tell that the other one has more of a feel of what the public wants. And then, also [the charm] of Regine. Si Regine ano, e, ang ganda ng dating niya sa tao. Maaaring kung pagod na pagod, walang boses at lahat, at kailangan ng privacy, maaaring sabihin din niya yun [wag na muna magpapiktyur]...pero [iba].
"Me, I would have liked Lea to be a little more charming. Maybe it's also the language and the style, because that's how she was taught. Montessori and stuff, correct? ...But when you talk like this, 'No, those are not the rules. Go over there. Yun o, Exit, dun kayo.'

"There's something—maybe she doesn't mean it to be like that— but it sounds almost on the brink of patronizing, almost on the brink of superiority. 'Um, itong mga ito, Ay naku! Kay tanga-tanga, bakit di sumusunod, ang linaw naman ng sinasabi ko.' Ganun yung dating."
Madam turned to Ms. Karen who was raising a hand, "Meron kang dagdag dun?"
Ms. Karen mimicked Lea, "'Dun tayo sa may pinto. Sa loob ha, hindi sa labas.'"

"Exactly," Madam agreed. "She was trying to tell them, 'I will have my picture taken with you. Don't go out.'"

Ms. Karen amped up her defense of Lea, "I tried also to put myself in [Lea's] shoes, 'no? Kung binuksan ko yung pinto and then may fan na may camera [sa mukha ko], I don't know [if I'd like that]."
"No, no, exactly," Madam interrupted, agreeing.
"In fact, all the issues of etiquette...that you all mentioned are fine. In fact, ang ganda nga ng pagkakalatag niyo ng lahat, na-cover niyo [ang points]: Sana naman may konting respeto dun sa artist. Binigyan ka na ng talento niya, bigyan mo naman siya ng konting kaluwagan. Baka gustong itaas ang paa, o gustong mag-relax, hindi spine straight all the time."
But in the end, Madam took the point of view of the common fan.

"But, I'm just saying, from the other point of view, if I were a fan—not counting the one who didn't sound sincere—if I were a fan, a real fan, I'm sure kakabog-kabog yung dibdib mo palapit dun sa star. Hindi ka basta makakalapit dun nang hindi nininiyerbos.

"So, sana, intindihin din nung mga stars na it takes a lot for a non-name fan, a nobody, to go near you. Given that, because you've got more, maybe you should give more. Parang, ikaw magpaluwal kasi ikaw ang ano e, mas meron e."
PEP Lead Correspondent Arniel Serato still thought these particular fans had an evil agenda. "Parang set-up yung ginawa ng fans, di ba? Naka-record na sila."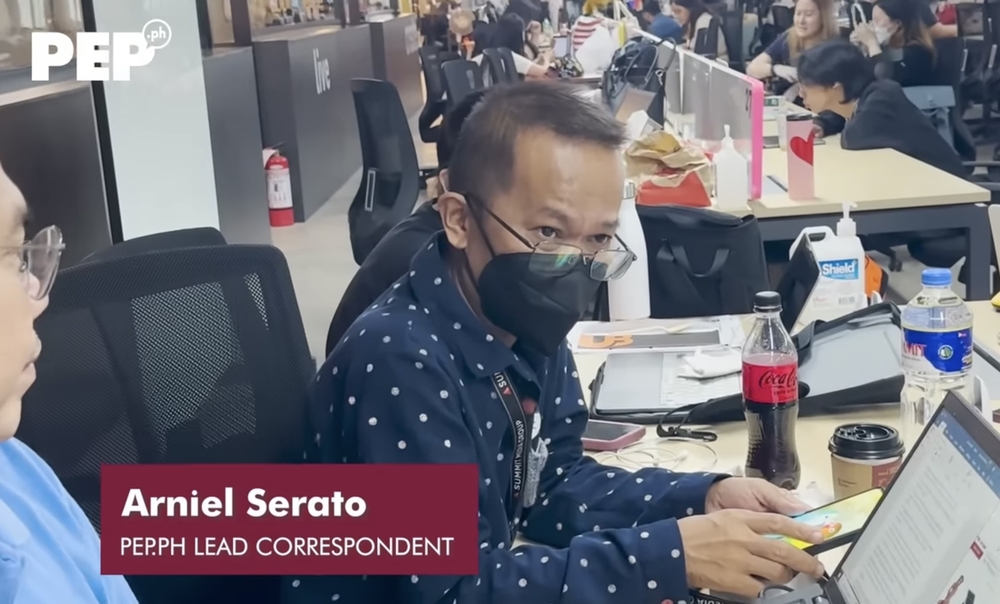 "Hindi, hindi ko masasabing set-up," Madam answered. "No, no, no, that's too hard to assume."
Kuya Arniel insisted, "Kasi bakit nila in-upload, Madam?"
Madam answered, "Puwede mong sabihin kasi na in-upload niya dahil napahiya sila. Napahiya sila, ito yung pagganti.

"Pero yung pagganti na yun shows na hindi masyadong sinsero yung fan na nagte-take. Kung totoo kang fan, hindi mo ipapahiya yung celebrity o yung star... Yeah, Khym?"
Khym came in with, "Tsaka, dugtungan ko lang po yung na-offend. Alam niya na ngang mali siya, bakit pinaglalaban niya pa? Anong point? E, siya na nga yung nag-invade ng privacy nung artista."
Once more, Madam presented another view: "But, see, I don't think they accept it was invasion of privacy. That kind of concept may be alien to most fans because you [the star] allow yourself to earn from being a celebrity. You are what you are—wealthy, famous, you have your houses, you can travel, because you have fans who support you. So, you put yourself out there.

"When you suddenly ask for privacy in a moment when you're not in the mood, it seems almost whimsical to ask for it. So, the fan is confused. 'Ah, gusto ba nilang malapit kami o hindi?' And [there are] those who are really Pinoy na Pinoy na Pinoy, mga Nora Aunor, mga sanay na sanay, Vilma Santos.
"Vilma Santos, bow. Sobrang bait sa fans. At tsaka magalang."
Picking up on the subject of a star's relationship with her fans, Ms. Karen said: "May sistema rin si Lea na medyo meron siyang wall sa fans.

"Kahit na nung sa isang presscon ng Uniqlo, hindi siya yung ano, yung typical na, 'Hi!!!' yung very friendly. Sasabihin niya, 'Yeah, I'm going to have a picture with you, but after my interview.' Pero very professional ang dating.

"Pero, kung si Sarah yun, 'Hello po. Sandali lang po, ha.' Or si Nora, di ba?"
To this, Madam echoed, "That's exactly what I'm saying."
Going back to her point earlier, Madam added, "If you put on a little bit of the charm, let's say, of a Sarah Geronimo, or a Regine Velasquez, or a Sharon Cuneta, it will go over really big.

"But I guess given the background of Lea, a Montessori child, essentially more stage, more theater than movies, less fan-based than she is audience-based, when you think about it, it may not be that easy."
After a thoughtful pause, Madam said, "Yeah, well, I'm sorry it happened. I don't think this fan was really a fan."
Sir Erwin agreed fully, "Tsaka sinabi naman ng ano [fan], nung sa post niya, di ba, una sinabi niya fan siya ni ano, ni Lea, tapos biglang naging Sharonian [Sharon Cuneta fan]. Kinumpara niya pa yung dalawa!"
"Mga Sharonians talaga kami," Nikko quipped.
"Hoy, excuse me, 'no," Ms. Karen, a Sharonian herself, objected to the bad fan being called a Sharonian.
"Basta mga fans ni Sharon e," Kuya Arniel needled all the Sharonians in the team.
Our chat concluded on a light note, with the team playfully suggesting to get that last part about many of them being Sharonians off the record.

Laughing, Madam declared, "Wala nang off the record. Kayo ha, off the record pa kayo."
As one of the newest additions to the team, I couldn't help but marvel at the collective years of industry knowledge my seniors in the workplace possess.Their understanding of the entertainment world allows them to dissect every aspect and angle of a story, and to provide an intimate look into the inner workings of fame and fan dynamics.

And they did it all on the spur of the moment.

Consider me hooked for more!
Check out the full video of the discourse below:
Tama ba ang ginawa ni Lea Salonga nang puntahan siya ng fans sa kanyang dressing room para magpa-picture sa kanya? Ito ang pinag-usapan ng PEP editorial staff sa unang episode ng PEP Outtakes.