Lauren Reid, the younger sister of Careless PH founder James Reid, is absolutely thrilled about her engagement and forthcoming wedding to non-showbiz fiancé Harry Marquis.
Read: Lauren Reid engaged to non-showbiz boyfriend
The 30-year-old actress-model candidly talked about their engagement in an exclusive interview with PEP.ph (Philippine Entertainment Portal) during the grand opening of Sunnies Fun House at Glorietta in Makati City, Friday, September 15, 2023.
When asked how she feels now about her engagement, Lauren told PEP.ph, "I am beyond happy. I'm so excited to marry the love of my life so, yeah, I'm really happy, I'm really excited."
Detailing Harry's proposal, Lauren described it as a charmingly simple yet romantic event that took place in early September 2023 during a leisurely stroll on the Brooklyn Bridge in New York.
"It was at night, we were walking over the Brooklyn Bridge in New York," Lauren recalled.
"He's just like... he told me, 'Hey, babe, I'm gonna ask you to marry me now.'
"I was like, 'Okay?' And he got down on one knee and said the sweetest speech...
"And yeah, I, like, squealed like a little girl because I was so excited and, yeah, I got down on my knee too, and then I... I did get emotional."
However, the surprise didn't stop there. In a unique twist, Lauren also proposed to Harry a few days later.
"We went on a hike a few days later and then I proposed to him, so I got him an engagement ring also.
"I was, like, 'Why should only girls have engagement rings, right?' So we both got one."
LAUREN REID-HARRY MARQUIS LOVE STORY
Lauren and Harry share a love story that spans several years.
They first dated when they were just 15 years old, broke up, and rekindled their relationship at the start of the year.
The Crown Artist Management talent revealed, "We dated when we were 15 years old, so he was my first boyfriend and now he is my last, so yeah...
"We reconnected. Actually, it wasn't that long ago, it was the beginning of this year and it was just, we picked up where we left off, I guess..."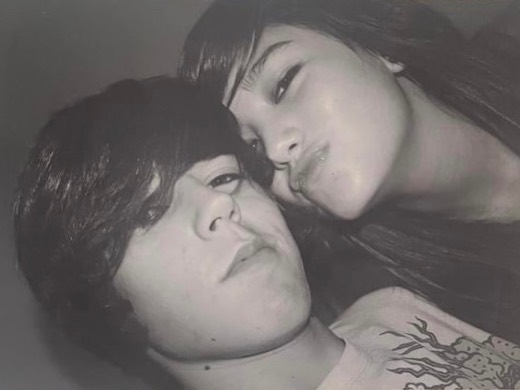 When asked about the qualities she loves most about Harry, Lauren praised his communication skills, sensitivity, and the depth of his love for her.
In her words, "His style, everything. One, he's an amazing communicator.
"When you talk about everything, I want to talk to him about everything.
"I respect him so much. He's really sensitive, caring, loving.
"The way he loves me, he just makes me want to love him the same way.
"He's amazing, you should meet him."
IS LOVE SWEETER THE SECOND TIME AROUND?
Reuniting years after their breakup, Lauren remarked that being with Harry now feels like the perfect moment.
She explained, "There's some familiar things there, but we are totally... we are mature now. It's, like, familiar.
"I know who he is and I think that's why things went quite as... like, fast as they did now, but it doesn't feel fast, not for us. It feels like right [time], so yeah."
While the common opinion is that getting back with an ex is a bad idea, Lauren thinks this doesn't ring true for her and Harry.
She explained, "Well, the circumstances around us, breaking up when we were younger were, like, external, they didn't have anything to do with us.
"The relationship was great, [and] just unfortunately we had to break up so, like, nothing went wrong.
"So when we picked up again now as adults, it was, it went smoothly... It was truly meant to be.
"Yeah, right time, right... like, [moment] in both our lives.
"Yeah, it's just, it just seemed to be... I don't know how to explain it. It just worked out so well for us both."
LAUREN REID ON WEDDING PLANS
Regarding their wedding plans, Lauren revealed that they are still in the discussion phase and nothing has been finalized yet.
She said, "We're having a discussion. Yeah, we have a few things [to discuss]... but nothing decided yet."
Although there are no definite wedding plans yet, Lauren hinted that she might move to New York City or even consider living in her hometown in Australia with her future husband.
She said, "I'll be moving over there [New York City] also, and then, [let's] see what happens. Maybe we'll move to Australia."
READ MORE: