"We are not stereotyping medreps."
This was Derek Ramsay's response to one of his Instagram followers who expressed disappointment about his upcoming movie with Coleen Garcia, Ex With Benefits.
An Instagram user named @mintedgoddess posted this message for Derek: "I completely felt bad and annoyed with the movie."
To which the actor replied, "I appreciate your honesty. I hope you watch the movie so you can see that we are not stereotyping medreps. I have complete respect for the work they do and how hard it is. Tnx."
Derek added, "To all medreps out there I just want to [say] that I have complete respect for the work you do. Alam ko mahirap Ang trabaho nyo at mahirap makuha ang tiwala ng mga doctor. Sana mapanood nyo muna Ang pelikula before assuming na negative Ang image na pinapakita namin sa mga medrep. When an action movie has corrupt politician or policeman we don't assume all politicians and policemen are corrupt. I hope this message will clarify the issue. tnx :) #respectformedreps."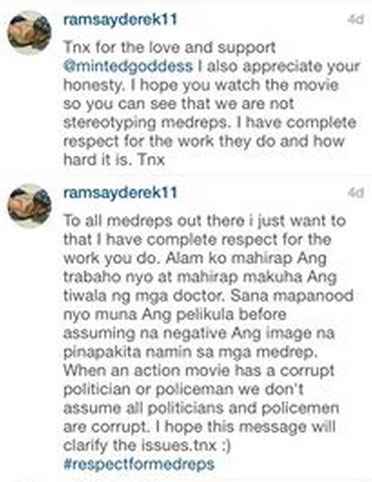 The hashtag used by Derek at the end of his comment stemmed from the appeal of a netizen named Niqui Quisimbing, who requested the Movie and Television Review and Classification Board (MTRCB) to review the trailer of Ex With Benefits.
In her letter, which became viral on Facebook, Quisimbing wrote:
"Pinapangit po nila ang image ng mga Professional Medical Representative at ang professional relationship namin sa doctors. Pangalawa po, wala po sa duty namin ang humiga sa kama para humingi ng benta. Kami po ay nag-undergo ng two months intensive training para pumasa sa pagiging Med Rep sa Pilipinas. Ngayon po kahit ako ay wala na sa Pilipinas, nababalitaan ko po na may PRC (Professional Regulation Commission) exams na mga Med Rep para pumasa."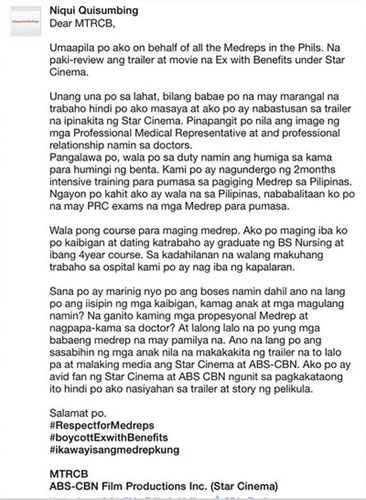 AUTHOR RESPONDS. Meanwhile, Ruth Mendoza (youramnesiagirl), author of the Wattpad novel Ex With Benefits, from which the movie was based, wrote a statement about the issue in her Facebook account.
Addressing the med reps, she said, "I know how you feel about the movie pero gusto ko din pong malaman nyo na hindi po story from my book ang laman ng movie. I know you are confused but yeah they changed the whole story. Hindi po doktor si Adam at hindi din po medrep si Arkisha sa book ko. Yes, sobrang layo po."
Read her full statement here:
Watch trailer here: