Nadia Montenegro has formally filed an "online impersonation" or "computer-related identity theft" complaint at the Philippine National Police's (PNP) Anti-Cybercrime Group earlier today, May 16.
This is with regard to the fake Twitter account created by posers using her name.
The Cybercrime Prevention Act or R.A. 10175 defines "computer-related identity theft" as "the intentional acquisition, use, misuse, transfer, possession, alteration or deletion of identifying information belonging to another, whether natural or juridical, without right."
For the record, her one and only official Twitter account is @OfficialNadiaM, the actress told PEP.ph (Philippine Entertainment Portal) in a phone interview held today, May 16.
"Nung Friday na-suspend na yung account niya ng Twitter @nadsmontenegro.
"'Tapos Saturday morning, gumawa na naman siya 'Nadsie Tabsy' pero same picture, same picture, lahat.
"Inalis lang niya yung @nadsmontenegro, ginawa niyang @nadzmonetenegro pero ganun pa rin," she said.
PEP previously reported Nadia's growing concern over her Twitter poser who has been maligning known personalities, including presumptive President Rodrigo Duterte.
READ: Nadia Montenegro hits fake Twitter account bashing Rodrigo Duterte
NADIA'S AFFIDAVIT. In the complaint-affidavit she submitted to PNP, Nadia related the barrage of "invectives" and "threats" she received from avid supporters of Davao City Mayor Duterte who mistakenly thought that she owns the Twitter account @nadsmontenegro.
It partly read, "That said invectives and threats against me were mere reactions by the supporters of Duterte, believing that I was the one who made the offensive, nasty, and lewd posts against the presidential frontrunner using the twitter account @nadsmontenegro under the handle name Nads Montenegro."
Nadia maintained that it was "physically impossible" for her to post tweets particularly during the period of May 9 to May 12 since she was in a location shoot in Pangasinan for the ABS-CBN series Tubig at Langis.
She had no access to Internet then.
Nadia also alleged in her complaint-affidavit that her Twitter posers have violated the micro-blogging site's rule, which prohibits parody accounts from misleading others into thinking that the account is the official Twitter page of a person or a group.
Parody accounts are not allowed to use the actual name of a person or a group to prevent confusion.
Nadia's complaint-affidavit further read, "That said account is obviously not a fan or parody account but is maliciously made to use my name, picture, and personal circumstances to attack artists and known personalities like Luis Manzano, Manny Pacquiao, Daniel Padilla, Kathryn Bernardo, and, recently, the most persistent presumptive president Rodrigo Duterte to my damage and prejudice."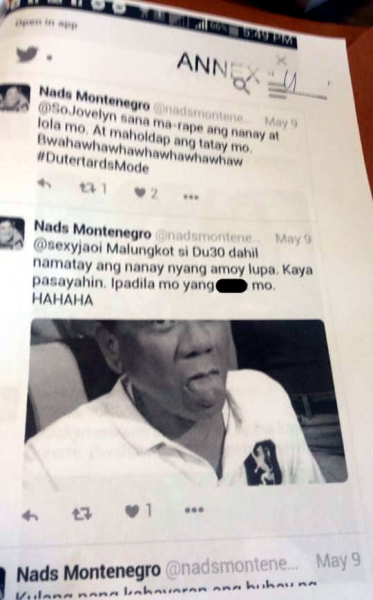 (A screenshot of a tweet by Nadia's poser)
Nadia also said in her complaint-affidavit that she is not capable of spreading malicious posts about Mayor Duterte since she is an "avid Duterte fan."
"That said accounts caused tremendous damages not only to my name and reputation, but to the personalities being lambasted using said accounts.
"As to my part, I gained a lot of haters even threats which endangered my life made by the supporters of the personalities it attacked mistakenly believing that I am the person responsible to those malicious posts."
PENALTY FOR COMPUTER-RELATED OFFENSE. According to the implementing rules and regulations of R.A. 10175, the penalty for computer-related offenses is imprisonment of prison mayor or a fine of at least P200,000.
In a phone interview, Nadia's legal counsel Atty. Marie Glen Abraham-Garduque said that filing a formal complaint against the veteran actress' fake Twitter account users is also a reminder to all the netizens that there is already a law in place and penalty for those who will violate such law.
Atty. Maggie added, "Ito kasi ay punishable by imprisonment of six years and one day hanggang twelve years at saka fine.
"So maganda siguro na ma-mention yun para deterrent to all irresponsible social media users na they will not do this offense again."
Here is the complete copy of Nadia's formal complaint against her Twitter posers, sent to PEP, by Atty. Marie Glen Abraham-Garduque today, May 16: