Filipinos are all ears as President Rodrigo Duterte delivers his first first State of the Nation Address (SONA) today, July 25.
Based on the inaugural ceremonies of the newly-elected President last month, Duterte's first SONA is assumed to be different from the norm.
The multi-awarded Brillante Mendoza, who was tapped by Duterte himself to direct the proceedings, had said the President's first SONA would be "very simple."
As director, Brillante said he wants to make sure that that the live broadcast of the SONA captures the essnce of Rodrigo Duterte as natural leader.
"In case some are wondering why the SONA has a director, I want to make clear that my job is to get the order of the shots and to make sure we capture what kind of president he is," he told reporters during his meeting with Presidential Communications Operations Office secretary Martin Andanar and undersecretary Ramon Cualoping held recently.
Here are some other things we can expect from Duterte's SONA:
1. Speech. Filipinos are looking forward to President Duterte's speech, which will lay down his programs and how he intends to achieve them during his six-year term.
In an interview with Presidential Communications Secretary Andanar, he said President Duterte is set to give a powerful speech before the members of the Congress.
"It'll be a powerful speech that will awaken the patriot in every Filipino. The speech made me cry," Andanar said.
2. Dress Code. The traditional red carpet entrances of members of the Congress and their spouses have been scrapped.
The dress code has been pared down to business attire from Barong Tagalog and Filipiniana.
"We will downplay the event. It will not be a fashion show. We want to center on what the President's message is to our people," incoming Finance Department spokesperson Paola Alvarez told the media in an interview recently.
3. Menu. Some 800 guests will be served Filipino-themed merienda buffet at the Batasang Pambansa after the SONA.
Based on the menu, it seems likely to an early dinner treat.
4. The First Family. According to reports, Duterte's daughter and Davao City Mayor Sarah Duterte-Carpio is attending the SONA but not her younger brother, Baste.
During the inauguration, the grand entrance of Pres. Duterte with his children engendered various memes and became viral on social media.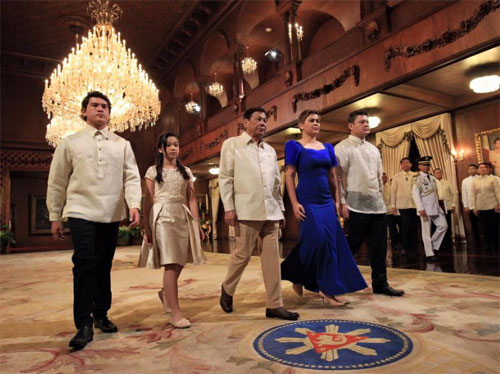 Will Duterte's first SONA garner the same attention?
5. Guests. This is the first day in Congress of Pampanga Representative Gloria Macapagal-Arroyo after the Supreme Court dismissed the plunder case against the former President.
Arroyo was detained at the Veteran's Memorial Medical Center, where she held office for the duration of the last Congress.
On the other hand, the former President Benigno "PNoy" Aquino III had already announced he would be watching President Duterte's first SONA from the comfort of his Times Street home.
"I will watch it on TV to be able to concentrate on its content," said PNoy.