It looks like the woes of the 2016 Metro Manila Film Festival aren't over .
Big local producers are still bristling at not having secured a slot in the lucrative annual all-Pinoy-movies festival.
Already, Regal Entertainment's Lily Yu Monteverde, aka Mother Lily, has said that she was misled by MMFF. In a press conference for her losing entry, Mano Po 7: Chinoy, she said she was led to believe the festival would choose, for its Magic 8, four mainstream and four indie films.
"Pero hindi nila na-fulfill yung usapan," she said.
M-ZET TV Productions Inc.'s Vic Sotto, in a press conference for his own losing entry, Enteng Kabisote 10 and The Abangers, has said the same thing.
Neither Mother Lily nor Vic, however, has said exactly how they came to believe this.
And no one has come forward to explain the origins of the intriguing 4-4 formula.
But with the Magic 8 hewing closer to independent films—the eight were all made by independent producers, except for the Julia Barretto rom-com by Star Cinema—this formula was certainly not honored.
But was there a formula to honor in the first place? Who created this? And is this film ratio a secret among only a select few?
NIGHT OF NOVEMBER 24. The puzzler may just have been solved.
Of recent date, PEP.ph (Philippine Entertainment Portal) has gathered telling information from industry insiders.
The information is that, on the night of November 24, or two days after the press conference of Mano Po 7: Chinoy, the film's producer, Mother Lily, asked for, and got, a meeting with Tim Orbos, 2016 MMFF over-all chairman.
Mother Lily was accompanied to the private meeting by Malou Santos, Star Cinema managing director and producer of Vince & Kath & James, which made it to the Magic 8, and also producer of The Super Parental Guardians, which did not.
Chairman Orbos, for his part, was accompanied by Atty. Rochelle Ona, executive director of MMFF 2016, and members of the 2016 Executive Committee (Execom) Boots Anson-Rodrigo and Jessie Ejercito.
In the meeting, the big statement dropped by the two women producers is: they feel "betrayed" by the festival.
Their statement left the festival bosses, if not stunned, at least perplexed.
MALOU SANTOS. Malou Santos, whose Star Cinema post makes her conceivably the most powerful producer in the country today, laid out her narrative.
She said there had been a clear agreement between the film producers, such as herself and Mother Lily, and the festival organizers—and this agreement was that the eight official festival entries would be divided between four mainstream and four indie movies.
The agreement, she said, was arrived at during a producers' "unity" meeting early this year, when she, director Erik Matti, and producer Dondon Monteverde gathered fellow producers and some lawmakers.
The meeting was called, she noted, in the wake of the MMFF 2015 brouhaha.
BACK STORY. It may be remembered that the brouhaha, which went all the way to Congress, was triggered by complaints from Reality Entertainment investors Dondon Monteverde and Erik Matti, about "vested interests" tainting the 2015 Execom and its winners on awards night.
This came after their entry, the John-Lloyd starrer Honor Thy Father, was disqualified from the Best Film category on awards night at the last minute, in an MMFF procedural lapse, but following MMFF's discovery that the film had earlier been shown, and had earned commercially, in an international film fest. In 2015, MMFF rules disallowed this.
In a March 1 PEP interview with Erik, who also directed Honor Thy Father, he said he organized the producers' first meeting on January 29, 2016, at Reality Entertainment's headquarters in the ABS-CBN Jusmag Bayoran compound.
Present were executive and line producers, among them: Mother Lily, Malou Santos, Vincent del Rosario, Tony Gloria, Jun Lana, Paul Soriano, Roselle Monteverde, Joey Reyes, and, of course, Dondon and Erik. (A souvenir shot of that meeting is seen below.)
In this first meeting, Erik said, they discussed the following: • whether MMFF entries should be finished films or finished scripts • if films previously shown in international film fests can still be shown in MMFF • and how to solve the marketing issues of independent producers.
The IdeaFirst Company's Perci Intalan, who was also present in the January 29 meeting, told PEP in a phone interview yesterday, November 26, that those ideas were indeed raised. And whether or not those ideas influenced the reconstituted 2016 MMFF, some of them found their way into this year's December film fest.
Perci noted that, this 2016, the film festival's rules are clearer. A constant criticism of the MMFF, he pointed out, has been that its rules not only changed every year, they were often general and thus left room for ambiguity and interpretation.
Eventually, the 2016 MMFF, would make these decisions: • Submissions had to be finished scripts. • Films can have been shown in international film festivals, but their Philippine premiere must be in the MMFF. • Films have also been allowed special screenings prior to their MMFF premiere—such as previews for the press, critics, and sponsors—but these screenings had to be limited to two. • And, to address the marketing issues of smaller producers, the MMFF would produce an omnibus trailer containing all eight entries, and the trailer would be shown on television, at no cost to the producer.
In the March 1 interview with Erik, the director also mentioned that they had an even more significant second producers' meeting, this time organized by Malou Santos.
Although he could no longer recall the exact date of this second meeting, Erik said that their group had already met twice by March 1, 2016.
READ: FILM PRODUCERS MEET, MMFF 2015 Special Report Chapter 5G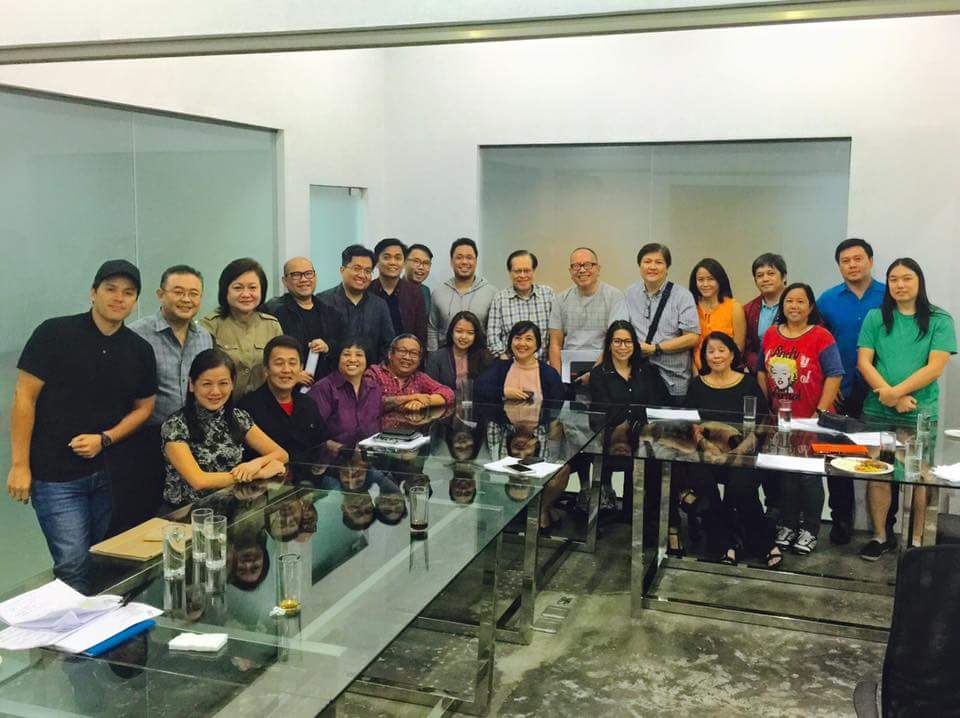 PRODUCERS' UNITY MEETING. It was in the second "unity" meeting among film producers, organized by Malou Santos, that at least two lawmakers were invited.
These were Laguna First District Representative Dan Fernandez and Quezon City Second District Representative Winston Castelo.
Apparently, it was in this meeting, when the lawmakers were present, that the producers proposed the division of the festival's final eight slots into four mainstream and four indie films.
Representative Castelo, it may be recalled, chaired the House of Representatives' Metro Manila Development (MMD) committee, which looked into the MMFF 2015 brouhaha, following a complaint filed by Representative Fernandez.
Fernandez, who was in the cast of the MMFF 2015 entry Honor Thy Father, notably fielded the most number of questions, laced with harsh commentary, which he directed at resource speakers from the MMFF 2015 Execom.
This was, to say the least, inappropriate. After all, Fernandez was an interested party. The movie he appeared in had been disqualified, and the brouhaha that ensued from that was the very subject being investigated by the committee, in which he played the cross-examiner's role.
Be that as it may, he was allowed to dominate the meetings.
Morever, Fernandez and Castelo were both part of the House Metro Manila Development committee's Technical Working Group, which was in charge of creating new guidelines for MMFF 2016.
READ: MMFF 2016 Special Report Chapter 6D: Reality Entertainment's links to MMFF Execom
THE MMFF SIDE. Fast-forward to the recent November 24 meeting between, on one side, Malou Santos and Mother Lily, and on the other, Orbos, Boots, and Jessie.
The loaded word "betrayed" was dropped in the room.
As far as the the bosses of Regal Entertainment and Star Cinema were concerned, the MMFF betrayed them by breaking a clear agreement.
To this, Chairman Orbos responded that what was clear to him was that he was not in any of the producers' "unity" meetings. Nor, to his knowledge, were any of the Execom members under him.
Therefore, he said, the 2016 Executive Committee could not have entered into any agreement of any kind with the producers.
In fact, he added, he and his Executive Committee made the call to give their Selection Committee free reign to decide the composition of the Magic 8.
That is, once the Selection Committee, headed by Professor Nicanor Tiongson, chose the final entries, the Execom did not vet the choices.
Speaking for the MMFF 2016 Execom members, he told Malou and Mother Lily: "Wala silang alam sa ganyang agreement. Lahat sila hindi alam ito."
Execom members Boots Anson-Rodrigo, Jesse Ejercito, and Atty. Rochelle Ona, who were present, seconded him.
JOEY REYES, PERCI INTALAN. Jose Javier Reyes, scriptwriter/director/line producer, who attended the first producers' meeting on January 29, said he knew nothing about any agreement because he was not invited to the second producers' meeting.
"The second producers' meeting was limited to the big timers, not the line producers," said Joey, in an exchange of Facebook messages with PEP yesterday, November 26.
What Joey recalled of the first producers' meeting is that the group made clear that the next film festival, in this case MMFF 2016, "will not discriminate mainstream from indie or vice versa."
The director added, "That was why the franchise entries were still submitted. The deal was that quality will be the basis with commercial viability, kaya nga may criteria na audience appeal."
And he was sure that there was no clear-cut agreement about MMFF 2016's final entries being composed of four mainstream and four indie films.
"There was no deal about the half-half system. No such thing.
"Pero sinabi nila ... na hindi discriminated ang commercial movies, at elementong malaki ang audience appeal.
"What I remember, yung half-half, gusto sana ng commercial producers. I think ganoon."
In a separate interview also yesterday, November 26, Perci Intalan—co-producer of the Paolo-Ballesteros starrer Die Beautiful, which made it to MMFF's Magic 8, aside from winning the Audience Award at the recent Tokyo International Film Festival—also says the same thing.
"I heard someone raise the four-four thing.
"But no one was really saying they were totally against it nor was anyone saying they absolute liked the four-four.
"And in the new MMFF rules, there was no four-four."
Of the "agreement" made by the Executive Committee with local producers, Perci said, "To be fair to MMFF, at the time there was no 2016 Execom yet."
The first producers' meeting was held on January 29. It would be another two-and-a-half months before the present Execom members would be introduced to the public.
Introducing them at the press conference of April 14 was MMFF Over-all Chairman Emerson Carlos.
Like Joey Reyes, Perci Intalan was not invited to the second producers' meeting.
BOOTS & THE 4-4 FORMULA. For her part, Execom member and festival spokesperson Boots Anson-Rodrigo has categorically denied any knowledge of the 4-4 agreement.
Boots sent this official statement to PEP on November 24:
"The night of the selection, Roselle Monteverde already texted me saying they were made to believe that there would be four indies and four mainstream films among the eight final entries.

"I told her I did not know of any such arrangement, and that once policies, criteria, and guidelines were discussed with the Selection Committee at the onset in June, the Execom insulated itself from the committee and its proceedings, until the results were announced on November 18.

"We gave full trust and respect to the Selection Committee's prowess and integrity."
READ: Mother Lily on new MMFF system: "I think the Filipino movie industry will fall."
MMFF 2016 GOVERNING RULES. This year, the big requirement has been the submission of a "finished film"—as against the "finished script" of past festivals.
This is based on MMFF 2016's rules and regulations, a copy of which PEP obtained in June 2016.
Eight entries will be chosen for the full-length feature films, with a total running time not exceeding 150 minutes.
The new criteria for selecting entries, based on a notification letter from MMFF 2016, are the following:
40 percent for story, audience appeal, over-all impact (Mainly, the story.)
40 percent for cinematic attributes or technical excellence (Mainly, its cinematic quality.)
10 percent for global appeal (A catch-all, this mainly refers to the film's universality, or its ability to be appreciated by audiences local and international.)
10 percent Filipino sensibility (How it reflects The Pinoy Experience.)
Note that nothing in MMFF 2016's rules and regulations (in hard copy) says that four mainstream films and four indie films will be chosen during the screening process.
THE SELECTION COMMITTEE. In coming up with the Magic 8, the Selection Committee said that it simply followed a ready set of criteria for screening entries.
These criteria, the Selection Committee added, were handed to its eight members by the Executive Committee.
Selection Committee Chairman Nicanor Tiongson announced that "artistic excellence" and "equal representation" of film genres were the primary and secondary considerations respectively, in their choice of the winning eight.
Tiongson elaborated, "Yung factor na kung commercial ba yung pelikula, hindi yoon ang unang concern—ang first concern was quality.
"Kahit sabihin na baka other films might have made more money, that was not a concern.
"Even the genres, secondary consideration. Ang una ay quality.
"Dun sa evaluation, pumasa ka ba? Kung hindi ka pumasa dun, kahit ano pa yung genre mo, hindi na namin kinonsider.
"In other words, importante yung quality, and then secondarily, yung representation of different genres."
Selection Committee Vice-Chair Joy Belmonte, for her part, said that no categorization—about entries falling under mainstream or indie—was ever considered in their selection process.
"Sinusundan lang namin ang criteria na binigay sa amin ng MMFF Execom. Talagang sinusundan lang namin.
"Ang No.1 criteria namin ay ang artistic excellence, quality, and technical excellence as well."
According to Selection Committee member Krip Yuson, this was about raising the bar for moviegoers' film choices: "There's really no bias of any sort, individually or collectively, against any particular genre.
"Commercial films can also be done with excellent quality, creatively, and technically."
Eventually, the Selection Committee's eight members would be introduced to the public at the grand launch of MMFF 2016 at the SMX Convention Center on June 28.
Note: The Selection Committee only selects the Magic 8. A different jury with a different set of members judges the movies for the MMFF 2016 Awards Night on January 8.
The festival runs for 14 days, from December 25 to January 7.
RANKING OF MMFF 2016 ENTRIES. In the unreported, private November 24 meeting between the two producers and the four MMFF officials, another issue was brought up.
Mother Lily questioned the inclusion in the Magic 8 of Sunday Beauty Queen, a film documentary.
Her position was that film documentaries were not included in the festival, only feature films were.
But Mother Lily was told that the rules of MMFF 2016 clearly state that film documentaries are included.
Mother Lily, speculate industry insiders, may have thought that Mano Po 7 could clinch the eighth slot if film documentaries, a genre not often seen in commercial film festivals like the MMFF, were excluded.
But, again according to insider information, Sunday Beauty Queen actually ranked higher than eight out of eight—it took either the fourth or fifth slot, based on the scores of the Selection Committee.
Among the top three entries selected—in no particular order of rank—were: Die Beautiful (The IdeaFirst Company and Octobertrain Films); Babae Sa Septic Tank Part 2: Forever is Not Enough (Quantum Films, Buchi Boy Film Productions, Tuko Film Productions, and MJM Production); and Vince & Kath & James (Star Cinema).
The fourth and fifth slots were said to be a close fight between Sunday Beauty Queen (Tuko Film Productions, Buchi Boy Entertainment, and Artikulo Uno Productions) and Seklusyon (Reality Entertainment).
The bottom three entries selected—in no particular order of rank—were Kabisera (Firestarters Production and Silver Story Production), Saving Sally (Rocketsheep Studios), and Oro (Feliz Film Productions).
According to the same insider sources, Mano Po 7 (Regal Films) ranked a far ninth, while Kita Kita (Spring Films) ranked tenth.
COMMITTEE MUM ON RANKING. The Selection Committee itself never revealed how it ranked all 27 film entries.
At the press announcement of the Magic 8 last November 18, the committee simply maintained that its decision was "unanimous."
It also said that, surprisingly, the eight members did not have a hard time scoring the eight highest-ranking entries among the 27 films they screened.
Selection Committee Chairman Tiongson explained, "Nung pinili namin yung Top 8, actually yung susunod, ang baba na, malayo na.
"Talagang mahirap gawin yung, halimbawa, fish out something from here kasi it might be more commercial and so on.
"Hindi, e, kasi it would not be fair at all, dahil ang layo noong susunod na pelikula.
"In other words, marami naman na pumasa sa 75 percent [passing score].
"Pero yung walo na yun ang talagang stand out."
READ: MMFF officials deny snubbing big franchise films in MMFF 2016 screening process
NO REPEAT OF THIS NEXT YEAR. In the end, nothing was really resolved in that private November 24 meeting between Mother Lily and Malou Santos and Tim Orbos and his officials.
What's clear, however, is that the big producers are still reeling from the exclusion of their films in the high-grossing December film festival.
Every year, the biggest movie companies have always secured a slot in the Magic 8; in other years, they've even secured two or even four slots in the same festival.
And the tills always rang for them.
Chances are, they will not remember MMFF 2016 fondly.
Indeed, according to PEP's insider source, the two powerful female producers left the chairman and his executive committee members with this message:
"Dapat hindi na maulit ito next year."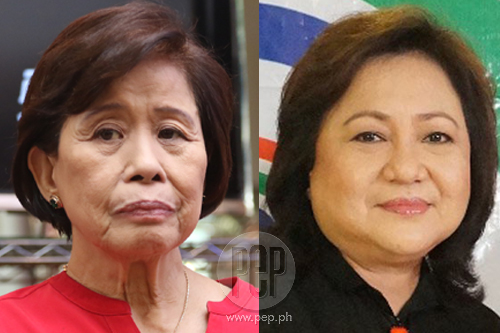 Mother Lily Monteverde of Regal Films and Malou Santos of Star Cinema
VICE GANDA AND COCO MARTIN WAIVE TALENT FEE. Recently, PEP has also received information that stars Vice Ganda and Coco Martin, with their director Joyce Bernal, invested big-time in this year's film festival.
They waived their talent fees for Star Cinema's The Super Parental Guardians, and used these to invest in their movie.
The move is a smart one, given the festival's two-week run, when only Filipino movies are shown in Metro Manila theaters, which earn nearly half of the total nationwide gross during festival season.
But the best-laid plans can go awry.
On November 18, when MMFF 2016 announced the Magic 8, Vice Ganda's starrer was not among the eight.
He weathered the blow on live TV. In It's Showtime, which he co-hosts, he played on his disappointment, melodramatically acting like he was about to cry but never getting there, as he said, bravely:
"Wala kaming film fest ni Vhong [Navarro]. See you next year sa sinehan. Good luck sa mga movies!"
Vhong's movie, Mang Kepweng Returns, was also among the 27 aspiring entries; it also did not make the cut.
READ: Vice Ganda, Vhong Navarro saddened by exclusion in MMFF 2016
On November 21, Vice Ganda announced that The Super Parental Guardians, where he and Coco Martin are the lead stars, has landed a November 30 playdate instead.
"Panata ko na yun, na dapat taon-taon, lagi kaming may regalo sa pamilyang Pilipino, lalung-lalo na sa mga bata," Vice Ganda said in an interview on TV Patrol.
The next day, November 22, Star Cinema held a grand presscon for the movie—an occasion when stars usually come up with all sorts of personal revelations to get a better press—but the two Kapamilya stars studiously made no mention of the talent fees they had waived.
TV primetime king Coco said only that he was rendered speechless when he learned that their movie did not make it to MMFF 2016's official entries.
READ: Coco Martin speechless after exclusion of movie in MMFF 2016
Vice Ganda's avid fans have expressed disappointment over kids not having a Vice Ganda movie to look forward to during Christmas.
His not-so-avid fans say, however, that Vice Ganda's brand of comedy is not exactly General Patronage rating, which allows kids below 13 years old to watch.
Vice Ganda's humor, they add, is filled with sexual innuendos and overtones that younger audiences need tight adult supervision for.
But it's hard to fight success: Vice Ganda's Beauty and the Bestie, his MMFF 2015 movie, became the festival's top-grossing film. Star Cinema put its box-office take, as of January 7, 2016, at P428 million.
That means the movie contributed nearly half of MMFF 2015's roughly P1.2 billion gross.
Indeed, it's safe to say that whole Pinoy families troop to movie houses showing Vice Ganda's movies as a treat for their young and old during the Yuletide season.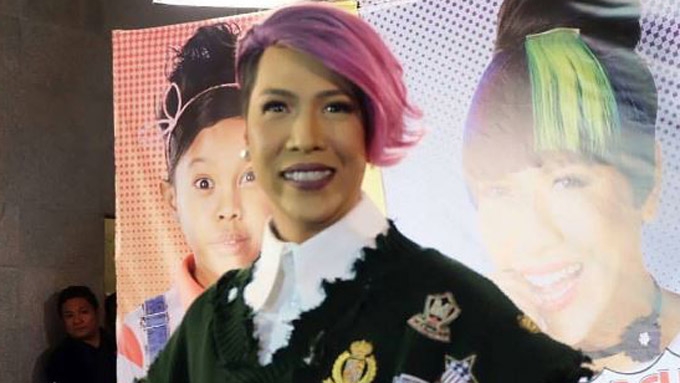 Vice Ganda at the November 22 grand presscon of The Super Parental Guardians
GIVE THIS YEAR'S BATCH A CHANCE. Selection Committee Chairman Tiongson has asked the movie-going public to give this year's film entries a chance.
"Yun nga ang problema natin. Kailangan mag-discover tayo ng ibang mga klase ng pelikula dahil nagbubukas 'yan ng pananaw natin sa maraming bahay," he said during MMFF 2016's November 18 press conference.
"Ang faith ko is that audiences now are no longer bakya. Wala na yun. We already have an audience that is media-savvy.
"It is wrong to dumb them down. Huwag natin gawin yun kasi condescending yun.
"Dapat, if we know what quality is, then let's try it. So, yung options nila ay mas mataas naman."
WILL 2016 EARN BIG FOR MMFF? The history of MMFF is that every year it increases its revenue.
Official MMFF records say that, in 2009, the December festival earned P439,550,979.30 million. By 2015, its official gross earnings had become P1,018,106,945.90 billion.
Now industry observers worry about 2016. Some speculate that this year's total nationwide gross, if lucky, may only reach P500 million—or the gross take of one Vice Ganda movie.
The fallout of this is that there will be another brouhaha, this time over the selection of the Magic 8. Big producers will say, "We told you so! We have to give people comedies and superheroes and horror! Indies have no place on Christmas!" Even cinema owners will start complaining.
It doesn't help that the opening day of the festival, December 25, falls on a Sunday. The next day is a working day. And that the last day of the festival, January 7, falls on a Saturday.
READ: PEP FORUM: Will MMFF 2016 still generate big box-office returns?
But Professor Tiongson remains optimistic.
"As to the commercial viability of the choices, we firmly believe that with proper marketing, these choices will be commercial successes, kasi may laman sila.
"So, in other words, nagsisimula ka with a good product.
"And gusto sana naming himukin ang manoonood nating Pilipino na tangkilin natin yung ganitong klaseng pelikula—hindi lang nakakaaliw, nagmumulat pa ng manonood."
Mae Paner, another member of the Selection Committee, adds, "Mahirap din naman nating i-second guess ang ating audience, na itong pelikulang napili ay hindi nila magugustuhan kasi ang gusto nila ito [traditional big-budgeted films].
"I believe that the quality of the films this year are far better than the ones in the previous years.
"I may be wrong, but I really think we can even perform better this year."
If Nick and Mae are wrong, then the woes of MMFF 2016 are truly far from over. They can only find solace in the very history of the festival: brouhaha always follows this one.