Sebastian Duterte confirmed that he broke up with Ellen Adarna December last year.

In his Facebook post last night, February 2, Sebastian reposted a news report about his dad President Rodrigo Duterte complaining that the former has been spending most of his time with "Adarna."

Sebastian clarified, however, that his dad forgot that he already told about his breakup with Ellen more than a month ago.

His caption, written in English and Visayan, read: "I really love being his favorite son. Chill lang Pa, bulag na mi december pa, nakalimot lang ka giingnan taka atong new year naa ta sa balay ni mama."
(I really love being his favorite son. Chill lang Pa, break na kami December pa. Nakalimutan mo lang na sinabihan kita nung new year nung nandun tayo sa bahay ni mama)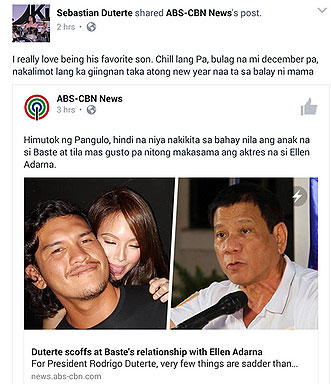 OVERLAPPING RELATIONSHIP? But what surprised Sebastian's Facebook followers was his revelation that he is still in a relationship with non-showbiz girlfriend Kate Necesario.

Responding to a netizen's question, the president's 29-year-old son wrote, "Wala mi nagbulag ni kate. Mao tong isa wa kaantos sige kog awayun maong ning batsi ko ato niya"
(Hindi kami nag-break ni Kate, kaya yung isa hindi nakatiis lagi ako inaaway kaya lumayo ako sa kanya)

Baste gave this statement four days after Ellen's confirmation that she and the presidential son were in a relationship for eight months; until he broke up with her via text last December.
Read: Ellen Adarna says Baste Duterte broke up with her via text
Kate, for her part, kept her silence on social media even when Ellen and Baste's kissing photo went viral November last year.
Read: Baste Duterte-Ellen Adarna kissing photo leaked on Instagram

It was interesting to note that in July 2016, Kate accompanied Baste at his father Rodrigo Duterte's inauguration as duly-elected president.

Kate even posted on Instagram a photo with Baste with a caption that says: "Queens don't compete with hoes, #drawing."

Baste and Kate have a two-year-old son.