Kylie Padilla openly addressed comments of bashers accusing her of having dark armpits.
This was in relation to Kylie's recent Instagram photo which exposed her right underarm.
With matching crying in laughter emojis, a netizen with the handle name @jovie1732 wrote: "Ang itim ng kili kili."

There were other netizens who also criticized the 24-year-old actress' underarms.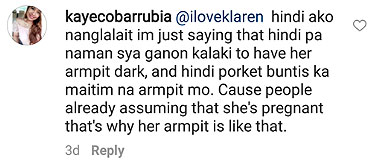 Kylie clarified, however, that it was just a case of taking a photo without proper lighting or filter.
She elaborated, "There is such a thing as lighting in pictures and filters.
"Maybe I just dont care if my underarm looks dark in this picture.
"There are more important things in life.
"I posted this picture knowing that my armpits look dark but I was highlighting the OPPO phone.
"Maybe if you thought twice you would get that but I guess thats the first thing you saw.
"Says more about you than me."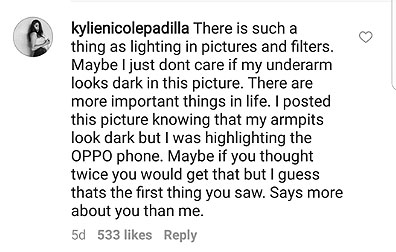 At any rate, Kylie said that there is nothing wrong with having dark underarms.
"Kahit pa maitim ibig sabihin ba nun pangit na?
"Be proud of your skin color! diba guys? Self love para spread love."

Meanwhile, Kylie's fans argued with bashers, reiterating that it was just a photo with bad lighting.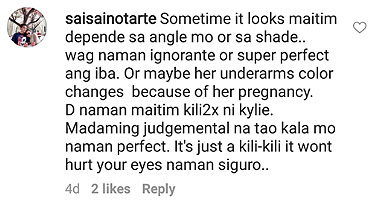 Other netizens also noted that Kylie's armpits may have darkened because of her pregnancy.