Dani Barretto slammed bashers claiming her mother Marjorie Barretto did not come around during her stay at the emergency room of St. Luke's Medical Center in Bonifacio Global City, Taguig City.
In her Twitter post yesterday, July 5, Dani wrote, "I didn't wanna say anything anymore, but it's my mom that's being bashed already, and I will not accept that."
Dani also clarified that her mom was not physically there, but they were exchanging text messages to each other "the whole time."
She elaborated, "I was updating her with my test results and whatever was going on.
"I didn't need for her to be there physically cause it wasn't anything serious naman.
"I didn't want her to go all the way to St. Lukes fort from Quezon City during the rush hour for something that I can fix on my own."
The 23-year-old fashion blogger also asked netizens to stop putting malice to her mother's absence at the hospital.
"I don't think it's fair that people are bashing her for that.
"I'm old enough to handle things on my own especially minor things like this. I actually just went to the ER for proper medications and immediate relief.
"It wasn't for a serious matter.
"If it was, my mom would have been there for me like she always has for the past 23 years of my life.
"So please stop the hate and the nonsense assumptions."
Dani gave this statement amid rumors that she and Marjorie are not on good terms of late.
It was also noted that her best friend Bela Padilla was the one who came to see Dani at the hospital.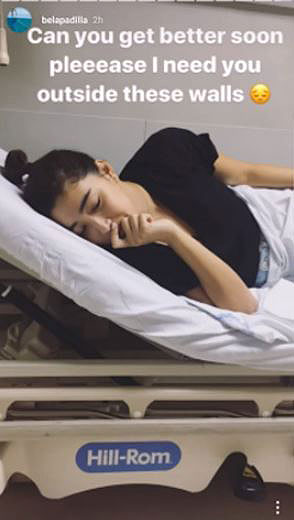 Whereas Marjorie was there when her younger daughter Julia Barretto got confined to the hospital a few weeks ago.
Dani is Marjorie's daughter with former boyfriend Kier Legaspi, while Julia is the former actress' eldest daughter with ex-husband Dennis Padilla.
Explaining her best friend Bela's presence at the hospital, Dani said, "It just so happened that Bela was in the area that's why she stayed with me and whenever naman one of us is sick, we always go to each other."
In her Twitter post last June 17, Dani also addressed netizens' queries whether she and her sister Julia have a falling out.
Dani clarified, "No, there is no rift between Julia and I. Let's please not jump into conclusions. Thank you"