China Cojuangco cries foul over a netizen's post mocking her mom Margarita "Tingting" Cojuangco.

The TV host-actress commented on an Instagram post showing, side by side, photos of her mom, Heart Evangelista, and a character in the animation movie Avatar.
Instagram user @manrich143 wrote on the caption: "Sinabi ko bang aatend ako kasama ang mga Avatar Team??? No way!!! Di bale nang Hindi matawag na Sosyal! Uyy!!"
Based on the post's thread, the user appears to be a fan of Marian Rivera.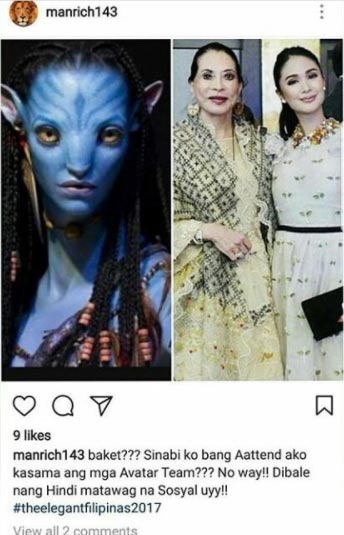 China commented, "It is quite unfair to be bashing my mother this way.
"This is her personal list of Elegant Filipinas who not only is beautiful and elegant but has a mission to help others.
"Sa nagtatanong kay Dawn Zulueta, she was already part of the list the previous year.
"This is the 3rd year already of The Elegant Filipina.
"The aim of my mom is to acknowledge the efforts that these women bring. Hindi lahat panay showbiz.
"Maybe in the future list, Marian would be a part of it once she gets to express her advocacy."
Tingting's photo was taken during the unveiling of "TingTing's List: The Elegant Filipina," at Diamond Hotel Manila's grand ballroom last Wednesday, September 13.
The event honored 10 Filipinas with various advocacies, including actress-painter and animal lover Heart Evangelista, who posted her photo with Tingting on her Instagram account.
It also aimed to raise funds for The Center of Possibilities Foundation Inc, which helps people with special needs.
China also wrote, "There is no reason to bash anyone nor my mother the most for having her list of women that she admired for their own success.
"You are very welcome to create your own list and make it an event if you wish diba?"
She ended her message with a plea, "Stop being a troll and respect others.
"Walang ginagawa ang nanay ko sayo to deserve this kind of post. God bless."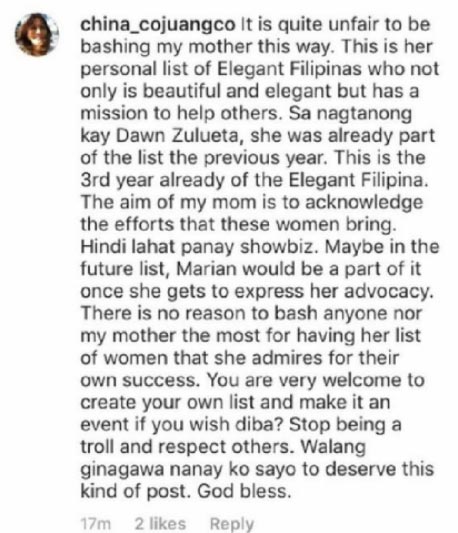 The Instagram user posted the screenshot of China's comment and tagged her on its caption, which read, "@china_cojuangco there are always two sides to every story.
"If you arent willing or able to listen to both sides dont be so quick to make judgements on what you havent heard.
"And pls Stop dragging Marian.. Just continue being elegant."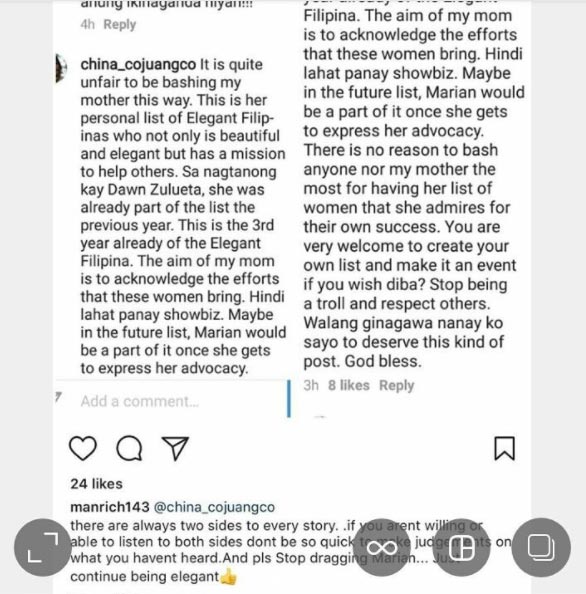 The netizen's Instagram profile has been set to private following China's comment.
But some netizens were quick to take screenshots of the posts related to this issue.
UPDATE. The netizen claims to have already spoken to China about the issue.
The Instagram user also tagged PEP.ph in a new post and said: "Wag nang gamitin si China ha!!! We all know na si @iamhearte ang TINITIRA KO DITO ang pagkakamali ko lang Hindi ko na Crop si Madam!"
China's father is former Congressman Peping Cojuangco, controversial Philippine Sports Commission chair, and younger brother of the late President Cory Aquino.