Sharon Cuneta finally got an invitation to the Star Magic Ball.
However, the Megastar will not attend because the invitation came a little too late.
This year's Star Magic Ball will be held at the Makati Shangri-La, on Saturday, September 30—a day before the 51-year-old actress-singer received her invitation.
In her Facebook post today, September 29, Sharon thanked Star Magic for the invitation.
But the Megastar said that she and husband Senator Kiko Pangilinan will not be able make it because she has "nothing spectacular to wear."
"Thank you, Star Magic, for delivering our invitation to your Ball one day before.
"Wish we could go, but I have nothing spectacular to wear and there obviously isn't any more time. Sayang."
Sharon also wondered why "no one" in her home network knows her home address, which seems to be the reason for the late invitation.
"I also had my assistant relay to Winnie yesterday when she asked for our address address (no one in ABS knows my address?) that it was okay and unnecessary kasi nga wala nang oras."
She added, "It's really alright, my 'kapamilya,' though you didn't have to send it na at the last minute."
The Voice coach closed her post with these words: "Have fun at your Ball, everyone. God bless.
"(Oh and Happy 25th Anniversary. I've been with ABS-CBN for 25 years as well (29 sana if I didn't leave in 2011)."
The Star Magic Ball is an the annual event of the talent arm of ABS-CBN, where more than 300 stars are under contract.
This much-anticipated event of Star Magic is also graced by some of the biggest stars in the showbiz industry.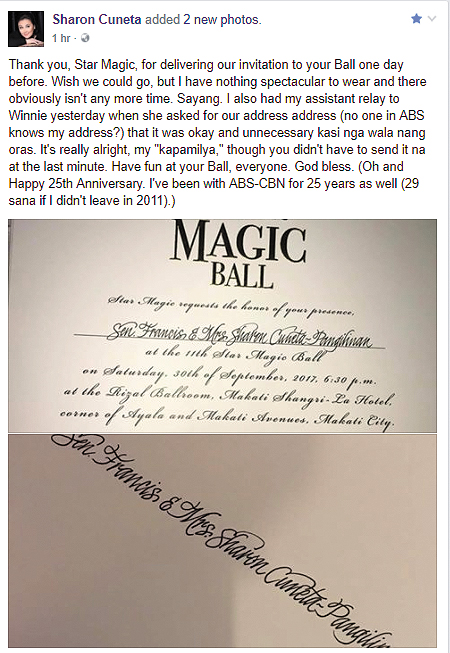 NOT INVITED? Last night, September 28, Sharon revealed to her Facebook friends that she is not invited to this year's Star Magic Ball.
She said: "Must be thrilling for everyone invited to the Star Magic Ball as they prepare for it this year! (My invite probably got lost on its way to me? That's okay. Too late to have a gown made now even if it arrives. :-)) Have fun everyone!"
At the comments section, Concert King Martin Nievera invited Sharon to be his date at the Ball.
But the Megastar politely declined his offer.
She said: "Oh it's okay shweetert. I have lots of important things to attend to.
"My babies and I can always hold our own Cinderella ball anywhere we choose to.
"Would've loved to be your 'date' but no time to have a gown made na. It's okay.
"P.S. Don't you worry, I know my worth."