In years past, we've seen how powerful a communication tool social media has become.
Celebrities know this.
Just look at how they've used social networking sites to reach out to fans with news and photographs of their travels, OOTDs, new movie projects, and latest teleserye contracts.
With social media, celebs can become their own best publicists.
The other side of this is, of course, that celebs can also become their own worst publicists.
Just look at how celebrities have used the same social networking sites to get back at people, within and out of showbiz, who have vexed them.
The year 2017 certainly had its fill of celebrities taking their squabbles to social media. Here are some of those word wars.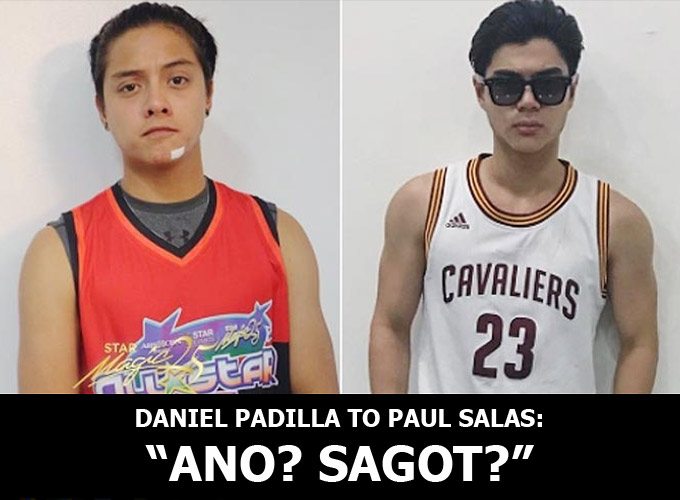 "ANO? SAGOT." Paul Salas might have not expected his trash talking about the Daniel Padilla-JC de Vera basketball scuffle would reach, much less vex, young superstar Daniel Padilla.
In a Facebook post, Paul was caught saying, "Mag laro ka nalang ng lazer tag kung ayaw mo masaktan sa basketball."
Although the 19-year-old actor did not mention the name of the La Luna Sangre lead actor, fans were quick to share a screenshot of Paul's comment on social media.
Some went as far as tagging Daniel and his basketball friends.
Moments later, Paul Salas and Daniel Padilla became trending topics on Twitter.
Apparently, Daniel and his friends challenged Paul and his friends to a basketball match.
When it took a while for Paul to reply, Daniel tweeted, "PaulAndreSalas ano? Sagot."
The words "Ano? Sagot." immediately became a trending topic.
Paul picked up the challenge, but in the end the game did not push through.
Observers say that Star Magic, which manages the two stars, might have stepped in.
In any case, Paul eventually owned up to the trash talking.
As Paul explained it in an interview, "Sana naman maintindihan nila kasi, di ba, sa lalaki kasi, pagdating sa basketball, trash talk-an 'yan, e."
All is now well between these Star Magic artists.
But maybe we can expect a friendly match in the Star Magic All-Star Basketball next year?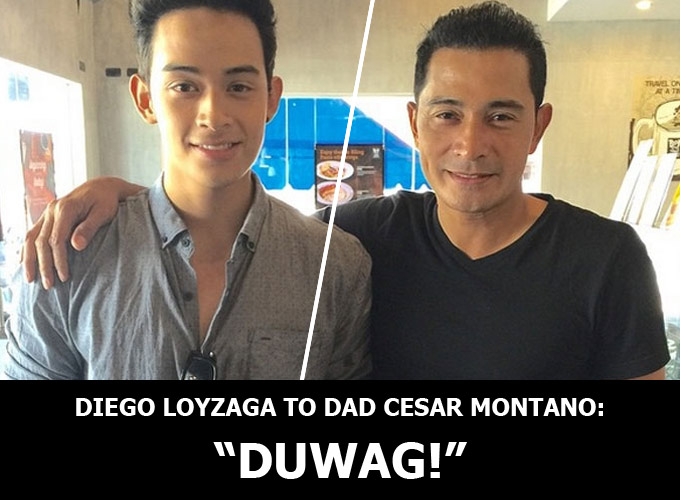 "DUWAG." Many were stunned when Diego Loyzaga, the usually timid son of Cesar Montano, posted an eerily angry message addressed to his father.
Diego ranted against Cesar who had publicly said Diego should undergo drug tests.
"Ramdam na ramdam ko nga na mahal mo ko," he wrote sarcastically in the caption of his Instagram post.
He ended his caption with these strong words: "SANA LUMABAS LAHAT NG BAHO MO. Duwag!! - written by the UNGRATEFUL child who was denied by his father. So really am i an UNGRATEFUL "CHILD" because to him i am not even his child."
Diego is Cesar's son by actress-singer Teresa Loyzaga.
For his part, the action-star-turned-Duterte-appointee admitted he was hurt by his son's outburst.
He also insisted in an interview that Diego had a problem and that he was only concerned about him.
"There is nothing I want more than to be able to help him," Cesar said.
"I only want what's best for him. He is my son. I love him."
A couple of months later, a calmer Diego said the issue between him and his dad was a thing of the past.
It's not clear, however, if father and son have patched things up.
But, in a previous interview, the Pusong Ligaw actor said he had already moved out of his father's place.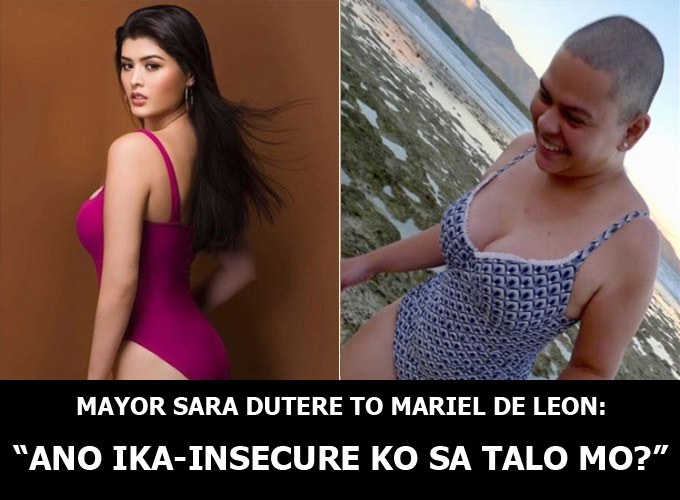 "SCHADENFREUDE MOMENT." Mariel de Leon was a constant topic on social media this year.
This is not just because she won the Binibining Pilipinas International crown or that she represented the country in the Miss International pageant.
The beautiful and smart daughter of Christopher de Leon and Sandy Andolong also caught the ire of some netizens following her feisty political opinions.
Especially so when she gave Presidential Communications Operations Office (PCOO) assistant secretary Mocha Uson a thumbs down and described the government's war on drugs as "bloody Philippines."
In fairness to Mariel, she was, at the same time, hailed by other netizens for her courage to speak out.
In a more recent word war, this time between Mariel and Davao City Mayor Sara Duterte-Carpio, netizens picked up new words for their vocabulary.
When Mariel failed to win the Miss International crown, Mayor Sarah crowed that it was a "schadenfreude moment" for her because of a not-so-nice personal incident involving the 23-year-old Pinay beauty queen.
Mariel denied that the incident ever happened, saying in effect that Mayor Sarah was overreading.
Mariel added on Twitter, "If another person's 'misfortune' pleases you, it just shows how insecure and unhappy you are with your life."
Mariel mentioned no names, but Mayor Sarah reacted to it, saying: "Nase-schadenfreude kami, insecure at unhappy agad, di ba pwedeng tulad mo ay sadyang maldita lang talaga kami. Ano ika-insecure sa talo mo?"
Mariel no longer reacted to Mayor Sarah's post.
She simply said, "There's nothing more to say. Except that I wish her well, and God bless us all."
Observers noted that it may have been smart for Mariel not to. After all, they said, Mayor Sarah is the favorite child of the sitting president, who happens to revel in the image of a Strongman.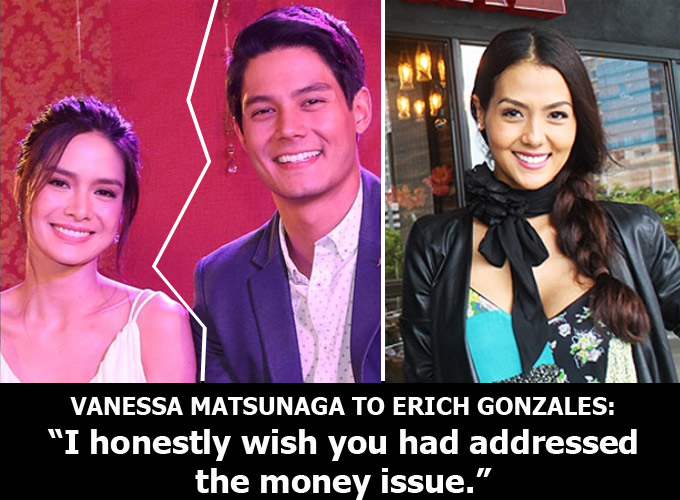 MONEY ISSUE. When Erich Gonzales and Daniel Matsunaga broke up early this year, a sometime money issue resurfaced.
Some fans got more interested because Erich made a big show of evading questions in an interview.
The Siargao star said, "Tungkol sa pera, ayoko nang magdetalye tungkol diyan, because just like what I've said, I just want to move on."
Daniel and his family, meantime, chose to keep quiet about any issue arising from the actor's breakup with Erich.
The network buzz is that Star Magic, the talent management arm of ABS-CBN, asked the two stars to drop their public squabbling—or else.
However, it seemed like Daniel's sister Vanessa could not contain her feelings.
Posting a lengthy comment on Erich's Instagram, Vanessa said, "I can't keep quiet when people are invading my privacy asking us if we owe you money and saying that you were spending on us!"
Vanessa added, "I know you answered the interview with the best of your ability, I understand it's hard to answer too many questions but I honestly wish you had addressed the money issue."
Her wish was understandable. After all, it was the Matsunagas who were being accused of bilking Erich, and Erich could have cleared the air if she had simply addressed it with a no-they-did-not.
But to Vanessa's post, the Siargao actress did not reply. Instead, she turned off the comments section on her Instagram post.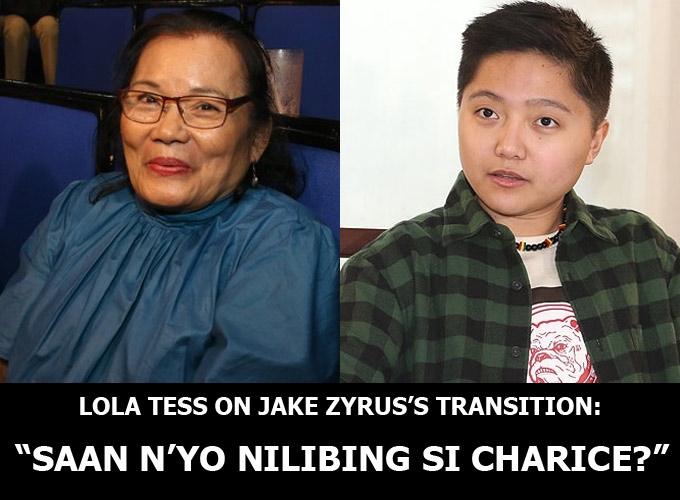 "HINDI KA TOMBOY." Four years after he came out as a lesbian, Jake Zyrus came out again this year to tell the public that he is a transgender man and that he is dropping his old name Charice Pempengco.
His maternal grandmother, Thess Pineda, strongly disapproved of Jake's revelation.
In fact, to netizens applauding Jake's decision to come out as a transman, a furious Lola Thess said on Facebook: "Lahat ng tumawag na Jake dyan, hahanapin ko kayo at ituro nya sa akin kung saan nyo nilibing si Charice."
She also told her 25-year-old singer grandchild: "Hindi ka tomboy dahil akong nagpalaki sayo."
Lola Thess had a change of heart about Jake when she saw his life story featured on Maalaala Mo Kaya.
In that story, Jake narrated how long she had suffered under the lie that she was a girl and how she had been forced by her mother to perform in music contests.
Lola Thess finally said on Facebook: "KAYA BAYAAN NYO SI CHARICE NA ISIGAW AT PALAYAIN NYA ANG NASA PUSOT DAMDAMIN NYA. HWAG HUSGAHAN ANG MMK NYA."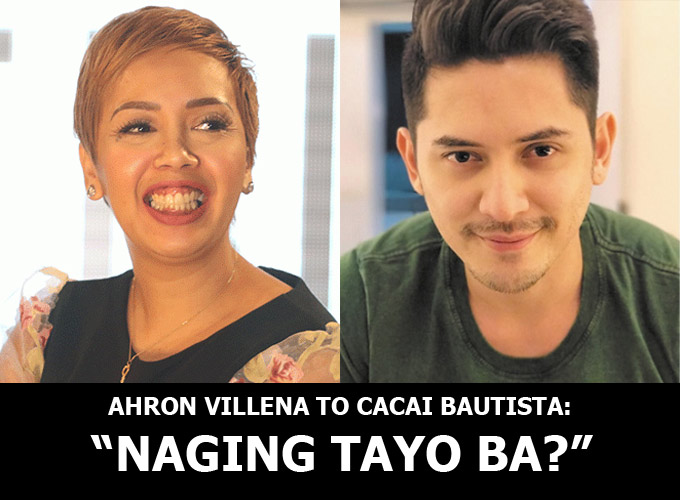 "NAGING TAYO BA?" Ahron Villena's Twitter post reminded many netizens of the famous line from the movie Maybe This Time: "There was never an us."
In an interview, Cacai was deliberately vague when she was asked if Ahron had introduced her to the girl he was now into romantically.
The comedienne said: "Accepted ko naman kung ano man siya. Ganun ka naman pag nagmamahal ng tao, di ba?
"Lahat ng kahinaan, tatanggapin mo. At lahat ng kalakasan, iaangat mo.
"Pero wala na yun. Magkaibigan kami, okay na kami."
Apparently, Ahron was offended by Cacai's statement because he took his rant to Twitter.
In the screenshot of a Facebook status draft he wrote on his phone, Ahron said: "Tangap mo kung ano ako? Saan galing un?
"Bakit Ano ba ang alam mo sa pagkatao ko?
"Naging tayo ba? Ako ang alam ko NEVER naging tayo.
"Nanahimik ako kasi marunong akong rumespeto sa Babae."
But as time passed and heads cooled, Ahron and Cacai eventually forgot the issue and got back in each other's arms... as friends.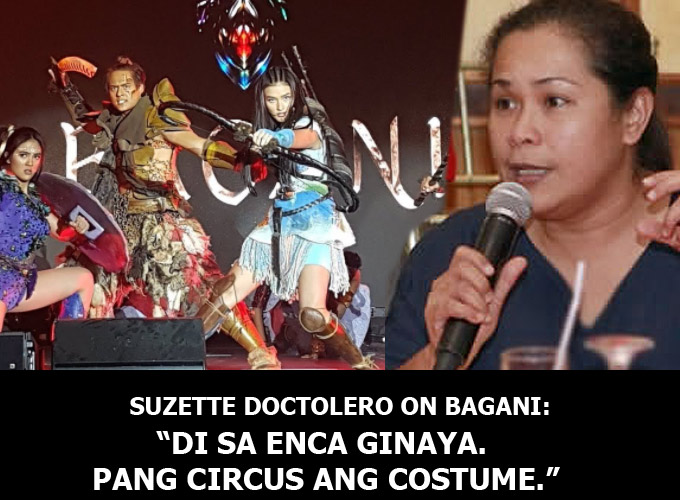 "FUNNY KA." Aside from onscreen celebrities, people behind the cameras also engaged in word wars on social media.
GMA consultant Suzette Doctolero triggered a word war with an ABS-CBN headwriter after Suzette reacted to a netizen's post saying Kapamilya's Bagani was copied from Kapuso's Encantadia.
Suzette, answering the netizen, jested, "Funny ka. May binago naman sila ah. Yung naka violet. Di sa enca ginaya. Pang circus ang costume. Hahahaha."
Star Creative's headwriter Mark Duane Angos did not let this exchange pass.
Fighting back on Twitter, Mark said, addressing Suzette: "You should get out of this 'originality discourse' especially if you're the one who copied CW's Arrow.
"My friendly advice, focus on stories you're writing. I'm sure there's a lot of B-actors from Game of Thrones who can cameo on your next show."
He went on to call Suzette a "nuisance" in his next tweet: "She's a nuisance in our small community of writers."
Suzette did not seem too offended by Mark's putdown.
She came back with: "Tama siya. In our small community of writers, ako nga yung nuisance, yes. im the crazy one, a nutcase. I do not conform."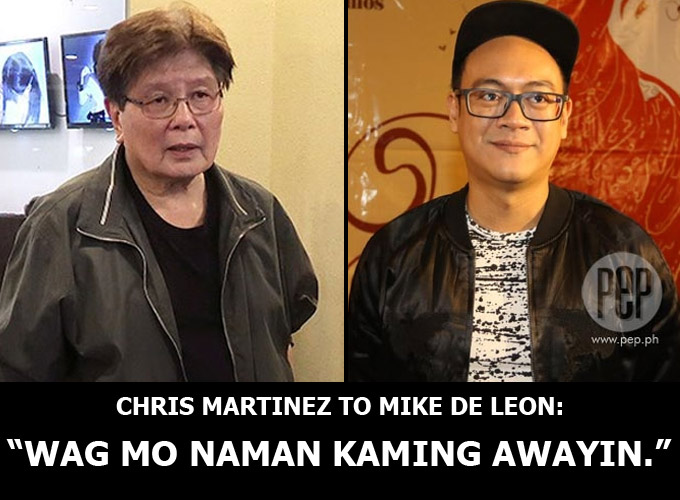 "WAG MO NAMAN KAMING AWAYIN." The annual and popular Metro Manila Film Festival continues to be a controversy magnet.
This year, two movie directors figured in an online argument about MMFF's selection process.
Earlier in the year, well-respected director Mike de Leon, who has the movie Citizen Jake in the can, issued a statement that he was not joining the lucrative local movie festival.
In a Facebook post last October 31, he called the selection process "anomalous" and insinuated that there was corruption in the festival.
But it was his other Facebook post that caught the attention of his fellow director Chris Martinez.
In a November 4 Facebook post titled "Random Thoughts about the MMFF from Mike De Leon and the Citizen Jake Team," Direk Mike expressed concern that one of the MMFF 2017 entries might turn out to be an "artistic dud."
The Meant To Beh director and the Citizen Jake director ended up exchanging posts which, thankfully, kept to high ground.
Things were clarified further when 47-year-old Chris Martinez said to 70-year-old Mike de Leon: "When you post in big bold letters: artistic duds - that's offensive, malicious and totally uncalled for."
He added: "My point is - promote your film based on its merits. Wag mo naman kaming awayin."
After Chris said this, the Batch '81 director immediately apologized.
Mike said to Chris: "I'm sorry if you guys took it that way. believe me wala akong ganong intensyon. its just that i get so many conflicting comments and conflicting advice and we do have to use social media, something that is very new to me. Peace."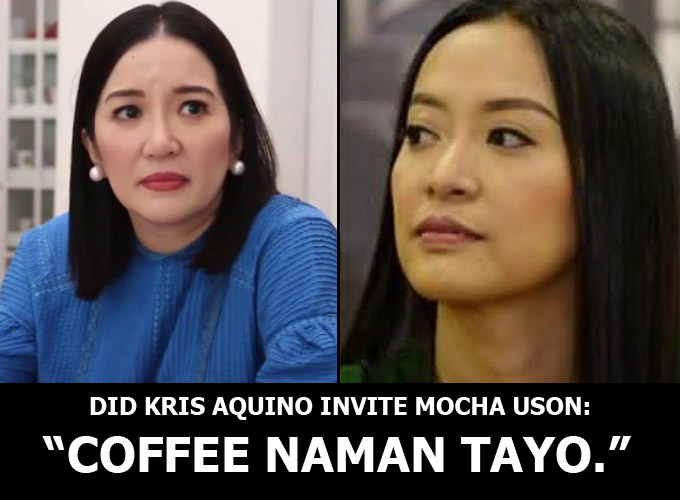 "COFFEE NAMAN TAYO." Kris Aquino may not have been visible on television or in movies in 2017, but she still managed to make her presence felt through her web show and endorsements.
For example, when Kris was launched as the new brand ambassador of a giant telecommunications company, it quickly irked PCOO assistant secretary Mocha Uson, a staunch supporter of President Rodrigo Duterte.
On her Facebook post, Asec Mocha called out the telecom company for spending too much money on marketing, which included getting a celebrity endorser like Kris.
"Dapat ayusin nalang nila service nila. Palpak na nga internet speed palpak pa ang after service nila," the sexy-dancer-turned-government-appointee told her Facebook followers.
She did add about Kris, "She is nice in person but another Aquino in government is just going back to your unfaithful bf again and again."
Kris did not directly respond to Mocha's post. But her Instagram followers noted her subtle dig.
On the caption of her Instagram post, the TV host-actress said, "May i invite the blog post author to a Nespresso? Coffee naman tayo pag may time? After all i'm nice in person."