Jodi Sta. Maria is celebrating her 36th birthday today, June 16.
Her boyfriend Jolo Revilla is among the first to greet the actress.
On Instagram, he posts a candid photo of Jodi and captions, "I wish you all the happiness in this world that you deserve.
"Thank you for bringing out the best in me.
"Thanks for the wonderful 8 years!
"Happy birthday Jods! God bless always!"
Some Instagram followers quickly notice the nickname that Jolo used.
The actor-politician addresses the actress as "Jods," but in his previous posts, he referred to Jodi as "my love" or "asawa."
Some sense that "there is something going on between the two of them."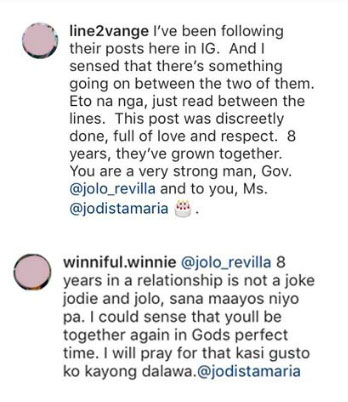 IMAGE: Instagram
Jolo's quote on his Instagram Stories also puzzles his followers.
It reads: "Accept what is, let go of what was, and have faith in what will be."
IMAGE: jolo_revilla on Instagram
QUICK TIMELINE. Jodi and Jolo first confirmed they were in a relationship in 2012.
They broke up in June 2016, but remained good friends.
From time to time, they would mention each other on their social media posts.
Rumors about their reconciliation had repeatedly surfaced, but both kept mum.
It was in January 2018 when Jodi admitted to giving her heart to Jolo.
On the "2 Be Honest" segment of the late-night ABS-CBN show, Tonight With Boy Abunda, she was asked this question: "Kung dalawa ang puso, sinong dalawang lalaki ang bibigyan mo nito at bakit?"
Taking her son, Thirdy, out of the equation, Jodi revealed that one of the guys would be Jolo.
She said, "First time na sasabihin ko... naibigay ko na sa kanya ang puso ko, kay Jolo."
Jodi was last spotted with Jolo at his birthday celebration in Rosario, Cavite last March.