Andrea Brillantes, 15, denounced the fake Facebook post that she allegedly published in response to bashers calling her a "bandwagoner."
Some bashers went as far as "banning" Andrea from joining fan groups of certain K-pop idols, insisting that the young Kapamilya actress only claims to be a fan of whoever famous musician is trending at the moment.
Amid bashers calling her names on social media, Andrea supposedly issued a statement that she has been called worse names in the past.
Below is a screenshot of the Facebook post in question: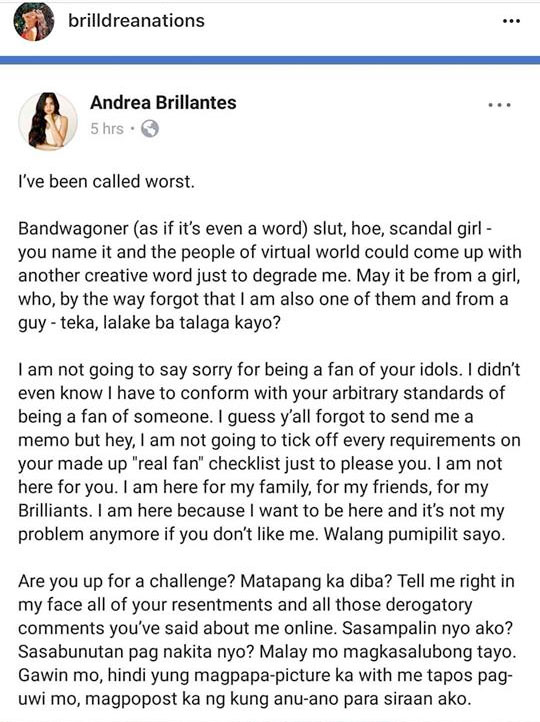 The same fake Facebook post has been published on an entertainment blog site earlier today, June 17.
NO FACEBOOK ACCOUNT. But in an official statement sent to PEP.ph (Philippine Entertainment Portal) through her talent manager Kat Aguila, Andrea clarified that the alleged Facebook post did not come from her, and that she has no existing Facebook account for that matter.
Andrea explained, "Hi, everyone. It has come to my attention that there is a statement allegedly made by me that was posted on Facebook a few days ago.
"I would like to make it clear that it wasn't me. The only social media account I handle is my Instagram.
"Kung sino man po ang nagpost, I am grateful for your support, but nonetheless with what is happening right now with the back and forth sa comments, nakakalungkot.
"The least that I want is to have any negativity or conflict between everyone involved."
STOP THE HATE. Andrea also appealed to netizens to stop the hate campaign against her.
"Sa lahat ng mga nangyayari sa mundo ngayon mas kailangan nating magtulungan at magmahalan kesa magsagutan sa social media. We are all better than that.
"Let's focus on what's important in life, our families and friends. Let's spread love and acceptance.
"Ika nga ni mama, be compassionate to one another. Sa mundong ito, our ability to experience empathy with each other is what makes us human."
Keeping an optimistic mindset, Andrea added, "Today is a good day to start over.
"I hope and pray that you all have an amazing day celebrating Father's day and always remember to be positive and be kind to everyone."