Marc Pingris's selfie with the Gilas Pilipinas players—taken moments after they engaged in a full-blown brawl with the visiting Australian basketball players at the Philippine Arena in Bulacan—went viral last night, July 2.
The photo showed Marc flashing a big smile together with the Gilas team, who lost by default after nine of their players got ejected from the game due to the court melee.
Marc's caption read: "Lalaban kami [strong emoji] #puso"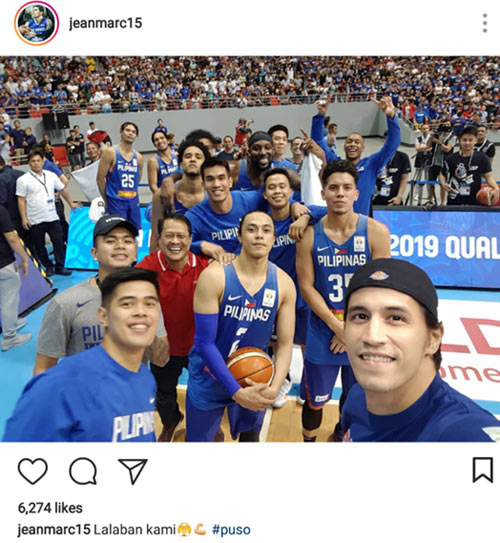 Prior to his selfie, Marc also posted via Instagram story a short video that was taken during the Gilas-versus-Aussies 2019 FIBA World Cup qualifier game.
The former Gilas player was expressing his support to the Philippine team, despite it being down by 31 points before the brawl broke out.
Marc said in the video: "Di niyo kami kaya, boy!"
Both posts have been deleted on Marc's Instagram account at press time.
However, the part when Marc took a selfie with the Gilas players got aired on TV, as seen in the screenshot below: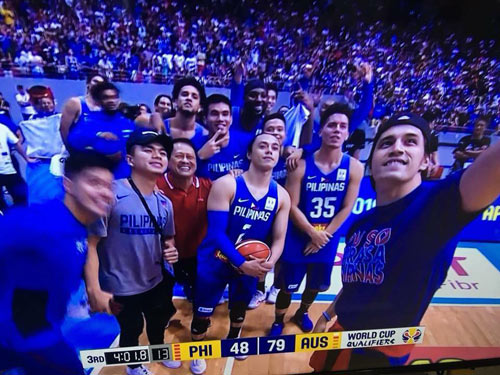 This drew mixed reactions from netizens who were shocked by how things turned ugly during last night's game at the Philippine Arena.
DISRESPECTFUL? NBA player Andrew Bogut was among those who called out the Gilas players for being insensitive to even take a selfie amid the FIBA fracas.
NOTHING WRONG WITH IT. On the other hand, there were also netizens who defended Marc and tweeted that he was just trying to lighten things up given the stressful situation that the Gilas players got into.
"SELFIE MUNA BAGO..." And then there were some who just poked fun at Marc's selfie game and turned it into a "selfie muna bago ma-eject" meme.
MARC'S APOLOGY. At press time, Marc has issued a public apology to those who felt offended by his selfie with the Gilas players.
He maintained that he had no bad intention when he took a souvenir selfie with the Gilas team.
"Kung mali ako sorry sa lahat ng nagalit, pero sa tingin ko walang masama sa ginawa ko," Marc told SPIN.ph in a report published earlier today, July 3.
Marc added, "Actually pauwi na ako and gusto ko lang may picture ako sa kanila."
For a full account of what occurred during the game, read from SPIN.ph: Bench-emptying melee mars Gilas game vs Aussies