The Inquirer.net's articles about the alleged rape and murder of 1980s sexy star Pepsi Paloma have been "temporarily" taken down from the news site amid Senate President Vicente "Tito" Sotto III's protest.
As of yesterday, July 4, Inquirer.net's links to stories "The Rape of Pepsi Paloma" and "Was Pepsi Paloma murdered?" by U.S.-based columnist Rodel Rodis, and "Tito Sotto denies whitewashing Pepsi Paloma rape case" by Totel de Jesus, redirect readers to a new article page citing the news publication's official statement on the issue.
It briefly read: "The articles on the Pepsi Paloma case are currently under review and are temporarily unavailable."
THE TAKE-DOWN "REQUEST." This happened 36 days after Senator Sotto wrote a letter—addressed to Inquirer Interactive Inc. President and Chairman Paolo Prieto—requesting for the said articles to be removed from the online news site.
Dated May 29, 2018, Senator Sotto's letter read: "These kinds of unverified articles have been negatively affecting my reputation for the longest time.
"My efforts to clarify my side were somewhat ineffectual by reason of the afore-cited articles were shared by your readers to the social media, and those readers who knew nothing about the issue took them as the version of truth considering that those reports came from a well-trusted company like Inquirer.net."
Senator Sotto stressed that he has no intention of suppressing the news publication's right to freedom of speech and freedom of the press, insisting that he has always rooted for "truth" and "balanced news."
"Please note that I am making this appeal without the intention of trampling on your freedom of speech or of the press.
"In fact, I am with you in protecting those constitutionally enshrined rights when I filed a bill amending Republic Act No. 53, which exempts publisher, editor, reporter from revealing the source of published news or information obtained in confidence, a law championed by my grandfather Vicente Yap Sotto.
"Just like everyone, I am for the truth - a 'balanced news,' so to speak."
REPORTER REACTS. It was a furious Rodis who published Senator Sotto's letter via the former's Facebook account last June 16.
Rodis expressed his dismay at the unfolding events concerning his two Inquirer.net articles that were published four years ago—"The Rape of Pepsi Paloma" was published on March 5, 2014 and "Was Pepsi Paloma Murdered?" was published on March 15, 2014.
Rodis's statement read: "Senate President Tito Sotto has 'requested' the Philippine Daily Inquirer to remove from its website all the articles I wrote about him ('The Rape of Pepsi Paloma' and 'Was Pepsi Paloma Murdered?').
"If the Inquirer agrees to his requests, a dangerous precedent will be set. Duterte will demand that my articles denouncing him should also be removed by the Inquirer.
"Jinggoy, Bongbong, even China will also send their demand letters to Inquirer."
The name of Pepsi Paloma immediately trended on Twitter, with netizens criticizing Senator Sotto for "using your position to intimidate organizations" eight days after he got elected senate president.
This made headlines on various online news sites and blogs.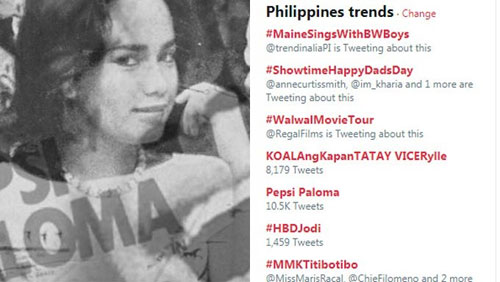 INQUIRER.NET'S STATEMENT. That same day, Inquirer.net released its official statement on Senator Sotto's request, acknowledging that it is his right to question the veracity of the aforementioned articles.
Signed by Inquirer.net publisher and editor-in-chief Abelardo Ulanday, the statement read:
"INQUIRER.net believes it is within Sen. Sotto's right to make this request, citing particularly his claims that the articles contain unverified facts and baseless allegations.
"Also, to be fair with the senator, he has relayed this request to INQUIRER.net much earlier through his staff."
Ulanday added that the online news publication was still probing into the matter.
They had asked their reporter Rodis to react to Senator Sotto's complaint about the articles dragging the senator in the alleged rape and death of Paloma.
"In relation to Sen. Sotto's request, INQUIRER.net has not made any decision.
"This is also the reason why we've asked Mr. Rodis to comment on the request. He has replied to us by email which we received today (June 16, 2018).
"But his act of posting this request on social media is his own decision. INQUIRER.net has nothing to do with it."
Meanwhile, the National Union of Journalists of The Philippines (NUJP) slammed Senator Sotto's request to take down three stories about him as a "brazen attempt" to suppress freedom of the press and expression.
NUJP's statement read in part: "While we can understand the senator's discomfiture with these articles, we feel he is overstepping his bounds by zeroing in on the Inquirer.net articles, particularly the third, which is a straight news report on his denial of any involvement in trying to whitewash the Pepsi Paloma case and blaming this on the late actress's manager, Rey dela Cruz who, like his ward, is also no longer around to dispute the claim."
A MERE "FAKE NEWS?" Senator Sotto, for his part, underlined that the three Inquirer.net pieces—talking about him allegedly playing a central role in the controversies surrounding Pepsi's alleged rape and murder— was the "original fake news."
In an Inquirer.net article published on June 17, Senator Sotto was quoted as saying: "That is the original fake news, so do not make a big deal out of it."
He also quashed the allegation that he is using his position to "bully" Inquirer.net.
Senator Sotto was also asked to comment on NUJP's stand that he is suppressing Inquirer.net's right to freedom of the press and expression with his take-down request.
Senator Sotto fired back, "You mean if I say that the people who are maligning me were paid to do so, that is freedom of the press? No. Original fake news."
He then expressed his confidence that Inquirer.net will take down the articles in question.
BETRAYAL TO FREEDOM OF THE PRESS? The latest news that the enumerated Pepsi Paloma articles are now temporarily unavailable trended once again on Twitter.
Included in the buzz among netizens was NUJP's official statement declaring the take-down of the said Pepsi Paloma articles as "one of the darkest days in the annals of Philippine journalism."
NUJP condemned the move as a "humiliating self-censorship" and tagged it as a betrayal to media practitioners who have long since fought for "freedom of the press."
NUJP's statement, dated July 4, further read: "It is the day when the online arm of the newspaper long regarded as one of the beacons of press freedom in the country caved in to the demands of Senate President Vicente Sotto III.
"It is the day when Inquirer.net disowned its own editorial policies and standards – and its writers – by willingly taking down stories it had posted as far as four years ago that harp on Sotto's alleged role in the cover up of the rape of Pepsi Paloma."
At the same time, NUJP appealed to "freedom-loving Filipino journalists" to strengthen efforts in resisting "all attempts to prevent us from fulfilling our duty to serve the people's right to know and be their watchdog against government's abuses."
Earlier today, July 5, Inquirer.net released an official statement, insisting that the removal of the three Pepsi Paloma articles is not "a question of press freedom but the veracity of a story."
Ulanday, publisher and editor-in-chief of the online news publication, explained, "Like what we do to similar requests on stories posted on our site, we asked Atty. Rodis to substantiate some of the allegations he made on his contributed pieces through an email we sent to him on June 23, 2018.
"Up to now, we haven't received any reply from him."
Ulanday also clarified that Rodis is a not an employee of Inquirer.net but a contributing writer who submits monthly opinion pieces.