What's to become of GMA Network's phenomenal Alden Richards-Maine Mendoza love team?
The question comes to mind as Alden and Maine, aka AlDub, are now pursuing separate TV projects.
Alden will top-bill, solo, the new prime time series Victor Magtanggol.

It has been confirmed that he will no longer be paired with Maine, Alden's perennial leading lady in movies and at one time in the teleserye Destined to Be Yours.
On the other hand, speculation is rife that Maine will be teamed up with Kapamilya star Coco Martin for a 2018 Metro Manila Film Festival entry.
She is also working on her first solo album.
Both had a solo guest appearance in GMA-7's Daig Kayo Ng Lola Ko, hinting at their move to do separate TV projects.
Alden and Maine made record-breaking history in showbiz following the success of Eat Bulaga's "Kalyeserye" that aired from July 16, 2015 to December 17, 2016.
Their love team as Alden and Yaya Dub (AlDub) became known for embodying Filipino values with their traditional courtship—it showed respect for elders and patience for things to fall into place within "tamang panahon."
But now, as the duo mark their third anniversary as a love team, their fans are raising questions: Is the love team of AlDub breaking up? Is this just a temporary split in terms of TV projects?
After all, Alden and Maine still co-host together in the Kapuso noontime show that gave birth to their phenomenal tandem.
The answers remain uncertain.
In the meantime, PEP.ph (Philippine Entertainment Portal) traces the most unforgettable reel and real-life moments of the phenomenal love team that is AlDub:
2010. Alden was shocked that an old photo of himself and Maine circulated on social media, he admitted this to PEP.ph in an August 2015 interview.
He was referring to a much earlier time. Alden said he was not in showbiz yet when he joined Summit Media's annual Candy Fair in 2010.
"May mangilan-ngilan pong nagpa-picture, pero I really didn't remember.
"So, nagulat ako na may ganun palang photo."
Another time, Alden was again explaining, "Just to clarify things talaga with everyone, hindi scripted yung hindi namin pagkikita."
Alden and Maine were yet to meet face-to-face in the "Kalyeserye" segment of Eat Bulaga!
"Talagang we've never met each other. We're not texting, we're not calling each other," he said in the September 2015 episode of PEPTalk.
"And yung sagutan lang namin sa social media is pakiramdaman lang."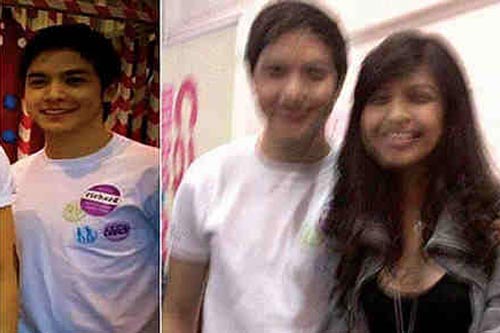 JULY 16, 2015. Maine was first introduced as Yaya Dub, the alalay of Wally Bayola, aka Lola Nidora, in the July 4 episode of Eat Bulaga!'s "Juan For All, All For Juan" segment.
Her role was to do Dubsmash, which entailed dubbing recorded spiels and not using her own speaking voice.
But on July 16, 2015, Maine broke into an unscripted giddy smile just as Alden's dimpled face was flashed on the split screen—and their destiny changed in an instant.
Noting her reaction, Allan K and Joey de Leon (who were on the studio) as well as Jose Manalo and Wally (who were in Sugod Bahay's remote location) immediately teased Maine about crushing on the Pambansang Bae.
No one among them had yet realized a phenomenon was happening before their eyes.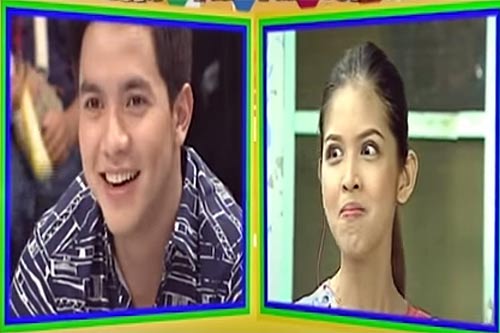 SEPTEMBER 5, 2015. Alden and Yaya Dub's first face-to-face meeting happened in the Broadway Centrum studio of Eat Bulaga! on September 5, 2015.
Emotions ran high when they finally saw each other in person, with Yaya Dub smiling shyly at Alden.
Their meeting was cut short, however, when a plywood suddenly fell from the ceiling, preventing them from getting close enough to touch each other.
Unwittingly, the mishap only heightened the giddiness of the moment.
Aside from the Eat Bulaga! hosts, other celebrities joined netizens in tweeting about Alden and Yaya Dub's super kilig but bitin meeting.
Among them were Jodi Sta. Maria, Iya Villania, Lani Mercado, and Jonalyn Viray.
SEPTEMBER 12, 2015. What was Alden's first impression of the real Maine?
"Ang first impression ko kay Maine, very fun person, always gives out everything," he said in a pre-taped PEPTalk video, published on September 12, 2015.
"Ano siya, e, very lively. Parang walang dull moment pag kasama mo siya and that's what she continues to prove to us sa Eat Bulaga!"
Reports claimed that Maine had a crush on Alden long before she joined Eat Bulaga!
Alden said he knew nothing about it on the day he watched the "Juan For All, All For Juan" segment from the Eat Bulaga! studio.
"I was just told by Eat Bulaga! staff, 'Alden, sama ka sa amin sa Juan For All. Nood ka lang.'
"And then that single moment, dun na naganap lahat. Tuloy-tuloy na yun."
Seen below was a screen shot of their blindfold meeting on the September 12, 2015 live telecast of Eat Bulaga!: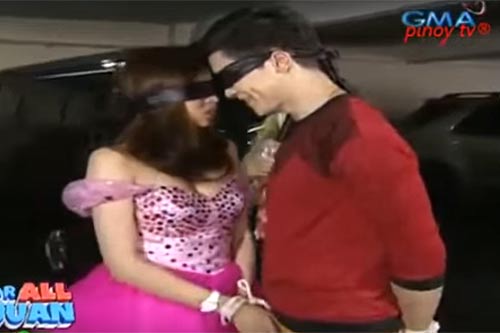 OCTOBER 24, 2015. Thousands of AlDub fans filled the 55,000-seater Philippine Arena in Bocaue, Bulacan, for their Tamang Panahon benefit concert on October 24, 2015.
It showcased the historical meeting of Alden and Yaya Dub after months of communicating via split screen and overcoming outrageous obstacles to their meeting.
With Lola Nidora's blessing, the two finally got the chance to dance, perform a duet, and speak to each other.
The Tamang Panahon concert also made record-breaking history.
The Guinness World Record hailed #AlDubEBTamangPanahon as the most retweeted hashtag in 24 hours, with "40,706,392 uses from 24 October 2015 - 25 October 2015."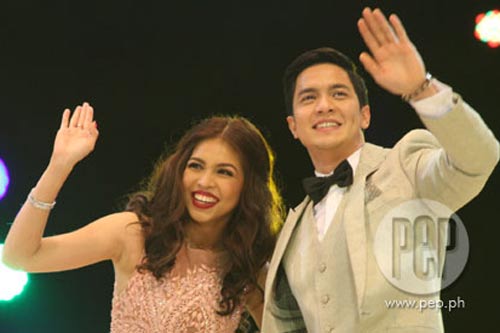 NOVEMBER 2015. Before the Tamang Panahon concert, YES! Magazine did a cover story of AlDub. It came out in November, after the concert.
Here, Maine admitted that the possibility of a real-life romance with Alden had crossed her mind.
"Hindi ko na po ide-deny. Kinikilig ako minsan," Maine revealed, smiling.
She also wondered whether their love team would last, "Iniisip ko rin po, tatagal din kaya 'to? Iyong AlDub, 'yong Yaya Dub…" she told YES!.
"Hindi mo din masabi kung ano na'ng mangyayari, kung magiging present pa rin ba ang kilig factor and 'yong chemistry after naming mag-usap…
"Baka kasi hanggang split screen lang 'yong kilig, e… Pero huwag naman sana."
Alden, for his part, said he was grateful for the opportunity to inspire people through the values that he and Maine impart to "Kalyeserye" viewers.
He told YES!, "Alam mo, this phenomenon is really worth appreciating. Us, Maine and I, I'm sure, even though I haven't really talked to her, I'm sure she's feeling the same feeling.
"The moment we started, from day one, binago ng mga tao 'yong buhay namin, in an instant. Kaya we owe this to them, and of course to the Lord. He is the ultimate hand who made this possible."
Seen below was a screen shot of Alden and Maine's newspaper dance on Eat Bulaga!'s November 14, 2015 live telecast: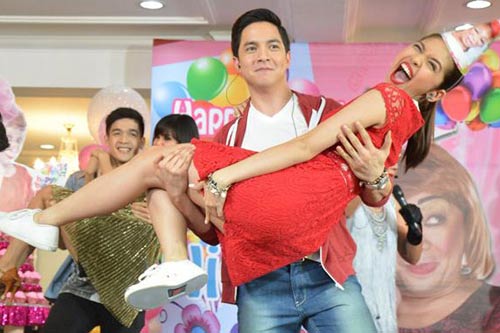 DECEMBER 9, 2015. At the height of AlDub's phenomenal popularity, Alden and Maine were both cast in the Metro Manila Film Festival (MMFF) entry My Bebe Love, starring Vic Sotto and Ai-Ai delas Alas.
It was during My Bebe Love's grand presscon, dated December 9, 2015, when Maine described Alden as a "very gentleman person."
Maine also told PEP.ph, "First impression ko kasi sa kanya is parang tahimik, alam mo yun, parang makulit din. Medyo pabebe rin!
"Nung nagkakilala na kami, nung nag-meet na kami, ganun din naman po.
"So, masasabi ko na na-meet naman yung expectations ko talaga sa kanya."
Alden, for his part, admitted that he tended to be "protective" towards Maine.
He explained, "Kagaya po nung nasa Enchanted [Kingdom] kami last Saturday, I have this sense of being protective lang in terms of times like that.
"Yun nga po, being a gentleman is also part of protecting the girl. So, I'm just doing the right thing."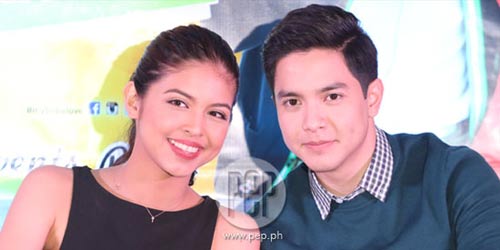 MARCH 5, 2016. Alden and Maine exchanged their very first kiss onscreen when she celebrated her 21st birthday in Eat Bulaga's March 5, 2016 episode.
It was Alden who first kissed Maine near her lips at one point in the show.
Then the JoWaPao (Jose, Wally, and Paolo) trio teased Alden and Maine to kiss again.
Maine stipulated that she would be the one to give Alden a kiss on his cheek, but the naughty actor unexpectedly turned his face towards her—and they locked lips.
It was also in the same Eat Bulaga! episode that Maine's sister Coleen Mendoza expressed her approval of Alden as a potential boyfriend for the Dubsmash Queen.
To which Alden replied, "Yes!"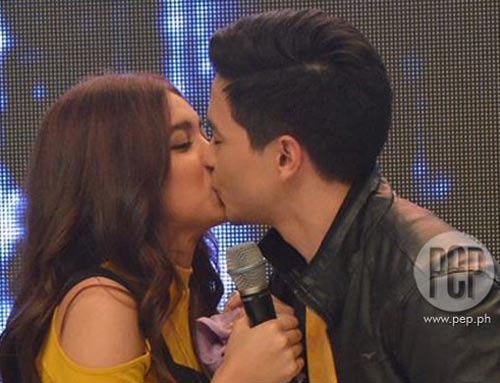 MARCH 6, 2016. Alden rented a plane going to Boracay to surprise Maine during her birthday vacation.
Earlier, Alden had turned down Maine's invitation to join the trip because of his work engagements.
And yet there he was, standing outside Maine's hotel room in Discovery Shores Boracay at around 9 a.m. on March 6, 2016, a Sunday.
And there they were, having the time of their lives along with Maine's friends as they went scuba diving, parasailing, jet-skiing, and beach-hopping all day long.
In her personal blog, Maine revealed how Alden made her feel secure when she got "panicky" while riding with him on a jet ski.
"I had this feeling that we might get thrown off into the water, but at that moment, it didn't matter anymore.
"I was having a really fun time and for as long as I am with him, getting thrown off would be alright.
"I know for a fact na hindi niya ako pababayaan—kahit anong mangyari."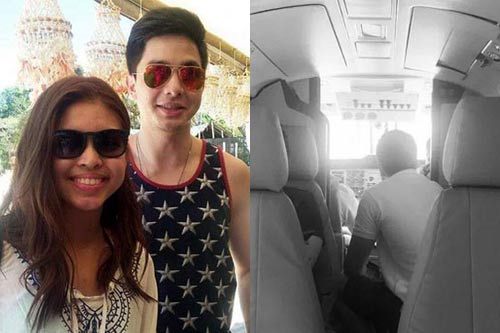 APRIL 1, 2016. Speculations about the real score between Alden and Maine grew when they were spotted on a late lunch date at Sofitel's Spiral restaurant right after their stint on GMA Network's Sunday variety show Sunday PinaSaya (SPS).
According to PEP.ph's report, the photos that circulated online showed the two seemingly on a date, unaccompanied by their usual companions or friends.
A snapshot of Alden and Maine leaving the restaurant and another as they were walking down the stairs of the hotel clearly showed there were just the two of them.
In a follow-up report of PEP.ph dated July 27, 2016, Alden confirmed that he and Maine frequented the posh restaurant because they considered it their "safe zone" for their private conversations.
"Dun ko po siya laging dinadala," Alden admitted.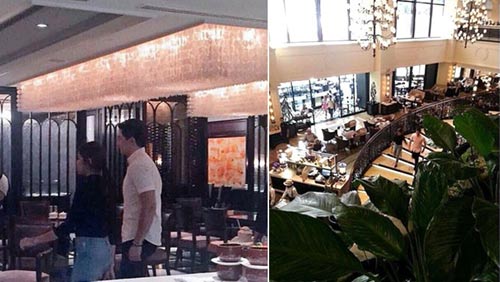 JULY 9, 2016. The two grew closer when they made their first solo movie, Imagine You & Me, produced by APT Entertainment, GMA Films, and M-Zet Productions.
In the TV special Imagine You & Me: The Journey, director Mike Tuviera recalled how Alden took special care of Maine when she got sick while they were filming in Italy.
Alden kept her company, fed her—even cleaned her hotel room—in all the time was taking a bed rest.
Direk Mike related, "Kasi we gave her medicine and wala siyang ganang kumain. So, dinalhan siya ni Alden ng soup... Alden had to feed her kasi she wasn't feeling well at all.
"'Tapos isa lang yung request niya, 'Kuwentuhan mo lang ako, Alden.'
"Sabi ni Alden, 'Ng ano? Magkasama tayo araw-araw. Lahat ng maikukuwento ko alam mo na.'
"'Di bale, basta kuwentuhan mo lang ako.' And that made her feel better."
In the same TV special, Alden noted that he really enjoyed his work-and-play time with Maine in Italy.
"Nakakalabas kami... Normal na tao. Nakakapag-usap kami sa labas literally," said Alden who was sitting beside Maine during the interview.
"Kasi parang—I am not saying na dito mahirap—but siyempre since marami nakaka-recognize, so maliit na maliit yung space for privacy dito."
When asked to describe their closeness, Alden replied, "Malalim talaga."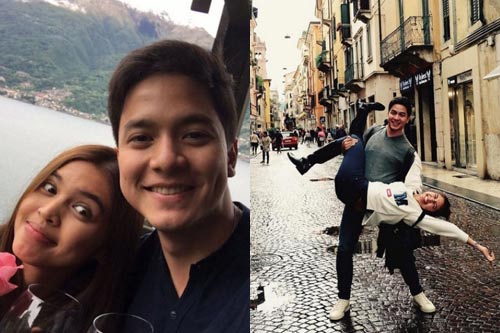 JULY 11, 2016. Alden and Maine also had a share of triumphs as a love team, one of which was when they were named as YES! Magazine's Most Beautiful Stars for 2016.
It came as a huge surprise to both of them, more so with Maine, a newbie at the time.
"Alam naman ng lahat na ang lagi kong ginagawa is lukutin yung mukha ko, magpapangit…" she said during presscon held at Luxent Hotel in Quezon City on July 11, 2016.
"And then, ibinalita sa akin na kami magko-cover ng 100 Most Beautiful."
On the other hand, Alden has been in the roster of YES! 100 Most Beautiful Stars since the beginning of his showbiz career.
He had said that cultivating meaningful relationships with other people was what really made a person beautiful.
"Kasi for them—your friends and the ones you meet every day—ang maaalala lang naman nila sa iyo, at the end of the day, are the things you've done na mabubuti."
Alden and Maine continued to receive numerous awards in several editions of The PEP List.
In 2016 and 2017, they won PEPsters' Choice Newsmaker of The Year and Celebrity Pair of The Year.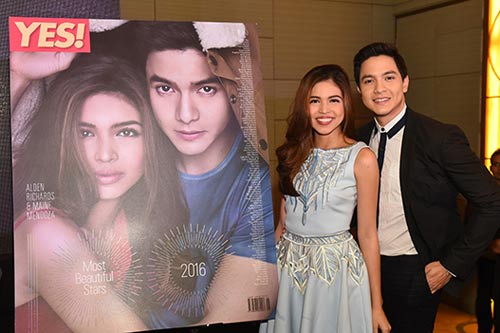 JULY 17, 2016. On the first anniversary of AlDub, Maine gave Alden a very sweet message via Instagram.
Together with her message was a photo taken while they were riding a boat in Lake Como, Italy, where scenes from their movie Imagine You & Me were shot.
An excerpt from Maine's caption: "What happened on the 16th day of July 2015 will live on in people's hearts until the end of time.
"We might not know what the future holds but you should know that no matter what happens, you already have this special place in my heart.
"And I want you to know that even if we end up being together or not, that spot is yours–forever. Happy first anniversary, @aldenrichards02. Thank you for everything."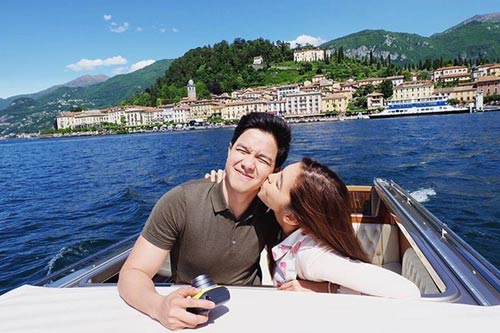 JULY 29, 2016. "We have a mutual understanding," Alden declared when he and Maine were interviewed by CNN Philippines.
It fueled the hope of their multitude of fans for real-life AlDub romance.
Maine seemed to have kept their hopes up when she told PEP.ph her relationship with Alden has indeed grown "deeper."
She said, "Well, literal meaning po kasi ng mutual understanding: nagkakaintindihan po talaga kami sa mga bagay-bagay. Sa mga sentiments po namin sa life. Literal meaning ng mutual understanding."
Maine also confirmed in that interview on July 29, 2016, that she and Alden go out "every once in a while" to firm up their bond.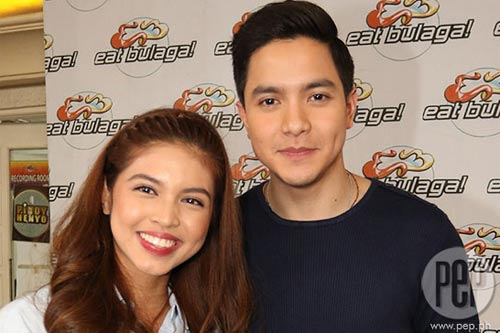 AUGUST TO OCTOBER 2016. Alden and Maine continued to be attentive towards each other on and off cam.
On August 18, videos of Alden hugging Maine close to him in the middle of a crowded street went viral on social media.
It happened in Barangay Molino 1, Bacoor, Cavite, which was the remote location for Eat Bulaga's "Kalyserye" segment that day.
Then in the middle of their hosting spiels, Maine agreed to kiss Alden on his right eye, which was accidentally, but slightly, hit by an umbrella.
After Maine kissed his not-really-injured eye, Alden teasingly pointed to his lips, "Meron pa dito!"
To which, Maine laughingly replied, "Hoy, grabe ka!"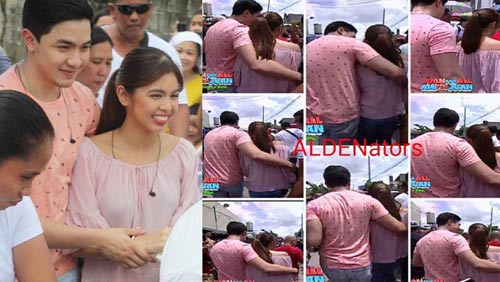 On a separate occasion, during the shooting of the 2016 MMFF entry Enteng Kabisote 10: The Abangers in Bohol, Alden and Maine's closeness cheered their fans.
They were taking a break when Alden was caught on cam giving Maine a back massage while they were at a view deck overlooking Chocolate Hills, a popular tourist destination in Carmen, Bohol.
AlDub fans' reaction to such kilig overload: "Ba't may paganyan!!! GANYAN SILA PAG SILA LANG. KALA NILA WALANG CAM!!! JESKE!!!"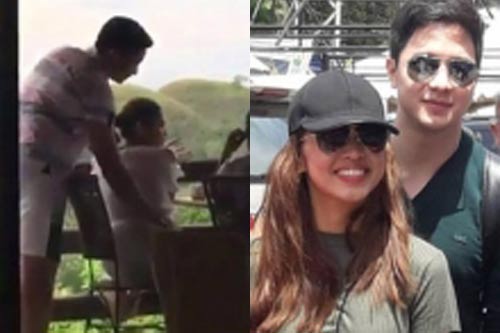 FEBRUARY 2017. By 2017, the two stars got busy headlining their very first Kapuso prime-time series, Destined To Be Yours, which aired from February 27 to May 26.
By this time the curiosity about them had grown intense, even their fellow celebrities wanted to know the real score between Alden and Maine.
It was Gardo Versoza—who played Maine's father in Destined To Be Yours—who grilled the Dubsmash Queen about her relationship status with Alden.
Gardo told PEP.ph he could sense Maine's special feelings for Alden with the way she shyly smiled whenever they talked about the Pambansang Bae.
Alden, however, was evasive about his feelings for Maine, Gardo added.
According to Gardo, Alden told him, in reference to lack of privacy with their celebrity status, "'Kuya Cupcake, sa ibang bansa na nga lang.' Ha-ha-ha!"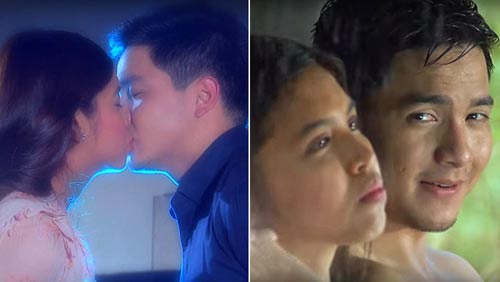 MAY 27, 2017. "We're really stronger together," Alden declared when Maine came to his Upsurge concert at the Kia Theatre in Cubao, Quezon City, on May 27, 2017.
They have had their share of conflicts, but Alden said proudly he and Maine make it a point to be "transparent" with their feelings.
He elaborated, "Makikita niyo kapag okey kami, nakikita niyo po kapag meron kaming samaan ng loob.
"Kasi siguro yun po talaga yung characteristics and yun po talaga yung ipinapakita ng totoong tao.
"Na walang pagpapanggap, na hindi ginamit ang show business, hindi ginamit ang fame, hindi ginamit ang kasikatan para baguhin ang mga sarili nila."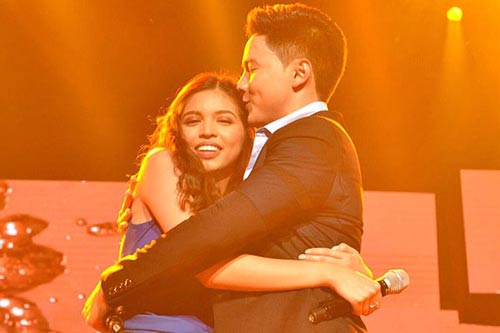 JUNE TO JULY 2017. The strength of Alden and Maine's love team was put to the test in every social-media controversies they were dragged into.
In June 2017, Maine reprimanded her Twitter followers for getting into word war over certain issues.
She tweeted, "I know how much you love us and how hard you try to protect us but enough with the foul words, guys. Hindi na tama."
Maine did not name a specific issue or personality that her Twitter followers had been throwing so much hate on.
It prompted some netizens to ask if her tweet was in defense of Sef Cadoyana or something else entirely.
At the time, Sef had an interview where he quashed rumors romantically linking him to Maine.
Responding to a netizen's query, Maine firmly reiterated, "Dapat ba lagi may pinagtatanggol? Hindi ba pwedeng sabihin lang kung ano yung tama?"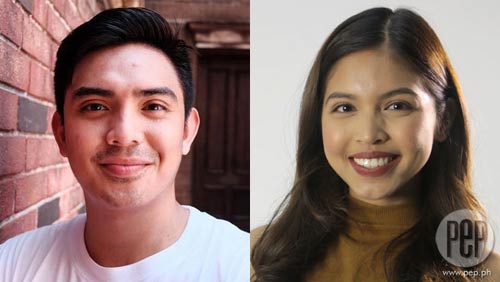 Then on July 17, Maine clarified that nothing's going on between her and Sef.
"Oo nga, masyado niyo kaming minamalisyahan ni Sef. Ano bang problema niyo?" she had said in a live stream via Periscope, posted by Eat Bulaga! assistant director Pat Plaza.
On the other hand, Alden was warding off persistent rumors romantically linking him to Eat Bulaga! Dabarkads Patricia Tumulak.
But Patricia herself slammed it as a baseless rumor, adding that she has a foreigner boyfriend.
Amid such intrigues, Alden told PEP.ph that he remained unfazed by rumors linking Maine to another Kapuso actor.
"At saka, malaki ang tiwala ko kay Maine," Alden added.
As for him being linked to other female celebrities, Alden simply said, "Faithful po ako kay Maine."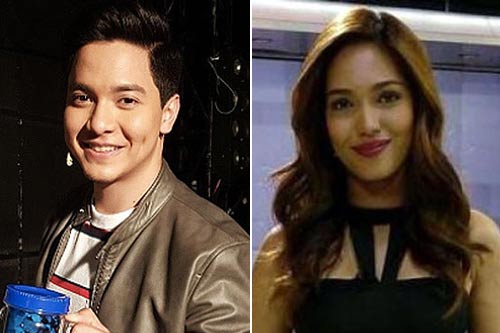 OCTOBER 2017. Maine and Alden received positive feedback for raising awareness about mental health via Eat Bulaga's telemovie called Love Is, directed by Adolf Alix.
They headlined the telemovie following their Dabarkads Joey de Leon's controversial statement that depression was "gawa-gawa lang ng mga tao."
At the height of the issue, both Maine and Alden stood their ground that depression was no laughing matter and was definitely real.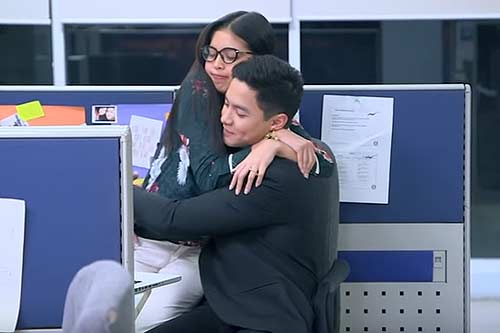 NOVEMBER 25, 2017. Maine was caught up in another social-media storm following speculations about her and Jake Ejercito.
Romance rumors between the two came about after Jake posted an Instagram story showing a photo of a girl covering her face with her hands.
The mystery girl was immediately identified as Maine, causing netizens to wonder if she and Jake are an item.
Amid the controversy, Maine expressed her frustration over the big deal being made out of her friendship with Jake.
Maine tweeted, "Huh? We are friends! May mali po ba doon?"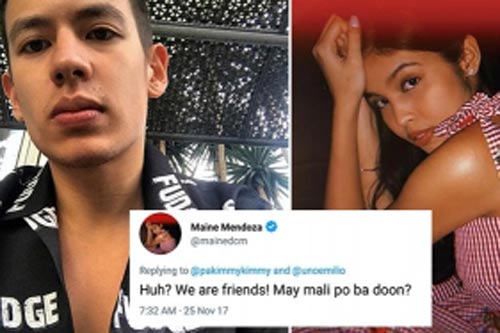 In an exclusive interview with PEP.ph, Jake also clarified that he and Maine are not dating.
But he refused to further comment when asked if Maine was indeed the mystery girl on his Instagram Story.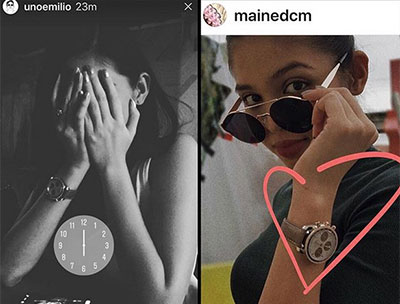 NOVEMBER 26, 2017. The persistent negativity on social media finally took its toll on Maine, who wrote an open letter to fans via her blog site and Twitter account on November 26.
Maine made it clear that she was grateful to AlDub fans for their overwhelming support from the very start of her showbiz career.
But Maine confessed: "I am at this point where I feel like I live in a box."
Maine said she had had enough of people who felt "entitled" to control not only her career choices but the way she wanted to live her personal life.
The "truth," Maine told the multitude of AlDub fans, "at this very moment Alden and I are just friends."
At the end of her open letter, Maine seemed resigned that some fans might turn their backs on her because of the things she wrote.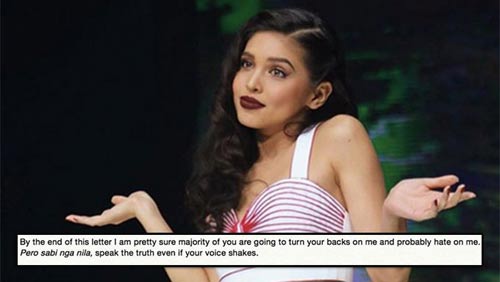 DECEMBER 2017. After venting her pent-up emotions to the public, Maine took a month-long leave of absence from her daily hosting on Eat Bulaga!
For Christmas break, she flew to Miami, Florida, with her family.
During this time, Alden respected Maine's wish for a time out from showbiz.
"Let's just wait for her return," he was quoted as saying during his thanksgiving party for entertainment press.
Alden and Maine had talked before she went on leave, and Alden could only assure people that she was having fun spending the holidays with her family abroad.
He added, "We both deserve to have these breaks, to be far from everything."
Alden, for his part, spent the Christmas break in Japan with his family.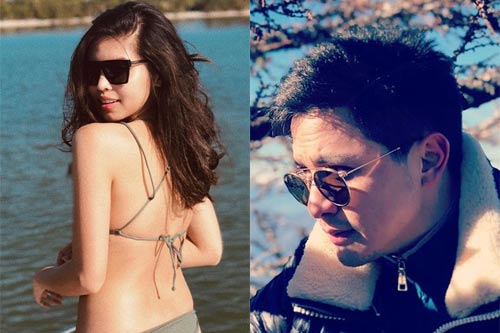 JANUARY 2018. Maine went back to work on Eat Bulaga! on January 1, 2018.
No matter the struggles she went through the previous year, Maine proved that all has been well between her and Alden.
The following day, January 2, was Alden's 26th birthday.
Maine gave Alden a meaningful message during the live telecast of Eat Bulaga!'s "Juan For All, All For Juan" segment.
She also showed up at his private birthday celebration, held later that night at the Quezon City branch of Alden's Concha's Restaurant.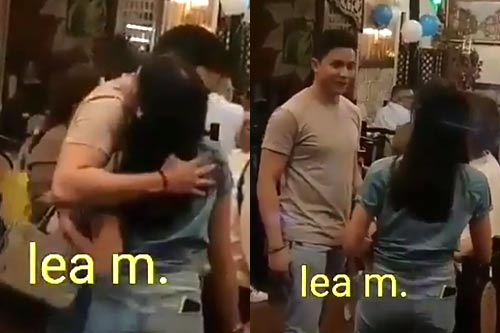 MARCH 19 to APRIL 6, 2018. Both Alden and Maine were both busy with their usual workload when he got caught up in a controversy involving former Destined To Be Yours co-star Juancho Trivino.
A video came out on social media showing Juancho flashing a dirty finger just as the person holding the camera panned from a poster of Alden.
But in an official statement, dated March 19, Juancho issued an apology and explained that what he did was a "bad joke" that was not intended for Alden at all.
Alden admitted he was shocked when he learned about the issue, but he did not want to make a big deal out of it.
In a March 21 press event, Alden told PEP.ph that he got a personal text message from Juancho, "Wala na po yun and, on my end, wala pong problema."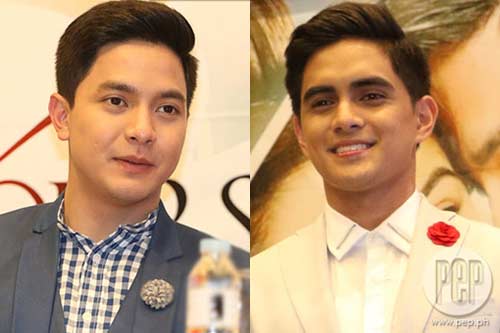 Two weeks after the controversy, Juancho was spotted walking behind Maine after the concert of American band, LANY, at the Araneta Coliseum.
Maine and some of her non-showbiz friends just came out of Door 7 of the venue when some concertgoers approached the Dubsmash Queen for photo-ops.
Juancho stayed near Maine's group until they exited the venue.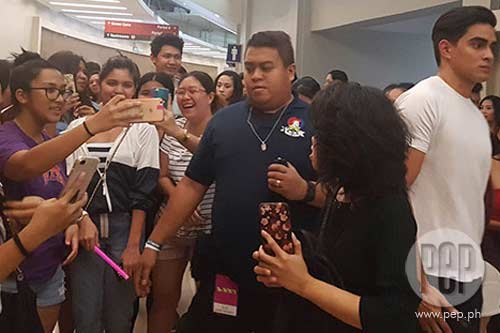 Amid speculations that followed the incident, Juancho clarified that he has maintained a close friendship with the Dubsmash Queen and Sheena Halili.
The three of them were part of Team Pelangi, which refers to the hometown of Maine's character in the now-defunct Kapuso prime time series Destined To Be Yours.
During GMA-7's Regional Tour in Dagupan last April 30, Juancho told PEP.ph: "Bahala na kung ano ang isipin ng mga tao. Pero ako kasi, me and Maine and Sheena, yung friendship namin talagang private lang."
APRIL 26, 2018. To end questions about Maine's showbiz career, her talent manager Rams David assured that the Dubsmash Queen has remained committed to being a Dabarkads.
Aside from her regular stint on Eat Bulaga's Sugod Bahay, Maine also appears with Alden in the noontime show's "Pamilya Nunal" segment.
But Rams also revealed that Maine has "begged off" from doing a teleserye.
In an exclusive interview on PEP.ph, Rams said, "Siguro if it's the right project, lalo na ang drama, hindi muna sa drama. Parang hirap pa siya."
As for the next AlDub movie, Rams said the creative/production team in charge has been looking for the "best script" that would fit Maine and Alden.
Seen below is a screenshot of the "Pamilya Nunal" segment from the April 3 live telecast of Eat Bulaga!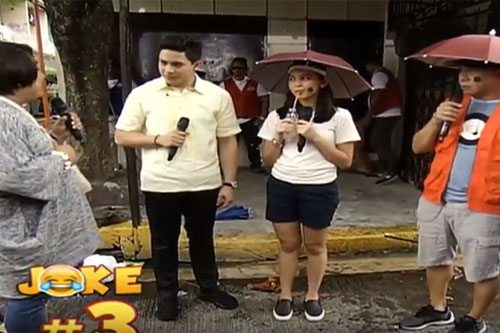 MAY 9, 2018. Alden was accused of having a secret romance with Kapuso actress Bea Binene following her Instagram post involving a mystery flower sender.
In her Instagram post, dated May 9, Bea denied that it was Alden who gave her a bouquet of flowers.
She further asked netizens to stop making assumptions just because they've been seen eating or being photographed together.
"Sana maunawaan natin na may mga taong mas pipiliin na maging magkaibigan than anything else."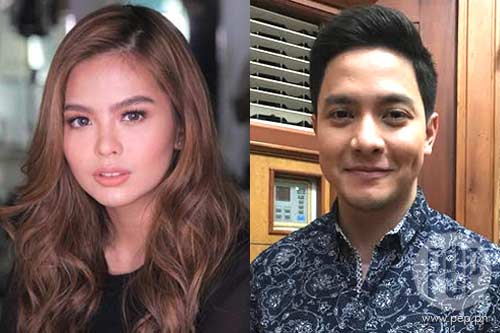 MAY TO JUNE 2018. On May 24, GMA-7 announced that Alden will make a teleserye comeback via the fantaserye titled Victor Magtanggol.
In an exclusive interview aired on Kapuso network's primetime newscast, 24 Oras, Alden revealed that he will be playing a Pinoy superhero that viewers can easily relate to.
It didn't go unnoticed by fans that GMA-7 did not mention who Alden's leading lady will be.
That Maine won't be co-headlining the series still came as a surprise for some fans even though her talent manager had earlier mentioned her begging off from doing a full-length drama series.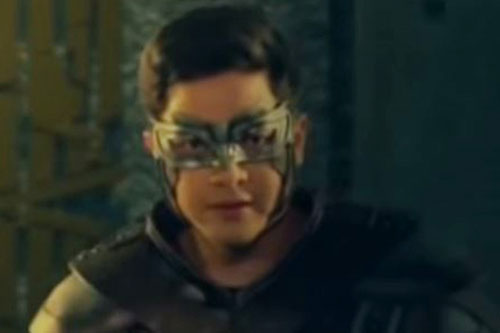 Maine, for her part, did a solo guest appearance for the May 27 episode of the Kapuso drama-fantasy anthology, Daig Kayo Ng Lola Ko.
She was cast with child star and fellow Dabarkads, Baeby Baste.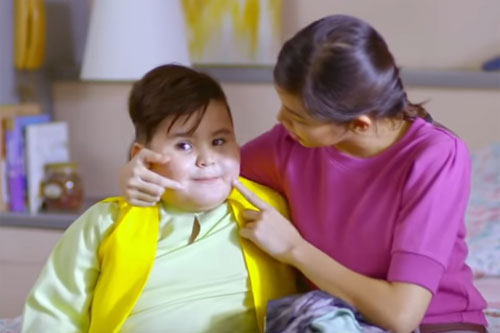 After two weeks, on June 10, Alden also had a solo guest appearance in Daig Kayo Ng Lola Ko.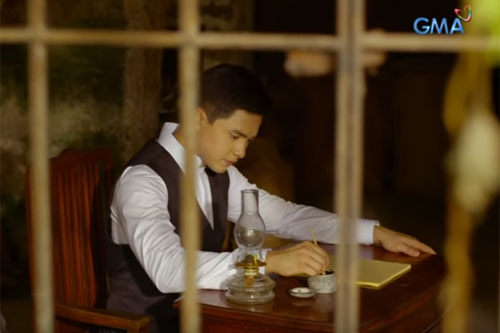 It was also in June when Universal Records announced that Maine is working on her first solo album.
JULY 2018. On July 10, GMA-7 announced that Alden will be joined by Kapuso actresses Janine Gutierrez and Andrea Torres in Victor Magtanggol.
Janine will play Gwen Regalado, a field reporter who will witness the adventures of Victor Magtanggol.
Andrea will play Sif, a Norse godess who is in charge in guiding Victor in his discovery of his superpowers.
According to their interview in 24 Oras, both Janine and Andrea did parkour training to prepare them for their action scenes in the telefantaserye.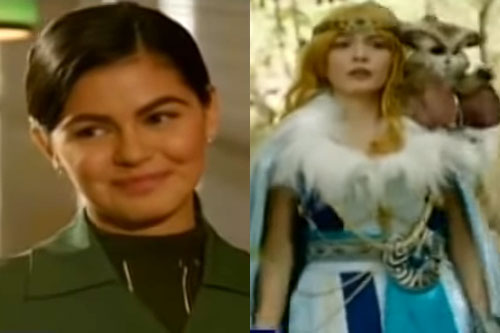 While Janine and Andrea were not officially introduced as the new leading ladies of Alden, the announcement drew mixed reactions from AlDub fans who are rooting for Alden and Maine to stay exclusive as a love team.
Fans ask: What will happen to AlDub? Will they just be seen together only in Eat Bulaga? Or will they have a separate project coming up?
One thing's for sure, AlDub fans have lots of memories with Alden and Maine as a love team.
Seen below were snapshots of Alden and Maine wearing shirts that bear the year when they became part of Eat Bulaga! Dabarkads.
These photos were taken during the launch of Eat Bulaga! ver. 4.0 as part of the noontime show's anniversary celebration last July 7.
So PEPsters, what are your favorite AlDub moments on and off cam?