ISSUE 6: BOYFRIEND ISSUE VS WHOLESOME IMAGE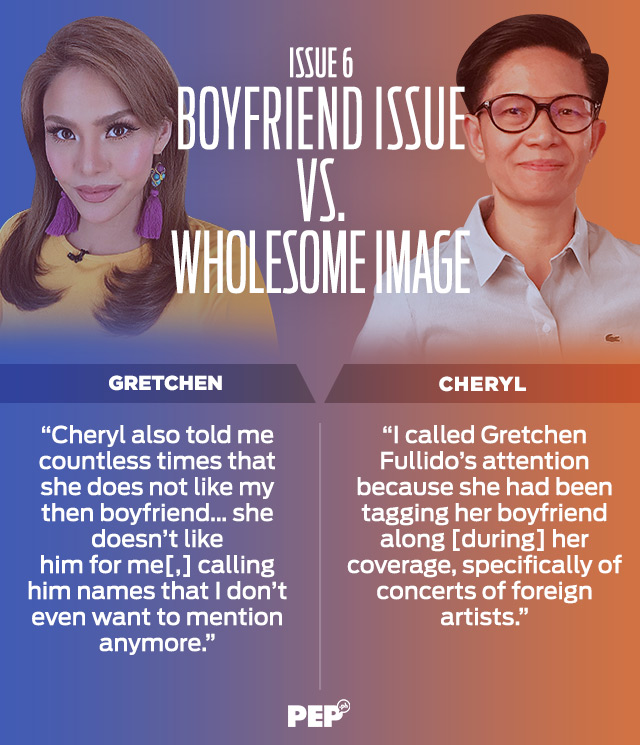 GRETCHEN
In her sexual harassment complaint against ABS-CBN newsroom colleagues Cheryl Favila and Maricar Asprec, Gretchen cites the incident of October 12, 2017, when she said she sent a text message to segment producer Maricar. It was to ask if Cheryl, Maricar's partner and TV Patrol's supervising producer, was mad at her.
Gretchen says she "was extremely surprised" when Maricar answered that both she and Cheryl were angry at her "because they found out that my boyfriend blocked them on Instagram." [itals provided]
Before this, Gretchen says, Maricar and Cheryl were already vocal about how they did not like Gretchen's previous Filipino-British boyfriend, an Azkals football player. That they were now complaining about her new boyfriend blocking them on his Instagram account was, to her, "very unprofessional because it totally didn't have anything to do with work."
In her Administrative Complaint to ABS-CBN in November 2017, Gretchen shows her text exchange with Maricar.
Maricar: Gretchen, alam mo medyo mayabang ang boyfriend mo. Sabihin mo kung pinagtatawanan niya ang mga Pinoy, uwi na lang siya kung saang lupalop man siya nanggaling. Look at his post last Saturday. Sobrang offensive for a Pinoy. Just saying.
Gretchen: Hey Maricar, what post are you talking about?
Maricar: About sa pinagtatawanan niya yung tindera kung saan man siya nag take out ng food. Sorry, baby gretchen. Kailangan ko yan sabihin sayo. Medyo offensive. Pang ilan niya na kasing post na ganyan. Palaging may #itsmorefuninthephilippines Sorry. Hindi na ako nakatiis kesa imessage ko siya diretso. Nahihiya naman a ko sayo.
Gretchen adds in the same Complaint, "Cheryl made me feel like I should break up with my then boyfriend because, in her own words, she didn't like him and that he was not good enough for me."
In her complaint to the Quezon City Prosecutor's Office on October 5, 2018, Gretchen again cites the Instagram-blocking incident, insisting that the two colleagues "did not offer any reasonable excuse why they reacted with so much rage."
Her conclusion is that this "underlies the sexual interest" of Maricar and Cheryl in her.
CHERYL
Cheryl and Maricar explain the Instagram-blocking incident: "This was not a work-related issue. This was a quarrel between supposed friends over a perceived betrayal."
Apart from being newsroom colleagues, Cheryl says, "You must remember we were really good friends."
When they discovered that Gretchen's new boyfriend had blocked them from his Instagram account, Maricar texted Gretchen: "GRETCHEN, YOU KNOW IT'S NOT ABOUT THE BLOCKING. ANG NAKAKAGALIT AY YUNG KUNG ANO ANG SINABI MO SA SYOTA MO KAYA NIYA KAMI BINLOCK NI CHAIR?" [all caps provided]
Maricar again addresses this during the Kapamilya network's investigation into Gretchen's sexual-harassment complaint, saying: "Nasaktan lang talaga ako doon sa text kasi unang-una, sa akin, magkakaibigan tayo. Sineshare mo sa amin ang buhay mo. Tapos makikita namin na binlock kami ng boyfriend mo na hindi man lang kami kilala.
"Tapos malalaman namin doon sa ibang officemates natin na nakikita naman nila, navu-view naman nila. Kami lang ni Chair ang naka-block… Anong sinabi mong masama para iblock niya kami. Yon kasi yong masakit sa akin noon e. Kaya galit na galit talaga ako noon. Ang sama sama talaga nang loob ko." (Chair is the nickname of Cheryl.)
As for having a romantic interest in Gretchen, Cheryl flatly says she has none. But, she adds, as supervising producer she has to have an interest in how Gretchen comported herself in public.
In her Answer Affidavit and Counter Complaint to ABS-CBN, Cheryl cites an April 26, 2015 incident where Gretchen was photographed sitting on the lap of her boyfriend, a copy of which circulated online.
Cheryl says she reprimanded Gretchen because the latter, as TV Patrol entertainment news anchor, violated her work-related "Brand Essence" agreement to maintain a "wholesome image"—which included not being caught in "sexy compromising poses" inside or outside ABS-CBN and refraining from wearing "revealing clothes."
As Cheryl tells it, there was more to the April 26, 2015 incident: "I sent Gretchen Fullido two photos of her partying with friends. On one photo, she was wearing a spaghetti-strapped top and a white skirt. Someone had her hand placed just above Gretchen Fullido's breasts. Another photo showed that she was sitting on her then boyfriend Simon Greatwich's lap."
As Cheryl explains in her Answer Affidavit to ABS-CBN, "Negative social media reactions are something that we could not afford at that time that we were trying to repackage her image."
ISSUE 7 "SEXUALLY LOADED" MESSAGES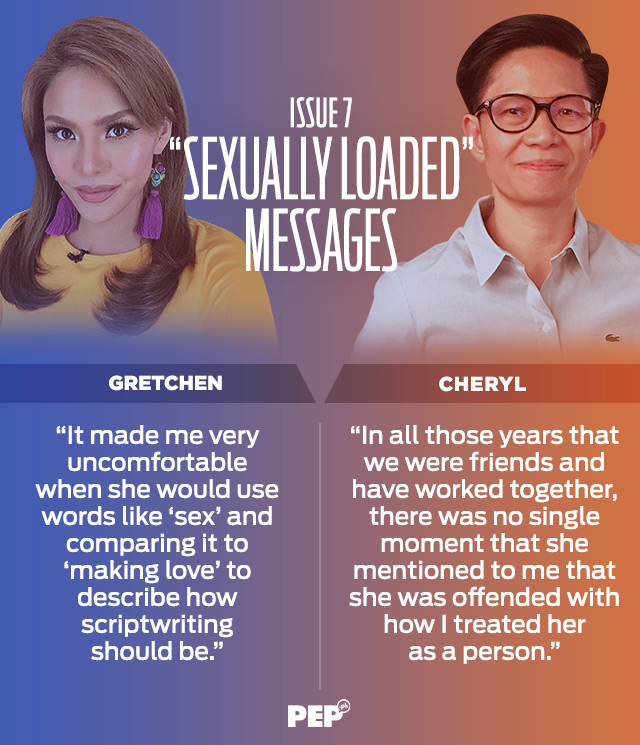 GRETCHEN
Gretchen says that Cheryl's metaphors for "scriptwriting," which included "making love" and "sex," had no place in the newsroom. In her words, "I found this inappropriate but I just didn't say anything so I don't offend her."
In sum, in her 2017 ABS-CBN affidavit, Gretchen admits that Cheryl never asked for sexual favors from her. But in her 2018 QC Prosecutor's affidavit, she says Cheryl was "implicit" about wanting these favors and that Cheryl "clearly made sexual advances."
As proof, Gretchen presents a text exchange between her and Cheryl that Gretchen says is "sexually loaded." Here is the portion she excerpts from that SMS exchange.
Cheryl: Of course pumayag sila! I am heading the Election Marathon coverage so I have a big say on it. Ging [news division chief] immediately said yes when I told her why you should be a social media anchor for Halalan. BUT mas gusto ko pa rin ng stripteaser Gretch yata [three monkeys covering mouth emojis]
Gretchen: Hahahaha!!! Teka kailangan ko muna mag workout, para mahabol ko katawan nung girl in the photo [smile and gun emojis]
Cheryl: Akala ko napikon ka eh. Promise yan? Hahaha
Gretchen: Di ako pikon noh! Minsan lang pag inaaway mo ako! Hahaha!
In the same Complaint Affidavit, Gretchen mentions another text message from Cheryl on the latter's birthday as again being "sexually loaded:"
"Thank you Gretchen! Pero gusto ng Live rendition ng Happy Birthday song mo, na naka-super sexy outfit ka. Hahaha! Birthday ko naman, di ba?"
CHERYL
Cheryl addresses the issue about her comparing scriptwriting to "making love." This was a "story pointer," says Cheryl, which was meant to teach Gretchen how to find the "better angle" and produce a "more compelling" output, but which Gretchen "twisted" into a personal message with sexual innuendos.
Cheryl also insists that Gretchen never conveyed, whether as a joke or in a serious message, that she was ever offended or made uncomfortable by the way they communicated through the years.
In other words, Cheryl and Maricar say in their Answer Complaint to ABS-CBN, Gretchen is now conveniently twisting their years of friendly banter to suit a sexual-harassment complaint that they had no idea was coming.
The same Answer Complaint provides the complete transcript of the "happy birthday" text message that Cheryl got from Gretchen:
Gretchen: Chair! Happy birthday to you! Happy birthday to you! Happy birthday happy birthday! Happy birthday to you! Hope you have an awesome day today!!! Cheers!!!
Cheryl: Thank you Gretchen! Pero gusto [ko] ng Live rendition ng Happy Birthday song mo, na naka-super sexy outfit ka. Hahaha! Birthday ko naman, di ba?
Gretchen: Ala Marilyn Monroe to JFK Ba? Pwede naman! Hahaha! Let's have a birthday dinner for you when you're free ha! Happy birthday Chair!
Cheryl: Yes!!! How will you do that? Sige nga...
Gretchen: Hahaha!!! Hindi ko RIN alam!
Cheryl adds, "This conversation was made in jest. The fact that Gretchen Fullido mentioned the Marilyn Monroe-JFK happy birthday rendition indicated that she was used to our style of sms chat that sometimes teased her."
In the Position Paper prepared by Atty. Evalyn Ursua, counsel of Cheryl and Maricar, this statement is made: "The gross malice in Gretchen Fullido's accusations is evident in the way she singled out messages without showing the full thread of the conversation, took them out of context, and made it appear they were inappropriate and had sexual undertones."
Cheryl also says that commenting on how someone looks is standard in the newsroom. As supervising producer, Cheryl says it's not unusual for her to comment on an anchor's looks because it's part of her job to make certain an anchor has the right wardrobe and looks good on the television screen.
She denies there was any "sexual interest" in text messages like: "I just wanted to say you were very sexy when you went up to me in the newsroom," and "I have to say this, you look lovely tonight."
She adds, "I don't see anything wrong with giving someone a compliment on how they look. I had complimented Gretchen on other occasions. I had also given her feedback when she did not look good on camera. I also bargained with her about what to wear on TV Patrol."
Cheryl provides a text exchange where she comments on how Gretchen looks on screen:
Cheryl: Btw, you look cute and lovely in the photo with the pony.
Gretchen: Naks thanks! Can I wear a leather jacket over my top?
Cheryl: Ok. Can i see you now in the monitor? I'd like to check also the ifb. Tayo ka na
Atty. Ursua tells PEP.ph in an October 7, 2018 interview: "Sinexually harass daw siya ni Chair kasi sasabihan siya ni Chair na 'You look good tonight.' Something like that, complimenting her on her manner of dress. Tapos she made it appear like it was a personal comment outside of work. Pag tiningnan mo yung buong conversation thread, they were talking about yung damit niya sa pagiging anchor niya… Ganun na ka-malicious yung pag-distort niya."
ISSUE 8: PINAASA / NO GUARANTEE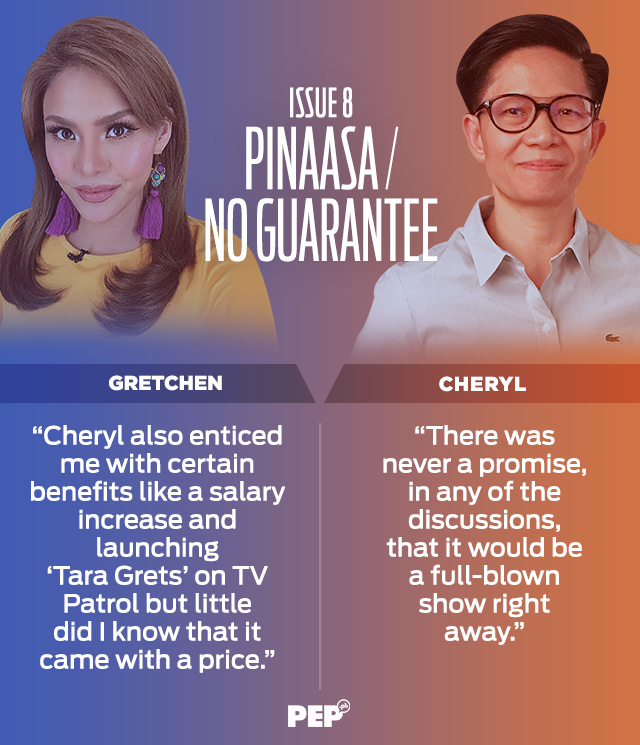 GRETCHEN
Gretchen says, in her ABS-CBN Complaint, that Cheryl "misled" her into thinking that "Tara Grets" would be reformatted, not just as a TV Patrol segment but as a full show. Gretchen insists that Cheryl has been promising this to her since 2014.
In an October 2017 meeting Gretchen had with ABS-CBN news and public affairs head Ging Reyes and other news department executives, including Lynda Jumilla, Dindo Amparo, and editor Jane Globio, Gretchen asked Ging about "Tara Grets" for her "own peace of mind."
Gretchen recounts this in her Administrative Complaint to ABS-CBN: "I asked Ging for the very first time since 'Tara Grets' was launched in 2015, just for my own peace of mind, if there was ever any plan for 'Tara Grets' to be made into a full show at all? Ging said, 'No, there was no plan to make Tara Grets into a show, it was conceptualized just as a segment for TV Patrol.['] At that moment, everything became clear to me that what Cheryl has been promising me since 2014 was not real."
The decision handed down by the ABS-CBN Ad Hoc Committee investigating Gretchen's complaint agrees that Gretchen was "misled by misrepresentation," when Cheryl told Gretchen that the latter had been listed for talent development or icon building in Cheryl's MBO or Management By Objective.
The decision reads in part: "In Favila's MBO, Fullido was not listed at all; only the names of Noli de Castro, Bernadette Sembrano, and Zen Hernandez appeared for talent development/icon building."
It also adds: "To repeat, Favila had used her position and authority to manipulate Fullido – at times giving her hope, and on other occasions making her feel afraid of what she (Favila) could do to her."
CHERYL
In her defense, Cheryl says that she had been given the task, as TV Patrol supervising producer, to create a "News Icon" for ABS-CBN. However, she says, a news icon "takes years to build" and "entails the correct attitude" from an anchor.
"As for Gretchen Fullido, I had initially thought that she could be a lifestyle icon for the masa as there was none up to this moment," says Cheryl in her Answer Affidavit to the network in January 2018.
Cheryl recalls that it was back in September 2014, at a dinner with Gretchen and her mother, that the idea first came up. Cheryl says Gretchen said she was a huge fan of the ABS CBN defunct lifestyle show F and had a dream of hosting a similar show someday.
"I told them I would conceptualize and pitch the segment to Ging Reyes, the Head of News. If approved, and it flies, then maybe, we could pitch it again to be a show, if a slot was open." Even at the time, Cheryl clarifies, Gretchen was aware that becoming a lifestyle icon would not happen overnight and that a "turnaround" of her image would be required from her.
Thereafter, Cheryl says that she and other newsroom staff tried to make this happen for Gretchen. They helped her with her scripts, briefed her on decorum and fashion, and generally guided her through her segment.
But in the course of Gretchen's stint in "Tara Grets," Cheryl says, many times Gretchen "did not honor the agreement" to keep a "wholesome image" and failed to work on "enterprising" stories that could build her "credibility" as segment host and reporter.
Cheryl explains her position in PEP.ph's October 7 interview: "That's the entire context. Makikita mo kasi minsan ang intensity ng text ko din. I was really frustrated because I know I pitched it, I conceptualized it, and I know it's part of my evaluation—not necessarily hers, but mine. Because everything you put out on air, it reflects me, e. That's the context."
She notes that it wasn't as if she alone had a say on the matter. "Yun ang laging pinanggagalingan ng away namin. Nanggagaling ako dun sa, 'Look, this is our agreement. Hindi lang naman tayong dalawa ang nag-uusap dito. There were other people there. In fact, everything was documented—that these are your deliverables so that I could meet this goal of you becoming an icon.'"
Eventually, Cheryl says, Gretchen's continued "poor performance" as reporter and segment anchor made her decide not to include Gretchen in the MBO or Management By Objective list.
Explaining this decision to PEP.ph, Cheryl says, "All anchors and segment hosts were part of my MBO. It was my responsibility as head of newscast to build icons. The decision to build Fullido as icon for entertainment and lifestyle was approved by ABS-CBN management. But since she did not perform well, I decided not to report her as part of my performance appraisal."
ISSUE 9 ABUSE OF AUTHORITY VS. POOR PERFORMANCE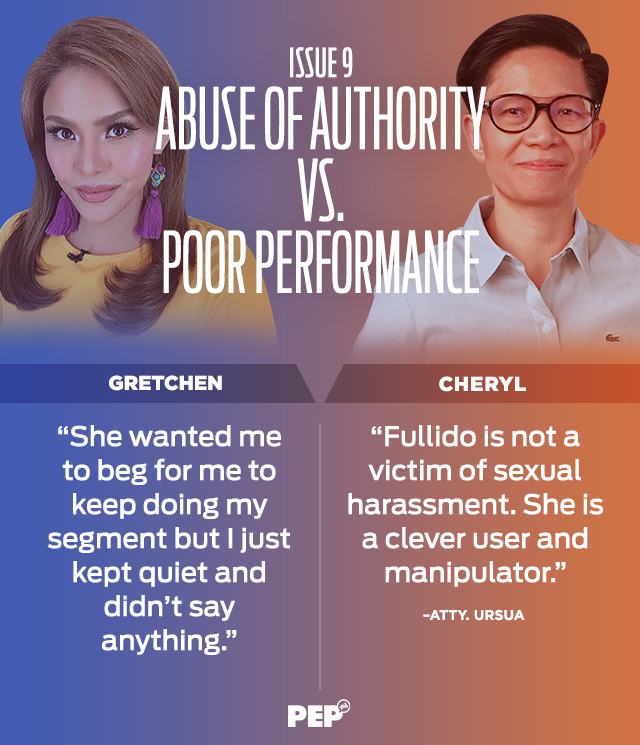 GRETCHEN
A turning point for her, Gretchen says in her Administrative Complaint to ABS-CBN, was when their news chief Ging Reyes called her to the office to discuss complaints about "lack of substance and her content, as well as the non-airing of her reports on TV Patrol."
Gretchen admitted that a number of her stories did not air, but argued that these stories had been approved by her news desk editor. It was in news production, she says, where Cheryl and Maricar had a say, that her stories did not get approval to air.
Then came a second meeting with Ging, editor Jane Globio, and Lynda Jumilla to discuss the subject of her stories not airing. "We then discussed how Cheryl and the news production people have been very partial [sic] to my stories, how they have been nitpicking at me…" Gretchen writes in her Administrative Complaint.
In her Complaint Affidavit at the Prosecutor's Office, Gretchen says that Cheryl and Maricar would tell her that her "stories do not meet their standards and/or lacks content, despite being approved through the proper channels."
In the same Complaint, Gretchen writes that Ging asked her if she felt like she was "being eased out on TV Patrol." "I said, 'yes,'" is Gretchen's reply.
Gretchen adds that this "hostile and offensive working environment" affected her morale, but that she decided to say nothing about this from 2015-2017 because "I just wanted to keep the peace in my workplace…"
Continuing, Gretchen says, "[My] competency as an employee has been attacked and the way Cheryl and Maricar would talk to me and text me was beyond [sic] professional."
She claims further that this became a three-year vicious cycle and it "has caused me to be stressed, depressed, have anxiety attacks and have self doubt about my competency at work when I know I have given my best…"
CHERYL
Atty. Ursua says that any understanding of the dynamics between Cheryl and Gretchen begins with an understanding of how the Kapamilya newsroom operates—and, by extension, an understanding that Cheryl holds no power to decide whether Cheryl stays as entertainment anchor of TV Patrol.
Atty. Ursua tells PEP.ph: "You have to remember, if you're saying that a person has authority over another in terms of employment—the bottomline is that the person must actually have actual power to fire that person or that person can affect the terms of employment of that other person. That did not exist here. Cheryl did not evaluate Fullido. Cheryl cannot recommend her termination. Cheryl did not even hire her. So what power are we talking about?"
Atty. Ursua adds that Cheryl actually has no idea how Gretchen landed the job of TV Patrol Star Patroller after the position was vacated by Phoemela Barranda in 2010. The lawyer says the newsroom was simply told one day that Phoemela was out, Gretchen was in.
While Cheryl and Gretchen have a producer-anchor relationship in TV Patrol, Cheryl clarifies that she cannot dictate Gretchen's lifespan as Star Patroller.
Cheryl and Maricar, in their Position Paper to ABS CBN, note that they "were not even part of her performance appraisal. Fullido knew this, thus her claim that she was scared of losing her job if she did not befriend Cheryl Favila is either pure deception or a product of an overly active and malicious delusion."
Cheryl and Maricar, in the same Position Paper, also question the timeline of the filing of Gretchen's unsworn November 2017 Administrative Complaint to the network.
In Gretchen's narrative of events leading to her complaint, she recounts how the news and public affairs head called her attention to her failures as reporter and anchor.
This was the moment, the Position Paper contends, when Gretchen raised the sexual harassment issue.
Instead of answering issues about her performance, Cheryl and Maricar say, Gretchen brought out the harassment card. They then ask if, in fact, this was Gretchen's ploy to "ensure that her career on TV Patrol continues."
They add, "Another possible reason is that Fullido realized that she could not get away forever with her poor work ethic and performance with the professional people on TV Patrol and that it would eventually catch up with her. Hence her attack against TV Patrol production people for demanding that Fullido delivers on what is expected of her according to the standards of TV Patrol."
To get a more disinterested party to speak of Gretchen's reportorial skills, PEP.ph interviewed a veteran ABS CBN news insider. The person says:
"Madalas po talaga. Sa sampung stories na ipapasa niya, pumapasa lang dun dalawa lang. Hindi talaga siya airable, either sa pagkakasulat, or dahil walang video, or minsan anggulo ang pinakaproblema."
The source adds, "Siguro na-feel niya na matatanggal na siya sa 'Star Patrol' nung nagka-anniversary celebration. Kasi di ba nagka-caravan? Nag-i-invite ng iba-ibang artista. Yun yung nag-ipon na siya ng mga na-out niyang storya, e. Tapos sa feedback, gusto ng tao ibalik mga artista."
[Note that the news gathering team and the production team work on two different levels. The first assigns the stories to the reporter and approves the scripts. The second makes sure that the text in the script has accompanying videos to match.]
Cheryl and Maricar's Position Paper points out that Gretchen herself admitted, during the ABS-CBN Ad Hoc Committee investigation, that there was "no physical contact" and there was "no demand for a sexual favor" from either or both Cheryl and Maricar.
"Fullido's admission that respondent never asked for a sexual favor from her," says Atty. Ursua, "deprives her complaint of sexual harassment of any merit since the law requires that there must be a demand, request, or requirement for a sexual favor."
The Position Paper says it finds it strange that on May 12, 2016—or "on the second year of her alleged ongoing sexual harassment experience with respondents"—Gretchen is recorded thanking Maricar and Cheryl for their "love and guidance" in handwritten cards, through gifts bought abroad, and via enthusiastic text messages.
Gretchen's claim today is that she did this for her "self-protection."
Cheryl and Maricar counter: "Self-protection from sexual harassment? To be sure, a victim does not run towards her sexual harasser." [itals provided]
Their lawyer, Atty. Ursua, tells PEP.ph: "For four years, she consistently maintained the friendship with them, to the point of giving them gifts, expensive gifts pa yung iba. She would constantly invite them to drinks, to dinner. As in, siya yung nag-i-initiate. Hindi sila. So yun ang context."
"Who then was playing who?" asks the lawyer of Cheryl and Maricar.
ISSUE 10: THE ABS-CBN DECISION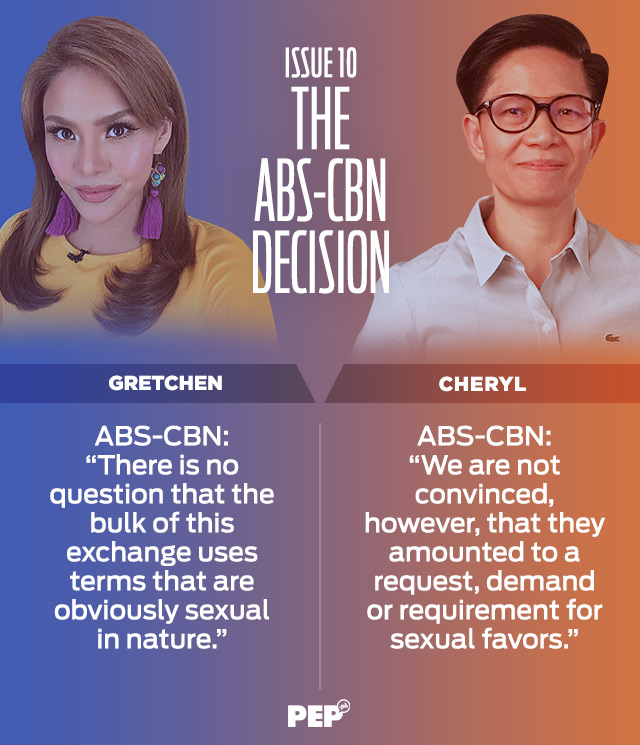 GRETCHEN
The ABS-CBN Ad Hoc Committee concludes that Cheryl's text exchange with Gretchen "uses terms that are obviously sexual in nature."
The Decision also concludes that Cheryl's "sexually-oriented language" in her communication with Gretchen is "inappropriate," because Cheryl is Gretchen's "superior" and is "expected to act as a role model who displays uprightness both in her own behavior and in her dealings with others."
The Decision further concludes that Gretchen's sexual-harassment complaints against Cheryl "have not been sufficiently proved," but that the Committee is convinced Cheryl "committed unprofessional conduct."
In Gretchen's Complaint Affidavit submitted to the Prosecutor's Office, the entertainment news anchor states that she approves of the Committee's findings but disagrees with its conclusions.
Her camp remains convinced that the behavior of Cheryl and Maricar "constitutes sexual harassment in the workplace."
Citing the Committee's description of Cheryl and Gretchen's producer-anchor relationship in TV Patrol, Gretchen's lawyer, Marvin Aceron, asserts that Cheryl has "authority, influence, and moral ascendancy" over Gretchen.
Atty. Aceron adds: "…Favila had the authority to train, supervise and develop…Fullido. She had the prerogative to approve, disapprove or otherwise modify the manner by which Fullido did her work. She also had the duty to provide her with timely, direct, constructive and non-personal feedback."
Gretchen' Complaint Affidavit to the Prosecutor's Office makes the claim that "the first element of sexual harassment is present in the case at bar."
CHERYL
Atty. Ursua, speaking for Cheryl and Maricar, contests the ABS-CBN Ad Hoc Committee's "inconsistency": it dismisses Gretchen's sexual-harassment complaint against Cheryl, yet finds Cheryl guilty of serious misconduct.
Speaking to PEP.ph in an October 7 interview, the feminist lawyer argues: "There was really no evidence of sexual harassment. The second half of the decision, they said there was Grave Misconduct. But how could it be possible to have Grave Misconduct when in the first place there was no offense called Sexual Harassment?
"You're using the same alleged facts, you're using the same evidence, the same claims, which we were able to prove were baseless and fabricated. And then you conclude there was Grave Misconduct on the same thing? That is totally anomalous."
As the lawyer puts it, "Unfortunately for Fullido, sexual innuendos, by themselves, do not constitute sexual harassment under Republic Act No. 7877. The sexual innuendos must rise to the level of a demand, request, or requirement for a sexual favor for the first element of harassment to exist."
She adds that even the sexual innuendos that Gretchen claims never existed in the way that Cheryl and Maricar related with Gretchen.
The ABS-CBN Decision agrees: "We have reviewed the entirety of the exchange between the parties. It is true, as Fullido claims, that many of the messages sent to her by Favila contained sexual overtones. We are not convinced, however, that they amounted to a request, demand or requirement for sexual favors. Fullido in fact admitted during the hearing of 28 February 2018 that neither Favila nor Asprec demanded, requested or required any sexual favor from her."
ABS-CBN's Decision also concludes that the use of the phrases "make lambing," "Thursday Girl," and "shower moment" are "inappropriate," but are "not unequivocal enough as to constitute a demand or request for a sexual favor, particularly when set against Fullido's admission that neither Favila nor Asprec had demanded any sexual favor from her."
The Committee also dismissed Gretchen's sexual-harassment complaint with regard to the March 9, 2017 "Bank Bar" incident. [PEP.ph October 12, 2018 "Gretchen Fullido and Cheryl Favila face off on sexual-harassment complaint."]
The ABS-CBN Decision concludes: "The Committee does not find these charges to have been sufficiently proved."
As for Maricar Asprec, ABS-CBN's Decision says "all charges" against her are "dismissed, there being no evidence showing her guilt for the alleged acts."
EDITOR'S NOTE:
PEP.ph obtained Gretchen Fullido's Complaint Affidavit from her lawyer, Marvin Aceron, in the morning of October 8, 2018. On the same day, this document was uploaded on Twitter and a blogsite dedicated to updates on Gretchen's sexual-harassment complaint.
Gretchen's Administrative Complaint, we obtained from an ABS-CBN insider, in the course of research triggered by Gretchen's filing of her complaint with the QC Prosecutor's Office on October 5, 2018. After we received a copy of the Administrative Complaint, we confirmed with Atty. Evalyn Ursua, counsel for Cheryl Favila and Maricar Asprec, that this was, in fact, the same document they responded to in the administrative case.
The two documents we cite here, as Cheryl and Maricar's response to Gretchen's Administrative Complaint, were the Answer Affidavit and the Counter Complaint they submitted to ABS-CBN. We obtained these from their legal counsel, Evalyn Ursua, during the PEP.ph October 7, 2018, interview with Atty. Ursua, Maricar Asprec, and Cheryl Favila.
PEP.ph's complete coverage of the Gretchen Fullido sexual harassment, libel complaints:
Gretchen Fullido files sexual harassment, libel complaints vs ABS-CBN colleagues
ABS-CBN issues statement on Gretchen Fullido sexual harassment complaint
Ces Drilon issues statement about Gretchen Fullido libel complaint
Jerika Ejercito, Melissa Ricks show support for Gretchen Fullido with #IStandWithGretchen
Lawyer of Cheryl Favila, Maricar Asprec on Gretchen Fullido's sexual harassment complaint: "Baseless"
Gretchen Fullido to public amid sexual harassment controversy: "Please just pray for me."
Karen Davila, Bianca Gonzalez speak up on Gretchen Fullido sexual harassment charge
Iza Calzado reacts to Gretchen Fullido sexual harassment claim
Cheryl Favila camp: "It's not sexual harassment, Gretchen just does not meet journalistic standards."
Gretchen Fullido claims implicit sexual favor asked; Cheryl Favila says texts distorted maliciously
Bryan Revilla airs support for Gretchen Fullido in her fight vs. colleagues
Ogie Diaz sides with Gretchen Fullido in her sexual harassment complaint
Gretchen Fullido and Cheryl Favila face off on sexual-harassment complaint