The last night of the wake for Armida Siguion-Reyna (1930-2019) was filled with laughter, tears, and music.
Her family, friends, and peers celebrated Armida's well-lived life with a musical tribute and colorful anecdotes about the veteran singer/actress/producer.
It was held last night, February 15, at the Heritage Park Chapel in Taguig City.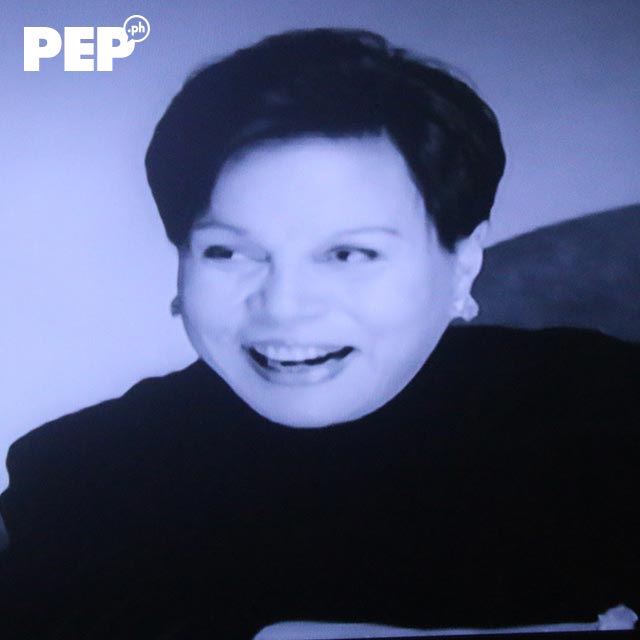 CRIS VILLONCO
The musical tribute for Armida was led by her beloved apo, Cris Villonco.
Before her song number, Cris kept things light as she warned the audience that she may turn emotional while paying homage to Mahal, as Armida was fondly called by family members.
"Sabi nga ng mommy ko, kung hindi ka inaway ng aking lola, hindi ka in.
"And I wasn't spared from that," said Cris.
Cris's mother is Town & Country's former editor-in-chief Monique Villonco, Armida's daughter.
The singer-actress remembered how Armida was very hands-on in teaching her difficult musical pieces when she was 15 years old.
"Ang mga paborito niya, mga half note. Hindi ko po alam, nahihirapan ako.
"So, pagpasok ko ng recording studio, akala ko alam na alam ko na ang kanta.
"Pagpasok ko, I sang a few lines... Sabi niya, 'Go home, come back tomorrow.'"
There was another instance when Armida got mad at Cris for cutting her hair too short.
"Sabi niya, 'Walang kumakanta ng kundiman na ganyan kaiksi ang buhok.' Nag-walkout po ako at iyak ako nang iyak.
"That's when I realized the effect that she had on me. That she could be able to needle me that way.
"And at the same time, all it took was one phone call and we would cry. I would say sorry. And we would be OK."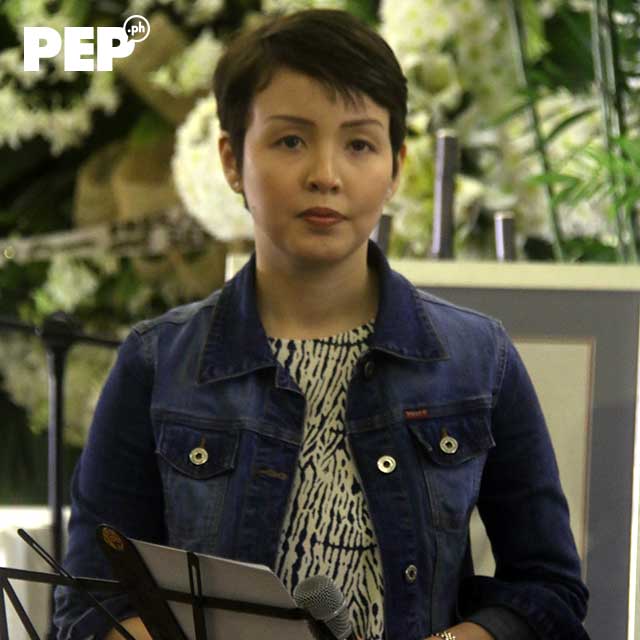 When she finally sang "Ngayon Pa Lang Tagumpay Ka Na," Cris could no longer hold back her tears as her song number turned out to be a duet with the pre-recorded singing voice of Armida.
After which, Cris also performed a beautiful rendition of "Gaano Kita Kamahal."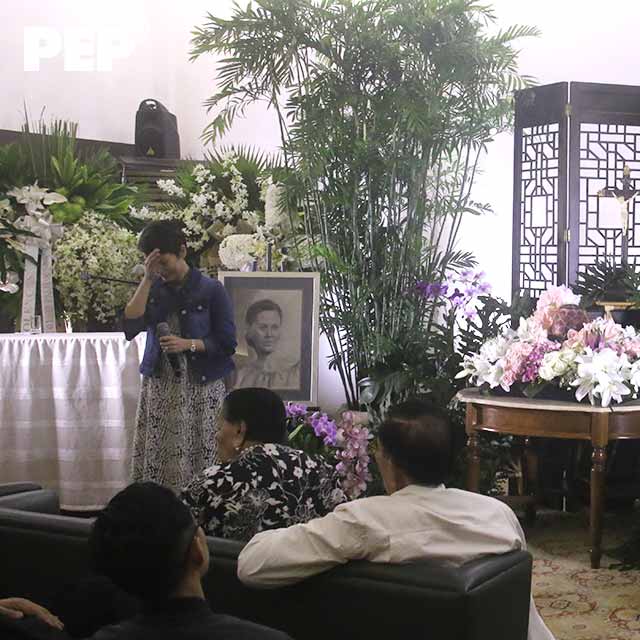 RAFA SIGUION-REYNA
Actor Rafa Siguion-Reyna, the son of Carlitos Siguion-Reyna and Bibeth Orteza, sang "Huling El Bimbo" for his Lola Armida.
It was his favorite OPM song that he learned by heart after Armida told him to pick a Tagalog song that he can sing "forever."
While he knew all about Armida's feisty reputation, Rafa said he never got reprimanded by his lola.
He was the youngest apo for about 10 years or so in the Siguion-Reyna family, which made him the apple of Armida's eye for a long time.
"Ang job ko talaga sa pamilya is, 'Rafa, mainit ang ulo ni Mahal. Tabihan mo nga.'
"I just tell her how beautiful she is. Yun ang nakakapag-lighten ng mood niya. Malambing talaga ako sa kanya."
But what really struck Rafa was how a lot of people in the entertainment industry regaled him with stories of Armida's contribution as an artist, producer, and former chairman of the Movie and Television Review and Classification Board (MTRCB).
"When she was doing all these things that she stood for, which is freedom of expression, her contributions to the MTRCB, to the movie industry, bata pa lang ako, seven or eight years old pa lang ako," said Rafa in an interview with Philippine Daily Inquirer and PEP.ph.
"Ngayong nagtatrabaho na ako sa industriya, mga naririnig ko na lang from mga crew members sa set minsan, sinasabihan nila ako, 'Alam mo before, yung crew iba yung pagkain or lodging sa artista. Yung lola mo nagpaiba nun.'
"When I hear these stories, especially from people she has worked with, I'm just so proud.
"It makes me want to work harder and do better in what I have to do with my career kasi I just have to, because ito yung legacy, e."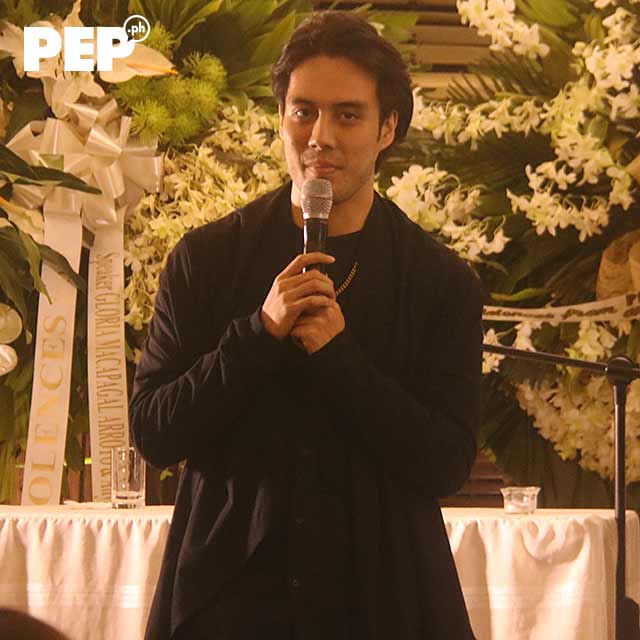 CARLITOS SIGUION-REYNA
Carlitos Siguion-Reyna fondly recalled his love-hate relationship with his mom Armida when they were making movies for their family-owned film company, Reyna Films.
"Yes, she was strict. When I would go over-budget, she would charge the over-budget to me!" he admitted with a laugh in an interview with Philippine Daily Inquirer and PEP.ph.
He said they also fought about personal differences on how they want to go about a movie script or some other concerns during production work.
One such incident happened when Direk Carlitos was filming the 1995 movie Inagaw Mo Ang Lahat Sa Akin topbilled by Maricel Soriano.
"If I knew na naka-schedule na five sequences today, but I wanted to shoot an extra shot or there are scenes that were shot yesterday na nakulangan ako, I want to make up for it today...
"I would ask yung make-up artist ni Maricel Soriano, si James Cooper, 'Can you take Mommy out? Mag-shopping kayo sa palengke or something.'
"Nasa Ilocos kami nun. 'Sige, Direk, alam ko gagawin mo.'
"In other words, magnanakaw ako ng shots.
"The actors would be cool about it because all of those actually helped."
Despite their differences, Direk Carlitos said that his mom was very supportive of him carving his own career path and doing things that he's passionate about.
He then summed up the values that he considers as Armida's greatest legacy to him:
1. Assert your voice in whatever you're going to do.
2. Keep up your professional and creative standards.
3. Whatever lessons you learned, teach them back to the generation after you.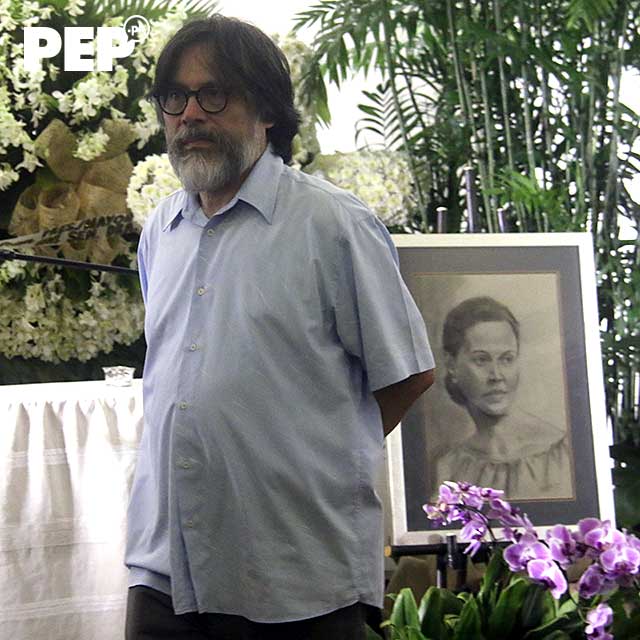 AAWITAN KITA REUNION
Another highlight at the wake was the reunion of singers who were part of the defunct musical show Aawitan Kita, produced and hosted by Armida from 1977 to 1997.
The long-running musical show was considered one of Armida's significant contributions to the OPM industry as the show featured kundiman and classic Filipino songs.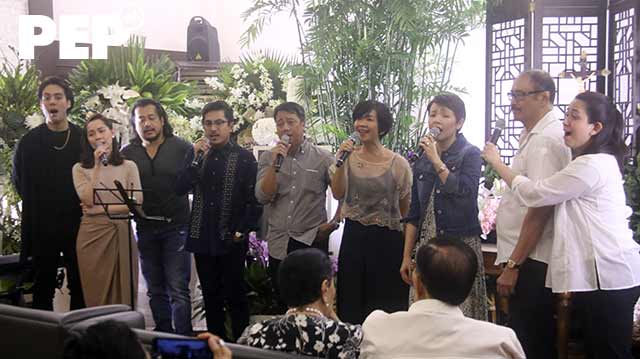 JUAN PONCE-ENRILE
Former Senator Juan Ponce Enrile (JPE), Armida's paternal half-brother, was seated at the front pew during the production numbers at the wake last night.
Armida was 18 and JPE was 21 years old when their father first brought him to the Ponce-Enrile family home in Manila.
JPE was their father's child with another woman, but Armida was mostly struck by the fact that he was born on Valentine's Day.
In an official statement, released last February 11, JPE maintained that he and Armida were very close as siblings.
He fondly recalled how he often accompanied her to parties and that he would drive for her "kahit baha sa Maynila."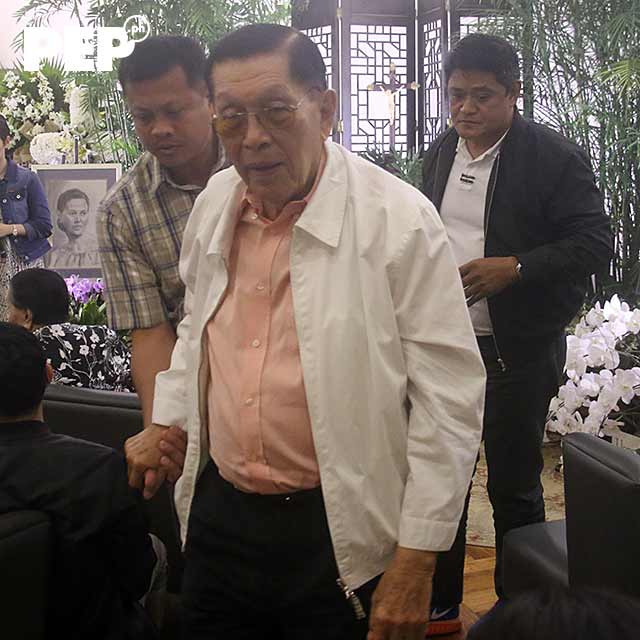 ISAY ALVAREZ AND ROBERT SEÑA
As former mainstays of Aawitan Kita, married couple Isay Alvarez and Robert Seña said they witnessed how Armida was a stickler for perfection and discipline at work.
"Siya po ang nagpo-provide ng costume namin. Talaga pong wala kayong makikitang gusot," said Robert during the program proper at the wake.
Isay added, "Siya mismo nakakaalam kung ano ang aming kakantahin. Kaya pag di namin alam kung anong kakantahin, tepok kami kay Tita Midz."
For their production number, Isay and Robert performed "Babae" in honor of Armida who did her own rendition of that song in her album of the same title.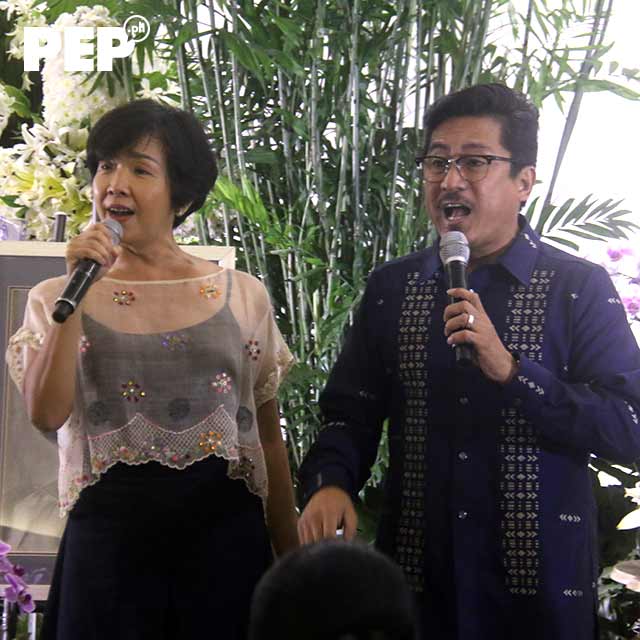 BIENVENIDO LUMBERA
National Artist Bienvenido Lumbera and Armida were advocates of freedom of expression together with late directors Lino Brocka, Ishmael Bernal, and Benjamin "Behn" Cervantes.
In 1983, their group marched to Plaza Lawton to stage a rally against anti-censorship, which led to the birth of Concerned Artists of the Philippines (CAP).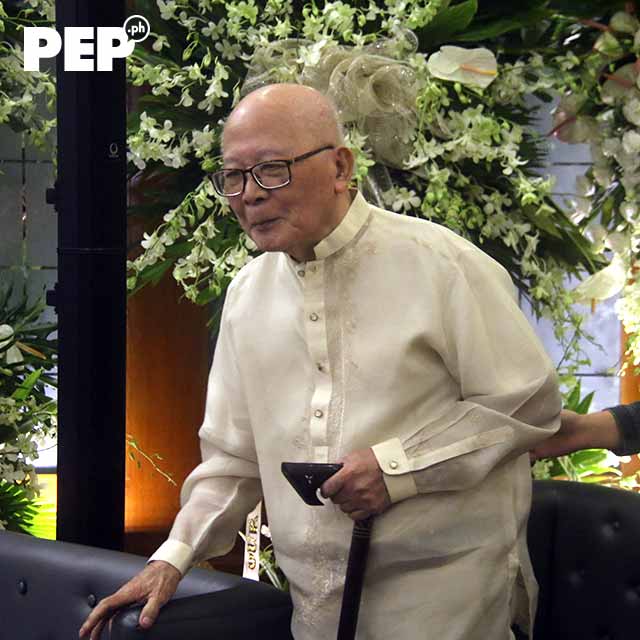 OTHER VISITORS
Ryan Eigenmann was among the celebrities who paid their last respects to Armida at the wake last night.
Here, Ryan was photographed with Armida's daughter-in-law, Bibeth Orteza.
Bibeth, for her part, was busy all night hosting the musical tribute and greeting the guests who came to condole with Armida's family.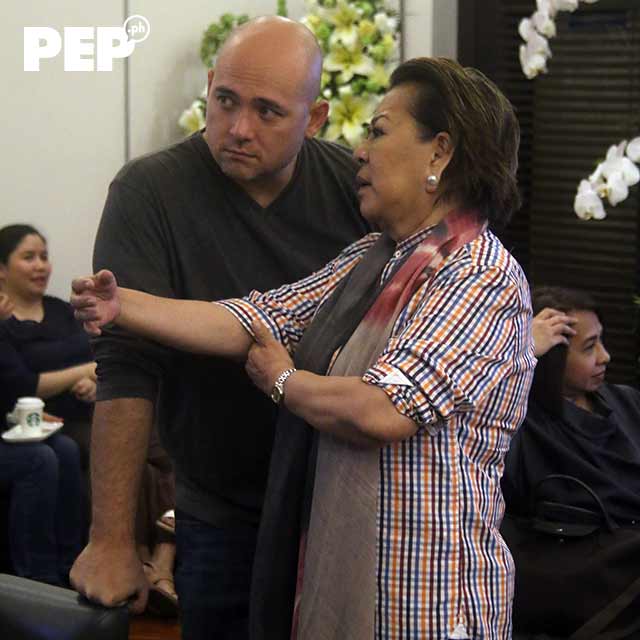 Senator Grace Poe arrived at Armida's wake and was welcomed by Bibeth.
One thing that Armida and Senator Grace have in common is that they both served as MTRCB heads.
It was under the leadership of Armida (1998 to 2001) when the policy of self-regulation was first adopted and implemented by the MTRCB Board.
Senator Grace implemented the same policy (2010 to 2012) when she got appointed to the same chairmanship.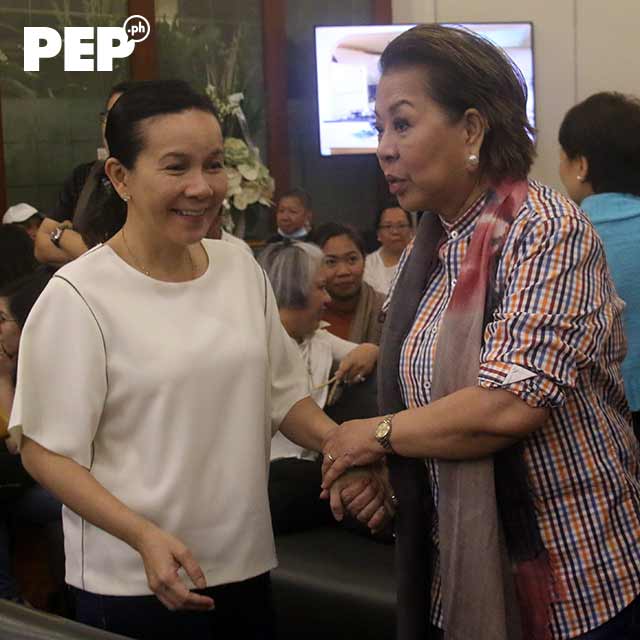 Directors Mel Tionglo and Joel Lamangan were also among those who paid their last respects to Armida.
Direk Mel worked with Armida in the 1990 film Nagsimula Sa Puso, topbilled by Hilda Koronel and Richard Gomez.
Direk Joel worked with Armida in the 2003 film Filipinas, which the latter co-headlined with Maricel Soriano, Richard Gomez, Aiko Melendez, and Dawn Zulueta.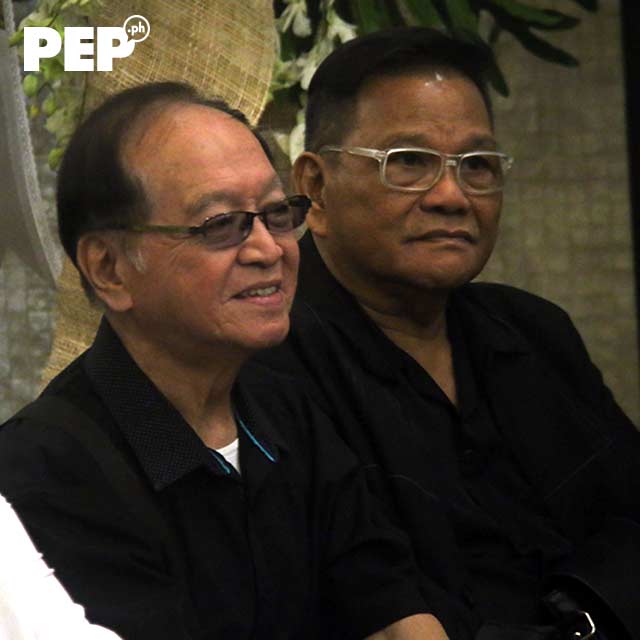 Manoling Morato, who chaired MTRCB from 1986 to 1992, also came to pay his last respects to Armida.
Back in the day, the two were famous for engaging in feisty word wars given their opposing views on movie censorship.
But they subsequently made their peace.
In an article published on People's Journal last February 15, Manoling said his previous tussles with Armida were never personal in nature.
He even recalled how Armida invited him to be a guest speaker at her 40th wedding anniversary with husband Atty. Leonardo Siguion-Reyna in 1991.
His parting message for Armida: "Goodbye Armida. May you be with Almighty God forever. With a promise of prayers, Manoling Morato."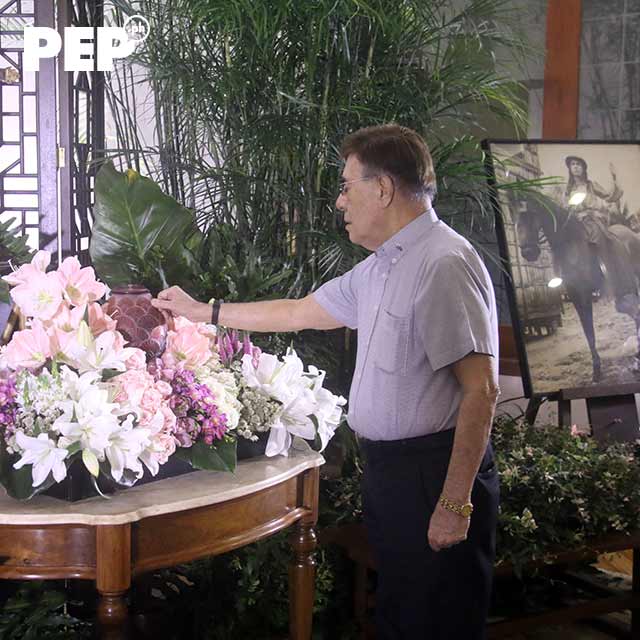 Former MTRCB Chairman Atty. Toto Villareal was also present during the presentation of the musical tribute for Armida at the Heritage Park Memorial Chapel.
Atty. Toto, like Armida, adopted the self-regulation policy during his leadership in MTRCB (2012-2017).