Celebrities and influencers led by Christian Bautista, Rayver Cruz, Max Collins, Dianne Medina, as well today's hot young stars Andrea Brillantes, Loisa Andalio, Ronnie Alonte, and Maris Racal were spotted at a luxurious sunset yacht party around Manila Bay.
It turned out that the event was part of a day-long celebration held to commemorate local beauty brand Ever Bilena's 37th anniversary. The anniversary was made even special with the birthday of its founder Dioceldo "Boss Deo" Sy, who was also in attendance.
A GLAMOROUS DAY OF BEAUTY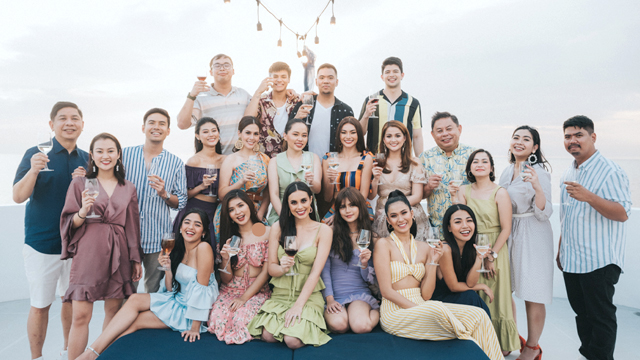 The day kicked off with a hearty breakfast banquet in a fancy hotel in Manila, where savory breakfast food, cold cuts and cheese, salads, fruit cups, and more were served. It was followed by glam sessions for the celebs in preparation for the photo and video shoots.
Ever Bilena brand ambassadors Vickie Rushton and Janica Nam, Careline ambassador Lou Yanong, EB Advance ambassador Emma Tiglao, Blackwater ambassadors Rayver Cruz and Albert Nicolas, and content creator Michelle Dy were also among the celeb attendees.
Everyone boarded a yacht to enjoy a private,"elevated nautical"-themed cruise around Manila Bay in style, with the world-famous sunset serving as the backdrop for the shoot.
In between takes, Ever Bilena gave a sneak peek of the newest products from each brand. The celebrity guests also took photos of product flatlays for their social media, and even played fun games with one another as well as members of the Ever Bilena team to bond.
Among them were Ever Bilena Cosmetics Inc. Chief Operating Officer Silliman Sy, Chief Sales and Marketing Officer Denice Sy-Munez, Marketing Manager Olive Padilla, and brand managers Creole David (Ever Bilena), Miya Inomata (Careline), and Ivan Banez (Blackwater)
To cap off the day, the celebs and the Ever Bilena team had a group photo shoot, and then proceeded to sumptuous dinner. A wine and champagne toast was also done to honor Boss Deo.
See highlights of the glamourous day in this video:
Ever Bilena has been a go-to brand of Pinoys looking for affordable yet quality beauty, grooming, and personal care products to help them look their best for over three decades.
Over the years, Ever Bilena and its sister brands, Careline, EB Advance, and Blackwater have gained a steady following in the country, with local celebrities among them, too.
Ever Bilena products are available at counters in department stores and drugstores nationwide. To find out more, visit Ever Bilena's official website and follow the brand on Facebook and Instagram.
Website
https://www.facebook.com/everbilenacosmetics
Read the story? Tell us what you think!
How and where can I get this?