It's that time of the year again when employees are most excited about their monthly pay.
Usually released before December 24, the 13th month pay is a mandated benefit for regular employees, thanks to Presidential Decree No. 851.
It is equivalent to one-month pay, but its computation is pro-rata, which means that for you to get your full salary, you should have worked in the company this year for 12 months.
But if you are just a newbie, it will be based on the number of months you've been with the company since you were hired.
The amount does not include overtime pay, night-shift differential, allowances, cash equivalent of unused vacation and sick leave credits, holiday pay, and other company benefits.
How to compute 13th month pay
Without further ado, here's how to compute your 13th month pay, assuming your salary is PHP20,000.
12/12 X PHP20,000 = PHP20,000

Six months: 6/12 X PHP20,000= PHP10,000

Three months: 3/ 12 X PHP20,000 = PHP5,000
The formula is basically, number of months you've been with the company this year divided by 12 then multiply with your monthly salary.
Another way of computing it is: Monthly salary X number of months you've stayed in the company that year = Sum/ 12.
PHP20,000 X 7 months= PHP140,000/ 12= PHP11,666.00
By the way, the 13th month pay is generally non-taxable, but in January 2018, because of Republic Act No. 10963 or the TRAIN law, those with salary of more than PHP90,000 is subject to tax.
How to compute Income Tax
For your income tax, Department of Finance has a tax calculator on its site, and it automatically computes your tax deduction based on the TRAIN (Tax Reform for Acceleration and Inclusion) Law.
Note that it includes the mandatory deductions for SSS, PhilHealth, and Pagibig.
Here's to give you an idea if you have a monthly salary of PHP25,000.
Just pay attention to the details under "Bagong Sistema."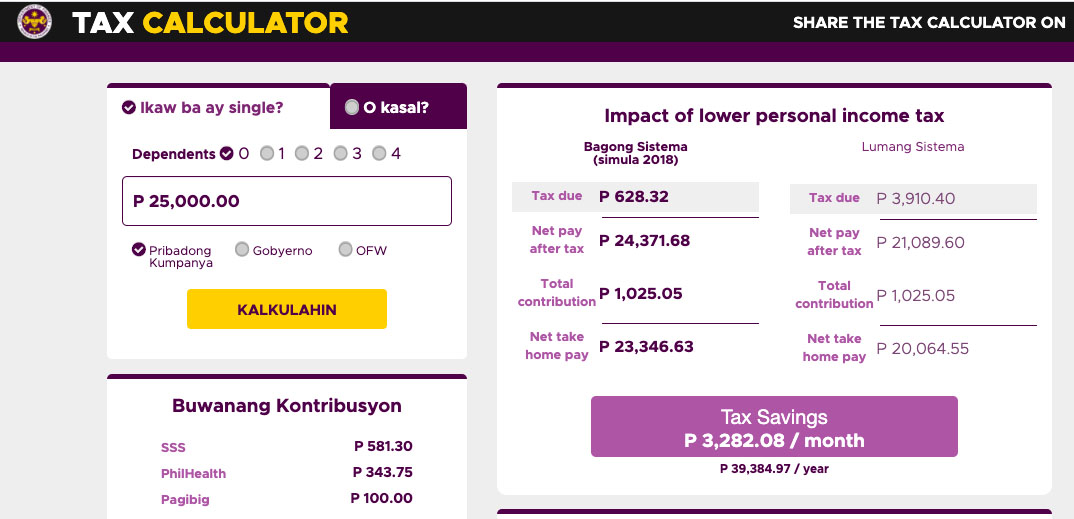 How to compute MERALCO bill
If there's another computation you need to know, the top-of-mind answer is probably MERALCO.
How much is your bill this month?
Find the "Pres Rdg" at the back of your latest bill.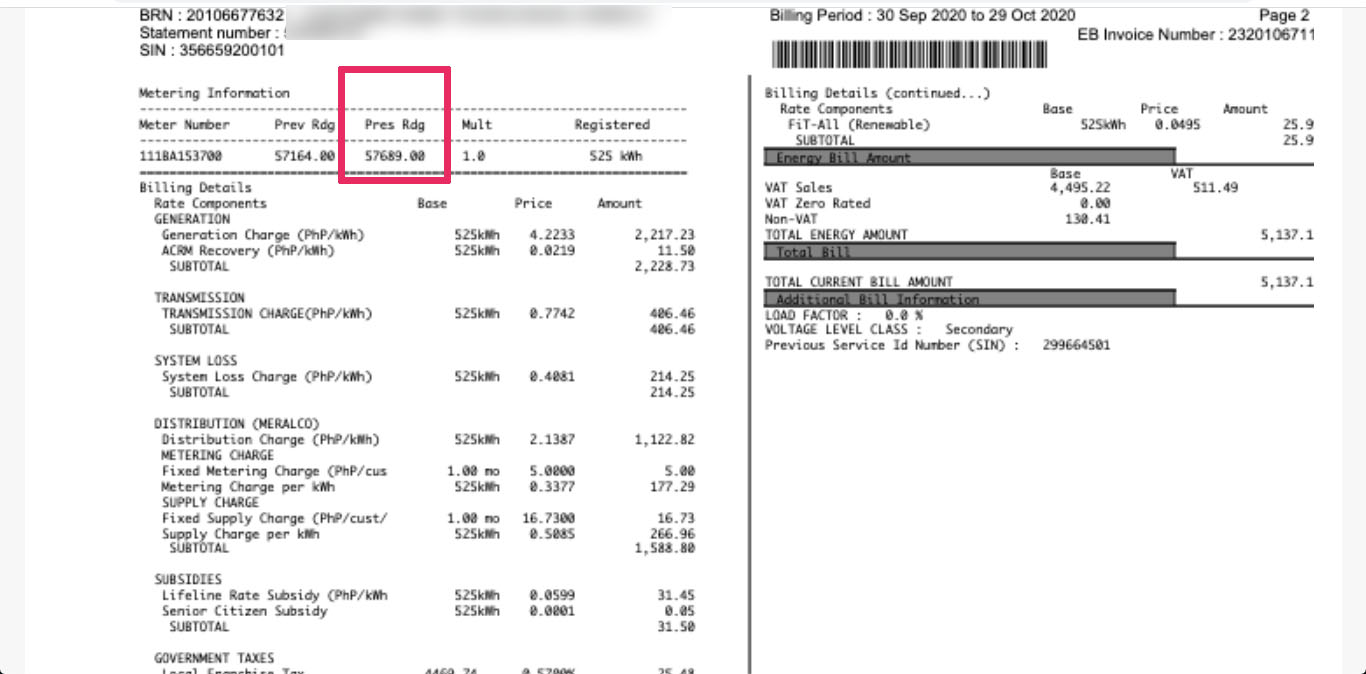 Go to your electric meter and get the current reading.
Subtract this from the "Pres Rdg" indicated in your last bill. The answer will be your current consumption kilowatt-hour (kWh).
Find the latest MERALCO rates online. In November, it is at PHP8.5105 per kWh.
Multiply your current kWh to the current MERALCO rate and that will be your estimated bill for the month.
How to compute your credit card's finance charge
In case you're paying just the Minimum Amount Due of your credit-card balance, check the card's interest rate per month.
Let's say your Total Amount Due if PHP10,000, and you're planning to pay just half, PHP5,000.
The interest will be added to the remaining balance. Here's the computation with 3.5% interest rate.
PHP5,000 X 3.5% = PHP175 (the interest)

PHP5,000 + PHP175 = PHP5,175
How to compute monthly mortgage for your future house
Planning to get a Housing Loan?
The most important thing to know when inquiring with your bank is the interest rate, and you have to look for banks that offer the lowest FIXED interest rates.
Most of them have Home Loan Calculator, too, as is the case of BDO.
Let's say you're eyeing a townhouse unit worth PHP3,000,000, here's to give you an idea on your monthly amortization depending on the Loan Term.
Check out the other offerings as well.
BDO currently has an All-in Financing offer that entails "minimal initial cash-out" and the loan-related charges and mortgage fees are paid together with the monthly amortization .
Its new clients can also opt to either pay 60 days after loan release or pay only the interest for the first 6 months.