Ever wondered why some passengers flying abroad just breeze through their Immigration inspection?
These past few months, a number of complaints went viral, and most of them were about the alleged intense questioning of the immigration officers.
One passenger was reportedly asked to show her yearbook, and this ultimately lad to missed or rebooked flights.
Another was asked to show birth certificates of 10 ancestors.
The Inter-Agency Council Against Trafficking (IACAT) has released its revised departure guidelines for Filipinos traveling abroad, where it listed down the documents a passenger needs to show the immigration officer to avoid getting offloaded or referred to longer inspection.
Know that the process is part of the Bureau of Immigration's goal to stop potential victims of human trafficking as some of them attempt to bypass the process by pretending to be tourists, the Department of Justice said in a statement.
The updated guidelines will take effect beginning September 3.
Also read:
No Yearbook Required: These Are the Documents Needed by Filipinos Traveling Abroad
What Happens When a Passenger Goes Through Immigration at the Airport?
What happens during Immigration's primary inspection?
All passengers flying international will come face to face with an Immigration officer during the primary inspection.
Here's what you can expect, based on the revised guidelines:
The primary Immigration officer (IO) will ask the passenger about the purpose of his/her travel, and inspect their basic travel documents: valid passport, valid visa if required, boarding pass, and confirmed return or roundtrip ticket when necessary.
The IO may ask the passenger to clarify and may require supporting documents to establish

his/her

purpose of travel.
If the passenger is able to establish the declared purpose of travel,

he/she

will be cleared to depart.
If a passenger presents fraudulent, falsified and tampered documents or refuses to undergo primary inspection, they will not be cleared to depart.
In case a passenger gets referred to secondary inspection, the IO will inform them of the ground for referral and will be asked to accomplish a Border Control Questionnaire containing the primary IO's assessment and action.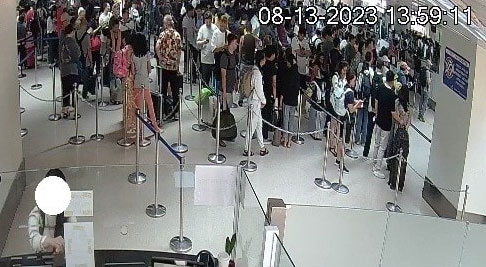 Who undergoes Immigration's secondary inspection?
Passengers who fail to hurdle the primary inspection may go through another round of inspection, for example:
Those who fail to establish their purpose of travel during primary inspection
Those with inconsistent or insufficient travel or supporting documents
Those unable to show proof of financial capacity to travel and are accompanied by a foreign national who is not a relative by consanguinity or affinity up to the fourth civil degree
Those traveling, with or without visa, to countries under Alert Level 3 or 4 as determined by the Department of Foreign Affairs (DFA) and those with deployment bans as determined by the Department of Migrant Workers (DFA)
Those who stayed abroad for more than six months as a tourist or previously misrepresented travel information and are intendng to travel again for the same purpose
Those with active deferred-departure records
Those identified and reported by IACAT Anti-Trafficking Task Force (IACAT-ATTF) or other agencies as potentially-trafficked/illegally-recruited persons or suspected trafficker/illegal recruiter
What happens during Immigration's secondary inspection?
Secondary inspection is expected to not exceed 15 minutes unless circumstances require more time for inspection.
The 15-minute period will only start once the interview commences.
The secondary IO will interview the passenger about the purpose of the travel and further examine the documents presented. This may include database referencing and referral of documents for laboratory examination.
The second IO will also consider the totality of circumstances that may include the purpose of travel, country/ies of destination, duration of stay, travel history, age, financial capacity or source of income, and educational background.
After this, the secondary IO will indicate in the BCQ his/her assessment and the information he/she gathered.
Passengers will be deferred due to any of these grounds:
Refusal to undergo secondary inspection
Doubtful purpose of travel
Inconsistent or insufficient travel or supporting documents
Misrepresentation or withholding of material information about the travel
Presentation of fraudulent, falsified, or tampered travel or supporting documents
Non-compliance with previous deferred-departure requirements
The passenger is a potentially trafficked or illegally recruited person, or a suspected trafficker or illegal recruiter.
In the case of potentially trafficked or illegally recruited person or a suspected trafficker or illegal recruiter, the passenger will be turned over to the IACAT-ATTF.
The original article has been published in SPOT.ph