Hello po. Welcome ulit, to Labandera Chronicles.

Allow me first to clarify I am not presuming you want to read about MY bout with breast cancer. But a cancer story is a cancer story. This isn't just about me, it's about all other breast cancer patients and survivors as well.
Last time I told you about how I found out I had the disease. Soon after further tests were done, the operation was scheduled. Morning of the day I was to check into the hospital, my friends had started to pray for me.

Lights went on and off in the second floor of our old house. Then this Jason Moss (Filipino artists/director/instructor) acrylic of what was clearly a breast cancer woman with her right breast stitched up—please see painting—suddenly fell from where it hung by the entrance to our bedroom, its glass cover and frame broken. My sister whispered, in awe: "You will heal. This is a sign."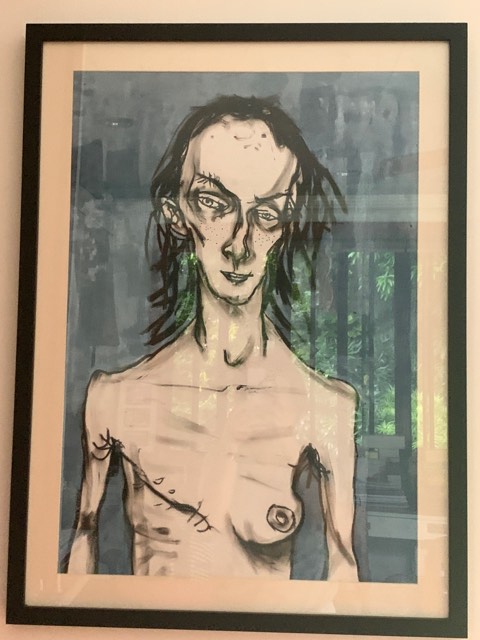 Friends and family brought me to the hospital the eve of my procedure. By then, my husband Carlitos and I had decided that immediately after the frozen mass biopsy determined the tumor was malignant, we'd let the doctors proceed with a Modified Radical Mastectomy (MRM). Prayers were said for my healing in my hospital room; I recall just simply thanking God for everything.
Next day's surgery lasted three hours. At 11:00 a.m., surgeon Jennifer Ang, MD, called Carlitos to inform him the biopsy did show cancer, so the MRM of the right breast followed, as previously agreed upon. My ribs were scraped; tough lymph nodes were found hiding all over the rib cage. I was a Stage III-C.
Twenty-four hours later, I did the "spiderman exercise," where my fingers were made to go crawling up the wall until the entire length of my body was smack on the wall itself, nakadikit na talaga. It hurt; I was sweating beads the size of corn kernels, but I cinched it.
My friends came in droves. And this is when I realized that a cancer diagnosis wasn't a death sentence, it was closer to getting a ticket to the first row of seats on your wake, where you're able to find out for yourself, who are with you and praying for you.
Like the sisterhood of ICanServe Foundation, women I'd never before met in my life except for Kara Magsanoc-Alikpala, Letty Magsanoc's daughter and Inday Badiday's niece; a fantastic organization of wounded healers with whom magkatinginan lang kayo, magkaibigan na kayo because you know you went through the same experiences, the same fears, from the onset all the way to last day of treatment.
Or, the text I got from director Peque Gallaga, that went: "You know for the longest period I've been an atheist. But I am now making my piece with God and praying for your healing."
Plus the get-well visits I got from the likes of Susan Roces, Mother Lily, Tony and Madeleine Tuviera, Lilibeth Romero, Kitchie Benedicto, Eric Quizon (yelling at me to get well, "Hoy, isusulat mo pa ang libro ng Daddy ko!"), Dolphy himself, Eddie Garcia and Fernando Poe Jr. (who stood patiently by my bedside and waited for me to wake up).
And family, without whom I wouldn't have survived the ordeal. Including my mother-in-law Armida Siguion-Reyna who never looked at me straight in the eye until the day I was to leave the hospital, and when she did, it was as if a dam broke with her crying.
And, bless him, the annoying son who matter-of-factly stated, the day we were discussing chemotherapy as an option for treatment with Dr. Barbara Domingo, the oncologist: "You will get well, Mama."
"What makes you say that?" I asked.
"The word mother is embedded in chemotherapy," Rafa shot back. "It's actually cheMOTHERapy."
It's been 15 years.
And on the 15th anniversary of my modified radical mastectomy (MRM), my daughter Sara gives me this. Because I'm me, I cry. She goes: "You're so weird!"
I love you, baby girl!
###