DATELINE: SEPTEMBER 2016
A little past one o'clock in the afternoon, a tall, lanky, good-looking young man carefully pushes the glass door open and lets himself inside the photo studio.
After surveying the room and noticing that all eyes are on him, his thin lips form into an awkward smile. He then takes a few tentative but reassuring steps toward the people in the studio and introduces himself.
"Hi, Vico Sotto po," he says, extending his right hand to shake hands with everyone from the YES! team.
As the English saying goes, the apple doesn't fall far from the tree. In other words, to change metaphors, the 27-year-old Vico Sotto is a chip off the old block. He looks, moves, and sounds very much like his father, ace comedian Vic Sotto. Like father, like son.
In the next four hours, the YES! team learns a number of things about Vico: how similar and yet how different he is from his father Vic, how his unconventional family setup shaped his childhood, how he transitioned from being a painfully shy fellow into an optimistic and promising city councilor of Pasig City.
UNCONVENTIONAL FAMILY SETUP
Born on June 17, 1989, Vico Sotto knew early on about his family's unconventional setup.
Vico's mother, Constancia Angeline Reyes, better known by her screen name, Coney Reyes, has two kids from her former marriage to basketball star Larry Mumar (LA Mumar and Carla), while Vico's father, Marvic Castelo Sotto, more popularly known as Vic Sotto, has kids from his ex-partners as well (Oyo Boy and Danica with Dina Bonnevie, and Paulina with former model-actress Angela Luz).
"Si Mama kasi never minced her words, e," Vico says. He recalls that "from a very young age, I don't even remember what age," he learned about his parents' separation from his mother (whom he calls Mama and Mommy). "She would talk about it normally. So never ko inisip na 'Bakit ganyan?' Bakit hiwalay ang parents ko? Bakit si Mama lang ang kasama ko?'"
Vico, whose name is a combination of "Vi" from Vic and "Co" from Coney, didn't resent the fact that his parents lived in different houses. In fact, Vico remembers that his mom would sometimes even wonder why he didn't make a fuss about it when he was growing up.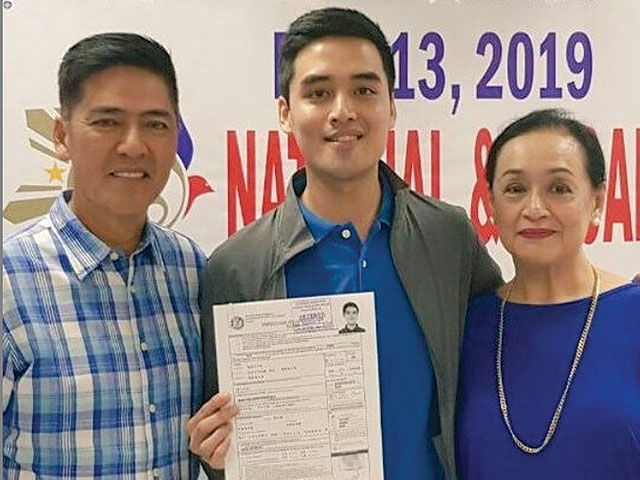 "To me, parang I just grew up na gano'n na lang talaga. I never thought na tulad ng ibang kids na iniisip nila na sana magkabalikan ang parents nila. I never thought of that. When I got older nga, tinatanong ni Mommy, 'Hindi mo ba naisip 'yon dati, na sana magkasama ang parents mo?'
"Sabi ko, 'Oo nga, 'no?' Hindi, parang wala. Hindi ko naisip. I guess credit it to my mom. We would talk about it very openly kung ano 'yong nangyari in the past, kung ano 'yong good, ano 'yong mistakes."
Keeping the communication lines open with his dad and his half-siblings made all the difference in Vico's childhood. He never felt alone, nor did he feel any different whenever he was in the company of his half-siblings.
"Growing up, we would always have dinner every Saturday," Vico remembers. "Walang paltos 'yan talaga. But of course, pag may work, minsan hindi."
Admittedly, Vico tells YES!, while Vic Sotto's kids were quite content with their setup, there were also "selosan" moments among them. But those moments were never reason enough to keep Vico from establishing a strong bond with his brothers and sisters as they all got older.
"Siyempre, oo naman, may selosan no'ng kids kami. Siyempre, three mothers, e. But as we got older, we became closer to each other.
"Minsan, hindi naman talaga kami nagkikita every day. I would see Paulina pag Saturdays minsan. 'Tapos, si Ate [Danica] and Kuya [Oyo Boy], pag may occasions. Okey kami with each other. Pero when we got older, siyempre mas iba na, e.
Anytime, mas puwede akong pumunta.
"Si Ate Danica and I kasi are neighbors. Minsan, nagbabasketbol ako katapat ng house. Pag nakita kong nakabukas 'yong pintuan, papasok muna 'ko. Maglalaro kami ni Mick [Danica's son with professional basketball player Marc Pingris]. Si Mick, mahilig din magbasketbol ngayon, e. Lolokohin ko muna, ganyan, saka ako uuwi.
"It became a nice setup. I guess, gano'n din habang tumatanda, nag-iiba din 'yong dynamics. So, ngayon mas close talaga kami."
Perhaps another reason Vico was able to enjoy a normal childhood was because of his parents. Even though their relationship ended, Vic and Coney managed to maintain a level of civility and respect for each other as little Vico was growing up.
"Actually, when I was growing up, minsan pagka may dinner kami ni Papa, kasama siya [Mama]. Wala naman, very casual lang. Good friends naman. Very civil with each other.
"They respect each other. Siguro, 'yon 'yong importante do'n. Hindi man sila close or anything, pero they respect each other."
Having famous parents, however, has its pros and cons.
"First of all, I'm very proud of them. Talagang I feel blessed na sila 'yong parents ko. 'Yon nga lang, merong advantages and disadvantages.
"Let's say, it always felt different. Kumbaga, like in school, pag nalaman ng mga kahera or mga staff na parents ko sina Vic and Coney, parang nag-iiba ang treatment nila sa akin."
In a good way or in a bad way?
"Both," Vico answers. "It's hard for me to say this is good, this is bad. Basta iba lang.
"Parang ako, ginagawa rin nila akong celebrity, kahit hindi naman talaga. Parang gano'n."
Being a painfully shy kid, Vico didn't enjoy the attention.
"Nahirapan ako with that, growing up. Bibili lang ako ng lunch ko, may magpa-picture na. Parang nahihiya ako, gano'n. 'Tapos, my friends would make fun of me: 'Uy, ba't sila nagpapa-picture?' So, ayan na.
"I wouldn't say good or bad. It was just different. Parang lahat ng tao, nakatingin sa 'yo.
"Hindi siya positive, hindi rin siya negative. It's just that gano'n lang. Accept it. Nasanay na rin ako."
The good thing about the unsolicited attention was that it made Vico more conscious of his behavior and image in school. It kept him out of trouble.
"That's true," he says. "At the back of my mind, laging iniisip ko na baka what I do will be a reflection on my parents. So, there's always that.
"Baka may gawin akong hindi maganda, then people would say, 'Ay, ganyan pala ang anak ni...' Ang reflection, hindi sa akin kundi sa kanila.
"But the good part naman is, hindi ako masyadong nagluluko. Hindi ako nakikipag-away.
"Kumbaga, they worked so hard to maintain their good name. So, I want to do what I can nang hindi naman sila mapahamak nang dahil sa akin."
As a student, he was "just average na may pagka-nerd," Vico tells YES!
With a laugh, he adds that he was the type that easily got distracted from schoolwork.
"Sa school, basta pumasa ako, masaya na ako," says Vico, who attended Brent International School Manila from Grade 2 to 12.
"Hindi ako bumabagsak or anything like that. Average lang.
"I would always get distracted. Kunwari, may topic sa history. Siyempre, ang daming topics niyan, syllabus, ganyan.
"Pag may nagustuhan akong topic, nai-stuck ako do'n. Kaya hindi ko naaaral lahat.
"'Tapos, nagbabasa na 'ko ng ibang libro tungkol do'n. Manonood ako ng documentary tungkol do'n. I would get distracted, kaya hindi ako masyadong nag-excel sa school.
"There are certain things na talagang almost expert ako. Pero other things, wala talaga akong alam."
And what were those topics that easily took his attention away from his school assignments?
"Ang interest ko talaga, 'yong governance, ganyan," says Vico, who later took up Political Science at the Ateneo de Manila University.
"Talagang 'yon ang pino-focus ko. 'Wag nating isa-isahin, baka masyadong nerd 'yong dating, e. When it comes to transparency and accountability, binabasa ko."
Vico, however, didn't bury his head in books. He was also interested in basketball.
"No'ng college, yes, I liked playing basketball," says Vico, whose long-limbed 6-foot-1 frame could pass off as a basketball player's.
"Hindi na 'ko nag-varsity ng college, e. Ang lakas kasi ng Ateneo basketball. I would still play sa mga liga-liga, ganyan. Nothing super competitive.
"One thing about me kasi, pag hindi ako magaling sa isang bagay, ayokong ginagawa.
"So, basketball, hindi ako UAAP [University Athletic Association of the Philippines] level or anything, pero kahit papa'no, kaya kong mag-compete.
"Pero pag let's say in a new sport... Golf, di ba si Papa at saka si Paulina, nag-go-golf? Niyaya nila ako. Ayoko, kasi alam ko hindi ako magaling do'n, e.
"I've never tried, parang gano'n. I'm very competitive in that way. Gusto ko, pag me gagawin ako, magaling ako do'n."
For a time, Vico also dabbled in digital editing.
"There was a time na nahilig ako sa video editing. Adobe Premiere pa 'yong uso no'n, e. High school ako no'n, mga 2007 ako nag-graduate ng high school.
"Medyo uso pa 'yong mga digital editing no'n. Nahilig ako for a while, pero after that, well, it goes back to what I want.
"Eto, dito talaga ako. Gusto ko, government service. 'Yan lang talaga ang inaaral ko. Parang naging extreme ako in that sense."
Little did Vico know that this interest in governance and politics would lay the foundations for his political future.
FORAY INTO POLITICS
Vico's foray into politics was not a spur-of-the-moment thing. Not many are aware of the fact that Vico's interest in public service developed early on in life.
"My kuya sa mother's side, si Kuya LA Mumar, who's eleven years older than me, was a Developmental Studies major.
"No'ng bata ako, pag-uwi niya, kung ano ang natutunan niya sa school, siguro pag nagre-review rin siya, 'tinuturo niya sa akin."
Even if the scholarly terminology that his Kuya LA uttered would just fly over his little head, Vico nonetheless found himself engrossed in whatever topic his Kuya LA chose to discuss with him.
"May class sila about the constitution. Ten or eleven years old ako no'n, 'yon na ang pinag-uusapan namin. Parang nasanay ako na gano'n lagi.
'"Yong topic, gano'n lagi, so naging interest ko na rin siya. He [Kuya LA] is probably one of my biggest influences pagdating sa government and politics.
"Kaya ako nahilig talaga was because of him. I'm interested in it, pero I was very hesitant na ako 'yong tatakbo.
"Kung interested, interested naman talaga. I enjoy reading the news, I enjoy talking about it. Pero ako 'yong nando'n? Parang it's a messy world, e."
Vico's first brush with real-world politics and public service came in 2013, when he became part of the legislative staff of the Sangguniang Panlungsod ng Quezon (Quezon City Council).
It was a great learning experience for Vico. He got exposed to a variety of realities, including the good and the bad side of local politics.
"It certainly was a helpful experience, even though it was a different city," he recalls. "You'd see how things work, especially behind the scenes.
"Kasi, textbooks, madali naman aralin, e. But 'yong behind the scenes, internal politics, how things actually work for implementing programs and projects— 'yon 'yong sobrang helpful na experience for me sa QC before."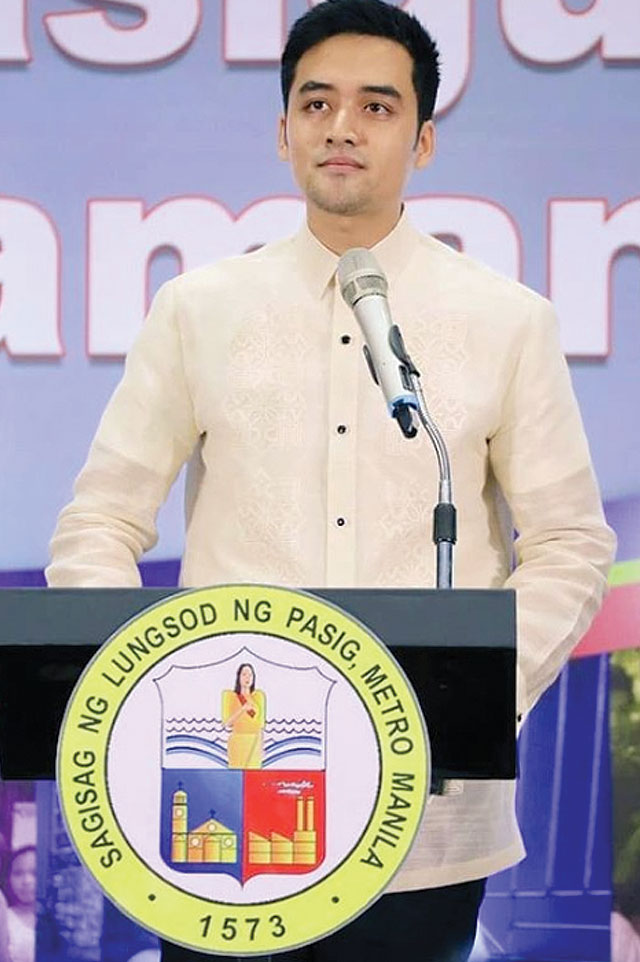 Three years into the job, Vico realized it was time for him to move on. He felt that he had nothing left to offer. His heart was simply no longer in it.
Part of him wanted to inspire change and forge on, but another part of him was already turned off by the messy side of public service. He resigned from the job in January 2015.
Looking back, Vico reveals to YES! that during his time as a legislative staff officer, there were days when doubts would creep in and make him question his own intentions and abilities.
Without going into specifics, he says that he felt as though he was dealing with numerous roadblocks that could not be moved.
"There are times na when I wake up, parang medyo disillusioned ako. 'May nagagawa ba talaga ako?' I want to change things. I have this idea, pero paano ba dapat ang good governance?"
Vico eventually learned to manage those self-deflating thoughts. He has accepted that changing an old and established system may be difficult, but it is not entirely impossible.
"At the end of the day, you have to realize na lahat naman ng countries, pati mga countries na we look up to now na mga developed countries, they all went through messy times.
"Lahat naman 'yan, di ba? Walang country na umasenso that didn't go through ugly dark times.
"So, for me, that's a source of encouragement na gano'n din sila dati pero they've improved. Tayo, we're on the right track, I think."
In August 2015, shortly after ending his stint in the Sangguniang Panlungsod ng Quezon, Vico got on board Government Watch (G-Watch) and Political Democracy and Reforms, programs of the Ateneo School of Government (ASoG).
On the official website of the Ateneo de Manila University (www.ateneo.edu. ph), Government Watch or G-Watch is identified as an "action research program of the ASoG that specializes in expenditure-tracking and monitoring government agencies' program implementation."
Established by the Ateneo and the United Nations Development Programme in 2000, G-Watch was created "in response to the plethora of reports on corruption and inefficiency in the government" and was "conceived along the principle of prevention through systems reform, and, ultimately, the institutionalization of these reforms."
In his Facebook post on October 17, 2015, Vico said that his stint at G-Watch made him realize that there was still hope for good and clean government in the Philippines.
He wrote: "G-Watch is around 15 years old and the veterans there often recount how in the earlier years, government agencies were very resistant in forming partnerships with them—perhaps they were more fearful of increased transparency and accountability. Now, government offices seem to be more responsive and cooperative, generally speaking. This is just one among many signs that we are improving."
Vico tells YES!: "Parang masaya na ako do'n, e. It's a low-paying job, pero I was happy kasi we would go to different parts of the country. We would introduce good governance concepts. More of gano'n 'yong gusto ko talaga."
His positive experience at G-Watch eventually led to his filing—in October 2015, just two hours before the deadline—of his certificate of candidacy for the position of city councilor in the first district of Pasig City. Admittedly, there were fears and doubts and hesitation on his part at the time.
"Hindi naman mawawala 'yong fears at saka doubts," he recalls. "But ako naman kasi, I'm the type of person na I'll do what I can, I'll do my best, I'll give it everything I have. Whatever happens, 'yon na 'yon."
Amid his fears and doubts, Vico was determined to give it his all.
"My biggest fear? I'd like to think wala akong fear pag gano'n, kasi for me, what's the worst thing that could happen? I'll fail? I'll lose an election? In the grand scheme of things, these things don't really matter."
Vico took courage in the fact that, win or lose, he would always have a supportive family to go back to, no matter what.
He says, "What matters to me more is okey kami ng family ko, nagmamahalan kami. We're there for each other. I know na kahit na, let's say, next elections natalo ako, I may not even run, I'll be fine.
"Siyempre, may konting fears din. No one wants to fail. No one wants to embarrass themselves. But in the grand scheme of things, okey lang [if I lose]."
Had his bid been unsuccessful, Vico says he would still have pursued a post in the government, "Basta gusto ko mag-work in government.
"For me, hindi ko goal maging councilor or whatever public position. Ang goal ko is maybe to make an impact in government."
Fortunately, Vico became victorious in his bid for a seat in the Pasig City council. Last May 9, the 26-year-old Vico became the youngest councilor of Pasig.
As a neophyte city councilor, Vico hopes to push for an ordinance that would enable people, regardless of economic background, to have more participation in the decision-making processes in his district. An ordinance that would empower the masses, so to speak.
"'Yong first step do'n, kumbaga, is 'how can someone participate if he or she has no information?'
"So for me, ang pinaka-importante now, first step ko, is to make ordinances, 'yong mga local na batas, that will enable people to get information faster.
'Yon 'yong pinag-aaralan ko ngayon, ang gusto kong isulong sa konseho. But for now, I want to observe and see din, e. Pa'no ba?
"Siyempre, I'm a neophyte. Marami pa akong kailangang matutunan. I'm always studying, always reading."
Vico believes that his term will not be a walk in the park. He knows that he will encounter hurdles that will test his patience, his resolve, his street smarts.
Vico is ready to take on those challenges. But he doesn't want to look too far ahead, saying, "Mahirap isipin, kasi three years is infinity in politics. Many things are gonna happen.
"Ako, whether I decide to run or not after my first term, I know I can make an impact. I want to focus on my three years first.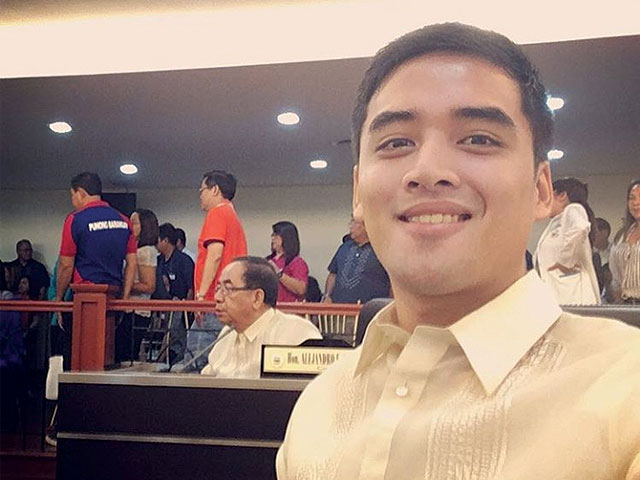 "Kumbaga, ang dami nating puwedeng gawin at ipakilala na new style. Hindi na traditional style na what you've seen before.
"Usually, 'yon ang maririnig mo, e. 'Kasi ganyan talaga, e.' Usually, ganyan ang sinasabi nila, e. 'Wala ka nang magagawa, ganyan talaga.'
"Ganyan 'yong mindset ninety-nine percent of the time. Kumbaga, in my opinion, I've nothing to lose. Wala naman akong pinapakain na pamilya, wala naman akong huge responsibilities sa personal life. So, I think that enables me to focus."
His being a neophyte should give Vico more courage to take huge risks and make bold steps.
"Now is the time for me to take a risk," he says. "Now is the time for me to take a chance. I want to do my best to just introduce new things in our government.
"What I learned especially from Ateneo, kahit sandali lang ako do'n, ang dami kong na-pick-up na governance practices, e. Things that we can do sa local government especially.
"Ang dami talagang puwedeng gawin, which is a matter of breaking mindsets.
"We need to break mindsets in our government. Thirty years, ganyan na 'yong ginagawa ng gobyerno dito. Ganito siguro dapat."
Vico Sotto has spent most of his young life in the shadows of his famous parents, staying away from the public eye as much as he possibly could. The time has come for him to embrace the spotlight. This kind of spotlight is very different from what his parents had during their younger years. But Vico Sotto, who is starting to fly, is embracing it as his.
FAST FORWARD TO 2019
On June 30, 2019, Vico Sotto, 29, was proclaimed as the mayor of Pasig City, making him the youngest winning mayoral candidate in Metro Manila.
ORIGINALLY PUBLISHED YES! SEPTEMBER 2016
Writer: Gabby Libarios
Interviews: Anna Pingol & Gabby Libarios
Editor In Chief: Jo-Ann Q. Maglipon
Executive Editor: Jose F. Lacaba