Susan Roces reigned over movie fandom in the heydays of Sampaguita Pictures in the '1950s and decades after that up to the 1970s.
Nowadays, she is popularly known for playing Lola Flora, the grandmother of Cardo Dalisay, the character played by Coco Martin in ABS-CBN's FPJ's Ang Probinsyano.
Susan's portrayal as the kind and generous matriarch in the Kapamilya action drama is key to the show's four-year run.
Her family-oriented and hopeful nature keeps the show grounded, keeping it relatable to Filipino viewers despite the show's over-the-top fighting and gun scenes.
The 78-year-old actress, however, should be recognized for more than being a prayerful lola on primetime TV.
Susan Roces is a queen, not just in showbiz but also in other aspects of Filipino history.
Here are seven reasons why:
1. Susan was so beautiful in her teens she got a studio contract on the spot
Susan may have lived a sheltered life in Bacolod City but she was an ardent fan of Filipino movies at an early age.
When she was 15, she traveled to Quezon City in hopes to see her idol Gloria Romero in the compound of Sampaguita Pictures.
There she was noticed at once by Dr. Jose Perez, the esteemed founder and head of Sampaguita studio.
Doc Perez was so stunned by Susan's mestiza features that she offered her a contract on the spot, which immediately led to her first starring role via the film Boksingera in 1956.
2. Susan has a glorious movie career as the Queen of RP Movies
Susan continued to experience career highs after her first starring vehicle. Her next movie was Miss Tilapia with her idol Gloria Romero, in 1956.
Ten years later, Susan earned her first Best Actress nomination in the FAMAS Awards for Ana-Roberta, where she portrayed a young lady who lost her whole family during the Japanese war.
But the 1966 FAMAS Award for Best Actress went to Barbara Perez for Ang Daigdig ng mga Api.
Susan collected nomination after nomination after that via the movies Maruja in 1967, To Susan with Love in 1968, Divina Gracia in 1970, Bilangguang Puso in 1972, Hanggang sa Kabila ng Daigdig in 1974, and Patayin mo sa Sindak si Barbara in 1974.
She finally won her first FAMAS Award for Best Actress in 1978 for Maligno, wherein she played a mother who had to protect her baby from an evil cult. The horror master Celso Ad. Castillo directed her in this movie, which was produced under Rosas Productions.
Susan won the same award again in the following year with Gumising Ka Maruja, where she played an actress who wanted to retell the tragic story of ghostly lovers.
The legendary Lino Brocka was her director in this film, which was produced under FPJ Productions.
Susan would keep picking up nominations and acting award wins throughout the rest of her career, such that the FAMAS Awards bestowed to her the title of Iconic Movie Queen of Philippine Cinema in 2015.
To date, the movie queen has starred in more than 130 films.
3. Susan GRACES TELEVISION WITH HER illustrious NAME
Susan has gotten on in years with her acting mettle intact, and her illustrious name landing her significant roles in various television shows.
She starred opposite the late Dolphy in the sitcom John en Shirley, which aired for more than a year until October 2007.
In 2008, she played Aurora, the grandmother of Claudine Barretto's character in Iisa Pa Lamang.
Then in 2012, Susan portrayed Manang Henya, the adoptive grandmother of Coco Martin's character in the top-rating drama Walang Hanggan.
Susan, however, also ventured outside the Kapamilya walls. She played Helena See, a powerful Chinese matriarch, in Babaeng Hampaslupa, which aired on TV5 in 2011.
She was also the lead in GMA-7's Sana Ngayong Pasko, which aired in 2010. She played Remedios Dionisio, a retired teacher who had to find strength so she could survive the Ondoy tragedy.
And then as Lola Flora in FPJ's Ang Probinsyano.
4. Susan Roces was the number one supporter of FPJ
Susan and her late husband Fernando Poe Jr. were together for 36 years before he passed away after a stroke.
They were wed on Christmas Day in 1968 when she was 27 and FPJ was 31.
The couple worked together in 17 movies, all of them blockbusters.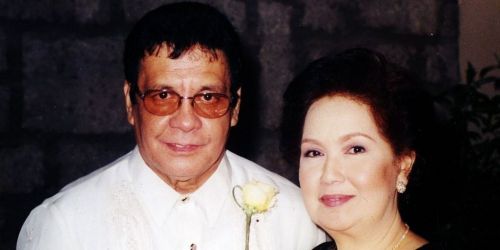 Their first project was Daigdig Ko'y Ikaw in 1965, a romantic film that made Filipino moviegoers fall in love with the on-screen pair. This movie was re-issued in theaters in 1968, along with footage of the Susan-FPJ wedding.
The power couple also worked in the landmark movies Zamboanga (1966), Perlas ng Silanganan (1969), Ikaw ang Lahat sa Akin (1969), Salaginto's Salagubang (1972), Karnabal (1973), Mahal, Ginagabi ka na Naman (1979), and No Retreat, No Surrender si Kumander (1987).
5. Susan Roces could have been the First Lady
In 2003, FPJ announced his intention to run for the presidency. Susan was supportive of her husband's ambition, and she even went with him to most of his campaign sorties around the country.
Susan was also supportive during the times when FPJ was hounded by issues about his nationality that would have derailed his candidacy.
FPJ did not win the elections. In the official election count, the King of Filipino Movies lost by more than a million votes against Gloria Macapagal-Arroyo.
Had FPJ won, Susan could have been a first lady of the Philippine Republic.
6. Susan is a fiery opponent
On June 29, 2005, Susan stirred the hearts of Filipinos when she spoke up against the then President Gloria Macapagal-Arroyo, who was being accused of electoral fraud.
The veteran actress was furious; the Hello Garci scandal seemed to prove that FPJ, who died a year ago, was the rightful winner in the 2004 Presidential elections.
Susan rebuked Arroyo in front of a cheering crowd in Club Filipino in San Juan and uttered, "The gravest thing that you have done is you have stolen the presidency, not once but twice!"
Susan also demanded for the former President's resignation, adding that it is "the most honorable thing to do."
Susan proved to be a thorn on Arroyo's side during her whole term, joining protest after protest that admonished every scandal that the infamous leader have been involved in.
At one point, Susan even indicated that she should be the one sitting in the Malacañang throne instead. "Kung kinakailangan, pangangatawanan ko at sama-sama tayo," she told an adoring crowd.
7. Susan IS STILL GOING STRONG
Susan has no more political ambitions nowadays. Instead, she channels them by supporting her daughter, Senator Grace Poe.
Susan serves as an advisor to the senator, and supports Grace during the campaign season. Susan even appeared in a campaign advertisement for her daughter's senatorial run in 2013.
She was shown to be arranging the photos of her late husband onto an album, while asking Senator Grace why she wants to run for the Senate.
Then in 2016, Susan joined her daughter on several legs of her campaign for the presidency.
In two years, Susan Roces will celebrate her 80th birthday.
Yet the 78-year-old actress showbiz legend is still going strong, and has no plans of stopping despite already being in the world of entertainment for over 60 years.
In an interview, she mentioned that the reason why she doesn't want to let go of the limelight is that it keeps her happy.
Susan said acting makes her forget the aches in her heart: "The best pain reliever is to keep yourself busy, doing things that are productive. I'm loneliest when I'm not productive."