Heart Evangelista practically grew up in front of the camera.
Love Marie Payawal Ongpauco was born on February 14, 1985. She is the youngest among five children of Rey and Cecile Ongpauco, and heiress to the Barrio Fiesta restaurant chain empire.
She was born in Manila but her family moved to San Francisco, California, where she grew up. The family moved back to the Philippines when Heart was in her late teens, and she was soon discovered by a talent scout and launched as a member of ABS-CBN's Star Circle Batch 9.
A STAR IS BORN
When Love Marie signed with Star Magic, things changed—beginning with her name, which became Heart Evangelista.
In 2000, she was cast alongside other teen talents in the youth-oriented TV show G-mik. The mestiza-chinita actress captured the attention of Filipino audiences and she was soon cast in movies like Ang Tanging Ina (2003), Bcuz of U (2004), Mano Po 6: A Mother's Love (2009), and Temptation Island (2011). She also became a VJ on the MYX music channel.
Heart soon stopped attending Colegio de San Agustin in favor of ABS-CBN's Distance Learning program. During her recent appearance on Mimiyuuuh's vlog, she revealed she was bullied in school—to the point that she would eat in the bathroom!
After starring in ABS-CBN's remake of Ang Panday alongside Jericho Rosales in 2005, Heart transferred networks and signed an exclusive contract with GMA Artist Center in 2008.
Since then, she has consistently starred in teleseryes for the network, including: Codename: Asero (2008), Luna Mystika (2008), Full House (2009), Legacy (2012), Luna Blanca (2012), Forever (2013), Magkano Ba Ang Pag-Ibig? (2014), Beautiful Strangers (2015), Juan Happy Love Story (2016), Mulawin vs. Ravena (2017), and My Korean Jagiya (2017).
LOVE IN THE LIMELIGHT
As fans took notice of Heart's career, they also tuned in to her love life.
After meeting and falling in love with onscreen partner John Prats on the set of G-Mik, Heart's most publicized love story was with Ang Panday (2005) leading man Jericho Rosales, whom she considers her greatest love. Her parents were strongly against the relationship because Jericho had already fathered a son out of wedlock.
In a 2013 interview with YES! Magazine, Heart revealed she broke up with Jericho in 2008 because her parents made her believe he had cheated on her with Malaysian actress Carmen Soo, who was Jericho's leading lady in the 2008 ABS-CBN teleserye Kahit Isang Saglit.
Her relationship with Jericho had driven a wedge between Heart and her parents, with whom she did not speak for three years. Heart said she eventually found out that the Jericho-Carmen affair was untrue, but she never reunited with her ex beau. Jericho married host Kim Jones in 2014.
Heart moved on to Brazilian-Japanese model Daniel Matsunaga, who was four years her junior. But in early 2012, after a year of dating, Heart broke up with Daniel, "siguro due to cultural differences."
A LOVE AGAINST ALL ODDS
Later that year, there was much speculation about Heart dating then senator Chiz Escudero. The senator's marriage to Christine Elizabeth Flores, with whom he has twin daughters, had been annulled.
Chiz finally ended all speculation during a guesting on ABS-CBN's defunct morning show Kris TV, where he admitted to host Kris Aquino that he and Heart were, indeed, a couple. There is a 15-year age gap between the couple.
In 2013, Chiz shared he would like to marry Heart in less than five years. But on March 19, Heart's parents held a press conference where they accused Chiz of being rude, arrogant, and an alcoholic, and manipulating their daughter to go against them. They appealed to the senator to leave their daughter alone.
Heart described Chiz thus: "He makes my life all cheesy and lovely and fun. I laugh a lot when I'm with him, I learn so much. I think it was timely that he entered my life 'cause he introduced me to a lot of different things. He makes me feel guilty when I buy something expensive. I think I can save my money more now."
In an interview with GMA-7 on March 24, Heart appealed to her parents: "Sana hayaan na lang nila ako maging masaya, 'yong walang kokontra at walang pipigil kung anung nagpapatawa sa akin. Ngayon lang naman ako humingi ulit."
Chiz proposed to Heart on August 23, 2014, in Sorsogon, in the presence of his family and close friends, including Lovi Poe and Alessandra de Rossi.
On February 15, 2015, Heart and Chiz were married in a ceremony at the posh Balesin Island Club.
Heart walked down the aisle in an intricate gown by Ezra Santos that featured a sweetheart neckline and cinched waist.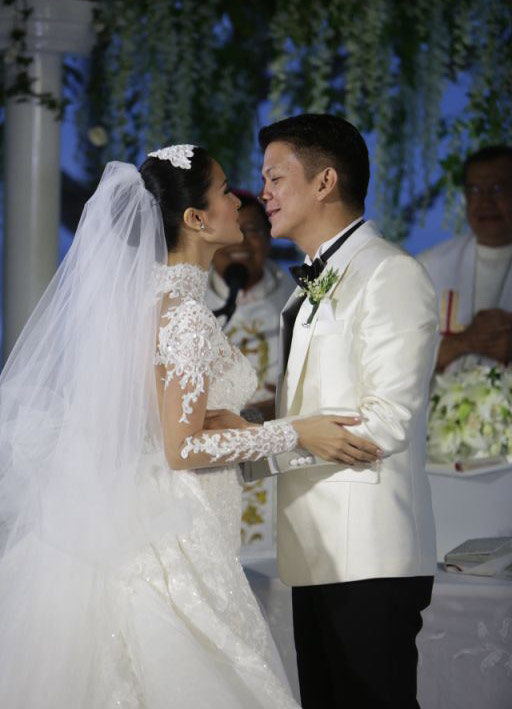 A Manila reception was held at the Blue Leaf Filipinas on February 18 for their loved ones who could not make it to the Balesin affair. Showbiz friends Kris Lawrence, Christian Bautista, Jonalyn Viray, Ogie Acasid, Regine Velasquez, and Gary Valenciano performed.
For her Manila reception, she wore a wedding dress with a plunging neckline by internationally acclaimed Filipino fashion designer Monique Lhuillier.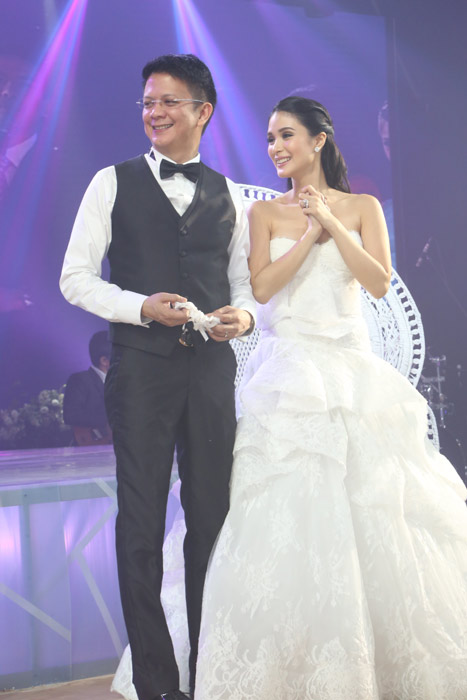 A WEDDING marred BY CONTROVERSIES
But Heart's special day was not without its challenges.
Months before the big day, there were allegations that the wedding of sports anchor Chesca Litton to Tyke Kalaw was bumped off in favor of the future Escuderos.
On September 2, 2014, Chesca gave a statement on ABS-CBN's late night talk show Aquino and Abunda Tonight, saying that after she and her fiance got engaged in April, they went to Balesin Island in May to inquire about the availability of the venue for their wedding planned on February 14, 2015. The resort staff said that it was and the couple conducted ocular visits. In the following months, they flew in wedding coordinators and suppliers to the venue.
But in late August, Chesca was advised by her wedding coordinator that, after Chiz and Heart had spoken with resort owner Roberto "Bobby" Ongpin, the venue was no longer available on their chosen date.
Chiz and Heart gave statements separating themselves from any issue. Ongpin also explained in a statement that when he checked with members of his staff, the date February 14 was still open as of August. In the end, Chesca and Tyke had a sunset wedding at the Eskaya Resort in Bohol on February 14, 2015.
The funding of their wedding was also controversial. On February 5, 2016, Chiz admitted in an interview with DZMM that Alphaland's Bobby Ongpin sponsored their wedding in Balesin.
Ongpin was involved in the Senate hearing on the Boy Scouts-Alphaland controversy about an alleged anomalous joint venture agreement and Escudero was one of the members of the Senate Blue Ribbon committee.
Meanwhile, their wedding reception in Manila was sponsored by GMA Network, Heart's home channel. In March 2015, the Kapuso network aired a two-part special coverage of the couple's wedding.
The senator maintained there was nothing wrong with having their weddings sponsored.
But the biggest controversy involved Heart's parents and their express disapproval of Chiz.
Although Heart patched things up with her father in July 2013 and with her mother in 2014, and they gave their blessing for them to get married, her parents still refused to attend their wedding.
Heart walked down the aisle solo at the Balesin ceremony, but revealed on Instagram that she had a locket with her parents' photo inside. The caption of her post read: "Keeping this close to my heart... I'll never forget how much I was loved my whole life... thank you mom and dad for everything. Always be your baby girl. Although my heart breaks not to have you here... I love you mom and dad no matter what. In time, I know everything will fall into place..."
Even if Heart's parents did not attend the wedding, her father sent a letter that was read by Heart's cousin Happy Ongpauco-Tiu: "Alam mo, anak, gustung-gusto kita ihatid sa altar. Sino ba naman ang ama na ayaw makita ang anak sa pinaka-importanteng araw ng buhay niya?
"A lot of things have happened that hindered us from going.
"If the time comes that we see that you and Chiz are happy and if I see him loving you the way you deserve to be loved, I will come knocking at your door."
In the same letter, he also asked Chiz to love Heart unconditionally, the way he and his wife did.
According to Heart, she had a heart-to-heart talk with her father after the wedding in which he congratulated her and said, "Happy ako para sa 'yo."
A FAMILY REUNITED
On May 28, 2015, Heart posted on Instagram a photo of her and Chiz with her parents.
She said in an interview on Startalk on May 30: "Masarap na nabunutan ako ng tinik. Yung birthday dinner ng mommy ko, nandoon na rin siya. Nag-warm up na rin sila. Sobrang saya!"
In May 2016, Heart and Chiz bought her mom Cecile to Balesin, where their extravagant wedding was held. "Better late than ever!" she remarked.
In her Instagram caption, Heart wrote: "Dad was too scared to fly... Welcome to paradise momma." The Escuderos celebrated Mrs. Ongpauco's birthday there.
ART AND HEART
Aside from acting, painting has also been Heart's passion since childhood.
From May 8 to 21, 2014, Heart held her first art exhibit at the Artist Space of the Ayala Museum. "It's something that balances me as a person, so kaya ako paint nang paint."
She has harnessed her talent in the arts and in business through many endeavors in recent years. In 2016, Heart collaborated with designer Mark Bumgarner, painting on his designs; then with local brand Happy Skin on a line of lipsticks; and then, painting on designer handbags for select clients. She also collaborated with makeup artist Albert Kurniawan on an eyeshadow pallette collection called Teviant.
In January 2019, Sequoia Paris released her limited edition bag, the Heart bag. Only 100 bags were produced.
Two months later, Heart announced that she was the new creative director of Kamiseta. She had previously worked with the clothing brand on two collections that featured her paintings.
A BIG HEART
True to her name, Heart has been known to wear her heart on her sleeve.
In September 2016, the actress took to Instagram to share her grief over the passing of her "second mom," Senator Miriam Defensor-Santiago.
"My mommy, my Tita, my Elizabeth Taylor, my lawyer, my mentor, my everything. I don't know what to say. I cannot say goodbye.
"I just can't. You put so much happiness and positivity in my life that I just can't imagine I can't call you ever again."
The senator passed away after a long battle with lung cancer. She had introduced Heart to her future husband.
Heart also has a soft spot for animals. In 2018, she collaborated with the Philippine Animal Welfare Society (PAWS) for the "Have a Heart for Aspins" project to encourage adoption of asong Pinoy. Heart's own aspin is named Pan-Pan.
A year later, she started plans to build an animal sanctuary in Sorsogon. In an Instagram post, Heart said the facility will offer services like spaying, neutering, tagging, and shots for rescued animals.
Heart also has a generous spirit. On December 18, 2019, after Typhoon Tisoy ravaged the Bicol region, Heart distributed donations alongside Maria Isabela Galeria, Sorsogon's candidate for Bb. Pilipinas 2019.
She posted on her Instagram account: "Words cannot express how thankful I am to friends, family, and everyone who donated for the relief operations. Sorsogon is forever grateful to all of you and your kind hearts. It has been quite rough these past few weeks but I know in my heart that all will be well because these wonderful Sorsoganons are filled with strength and resilience."
She recently began to open her heart to her fans through her YouTube channel, which has 1.42 million subscribers. In the first post of her new vlog series entitled Dear Heart, Heart featured her ate Camille Ongpauco and niece Isabella.
"We were supposed to give birth at the same time. Our babies would have had the same birthday," Heart said. She had suffered a miscarriage in August 2018.
Initially, she was thought to be carrying twins, but one embryo did not develop. Then, at three months, her unborn baby, Mira, passed away.
Heart welcomed 2020 with her father, husband, and stepdaughters Chesi and Quino. Heart has decided to focus on her art, business, and philanthropy while waiting to have a baby with her husband, who is the incumbent governor of Sorsogon.