ABS-CBN's afternoon teleserye, Kadenang Ginto, has been added to the Kapamilya network's list of long-running teleseryes.
Since its pilot episode on October 8, 2018, the Dreamscape Entertainment production has become the flag-carrier of ABS-CBN's Kapamilya Gold, the afternoon block of the network.
Dreamscape Entertainment is one of ABS-CBN's content providing units which also produces the long-running prime-time series FPJ's Ang Probinsyano.
The pilot episode of Kadenang Ginto already registered good ratings. It got a TV rating of 16.2%, according to Kantar Media.
Before Kadenang Ginto premiered on the afternoon slot, the Kapamilya Gold block was going through a rough time in terms of viewership, with rival network GMA-7's afternoon shows taking the lead.
However, Kadenang Ginto quickly attracted audiences, allowing it to get a TV rating of 27.1% in April 2019. This figure is a number formerly seen only in prime-time shows. For this reason, its original 13-week run was extended to one year and four months.
Originally titled "Tubog sa Ginto," Kadenang Ginto tells the rivalry of two women: Romina (Beauty Gonzalez) and Daniela (Dimples Romana). Their feud affected the relationship of their respective daughters, Cassie (Francine Diaz) and Marga (Andrea Brillantes).
The success of this drama series revitalized the career of Beauty Gonzalez, who almost transferred to GMA-7 before ABS-CBN offered her to top-bill this project.
Kadenang Ginto gave Dimples Romana another iconic character after playing Amanda in The Greatest Love and Babaylan in Bagani.
Kadenang Ginto also gave birth to the love teams of Francine Diaz and Kyle Echarri (KyCine) and Andrea Brillantes and Seth Fedelin (SethDrea).
Aside from its high ratings, Kadenang Ginto also made waves on social media, with some of its scenes being turned into memes by netizens. People poked fun at Dimples's wig and the red luggage trolley used by her character Daniela. This TV show was also the source of the now-iconic line: "Cassie, hindi ka muna papasok sa iskul."
It aso became one of the most-talked shows for its campy yet entertaining confrontation scenes that registered more than a million views on ABS-CBN's YouTube channel.
As the series ends its run on February 7, PEP.ph (Philippine Entertainment Portal) chose 10 of the most-viewed, most-talked about confrontation scenes of Beauty Gonzalez, Francine Diaz, Andrea Brillantes, and Dimples Romana in Kadenang Ginto.
KADENANG GINTO SCENE #1: Cassie "divides" the Mondragon mansion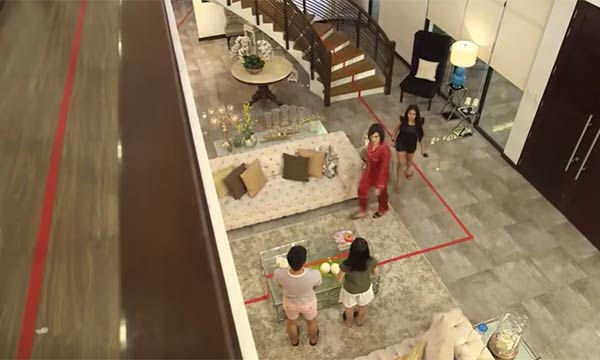 Daniela (Dimples Romana) and Marga (Andrea Brillantes) were both surprised to see that their house had boundaries defined by red scotch tape.
Apparently, it was Cassie (Francine Diaz) who orchestrated the "division" of the mansion, so that they can all live peacefully under one roof.
Daniela tried to stop Cassie, but the latter reminded her of the temporary restraining order that was filed against her for hurting Cassie.
Daniela was left with no choice but to leave them alone.
Marga was about to remove the scotch tape but Daniela stopped her and told her, "You don't want to see Mommy in jail, right?"
As revenge, Marga and Daniela moved all the kitchen equipment to their side so that Cassie would starve to death.
Marga also got Cassie's ATM card to pay for the painting that she damaged. Marga forcibly removed Cassie's ATM card from her wallet.
This scene got more than 8 million views on Youtube.
KADENANG GINTO
SCENE #2: Marga gets her karma after bullying Cassie.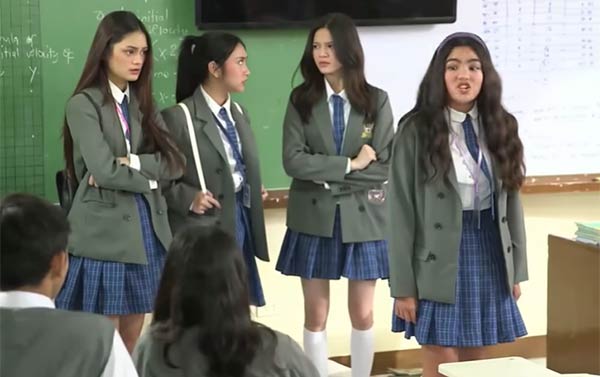 Marga is outraged after seeing online posts saying that she was only an "extra" at the grand birthday party of Cassie.
Marga then confronted Cassie inside their classroom and threatened to reveal Cassie's true identity, that she is not a real Mondragon.
After Cassie's classmate called Marga a "papansin," Marga announced to the whole class that Cassie is not a real Mondragon.
Kristoff (Kyle Echarri) tried to stop Marga from humiliating Cassie, but to no avail. Marga even described Cassie's mother Romina (Beauty Gonzalez) a "maruming babae."
To defend her mother, Cassie tearfully revealed that her mother Romina was raped. Cassie asked Marga: "Gaano ka kalungkot para pagpiyestahan ang misfortunes ng ibang tao?"
Marga was dumbfounded by the revelation. She shouted angrily at her classmates: "Ano tininitingin-tingin niyo diyan? The show is over!"
This video got 6.6 million views on Youtube.
KADENANG GINTO
SCENE #3: Marga was accused of fraud for using Cassie's ATM.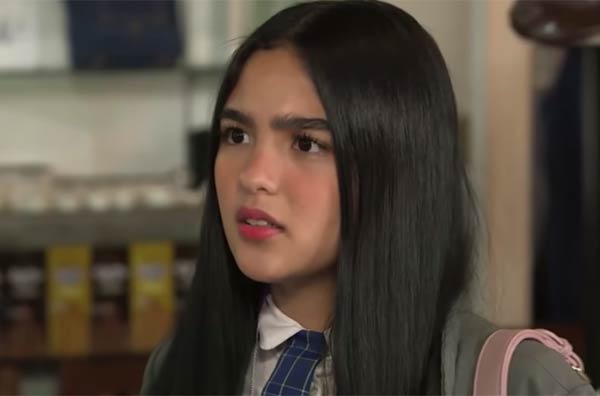 Marga was having fun using Cassie's allowance to fund her shopping spree at a boutique store. However, when she was about to use Cassie's ATM to pay for what she bought, the card was declined.
To make matters worse, her friends called her Marga in front of a saleslady. This raised suspicions since the ATM card bears Cassie's name.
The saleslady then called a security guard, thinking that Marga stole the ATM card from the owner.
Cassie suddenly arrived at the boutique store. It turns out that she was the one who reported Marga.
Marga claimed that Cassie voluntarily gave her the ATM card. But Cassie admitted that Marga forcefully removed the ATM card from Cassie's wallet.
The video received a lot of "BURN Marga" comments on YouTube. It registered 6.6 million views.
KADENANG GINTO
SCENE #4: Romina pulls Daniela's hair after damaging Cassie's reputation
At a cake workshop, Daniela tried to frame Cassie. Daniela stole a phone and put it inside Cassie's bag.
Romina then launched an investigation to find out who set up Cassie.
It was seen in the CCTV that it was Daniela who put the phone inside Cassie's bag.
Upon seeing the footage, Romina pulled Daniela's hair. Daniela was visibly surprised by Romina's actions and was unable to counter her attack.
The owner of the phone apologized to Cassie for the mistake, but Daniela refused to apologize.
Daniela told Romina, "Magkasuhan muna tayo, Romina, bago ako lumuhod sa inyong dalawang mag-ina."
Romina replied, "Hindi na ako nagugulat, because that's who you are, you're a coward."
The video, which was a clip from the show's May 13, 2019 episode, earned 6.1 million views on Youtube.
KADENANG GINTO
SCENE #5: Daniela tries to upstage Romina's home-cooked meal.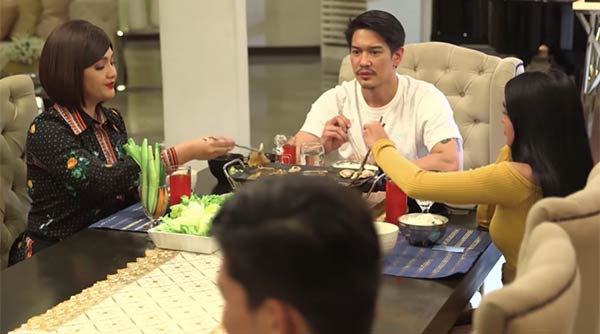 Daniela brought home food to celebrate being named as the new chief executive officer of Camila sardines, a position she stole away from Romina.
Upon arriving home, Daniela saw Romina and told her that she did not want to invite the latter for dinner because she might just lose her appetite. Romina then told her, "It's okay, baka hindi kami matunawan."
Daniela then caught Romina cooking pinakbet in the kitchen. While she and Marga found the smell awful, Daniela's husband, Carlos (Adrian Alandy), suddenly showed up and said, "Uy, ang bango naman noon!"
Daniela was obviously threatened by Carlos's reaction because he used to be the boyfriend of Romina.
Romina teased her nemesis by saying, "Daniela, ano nga ang sinasabi nila tungkol sa pagkain? The best way to a man's heart is through his stomach."
Daniela then asked the maids to throw away the store-bought food that she bought. She told Romina, "I'm going to cook."
In the next scene, viewers saw that Daniela prepared a Korean barbeque grill.
Even then, Carlos seemed to be craving for Romina's home-cooked meal.
Daniela then told Romina, "Romina, I think you should have a career change, tutal naman parang talented ka naman sa pagluluto ng pagkain sa karinderya."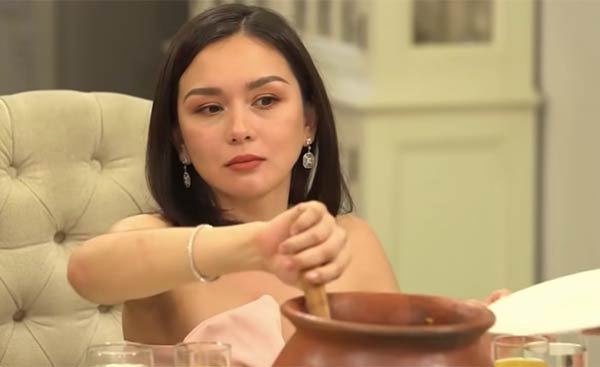 The video, which went viral on social media because of Daniela's "cooking" stunt, got 5.6 million views on YouTube.
KADENANG GINTO
SCENE #6: Romina splashes wine at Daniela and humiliates her at a party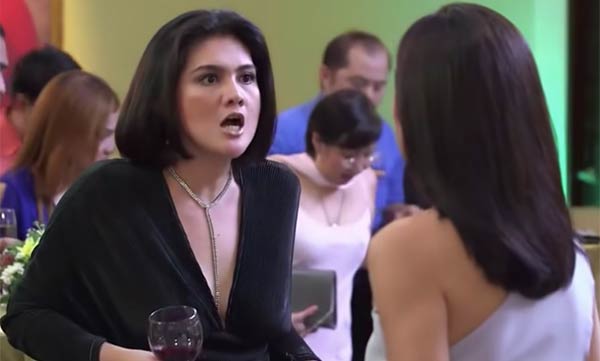 Daniela staged a house party at the Mondragon mansion, much to the surprise of Romina, who has been taking care of the mansion since her husband, Robert, died in a plane crash.
Upon seeing Romina, Daniela told her, "Oh Romina, please, go away! May party ako."
Daniela said that she was celebrating after she was freed from prison and proven that she was not the mastermind behind Romina's rape incident.
Even then, Romina believes that Daniela is still the mastermind behind the crime. Romina and Cassie then decided to go to their rooms.
Apparently, Romina just changed her outfit so she could return to the party.
Daniela told her, "Gatecrashers are not welcome in my party."
Romina answered, "I'm here to celebrate with you."
Romina then called for a toast and said, "Let's have a toast for my stepdaughter, the CEO of Camila Sardines, ang babaeng nagpa-rape sa akin, ang babaeng pumatay sa kanyang sariling ama, nababalot ng ginto pero halang ang kaluluwa!"
Daniela was extremely offended by Romina's remarks that she tried to splash wine at her enemy. However, Romina was able to stop her and she was able to spill wine at Daniela's dress.
Romina told Daniela, "Clean this up, Daniela. Ayoko ng dumi sa bahay ko."
The incident prompted Daniela to stop the party and order her guests to leave the house.
The scandalous incident gained 4.9 million views on YouTube.
KADENANG GINTO
SCENE #7: Romina shoves Daniela's face into a toilet bowl.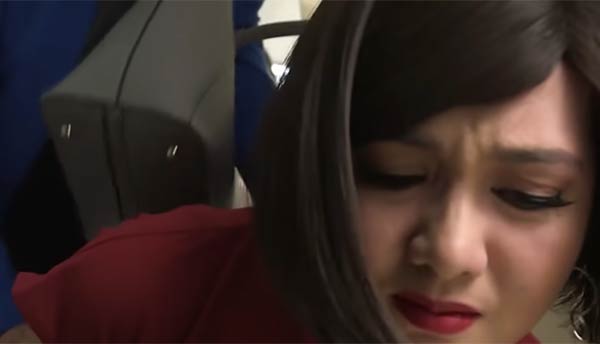 Daniela was surprised when Romina appeared at the court hearing about her rape case.
During a break, Daniela berated her best friend Savannah (Kim Molina) for not following her instruction of locking Romina inside a restroom.
Romina overheard Daniela's confession, but Daniela refused to admit the truth.
To force Daniela to tell the truth, Romina shoved Daniela's face over a toilet bowl and threatened to dip her face inside the dirty toilet bowl.
Romina told Daniela, "Aamin ka ba o pipigain ko sa 'yo ang totoo?!"
Romina then left Daniela and Savannah. Romina removed the door knob so that the two girls would be locked out inside the restroom.
Daniela and Savannah were both terrified when Romina slammed the door, leaving them trapped inside.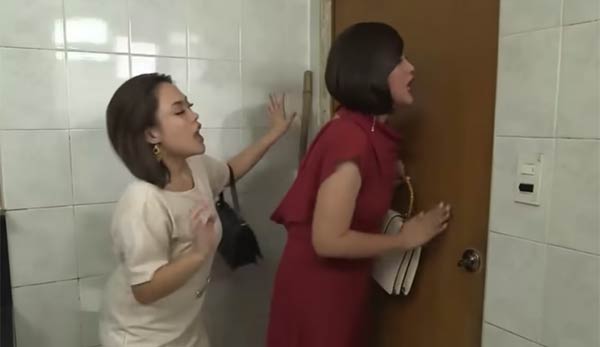 Daniela, Savannah, and Romina's bathroom scene got 4.5 million views on Youtube.
KADENANG GINTO
SCENE #8: Romina gives Daniela a "bloody" revenge.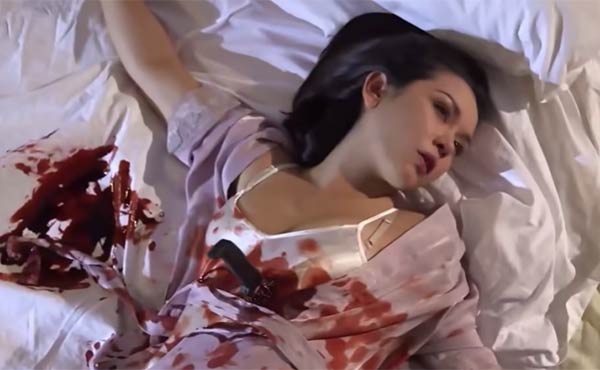 Romina staged a party at the Mondragon mansion to prove to everyone in Camila Sardines that she is mentally stable, contrary to Daniela's accusations that she is going crazy and having hallucinations.
During the party, everyone was looking for Romina who had yet to appear that night. Daniela then remembered Hector's (Joko Diaz) threats of killing Romina.
Daniela entered Romina's room and she was shocked to see her nemesis covered in blood with a knife stuck in her chest.
Daniela went hysterical and told everyone that Romina is dead.
Moments later, Daniela and the guests were surprised to see Romina going down the stairs, alive and well.
Daniela said, "I saw you, may kutsilyo ka sa dibdib and you're bloody."
Romina replied, "Mukhang hindi ako ang nababaliw sa ating dalawa. Ikaw! Anak, kailangan mo ba ng gamot mo?"
Apparently, Romina staged her fake death scene when she discovered that Daniela has been giving her medicine that caused her hallucinations.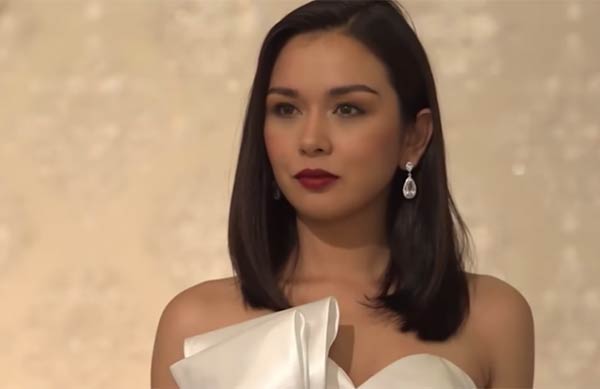 The bloody prank entertained Kadenang Ginto viewers, allowing the video to reach 4.2 million views on YouTube.
KADENANG GINTO
SCENE #9: Romina and Daniela's "fishy" sardines fight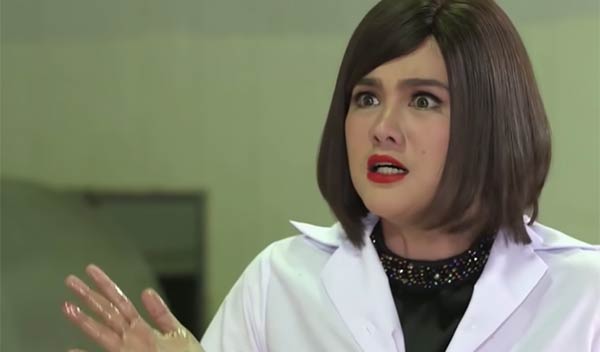 Daniela was already in celebration mode after she offered Romina a retirement package in Camila Sardines.
However, Savannah reported that Romina just transferred to the factory. Romina was bent on investigating the mishandling of finances in Camila.
Daniela rushed to the factory to visit Romina.
Romina asked her, "Anong ginagawa mo dito? May binibisita ka ba or are you here to check kung maayos ang mga alaga mo?"
Romina was referring to the fish that will be turned into sardines.
Daniela answered, "Gusto kong makita kung gaano kababa ang ibinagsak mo!"
Romina replied, "Kahit kailan, Daniela, walang trabahong mababa. Lahat pinaghirapan, marangal. Mas okay na rin yun kesa mataas ang posisyon, hindi naman pinaghirapan."
Obviously irked by Romina's words, Daniela tried to throw a tray of unpacked fish at Romina. However, Romina caught it and slammed the tray at Daniela.
Romina said, "Mukhang nakapagdesisyon na ang mga isda kung sino ang mas malansa sa atin. Kayo tuloy ang magkakasama!"
Daniela replied, "You will pay for this!"
Romina responded, "No, Daniela. You will pay for it dahil sinayang mo ang mga isda na dapat nasa lata na."
Daniela and Romina's fishy encounter registered 3.3 million views on YouTube.
KADENANG GINTO
SCENE #10: Daniela throws corned beef at Romina.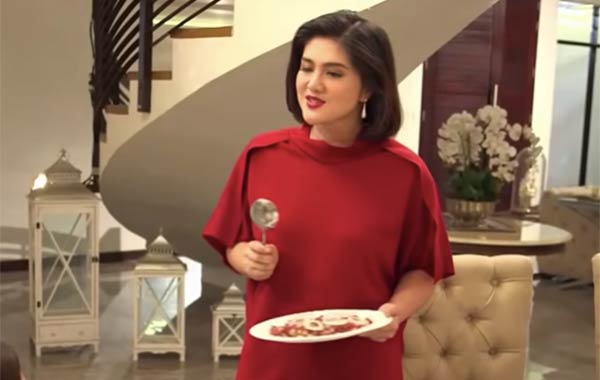 While having breakfast, Romina was surprised to see Daniela serving her corned beef.
Romina asked, "Talagang ikaw ang gagawa niyan? Gugunaw na ba ang mundo?"
Daniela replied, "Malapit na, lalo na kung di mo layuan ang asawa ko."
Daniela then threw corned beef at Romina's clothes.
Romina calmly told her stepdaughter, "Hanga talaga ako sa 'yo. Pagdating sa asawa mo, bumabangis ka, just like an animal."
Daniela responded, "And just like an animal, alam ko ang teritoryo ko. At handa akong sagpangin ang kung sinuman ang kukuha sa pagma-may ari ko."
To irk Daniela more, Romina asked in a sarcastic tone, "Tell me, bakit takot na takot ka na lumapit sa akin ang asawa mo?"
Romina's brother, Neil (Adrian Lindayag), butted in and said, "Baka naman kasi ate, may gusto pa rin sa 'yo si Kuya Carlos."
Daniela then explained to Romina that no one can break their marriage apart.
Romina said, "Kung ganon, bakit takot na takot ka? Kung sigurado ka sa kanya? I'm just asking, you know."
Daniela replied, "Then if you want answers, Romina, just google it. Huwag ka sa asawa ko kumonnect."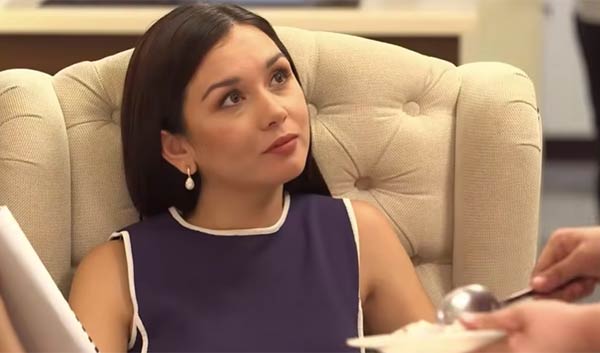 This corned beef scene of Daniela and Romina got 3 million views on ABS-CBN's YouTube channel.
PEPsters, what are your favorite Kadenang Ginto moments?
Share your thoughts in the comments section below.