Marcelito Pomoy is officially a global singing sensation.
He came home on February 24, 2020, from his stint on America's Got Talent: The Champions 2020 in Los Angeles, California, to a hero's welcome, complete with a motorcade, in his hometown of Calauag in Quezon province
The motorcade was a fitting metaphor to Marcelito's colorful journey as an aspiring performer winding his way out of life's rough patches via various talent search shows, riding on luck and pluck to win, using his peculiar singing voice as ticket.
Being both a tenor and a soprano, Marcelito has been dubbed the "Male Diva" since he won the grand prize in season 2 of Pilipinas Got Talent in 2011.
He was described as "one of the most unique acts" in the recently concluded America's Got Talent: The Champions, where Marcelito finished third runner-up among 10 finalists.
ROAD TO WORLD STAGE
Marcelito knew he had a knack for singing at a young age.
While working in a poultry business in Manila, he discovered he could sing in both male and female voices, shifting from one pitch to another effortlessly.
Emboldened, Marcelito joined ABC 5's Talentadong Pinoy but failed to make an impression.
Undeterred, Marcelito tried his luck in Pilipinas Got Talent that aired on ABS-CBN. Here, Marcelito the singer and performer blossomed, besting other talented contestants with his rendition of "The Prayer."
He emerged the grand champion and took home the P2 million cash prize.
A happy aside to his stint in the talent show was that his entire family gathered together even for a brief period to watch him compete live.
The win made Marcelito a household name, led to more TV appearances. and paved the way for two studio albums—Duet Yourself (2011) and Split (2013)—under Star Records.
Marcelito's exceptional talent turned heads internationally as well.
Videos of his performances found their way online, catching the attention of people from all over the world, including the American comedian and talk show host Ellen DeGeneres.
In October 2018, Marcelito was invited to perform at The Ellen DeGeneres Show. His guesting was hyped in social media with the teaser, "Singer Marcelito Pomoy from the Philippines will astound you."
He didn't disappoint. He sang "The Prayer" and "Beauty and the Beast" beautifully.
During the interview, he told Ellen with the help of an interpreter, "I started singing at 7… [discovered my talent for] switching voices at 18."
He also revisited his early struggles working for P50 a day and being homeless.
Marcelito said in Filipino, "That [meager salary] allowed me to buy food to eat and survive while sleeping on the streets."
Ellen told him, "Here you are because you are amazing."
The American talk show host did more than just compliment Marcelito for his talent. Ellen gave him tickets to see his idol, Celine Dion, live at The Colosseum in Caesars Palace in Las Vegas.
An elated Marcelito gushed in social media after watching the concert last May 24, 2019.
He wrote on his Facebook page, "This is her 10th to the last show in Caesars Palace. Buti na lang nakahabol pa. Hindi ko kasi afford ang ticket kaya super thank you Ellen DeGeneres sa libreng plane ticket, hotel accommodation, concert ticket and most of all sa meet-and-greet na hindi ma-e-experience ng iba kung walang malakas na backer.
"To meet these famous people I am just wishing to see even from afar. Ang lakas ko talaga sa 'yo, Panginoon."
Things would only get better for the avid Celine Dion fan.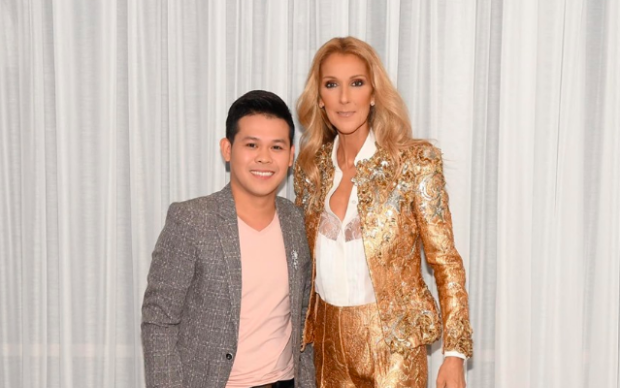 ABOARD AMERICA'S GOT TALENT
Marcelito had been on the radar of America's Got Talent (AGT) since 2018, but he turned down the show's first invitation to compete in its standard edition.
The standard format showcases the talents of unknown and aspiring contestants from the U.S. and elsewhere abroad.
Guesting in the show Tonight With Boy Abunda, Marcelito explained his reason why he was not keen to join AGT.
The Pilipinas Got Talent grand winner said, "Since I'm already a champion here in the Philippines, I felt that my victory at home would be pointless if I fail at the show."
Meanwhile, in 2019, AGT premiered on NBC its spin-off, America's Got Talent: The Champions, in which various participants of both AGT and the Got Talent franchise—including winners, finalists, live round participants and fan favorites—compete against each other for the title "World Champion" and a cash prize.
The show's judges headed by Simon Cowell, creator of AGT, are Heidi Klum, Alesha Dixon, and Howie Mandel.
Marcelito joined America's Got Talent: The Champions in its second season that began airing on January 6, 2020.
As expected, Marcelito delivered song numbers that highlighted his dual male-female voice to captivate the audience and judges.
The songs that he performed were "The Prayer," "Con Te Partirò," and "We Are the Champions."
He sang the Celine Dion-Peabo Bryson version of "Beauty and the Beast" at the show's grand finals that aired on Monday, February 17 (Tuesday, February 18, on Philippine television).
The judges hailed his performance, except Simon who branded Marcelito's song choice as "predictable," and was booed.
In a social media post before the finale airing, Marcelito said the song number was chosen by Simon's team.
If he had his way, Marcelito said he would have done his own take of "We Are the World," the charity single released in 1985 by a super group of singers—including Lionel Richie, Stevie Wonder, Tina Turner, Dionne Warwick and Michael Jackson, among others.
Marcelito eventually would take down the post, saying the AGT team had no time to study his proposed song.
The talented Filipino singer would bag fourth place behind the violinist Tyler Butler-Figueroa, the trapeze pair Duo Transcend, and the acrobatic dance group V. Unbeatable.
Heidi Klum remarked, "Marcelito, I love you so much. You have the most beautiful voice — I should actually say the most beautiful voices inside of you.
"You are a champion. Thank you so much for sharing your talent with all of us."
But Marcelito's failure to snag the America's Got Talent: The Champions crown has not dimmed the star lighting his way now to more opportunities down the road to fame.
MOVING FORWARD
Marcelito Castro Pomoy was born on September 22, 1984 in Imus, Cavite but grew up in Bislig City in Surigao del Sur.
He was abandoned by his mother when he was two years old. His father was in prison allegedly on false accusation, and had no choice but to take in Marcelito and his brother behind bars to care for them.
The singer recalled in a 2011 interview with ANC's Headstart, "Nung bata pa kami, iniwan na ako ng mother ko. 'Yong bunso namin 3 months, ako magtu-two years pa lang.
"Dinala na kami sa kulungan ng father ko kasi walang mag-aalaga sa bahay. 'Yong mga preso doon nag-ambag-ambag ng pagkain.
"Nagkasakit father ko. Pina-ampon na lang kami."
A police officer adopted Marcelito. At eight years old, Marcelito left home to escape maltreatment, and to seek out his real father.
To survive, the young Marcelito took on odd jobs. He sold balut and ice cream, and worked as a pin boy in a bowling alley.
Marcelito would eventually find his father, thanks to a balut buyer who tipped him off about his whereabouts. In a bizarre twist of faith, he would discover that his father was actually one of his balut customers.
The reunion was short-lived, He moved out because Marcelito couldn't get along with his stepmother.
An illegal recruiter brought Marcelito to Manila where the aspiring singer took on more odd jobs as a worker in a furniture shop, in construction, and in a poultry and piggery business.
Marcelito also looked for and found his biological mother. The reunion with his mother and other siblings did materialize, but it was not a happy one, to say the least.
Their relationship was tense—aggravated by an appendicitis operation—pushed Marcelito to look for ways to earn more money.
But instead of taking on another job that would require manual skills, Marcelito thought of making full use of his hidden talent of his—singing.
He never looked back since then.
Marcelito is happily married to Calauag native Joan Paraiso and a proud father to daughter Marcella Janiah.
At the moment, he is preparing for a series of shows in the U.S. titled The Voices of Marcelito from June to August this 2020. His tour will include stops in Miami, Memphis, San Diego, Los Angeles, San Francisco, Seattle, and New York.
Marcelito is also part of One Magical Night to be staged in various places in Canada—Vancouver, Edmonton, and Calgary—from April 3 to 5, 2020. He will join JM de Guzman, Eric Nicolas, Enrique Gil, and Liza Soberano in the three-city tour.
Marcelito indeed has come a long way.