Maria Cassandra Legaspi is an actress, performer, endorser, and social-media personality in the Philippines.
Showbiz fans know her as Cassy, one half of the Legaspi twins.
Cassy is a talent for GMA-7, one of the broadcasting giants in the country.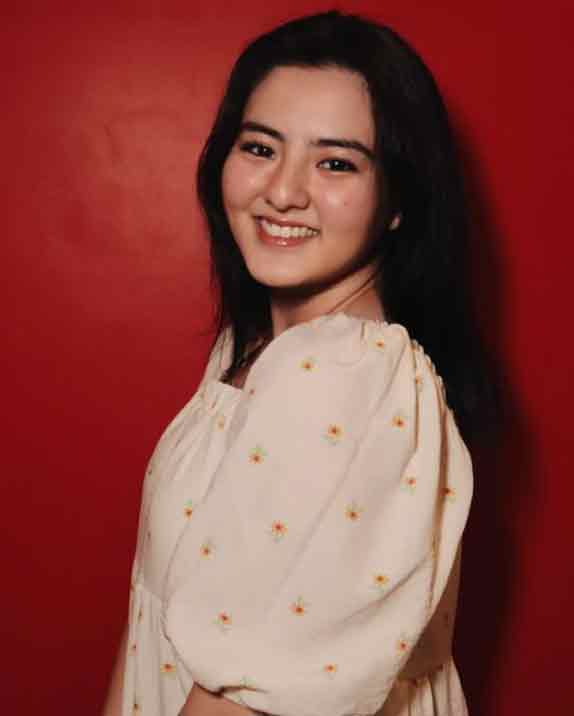 Family
Cassy, now in her 20s, is the daughter of actors Carmina Villarroel and Zoren Legaspi. She has a twin brother named Maverick Peter or Mavy.
The close-knit Legaspi family is known in showbiz and their fans as "famkada" for the easy-going ways they regard each other without going out of bounds.
Mavy tells PEP.ph (Philippine Entertainment Portal) in an exclusive interview with the twins in November 2020: "I think for me kasi blood is thicker than water, so I guess iyan iyong perks na you get to—you don't hide anything.
"Parang, ito iyong kuwento sa barkada mo, ito iyong kuwento sa pamilya mo. Walang ganoon. It's like my parents know what my friends know.
"I feel like you're more open to talk with them, so I guess that's really a nice thing."
The twins add that they all make conscious efforts to establish and maintain open communication with one another, revealing this kind of bond was fostered by their mother Carmina.
According to Mavy, '"I think it's the way our mom expresses her love, her emotions kasi I think that's where we all get it from, e. Especially dad, he gets it from mom."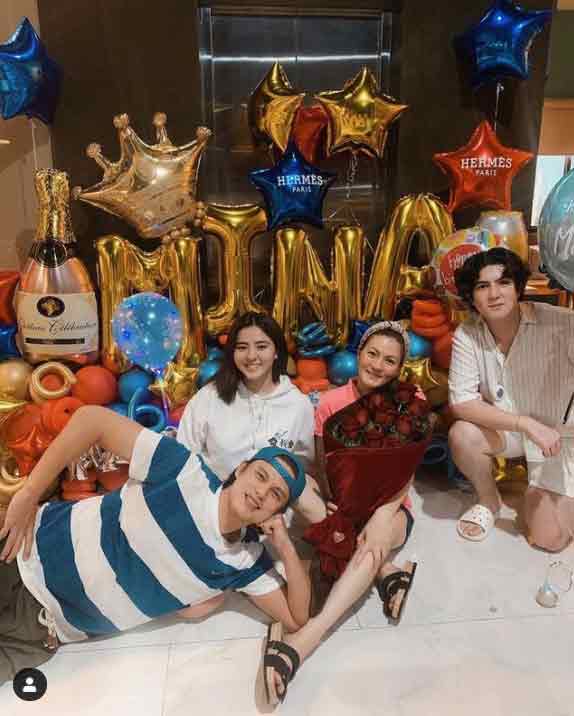 Cassy, however, acknowledges that, for an adolescent, opening up to parents "isn't easy."
But then Carmina and Zoren have their ways of encouraging their twins to share their stories without fear of reprisal.
Cassy explains, "Let's say before, if I hide stuff from my parents, they teach me na, 'Don't hide it from us because we won't get mad at you. We're here to help you.'"
Mavy attests, "Usually iyong ganoon. It's not like, 'I know you have a secret. Tell us!'
"Hindi ganoon, e. They would tell a story na, 'Yeah, we did that. We went through that also.' You relate.
"I think it's just because magaling sila mag-communicate."
Because they always eat together at home, perennially an occasion for telling stories, the family gets to bond more than usual.
They also enjoy traveling together, and one of their go-to destinations is Japan.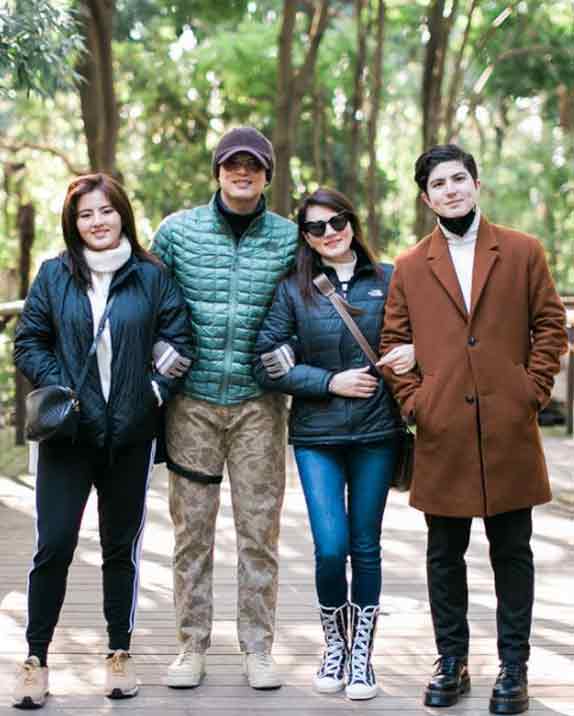 Education
Cassy has always prioritized school and continues to pursue her studies even after her official showbiz debut in 2018.
The Kapuso talent is in college finishing a degree in Business Marketing, a course she has chosen because of its "people and creative aspect."
She says in the same exclusive interview with PEP.ph: "Di ba, presentation? Iyong course ko, nako, every session na lang may presentation.
"But that's what I like naman talaga and that's what I want to enhance."
For Cassy to juggle her time between work and studies, she has shifted to the other mode of learning using modules and video being offered by her school.
She says, "My school provides two kinds. I don't know if it's like this in other schools, pero may two types of learning. Iyong online talaga, online classes. And the other one is through modules and video. I signed up for this na lang kahit mahirap siya... kasi I still want to pursue school kahit may work ako.
"Kaya do what you gotta do."
But there was a time when Cassy had thought of going to a fashion school abroad.
She reveals what made her change her mind, "Before pa ito, e, I wanted to pursue fashion in London.
"You have to be super talented diyan and you have to have skill and an eye for fashion.
"And I don't have an eye for fashion. I think na-take over talaga iyong showbiz passion ko now."
Cassy and Mavy were consistent honor students when they graduated from high school at the Reedley International School in Pasig City.
the celebrity kid
As the daughter of two well-known celebrities, Cassy grew up in the public eye.
She and Mavy have been appearing in commercials with their parents, and one of the family's long-time endorsements is a popular ice-cream brand that has followed their growth since they were kids.
The Legaspi twins began showcasing their dancing skills both in GMA-7 and ABS-CBN's variety shows until they officially became Kapuso talents in 2018.
Cassy and Mavy became regulars for the GMA-7's weekly variety shows Studio 7 and All Out Sundays.
They also got to hone their hosting skills when they joined their mother Carmina in the weekend lifestyle show Sarap, 'Di Ba?
But between the twins, it is Cassy who has shown more interest in following the acting career of their parents.
She recalls visiting the sets of the GMA-7 shows Mulawin, where their dad Zoren was part of the cast, and Darna, where their mom Carmina played one of the villains.
Both series were fantasy-based, and Cassy remembers the elaborate costumes and make-up of their parents.
She recounts, '"Usually we would ask, 'Why are you that? Why is your eye like that?'
"At a young age pa lang, we were asking questions. And even sa commercials, 'Why are the lights so bright? Why are there two cameras?'
"I think we grew up on set na, so we kinda knew na ganito pala taping even though we didn't really have our first teleserye yet.
"Na-expose kami. It really helped a lot."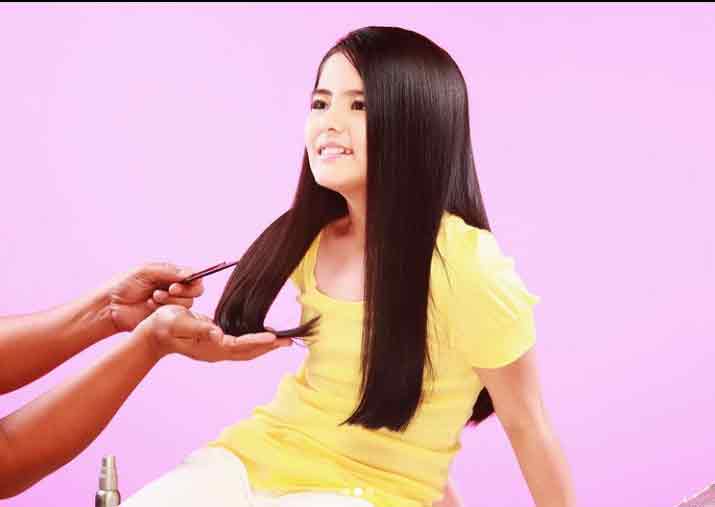 Apart from the thrill of watching her parents at work, Cassy relishes their stories about the magic of movie-making.
She relates, "When they make kuwento what happened sa taping nila or how tiring it is, 'tapos they also talk about iyong past nila compared to now, I think it's just really inspiring din hearing their stories...
"When I see them sa taping, when they act talaga, na-a-amaze talaga ako. This is Carmina and Zoren in action and I get to see that."
Cassy remembers asking her mother questions about acting.
"Every time, before we sleep, I always ask my mom pagkatapos ng work, 'Oh, so how do you memorize your lines?'
"Or, ito number one question ko, 'When you were my age, how did you memorize your script?'
"But for my mom, it's just pure talent! Ang galing talaga ni Mommy."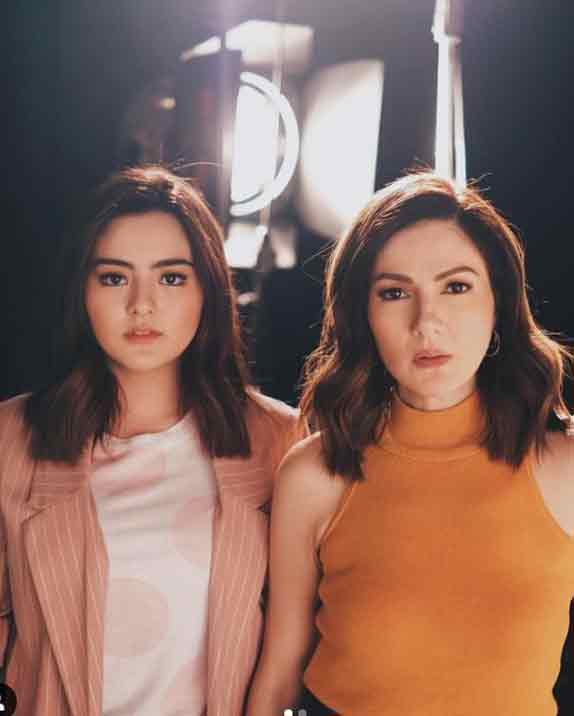 acting debut
In February 2020 it was announced that Cassy would make her teleserye debut in the GMA-7 series First Yaya, but the COVID-19 pandemic placed the series on hold.
Later in the year, when safety precautions for TV sets were established and month-long lock-in shoots were accommodated, the series was back on track.
At the time of the PEP.ph exclusive interview, Cassy was already preparing for her acting debut in First Yaya.
She says, giddy about the new project, "I'm really, really excited, pero my gosh, kinakabahan talaga ako.
"Oh my gosh! I think the thought na malapit na siya, it makes me so nervous.
"But at the same time excited na ako kasi we've all been waiting since February, March. 'Tapos iyon, finally, we're doing it na.
"Excited talaga ko. This is something really new. Sabi nga po sa GMA na they really made this role for me, so na-touch ako diyan."
Cassy will be playing Nina Acosta, the daughter of the president played by Gabby Concepcion. Sanya Lopez will take on the titular role.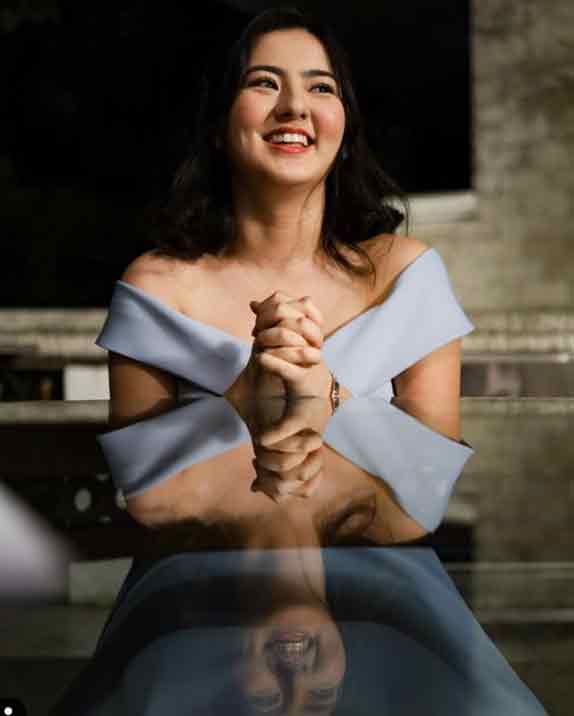 How's Cassy acting so far?
Her father Zoren is confident she will "surprise us."
He told PEP.ph in a separate interview in December 2020, "Bumalik na feedback sa amin regarding her performance.
"So far, she's doing really well and sabi nila, people will be surprised doon sa performance ni Cassy na ginagawa niya."
He stressed, "Bilib din ako sa bata na kasi kumbaga she's willing to undergo all the hardship para mag-improve and learn from it."
Youtube channel
Cassy also made her debut as a YouTube vlogger in September 2020.
Her vlog is set around her personal interests and behind-the-scene tidbits about her work.
She is determined as well to give fans the content they want to see.
"I always ask, 'What do you guys want to see?' Kasi siyempre, I want to make them happy. I love them so much.
"But I want to know what they want to see from me and my family.
"So, I think the one with family is Tagalog Challenge for 24 hours. Gracious! My gosh. Sabi ko, 'Okay, parang kaya ko iyan.'"
Her most requested YouTube vlog so far has been her collaboration with her good friend Darren Espanto.
Fans of Cassy are always asking her relationship status with the ABS-CBN artist, 'but she insists they are just "friends."
Still, fans were thrilled because Cassy gave them exactly what they wanted in December 2020 when she and Darren did a Q&A vlog together.
Read more about Cassy Legaspi: