Scarlet Snow Belo is a Filipino celebrity endorser and social media personality with a significant following on Instagram.
She celebrates her birthday on March 3.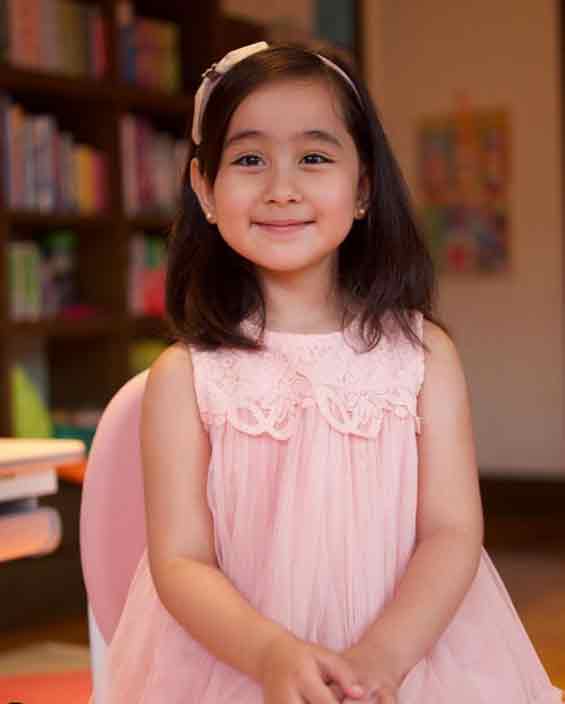 The Belo Baby
Scarlet Snow is the biological daughter of celebrity dermatologists Vicki Belo and Hayden Kho Jr.
Her reveal was one of the top showbiz headlines in 2016. She was one year old at the time.
Scarlet Snow was conceived through in vitro fertilization (IVF), a method that fertilizes the mother's egg and the father's sperm in a laboratory dish before being implanted in the biological or surrogate mother's uterus.
For Scarlet Snow's case, she was birthed by a Mexican-American surrogate mother in the U.S.
She was born in March 2015.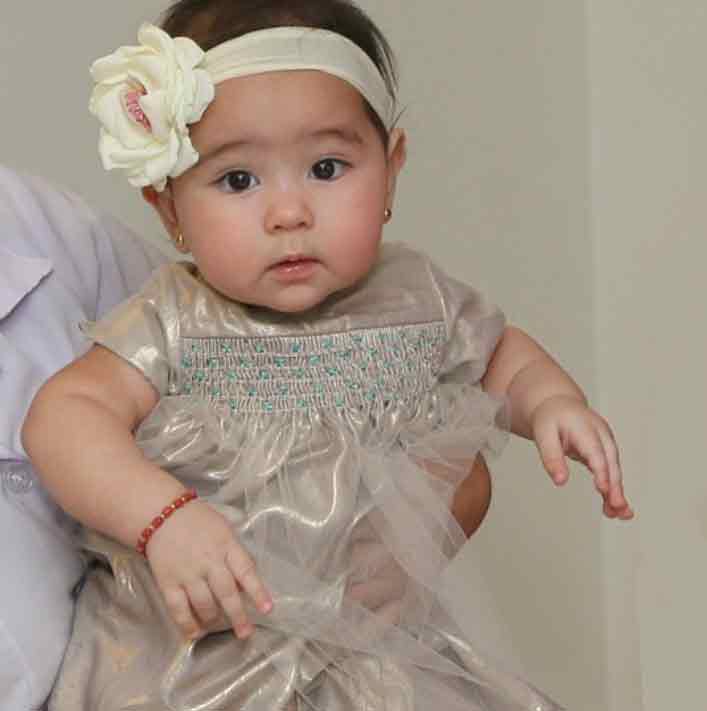 Her father Hayden was the first to introduce her on Instagram.
The celebrity dad said the arrival of Scarlet Snow changed him "completely" and brought him "closer to being the kind of man" God always wanted him to be.
Hayden called her "an angel" who was designed to be a "lifelong inspiration" for him and Vicki.
On Scarlet Snow's fifth birthday, Hayden spoke further about his initial worries as a father and how he taught himself to "shape up" for her sake.
His caption read: "I have to admit I was worried when you were born because I didn't know how to be a father, but I swore I'd be the best one for you.
"Because of you, I shaped up. I became more circumspect about my words and actions, knowing that you're always listening, always watching.
"I became more faithful, more prayerful. It's amazing how God used you to prepare me for you.
"You're an angel, my love. We love you so much."
Hayden was the one who gave Scarlet Snow her name. It was based on the Bible verse Isaiah 1:18: "Though your sins be red as scarlet, I shall make them white as snow."
The name reflects the transformation Hayden went through after being embroiled in highly-publicized controversaries in 2009.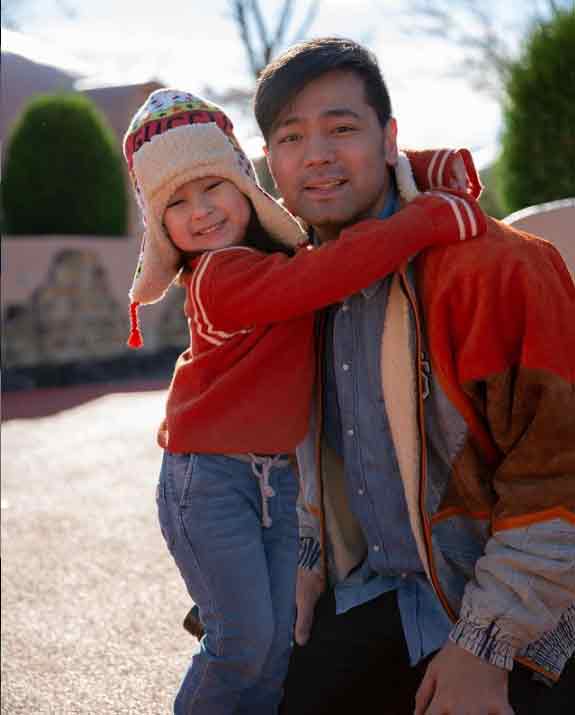 Modern family
Scarlet Snow is the youngest daughter of Vicki.
Vicki was 59 when Scarlet Snow was born. The beauty doctor admits that she struggles keeping up with her daughter, but she is still happy to be given a second chance at motherhood.
Before her relationship with Hayden, Vicki was married to businessman Atom Henares.
Vicki and Atom have two kids together: Cristalle Belo, who handles the business side of the Belo brand, and Quark Henares, who is a filmmaker.
When Cristalle and Quark were kids, Vicki said that work took up most of her time.
She told PEP.ph (Philippine Entertainment Portal) in an interview in April 2019: "Nag-i-start ng practice, wala pa akong pera nun, so kayod. 'Tapos kapag tinignan mo mga anak mo, medyo malaki na.
"Habang bata pa anak niyo, enjoy niyo, kasi ang bilis nila lumalaki. So ngayon, I was given a chance to do it all over again.
"Ang sarap. Ang sarap talaga. Kasama ko palagi si Scarlet. Nakikita ko lahat—first walk, first word, everything. Enjoy na enjoy.
"I realized I missed a lot by being so goal-oriented when I was younger."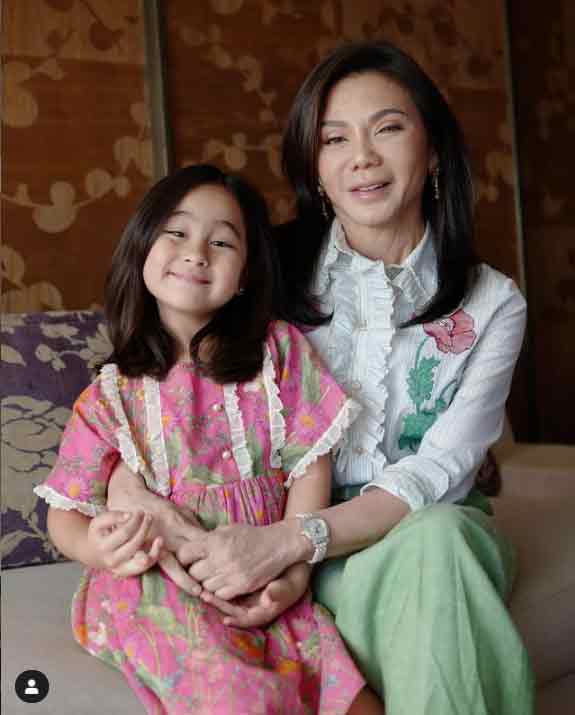 Vicki and Atom later got separated, but remained in each other's lives. They are now married to their respective partners Hayden and Natalie.
Vicki married Hayden in a lavish Parisian wedding in 2017, while Atom married Natalie in an intimate garden wedding in 2018.
Every now and then, their families get together to bond.
Will Vicki and Hayden give Scarlet Snow a sibling? The beauty doctor told PEP.ph in 2019 that the decision is up to Hayden.
Vicki said, "He's still thinking if he can handle it, but for me, I'm really happy with Scarlet...
"Me talaga, I promised my kids kasi one because they didn't really like the idea [at first]. Parang, 'What are you doing?'
"But now, they're so happy!
"Of course, if one more comes, if [Hayden] decides, then I'm sure I'll still enjoy it."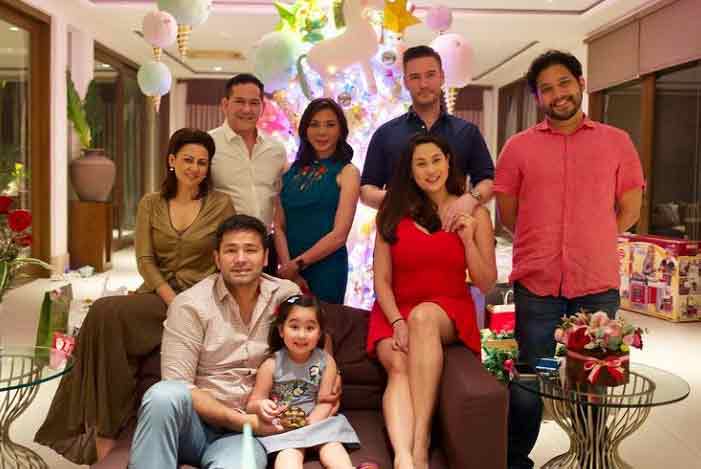 Instagram fame
Scarlet Snow is the most followed Pinoy celebrity kid on Instagram. As of writing, she has over 4.6 million followers.
Hayden opened Scarlet Snow's Instagram account days after her public reveal. It instantly gained followers as the celebrity kid's cherub-like features were captivating. And as fans would later see, Scarlet Snow had an equally charming personality that continued to capture attention.
In the beginning of her rising fame, Hayden tried to limit his child's exposure on social media for security purposes.
He changed the profile from public to private for a few days, but eventually reverted to its public status because of all the follow requests.
As her number of Instagram followers continued to rise steadily, Scarlet Snow's parents figured it would best to use the platform to promote good character and values.
Vicki and Hayden were both aware that their daughter's social media presence meant a lot to showbiz fans, and they personally agree with it.
Vicki said in an interview with the press in March 2018: "The reason we go on [with Instagram] is because when there were times when we tried to stop, people would say, 'She gives us good vibes, she makes us happy. Parang, 'When we're sad, I just watch it'—and actually, I do that myself.
"When I'm abroad and I watch her videos, natatawa na lang ako.
"So anything positive, anything that can bring good vibes to the Filipinos, parang for us, it's wonderful."
Hayden added, "There's already so much negativity in the news, so sa social media ni Scarlet, wala kang makikitang negative.
"What I realized about social media is, it's not going to go away. Social media is here to stay.
"So the question is what message are you going to put out if you have kids who have social media accounts?
"For us, we've decided that we're only going to post about faith, family, friendship—all positive stuff.
"Compassion, love, tenderness, and all of that."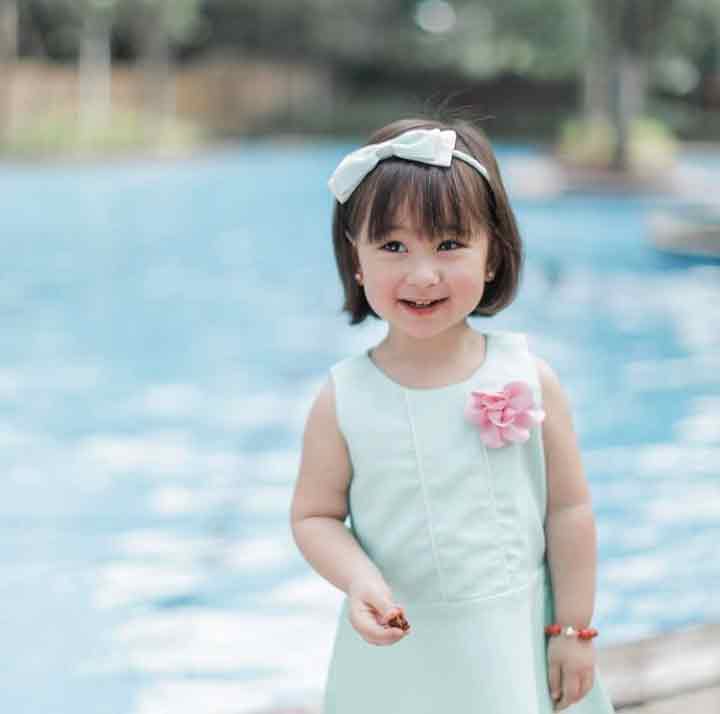 Celebrity kid status
Scarlet Snow soon began to gain attention from lifestyle magazines and brands.
She graced her first magazine cover at one year old.
As the daughter of Vicki Belo, she was the obvious choice to be the face of Belo Baby Essentials.
Later on, the celebrity kid became an endorser for a cake brand, a fast-food chain, a shoe brand, and a milk brand.
She was also often spotted wearing designer items, thanks to her mother's love for high-end fashion.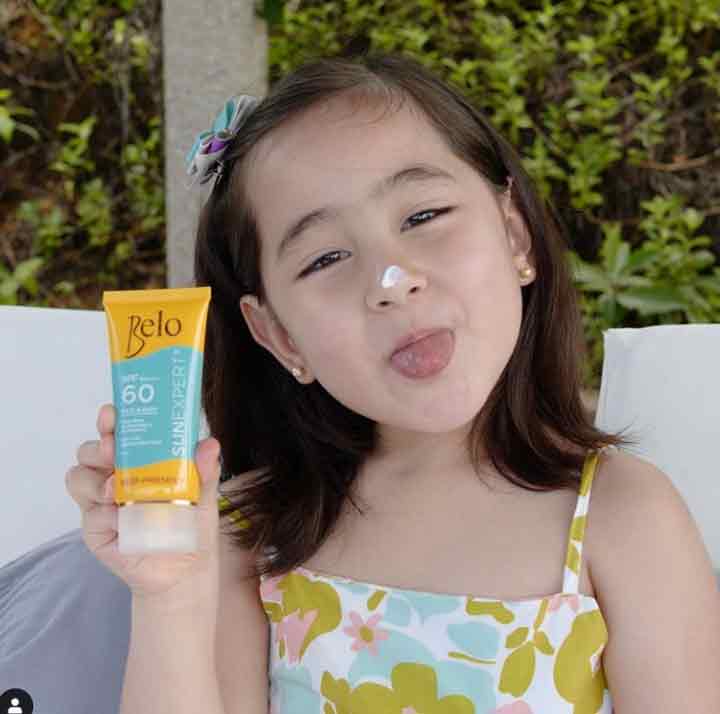 Is Scarlet Snow aware of her celebrity status?
Hayden told PEP.ph in a March 2018 interview that she doesn't know it, but she knows about Instagram. He said, "Well, she doesn't know the terminologies, but surprisingly Scarlet sort of understands because I've showed her before.
"[I said,] 'Scarlet, this is Instagram.'
"Hindi namin ito bini-baby, e. Parang iyong belief namin sa kanya sobrang taas. We believe she can do anything.
"So, I explained to her before that this is Instagram, and whenever we post a video of you, people like it, people watch it. There's so many people who care for you, so many people who love you.
"Iyong level of exposure kung gaanong karaming followers, I don't think she understands.
"She can only count to a hundred maybe, but not yet two million..."
Vicki added: "She has zero idea of how popular she is or what's happening. Hindi talaga niya alam."
As the beauty doctor of A-list stars, Vicki knew how difficult it could be to live a normal social life as a celebrity and she began to see it with her daughter.
"Of course, I've been with stars all my life, and I've seen how [people] take pictures—to the face. And they do that to Scarlet.
"So parang, it's medyo traumatic for her because she doesn't know what's going on.
"I think this is very hard. People also sometimes don't realize she's only a baby."
That's why Vicki and Hayden had made efforts to find places where Scarlet Snow could be a kid and not a celebrity.
Vicki continued, "What we do, [Scarlet Snow] goes to friends' houses where she plays.
"We bring her to school that's mostly foreigners. I mean, it's mostly Koreans, Japanese, Russians, so hindi nila kilala kung sino si Scarlet. They treat her like anybody.
"We go abroad a lot. In Japan, hardly anybody knew who she was, so she was able to run around and be a normal child."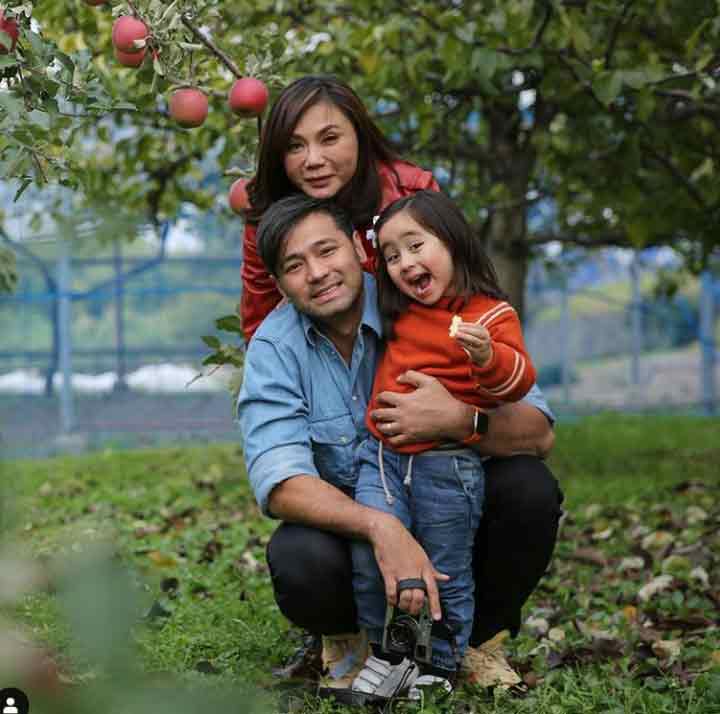 scarlet snow belo in the future
Scarlet Snow has shown that she can sing and dance. At the age of four, she released her own prayer book.
She is already an endorser and a cover girl, so what's next for this little star?
Her mother Vicki hopes she will take over Belo Beauty.
The multi-awarded dermatologist told PEP.ph in an August 2019 interview that Scarlet Snow already showed potential: "I find her very cute because her eyes are so good. Like the other day, so I said, 'O, what is she saying?' She's like, 'A for apple, B for books, C for collagen.'
"And her ninang had a pimple, it was very small pa, hindi pa lumalabas, she was like, 'O ninang, why do you have a pimple?'
"So iyong mata, andun na."
Vicki added in jest: "And she's very artistic so I think she'll really make a good derma if we can just brainwash her right now."
It is still too early to say if Scarlet Snow will enter showbiz or remain in the public spotlight, but her fans are looking forward to seeing where this bright girl will go in the future.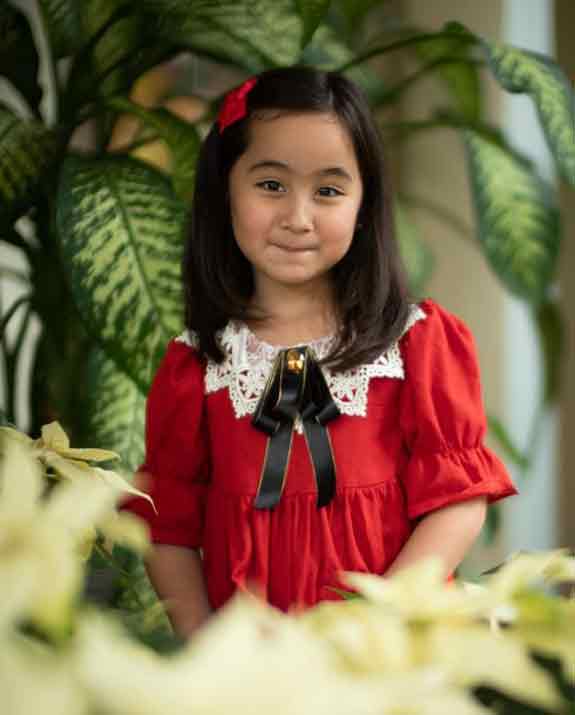 Read more about Scarlet Snow here: