Kylie Nicole Sicangco Padilla-Abrenica, known in the entertainment industry as Kylie Padilla, is an actress/brand endorser/entrepreneur/singer.
Kylie comes from the famous showbiz clan of the Padillas.
She is the daughter of veteran movie actor Robin Padilla and former actress Liezl Sicangco.
Her grandfather Casimero "Roy" Padilla Sr. was a film director. Her grandmother Eva Cariño-Padilla was a former actress.
Kylie is the niece of actors Rommel Padilla, Royette Padilla, and BB Gandanghari, and cousin of Kapamilya superstar Daniel Padilla and actress Bela Padilla.
As much as it had been easy for her to enter showbiz and reap instant popularity because of her connection, Kylie bared she's been compelled to work doubly hard to prove she can truly act and become known as an actress independent of her family name.
She said in an interview on August 24, 2015 with PEP.ph (Philippine Entertainment Portal), "First and foremost, before I'm a Padilla, I'm an artist. Gusto ko, iyon ang makita ng tao.
"Hindi ko pinagdaanan masyado yung struggle to have a name, though may pressure para patunayan that I deserve where I am right now."
In that year, Kylie was doing lead roles in three GMA-7 afternoon series.
She hastened to clarify that the good roles she's been getting since she started in showbiz in 2008 were not just handed to her.
She said, "Nag-audition naman ako…and kasi gusto ko talaga pagdaanan. Ayoko lang talaga isipin ng tao na, 'Ay, dahil lang sa tatay niya, sikat siya.'"
Asked about the disadvantage of being a Padilla, Kylie told PEP.ph, "You think too much of what people think. Nakakalimutan mo yung gusto mo, kung sino ka talaga.
"Kasi masyado mong iniisip na, 'Ay, baka mapahiya si Papa!' 'Ay, baka mapahiya si Mama!' Nawawala yung sense of identity mo."
Kylie, who was 22 years old during the interview, then stated, "I accept who I am now. It was a challenge for me to actually be brave enough to accept that I am my own person."
ADVERTISEMENT - CONTINUE READING BELOW ↓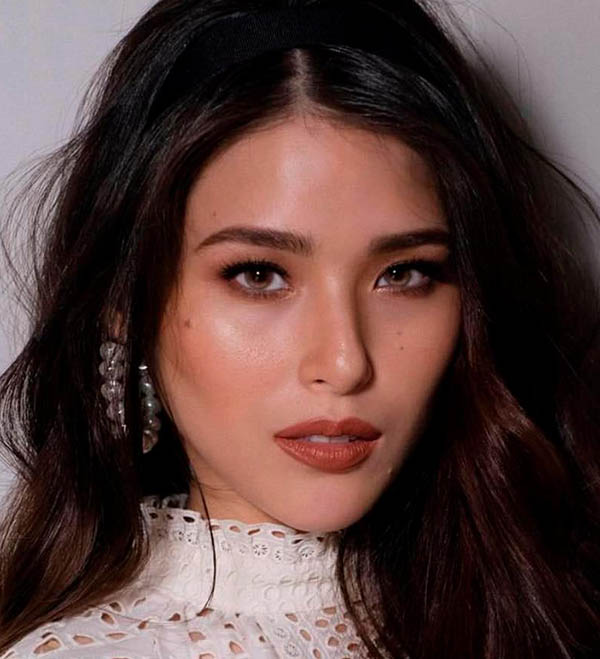 FAMILY BACKGROUND
Kylie was born on January 25, 1993 in Pampanga.
She is the second of Robin's four children with former wife Liezl.
Her siblings are Queenie Padilla, Zherileen Padilla, and Ali Padilla.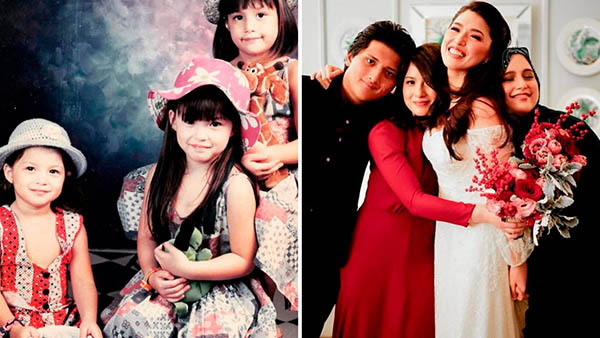 Kylie with siblings Queenie, Zherileen, and Ali
Kylie has four other siblings on the paternal side: Camille Orosa, Robin's daughter with former actress Leah Orosa; Mico Padilla, Robin's son with former actress Jobelle Salvador; and Maria Isabela Padilla and Maria Gabriela Padilla, Robin's young daughters with wife, TV host Mariel Rodriguez.
In her previous interviews, and even in her own vlogs, Kylie revealed that as a kid, to catch her dad's attention, she would get herself into all sorts of daring activities a girl normally wouldn't do.
She told host Rhea Santos in GMA's documentary show Tunay na Buhay in June 2016, "I just love my dad's attention, I don't know why... kaya ako yung pinaka-athletic noon.
"Kasi gusto niya [Robin] energetic kami, parang mga lalaki. Kaya ako yung pinaka-tomboy noon.
"Ako yung pinakamataas tumalon, ako yung pinakabaliw pagdating sa mga takbuhan."
Growing up, Kylie did Muay Thai, Wushu, arnis training, gun firing, race-car driving, and motorcycling.
She also wrote poems, composed songs, and painted, which she has continued to do until today during her free time.
amazing feat for a newbie
Kylie was seven years old when her family flew to Queensland, Australia, where they stayed for seven years and where she completed her elementary education.
Months after her family settled back in the Philippines in 2008, Kylie went to Thailand for a three-month formal Muay Thai training.
This was also the year she did her first showbiz project right after completing her Muay Thai training.
Kyle was fifteen years old when she did some action scenes as a warrior girl named Erenea in the GMA-7 action-fantasy series Joaquin Bordado helmed by Carlo J. Caparas and top-billed by no less than her father, Robin Padilla.
In one of the stunts deemed too risky for a teen newbie actress like her, Kylie crossed over the Marikina River while attached to a harness suspended 15 feet above the water, without a safety net installed beneath.
Kylie fearlessly—and perfectly—did the stunt, crossing about a hundred-meter distance to make it to the other side of the river, on the first take sans rehearsal.
Viewers were amazed by the confidence, talent, and bravery of the newest Padilla to enter showbiz.
Kylie instantly won their hearts.
Joaquin Bordado aired from February 11, 2008 to July 11, 2008.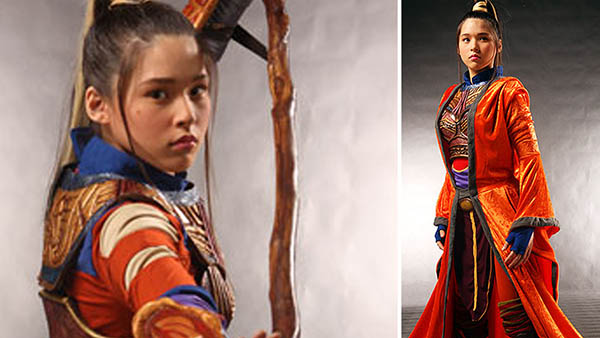 Kylie in Carlo J. Caparas's Joaquin Bordado
BAGGING LEAD ROLES
After Joaquin Bordado, Kylie became a regular performer in GMA's Sunday noontime variety shows SOP Fully Charged, Party Pilipinas, and Sunday All Stars, where she displayed her versatility as a performer in her song and dance numbers.
Yes, Kylie is also a good singer and dancer.
In 2011, Kylie headlined her own Kapuso afternoon series Elena Patron's Blusang Itim.
The show was based on the writer Elena Patron's novel of the same title that was serialized in comics in the 1980s and made into a film in 1986 starring Snooky Serna.
In the TV adaptation directed by Jay Altarejos, Kylie played the role of Jessa, an unattractive young woman yearning for people's acceptance while searching for her one true love, and transforming into a beautiful woman when wearing the mysterious black blouse.
Blusang Itim aired from May 16, 2011 to August 12, 2011.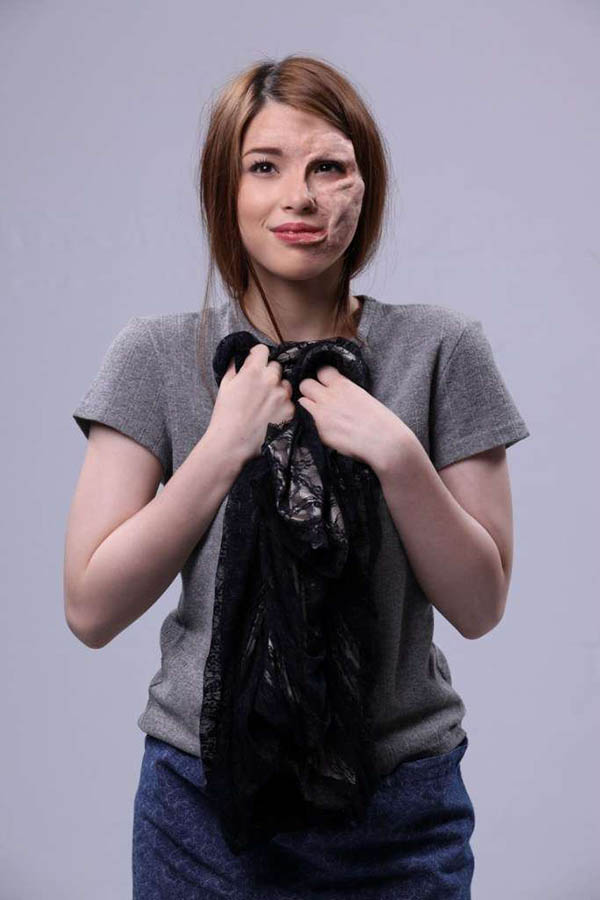 Kylie in Blusang Itim
In the year that followed, Kylie played another lead role for the afternoon drama series The Good Daughter. The top-rating series premiered on February 13, 2012 and ended on June 1, 2012.
In 2013, Kylie top-billed two teleserye: the afternoon drama-romantic-fantasy series Unforgettable and the prime-time fantaserye Adarna.
Unforgettable aired from February 25, 2013 to May 31, 2013.
Five months after Unforgettable ended, Adarna aired its pilot episode on November 18, 2013.
In Adarna, Kylie had three leading men: Geoff Eigenmann, Benjamin Alves, and Mikael Daez. The fantaserye ended on March 7, 2014.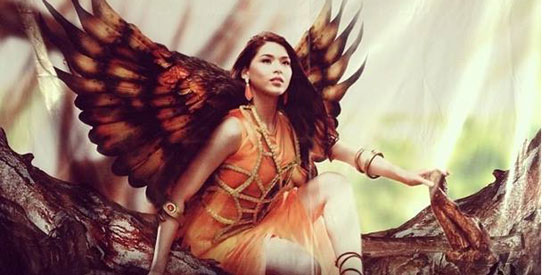 Kylie in Adarna
After portraying leads in a series of top-rating shows, Kylie appeared in two movies in 2014.
Her first movie was the drama-action Sa Ngalan ng Ama, Ina, at mga Anak, featuring the powerhouse cast of Padilla actors.
Produced, written, and top-billed by Robin, the film also starred the actor's wife Mariel, daughters Kylie and Queenie, brothers Rommel and Royette, niece Bela, and nephews RJ, Matt, and Daniel Padilla.
That same year, Kylie played the lead role in the horror movie Dilim, written and directed by Jose Javier Reyes.
She portrayed the character of a nursing student who encountered bizarre occurrences in a haunted dormitory where she was staying. Dilim also starred Rayver Cruz and Ella Cruz.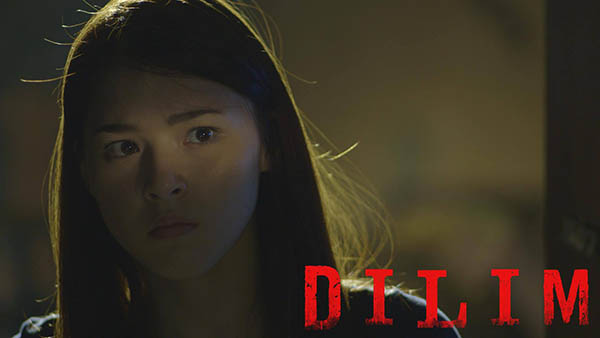 It was indeed a busy year for Kylie, who released her debut album Seasons, an eight-track album that contains her original compositions.
She told the entertainment press in a press conference in June 2014, "Hindi po kasi plinano for my career na mag-release po ng album.
"Nagsusulat na po ako ng kanta noon. Actually ever since nagsusulat na po ako kasi this in an outlet."
She added, "Ako lang nag-produce ng album ko. I pay for the recording sessions and worked for it for two years nga."
In 2015, Kylie headlined another family-oriented drama series titled Buena Familia. It aired from July 8, 2015 to March 4, 2016.
KYLIE IN ENCANTADIA
Though Kylie had constantly played leads in teleseryes since 2011, it was her role in GMA's remake of the drama-fantasy series Encantadia in 2016 that made her television career soar to greater heights.
In Encantadia, Kylie portrayed the role of Sang'gre/Hara Amihan, the keeper of the Brilyante ng Hangin and the future Queen of Lireo, the kingdom of the Diwata.
Even before the Encantadia remake aired its pilot episode, Kylie revealed in a GMA News interview in June 2016 she had auditioned not for Amihan but for another role.
She said, "Nag-audition ako para kay Pirena kasi gusto ko naman ng bagong role. Bago, medyo kontrabida.
"Sabi ni Direk [Mark Reyes], try ko rin yung Danaya, and Amihan, and Alena. Lahat pina-try ni Direk sa akin. Siguro nakita ni Direk na mas gusto niya ako for Amihan."
Warrior fairies Amihan and Pirena (keeper of Brilyante ng Apoy) are sisters, with other Sang'gres Danaya (keeper of Brilyante ng Lupa) and Alena (keeper of Brilyante ng Tubig).
Glaiza de Castro played Pirena, Sanya Lopez portrayed Danaya's character, while Gabbi Garcia played Alena.
In her blog entry titled "The Blue One" published on March 21, 2017, Kylie admitted she almost turned down Amihan's role.
She wrote: "After the first audition I kept hearing that I was not being considered for Pirena but for another role. I still at this time was not told it was Amihan they were pegging me for.
"The news about Encantadia was still as loud as ever, people were still talking as loud as ever, but I was sad, I still wanted the role of Pirena lol."
After not getting the Pirena part, Kylie said she decided to take a rest from doing TV series. She had just finished taping for Buena Familia at that time.
As it happened back then, Kylie was set to fly to Australia to be with her mom and siblings for a vacation.
She disclosed in her blog, "Now this part of the story I am kind of shy to tell. I must have come off as some sort of diva for turning an opportunity like Encantadia down just for a chance to have a little vacation.
"But, honestly, I really was just emotionally drained from working on my last television show Buena Familia, among other things.
"Just a few days before my flight to Australia, my manager called to tell me that I had a meeting with the director of Encantadia. Direk Mark Reyes."
In her blog, Kylie revealed that she had a change of heart after Direk Mark introduced her to the Amihan character.
"I learned from the director himself about her, about who she was and what Amihan's essence was.
"How she was the favorite daughter of the Queen and the most deadly fighter out of all four sanggres because her father himself had been the one to teach her how to use his sword which Amihan then carries until womanhood, even to her death.
"He also told me about Amihan's childhood and how she grew up in the human world before she returned to Encantadia to also become Queen."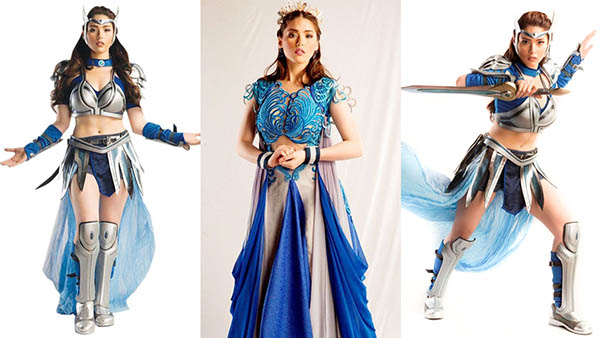 Kylie as Sang'gre/Hara Amihan for Encantadia
Kylie said she accepted the role because she wanted to try portraying a Queen "out of sheer curiosity and daredevilishness to face that nervousness."
But then, "Little did I know just how deeply Amihan would affect me as a woman and what she would teach me as a mother NOT just some girl in a sexy outfit, midriff bare and naked.
"But much like real life, after the heartbreak life had brought her [Amihan], she grew into a braver much more exquisite woman. It was a surprise because the role of a sang'gre played much more differently in my head.
"She was the one sang'gre I had not thought much about but now, the one I could not have wished enough to play more."
During the first week of March 2017, Kylie left Encantadia because of her untimely pregnancy.
Her boyfriend, Kapuso actor Aljur Abrenica, was the father of Kylie's baby.
Encantadia aired from July 18, 2016 to May 19, 2017, just a few months after Kylie left the show.
After giving birth in August 2017, Kylie had her TV comeback via the drama-thriller primetime series The Cure (2018), where she portrayed a special role as Adira Aguilar.
The year that followed, Kylie starred in drama rom-com series TODA One I Love opposite Ruru Madrid. It aired from February to April 2019.
KYLIE'S LOVE LIFE
Kylie met fellow Kapuso artist Aljur Abrenica in a Wushu workshop in 2011.
In previous interviews, Kylie admitted that she had a crush on Aljur even before she entered showbiz.
The two instantly fell in love and began secretly dating.
They had to keep everything low-key not only for the sake of Aljur's love team with Kapuso actress Kris Bernal, but also in consideration of Robin's opposition to their relationship.
In an interview on April 1, 2011, Robin said Kylie's relationship with Aljur was "hindi talaga puwede."
He expounded: "Walang problema kung sila. Huwag na nila akong isama dun sa love story nila. Kasi kung ako ang tatanungin nila, hindi talaga puwede.
"Hindi ako puwedeng mag-compromise, hindi ko puwedeng i-compromise ang pinaniniwalaan ko, pananampalataya [ko], para lang ipakita ko sa anak ko na mahal ko siya."
Robin, Liezl, and all their children are followers of Islam, while Aljur is Catholic.
Aljur had to come forward to assure Robin: "Hindi ko paglalaruan si Kylie. Wala akong masamang hinahangad para sa kanya kundi maging mabuting kaibigan ako para sa kanya at maging masaya pag kasama siya."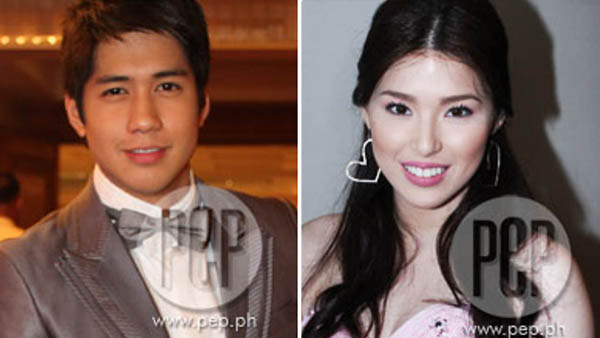 Aljur and Kylie
KYLIE & ALJUR: AGAINST ALL ODDS
In the beginning, Kylie and Aljur kept everyone guessing about the status of their relationship.
They veiled their true feelings for each other in public with all sorts of labels; from telling the entertainment press that they were "good friends," each other's "inspirasyon" and "first date" to having "mutual understanding," being "very close" but "walang commitment," to "exclusively dating."
On May 20, 2012, Kylie and Aljur finally confirmed their romantic relationship, but in a roundabout way when they announced that they've broken up.
In an interview with PEP.ph on June 3, 2012, Aljur hinted it was Kylie's religion that led to their breakup.
But in December 2012, the couple were rumored to have rekindled their relationship.
Since then, Kylie and Aljur's relationship had gone on on and off until ultimately they called it quits in 2014, seemingly for good.
In an interview with GMA's defunct showbiz-oriented program Startalk on May 31, 2014, Kylie said it was Aljur who initiated the breakup, but she refused to divulge the the actor's reason for ending their relationship.
A year after, Kylie had a short-lived relationship with Matt Henares, a cousin of fellow Kapuso star Rhian Ramos.
Just days after Kylie broke up with Matt in June 2015, Aljur tried making friends again with Kylie.
ENGAGEMENT, PREGNANCY, & MARRIAGE
In October 2016, Aljur surprised his fans when he posted on Instagram a photo of him and Kylie dining at a resto in Japan together.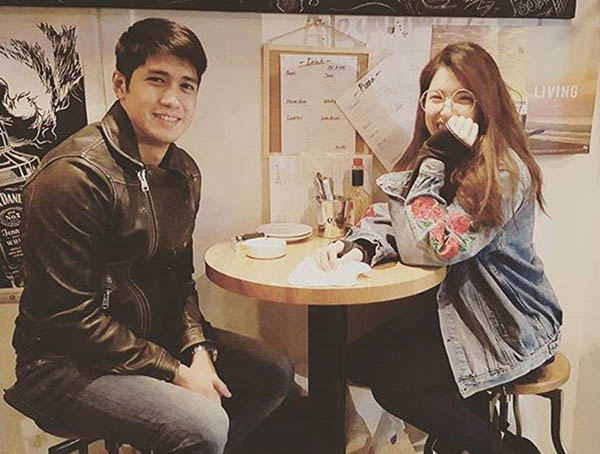 Aljur and Kylie in Japan
The following week, Aljur told PEP.ph in an exclusive interview that they have indeed rekindled their relationship in September 2016.
In January 2017, reports abound that Kylie was pregnant. She was then at the peak of her stardom as one of the lead characters in the top-rating drama fantasy series Encantadia.
On January 23 that year, sources confirmed to PEP.ph that Kylie was pregnant.
The next day, January 24, Kylie's talent management agency announced that the actress was already engaged to marry Aljur.
PEP.ph was able to score another exclusive interview with the couple where Aljur clarified that he had been engaged to Kylie even before the pregnancy rumor came about.
The actor revealed that he proposed to Kylie thrice and that the first time happened in Japan in October 2016.
At the time of the interview, Kylie was three months pregnant with Aljur's child.
She gave birth on August 4, 2017 to their firstborn, a boy they named Alas Joaquin Padilla Abrenica.
On December 11, 2018, Kylie and Aljur got married in an intimate Christian wedding ceremony at Villa Milagros ancestral house in Rodriguez, Rizal.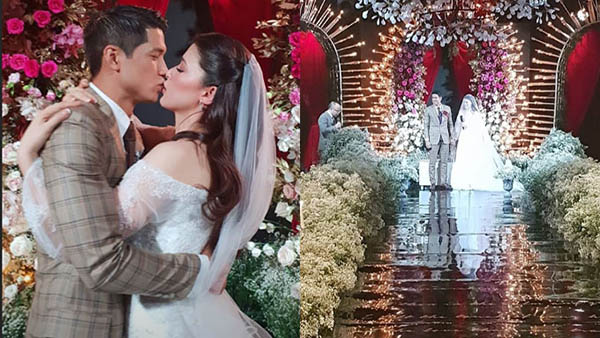 Aljur and Kylie on their wedding day
Their second child Axl Romeo Padilla Abrenica was born on December 9, 2019.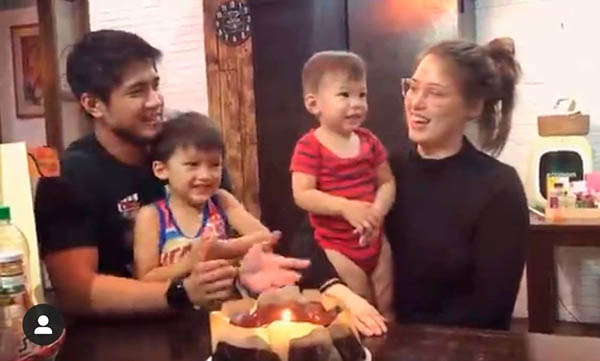 Aljur and Kylie with sons Alas and Axl
STARTING BUSINESSES DURING THE PANDEMIC
In March 2020, just days after Luzon was placed under enhanced community quarantine, Kylie launched her own skin care and bath essential products and statement shirts.
She uses her various social media platforms to promote her businesses.
Currently, Kylie has 4.4 million followers on Facebook, 3.6 million on Instagram, and 689,000 followers on Twitter. She also has her own YouTube channel with 542,000 subscribers to date.
MOVIES
Sa Ngalan ng Ama, Ina, at mga Anak (2014) as Anna
Dilim (2014) as Maritess
Triptiko (2017) as Ann
TELEVISION
Carlo J. Caparas' Joaquin Bordado (2008) as Erenea
SOP Fully Charged (2009-2010) as herself
Party Pilipinas (2010-2013) as herself
Dwarfina (2011) as Chloe Agustin
Elena M. Patron's Blusang Itim (2011) as Jessa Gonzales / Jessica Santiago
Spooky Nights Presents: Sumpa (2011) as Tina
Real Love Presents: Tween Hearts (2011) as Heidi Rivera
The Good Daughter (2012) as Bea Guevarra
Sunday All Stars (2013) as herself
Unforgettable (2013) as Anna Caruhatan
Wagas: Ang Siga at ang Probinsyana (2013) as Maura
One Day, Isang Araw (2013) as Maya/Diwata
Adarna (2013) as Ada
Innamorata (2014) as Hope
Ilustrado (2014) as Leonor Rivera
MYX (2014) as celebrity VJ for September
More Than Words (2015) as Roxanne/Katie
Wagas: Pag-Ibig na Dumaan sa Pinakamahirap (2015) as Emily
Wowowin (2015) as co-host
Buena Familia (2015) as Celine Buena
Maynila: Magpakatotoo ka, teh! (2015) as Jenna
Maynila: Sikretong Malupit (2015) as Katrina
Alamat: Mariang Sinukuan (2015) as Mariang Sinukuan
Eat Bulaga Lenten Special: Walang Kapalit (2016) as Rowena
Encantadia (2016) as Hara Amihan
The Cure (2018) as Adira Aguilar
TODA One I Love (2019) as Mayora Angela "Gelay" Dimagiba-Magsino
AWARDS
Best New Female TV Personality (Joaquin Bordado, 2008) 22nd PMPC Star Awards for TV
Standout Scene Stealer (tie with Ruru Madrid, 2013) 1st Sunday All Stars Awards
Face of the Night (together with Inigo Pascual, 2015) 31st PMPC Star Awards for Movies
NOMINATIONS
Most Liked Drama Actress (The Good Daughter, 2012) Party Pilipinas Most Liked Awards
Standout Season Performer (2013) 1st Sunday All Stars Awards
New Female Recording Artist of the Year (2014) 7th PMPC Star Awards for Music
Favorite MYX Celebrity VJ (2015) MYX Music Awards