Hannah Consencino Arnold, 25, was crowned Binibining Pilipinas International in the recently concluded Binibining Pilipinas 2021 pageant.
The Filipino-Australian beauty queen bested 33 other candidates in the national pageant held at the Araneta Coliseum in Cubao, Quezon City on Sunday night, July 11, 2021.
She will compete in the Miss International 2021 pageant to be held in Japan this coming November.
HANNAH WINS BB PILIPINAS INTERNATIONAL 2021
This is the second time Hannah joined Binibining Pilipinas.
Back in 2019, she made it to the Top 15.
An unassuming beauty queen, Hannah said she was not expecting her name to be called when it was time to announce the winner of the major crown.
In a recent interview, she recounted that she felt she had a slim chance of getting the Binibining Pilipinas-International crown, which was the last one to be awarded at the pageant night.
Hannah also thought her performance that night was not as impeccable as she wanted it to be.
"I was super nervous. After the evening gown, my friend, Pat, I grabbed her and I said, 'Pat, I really did bad. I almost tripped. I don't think I'm gonna have a crown this year.'"
She added, "And also before Q and A, I couldn't breathe. I was like, 'Oh, my gosh, am I gonna do it?'
"So, when there's just the one crown left, I was thinking, 'I'm coming back next year.'"
Candidates of the national pageant are allowed up to a third try if they fail to clinch a title in the first two tries.
Hannah added, "Honestly, I was thinking, 'I hope my parents are gonna be okay if I'm not called.'"
Hannah's name was called. She won the highest title after all.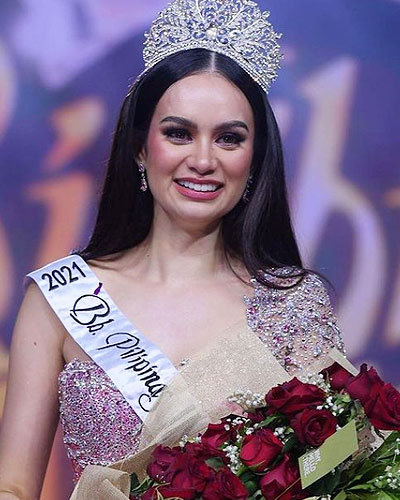 FAMILY BACKGROUND, EDUCATION
Hannah was born on January 21, 1996 in Canberra, Australia.
Her father, Daryl Arnold, is an Irish-Australian, while her mother Laura is a Filipina from Masbate.
Hannah has an older sister, Ange Arnold.
She first came to the Philippines when she was just six months old, and she was baptized in her mom's hometown in Masbate.
Since then, Hannah and her family would fly back to the Philippines for vacations.
"My whole life I've been experiencing both Filipino and Australian culture," she said in an interview last March 2021.
Though she grew up mostly outside of the Philippines, she said that "education was always there for me."
As a young girl, she had been a ballerina for many years before she focused on her studies.
On Instagram, she previously posted a photo of her dressed as a ballerina when she was just six years old.
The caption read, "Here is a [6-year-old] girl who danced in her spare time because she didn't like sport, who wrote in her diaries that she wanted to own her own ballet school one day and was able to comfortably wear pretty costumes in her community. She continued to dance for 10 years until she decided to focus on her studies."
Hannah graduated with a degree in Applied Science in Forensic Studies from the University of Canberra.
In the future, she plans to pursue it as a profession.
She said in one of her Instagram posts: "As a Graduate of Applied Science in Forensic Studies, I hoped to one day be the individual to show up at a crime scene, becoming the voice for the voiceless."
VENTURE INTO PAGEANTRY
Hannah's first pageant was when she was around six years old, when she was hailed Baby Queen of Masbate.
It was the first sign of what was to come when she would get older.
While in Australia, she would join pageants that celebrated both her Filipino and Australian heritage.
In 2014, she joined the Miss Philippines-Australia, a national pageant for women with Filipino-Australian descent in Australia.
She was adjudged first runner-up that year.
Prior to joining Binibining Pilipinas, Hannah was a model and would tour places around the country.
She also took this opportunity to learn more about the Philippines and its rich culture.
When she finally joined Binibining Pilipinas in 2019, and landed a spot in Top 15, she took it as a learning experience for her to become a better person.
She said about that experience, "There was so much expectations and I was kind of forcing myself to be someone else."
Referring to her recent feat, she continued, "...after that night, I realized it's just better for me to be truly be me and that's what I really brought on July 11."
JOURNEY TO Bb. PILIPINAS INTERNATIONAL 2021
Hannah is an advocate of education for children.
She recalled that on her 18th birthday, her parents took her to an orphanage, where they donated books.
From then on, Hannah started her advocacy and would donate books and school supplies to less-fortunate kids.
After her 2019 stint in Binibini, Hannah entered Aces and Queens pageant camp to prepare her for Binibining Pilipinas 2021.
It was an enriching experience, she said. It was not just about learning a walk or taking lessons on make-up, style, and personality development.
"This time, I was surrounded by these other girls [and] you get to uplift each other. We help each other," she said.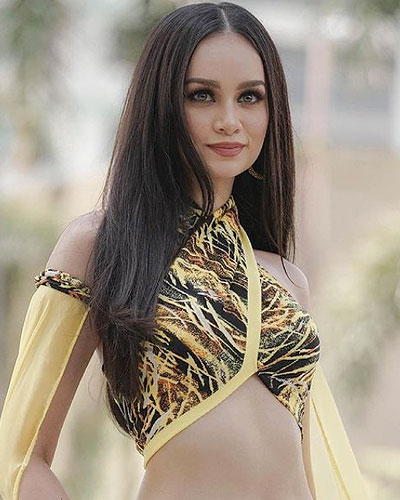 Prior to the grand coronation of Binibining Pilipinas, Hannah had an interview with a pageant expert on YouTube last March 2021.
Here, she revealed why she thinks she deserves the Binibining Pilipinas-International 2021 crown.
She answered: "I would love to be and I believe that I deserve to be the next Binibining Pilipinas-International because I have a heart as white and pure as a pearl.
"And I wear a sash of responsibility and compassion in my heart, just like previous beauty queens have also had, and continue to give to the community.
"I believe that I can be that next inspiration and role model in Miss International, and I really hope to bring the Philippine pride, and I truly hope and pray that I can be your next Binibining Pilipinas-International."
Months after, she would prove that she was right and that she was deserving.