Veteran broadcaster Mike Enriquez has passed away at the age of 71.
His death has left a void in news and public affairs, where Mike was one of the pillars, having joined the profession as a young, wide-eyed announcer way back in 1969.
Read: Veteran broadcaster Mike Enriquez dies at 71
Mike took a leave of absence from work for three months starting in December 2021 to undergo and recover from a kidney transplant procedure and bypass operation.
He briefly returned to his news programs in March 2022, but once again dropped out of public view, triggering speculations about his condition and whereabouts.
Mike became a victim of a death hoax after rumors circulated online that he passed away on November 10, 2022.
News of his death, however, was debunked by Mike's fellow Kapuso broadcaster Arnold Clavio, who announced on social media that the seasoned newsman was "buhay na buhay."
Read: Mike Enriquez sa "fake news" na pumanaw na siya: "I'm alive!"
Mike did not return to television and radio and went on with his treatment and recuperation.
Updates about his condition were also scarce if not, zero, and many were hoping to see him again delivering the news in his signature, animated style.
Read: Arnold Clavio, tiniyak na magbabalik si Mike Enriquez sa "24 Oras"
Sadly, that day never came.
The amount of shock and grief generated by the news of his passing was proof of how well-loved and popular Mike was to the public.
He was, after all, one of the recognizable faces in Philippine media broadcasting for decades now.
Needless to say, Mike has built a legacy that will outlive him, that thing is for sure.
We take a look at some of Mike Enriquez's most memorable moments — both serious and funny — that endeared him to people of all ages.
View this post on Instagram
TRADEMARK STATEMENT
Mike's famous line "Hindi ko kayo tatantanan" was a spontaneous remark he uttered while covering the incident involving Kaye Lazaro in 2000.
Makati resident Kaye was hit by a stray bullet fired by a policeman while on a drinking session with friends.
"I personally handled that story, and I saw Kaye's condition. I told my staff, hindi natin ito tatantanan until we find that guy. And we did. Ever since then I said this is what Imbestigador is all about," Mike told celebrity host Bianca Gonzalez in an interview published in The Philippine Star in 2012.
Imbestigador is the investigative program hosted by Mike that was launched in August 2000 and aired on GMA-7.
"Hindi ko kayo tatantanan," which later evolved to "Hindi namin kayo tatantanan," became Mike's signature battle cry both on TV and radio.
PAYATAS INCIDENT
The unfortunate and deadly Payatas landslide in Quezon City on July 10, 2000 saw the death of 218 people according to government data.
Independent sources, however, estimated the number of those who perished as close to 1,000.
Mike's coverage of the incident was followed closely by viewers both from the Philippines and abroad.
Joined by GMA-7 reporters and a camera crew, Mike gave real-time update from the ground and conducted interviews with the victims and government officials on the site of the incident.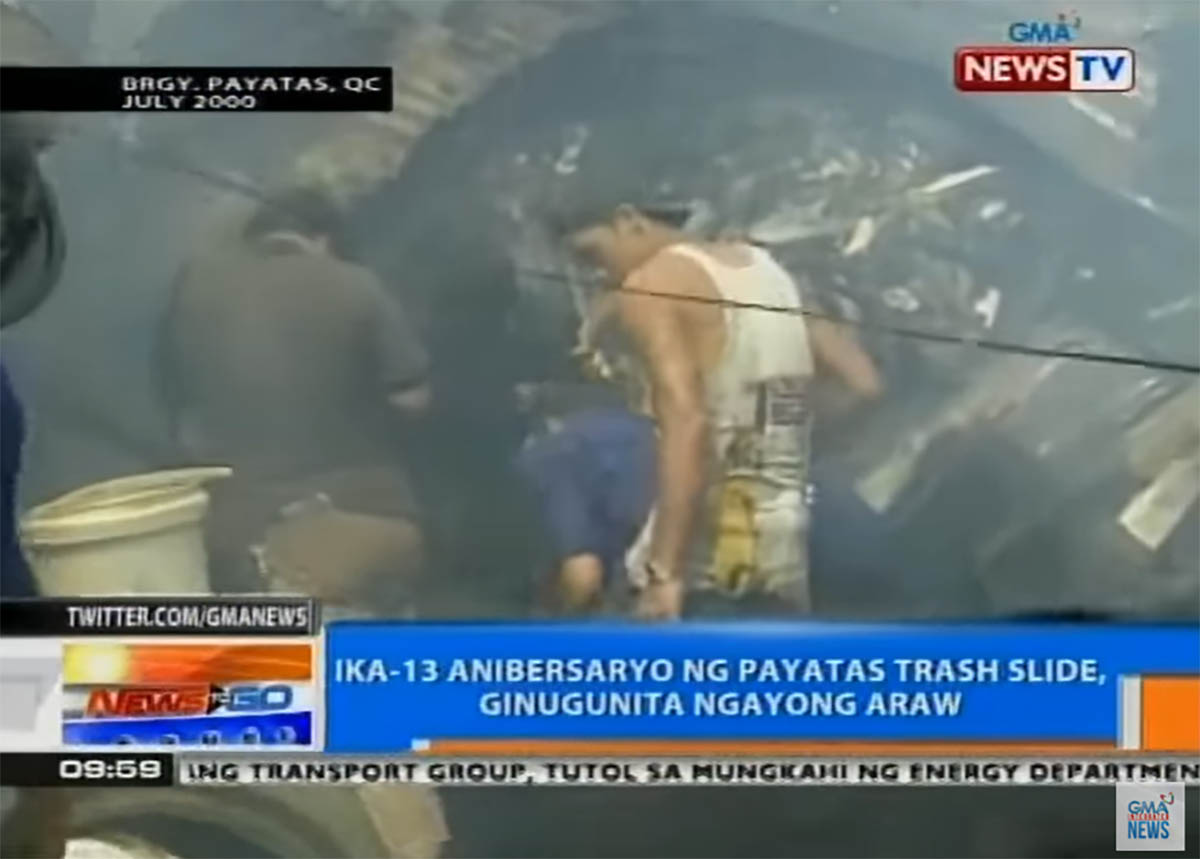 One of the heartbreaking moments of Mike's coverage was his interview with a group of children whose mother was among those feared dead and trapped under piles of garbage.
Mike displayed a strong façade in front of the camera that day.
He later revealed coming home that night and crying as the weight of the sad stories and the chaotic scene of the mishap came all crashing down.
"This talk about journalists having to have steel characters, that's true, but at the end of the day we're all part of the human family," he reasoned.
PLACES OF CONFLICT
Mike, throughout his career, had his share of covering war stories at home and abroad.
He led GMA's "Team Baghdad" in 2003, heading to Iraq before the US-led war erupted.
The GMA News team covered the Iraq war on the ground, giving viewers a first-hand glimpse of the deadly conflict that lasted until 2011.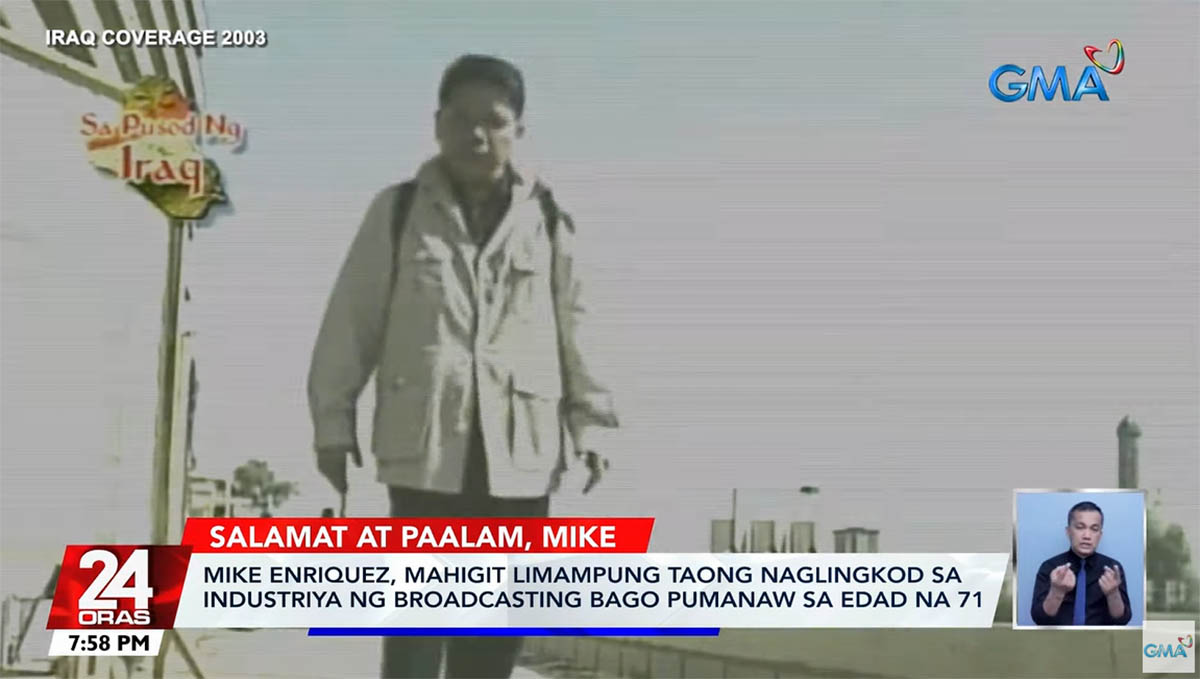 Their coverage produced a documentary titled Iraq - In the Navel of War, which bagged the Silver Camera Award in the 2004 US Film and Video Festival in Los Angeles.
"It's dangerous work, we take the necessary precautions. Pero we remain focused on our work, not on the danger, not on the threats, not on the cases filed against us," said Mike.
"As long as we know that what we are doing is true and right."
Aside from Iraq, Mike also did coverage from Kuwait and Mindanao, particularly in Marawi during the siege led by extremist rebel groups.
YOLANDA COVERAGE
Thanks to the brave reporters, the massive devastation caused by tropical cyclone Yolanda in 2013 was witnessed by the whole world.
Mike and the GMA News team were among those who kept the public updated and informed on what was happening in the affected areas.
The veteran broadcaster went to Tacloban in Leyte thrice, including reporting from a helicopter to survey the extent of the damage caused by the typhoon.
Mike also featured the super typhoon and its aftermath in Imbestigador.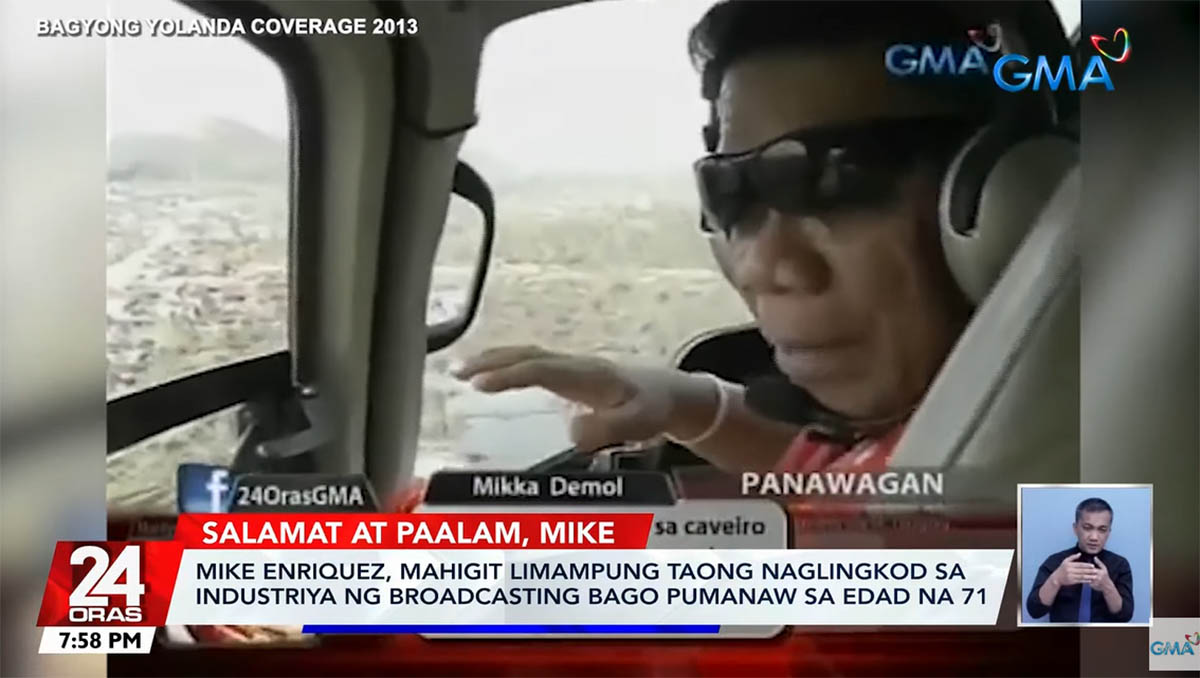 PRESIDENTIAL DEBATES
Being in media for decades, Mike has done countless interviews with government officials and personalities.
Viewers are used to seeing him hosting debates during election season, particularly those vying for the country's presidency.
He went viral in 2019 after voicing out his frustrations as the results of the midterm elections start coming in.
"Gusto ko silang singilin. Anong maasahan namin sa inyo ngayon?" he asked in disgust.
He continued, "Lahat yan nangako, e. Kung kalahati lang sa pangako ng mga kandidato ay magkatotoo — kalahati lang, hindi siyento por siyento — aba, e, napakagandang lugar nitong Pilipinas."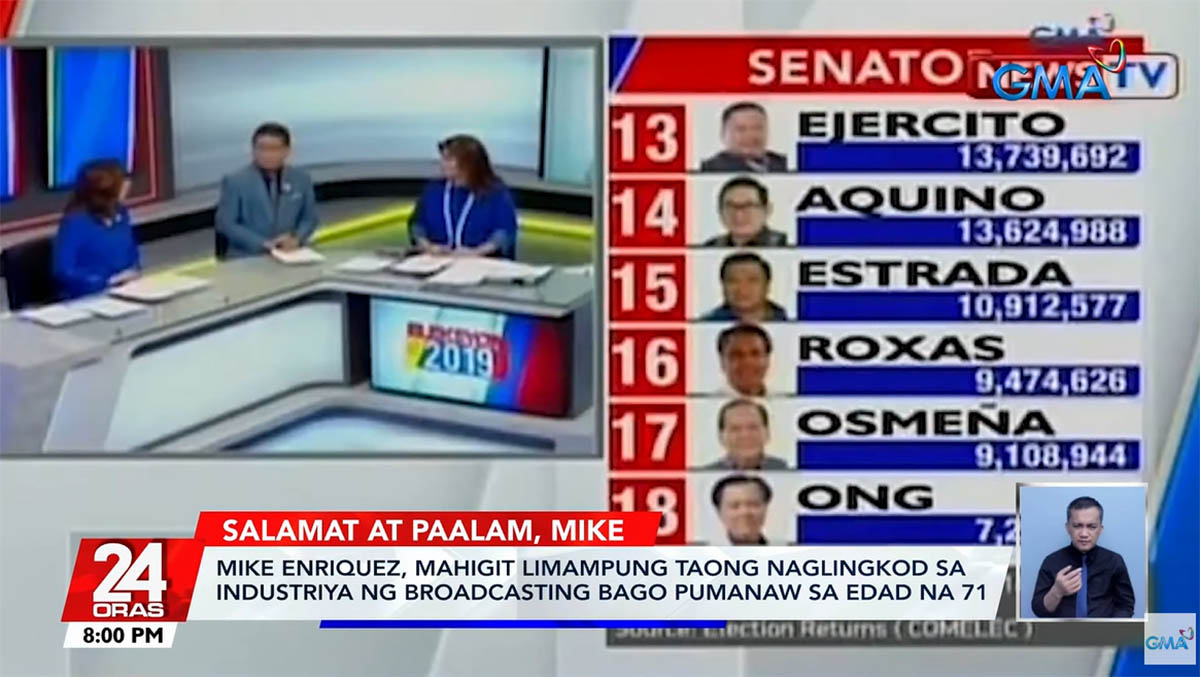 Mike's outburst caught the attention of netizens who took to social media to express their thoughts.
"Mike Enriquez has no f***ing chill," wrote a netizen on Twitter.
Another one wrote, "He snapped kaya kinailangan ng biglaang commercial hahahaha. Ramdam ko yung frustration niya hanggang dito sa Cavite."
Meanwhile, a netizen reacted by writing, "Mike Enriquez is not having it. He snapped! He's channeling the Filipino voter who is sick and tired of all this bull***t results."
Speaking of going viral, Mike had plenty of amusing moments caught on camera that made him a trending topic. Here are some of them...
"AKO PO SI IVAN…"
On the October 28, 2020, episode of 24 Oras, Mike made a blunder during their closing spiel with co-anchors Mel Tiangco and Ivan Mayrina.
Mel was the first to bid viewers goodbye.
Ivan was supposed to come after Mel, but he was still finishing his spiel.
Mike, hearing Ivan but apparently confused because of the sudden change in sequence, unexpectedly said, "Ako po si Ivan..."
Regaining his senses, Mike looked at Mel, then pointed at Ivan on the screen.
He said smiling, "Si Ivan pala iyon."
Mel told Mike, "Hindi ikaw si Ivan. Hindi ikaw, Mike."
Ivan smiled at Mike and said, "Ako si Ivan!"
Mel asked her co-anchors to repeat their spiels.
Mel told them laughing, "O, ayan na si Ivan. Go ahead, Ivan!"
A smiling Ivan then proceeded to deliver his spiels.
When it was Mike's turn, he said, "Ako po si Mike Enriquez na humihingi ng pasensiya kay Ivan Mayrina."
Ivan answered with a smile, "Walang problema, Mike."
"SUMBUNGAN NG HOTDOG!"
In 2018, Mike confused the viewers of 24 Oras after making a blooper during a spiel for the show's segment, "Sumbungan ng Bayan."
The script had Mike inviting the viewers to contact the news program's "Sumbungan ng Bayan" hotline.
But instead of saying the correct word, he blurted out the phrase "Sumbungan ng Hotdog!"
Mike corrected himself instantly, saying, "Sumbungan ng Bayan. Narito po ang aming hotline."
Netizens picked up the blooper and republished the video as "Sumbungan ng Hotdog."
"AKO PO SI MEL…"
Another blooper of Mike happened in November 2012 in 24 Oras where he called himself "Mel" during the closing spiels.
Mel Tiangco was first to say her goodbyes to viewers, saying, "Mula sa tahanan ng katotohanan, ako po si Mel Tiangco."
Mike followed, "Ako po si Mel… o si Mike. Si Mel! Si Mike Enriquez…"
A confused Mel reminded her co-anchor, "Ako si Mel, ha."
Mike quickly corrected himself, "Ako po si Mike Enriquez!"
MISTAKEN IDENTITY
Mike turned heads during the Kapuso network's #Eleksyon2022 coverage on May 9, 2022.
The video showed vice presidential candidate Francis "Kiko" Pangilinan lining up to cast his vote in Silang, Cavite.
He was accompanied by his wife, Sharon Cuneta, in the precinct.
Mike mistakenly referred to Sharon as Helen Gamboa.
Helen is the actress-wife of Senate President Vicente "Tito" Sotto III, another vice-presidential candidate. Helen is also the aunt of Sharon.
"Mga Kapuso, inyo pong napapanood ay ang pagboto ni Senador Francis Pangilinan, na isa sa mga kandidato para sa pagka bise-presidente ng Pilipinas," said Mike.
"Tulad po ng naiulat namin kanina, kasama niya pong dumating diyan sa presintong iyan ay ang kanyang maybahay na si Miss Helen Gamboa."
Netizens were quick to pick up the gaffe and clip of the video immediately made it to TikTok.
A TikTok user wrote, "Sir Mike, Sharon Cuneta po hindi Helen Gamboa [laughing emoji]"
SICK WITH CORONAVIRUS?
Over the years, viewers were used to seeing Mike either coughing or clearing his throat on live TV, followed by his signature, "Excuse me po."
On January 21, 2020, however, Mike made viewers laugh and perhaps nervous at the same time while reporting about an emerging, new type of coronavirus.
That coronavirus would turn out to be the COVID-19 virus that we know today.
During the report, Mike was talking about the heightened alert of the Bureau of Quarantine on airports and piers as concerns for the virus were heating up.
This was pre-pandemic and weeks away before the country implemented a nationwide lockdown to mitigate the spread of the deadly virus.
Mike, who let out a cough while delivering the news, said "Excuse me po. Hindi po yun coronavirus."
The clip spread like wildfire on social media, making Mike a trending topic anew among netizens.
LISTEN UP, YO!
Mike surprised the viewers and his co-anchors when he suddenly dished out his mad rapping skills on national TV.
The unexpected moment happened as 24 Oras was wrapping up its August 14, 2020 episode with the customary goodbye spiels.
"Ako po si Mike Enriquez, buong puso para sa Pilipino. Ito ang GMA, walang kinikilingan, walang pinuprotektahan, yo!" Mike delivered in rhythmic fashion to come up with a rap tune.
"Sige na nga," reacted Vicki Morales.
Mel, meanwhile, blurted reluctantly, "Hindi ko kaya yan, e. Practice muna ko, ha."
Mike good-naturedly replied, "Hindi ko na rin kayang ulitin yun."
WHO NEEDS A COSTUME?
Mel and Mike's exchange on October 31, 2019 had viewers laughing heartily.
In the viral video, "Chika Minute" anchor Iya Villania donned a scary mask to end her segment.
Iya even delivered an evil witch laugh after delivering her closing spiels.
The three anchors — Mel, Mike, and Atom Araullo — were laughing because of Iya's antics.
Mel said about Iya, "Ito talaga, oh."
Mel then turn to Mike and told him, "Oh, alisin mo na maskara mo!"
Mike, who was covering his face with a script, then put down his hands and gave Mel a surprised look.
Mel then blurted out, "Ay, wala nga pala. Sorry, ha!"
Mike then turned and stared at Mel.
The banter made everyone in the studio laugh, which can be heard in the video.
Whether delivering hard-hitting news or going viral for being funny, Mike Enriquez has cemented his name in Philippine broadcasting and will be remembered for generations to come.
He will be missed.