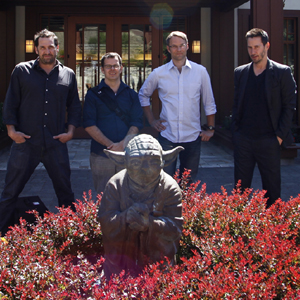 PHOTO CAPTION: The production team of Side By Side is composed of (L-R) Chris Cassidy, director Chris Kenneally, producer Justin Szlasa, and host-producer Keanu Reeves. They are posing behind a life-size statue of Star Wars' Yoda in one of the film's shooting locations at the Big Rock Ranch, a.k.a. the Skywalker Ranch, in Marin, California.
It's not everyday that you see Martin Scorsese, George Lucas, Christopher Nolan, James Cameron, David Lynch, and other industry bigwigs together in one film.
No, they're not sharing directorial credits on this one.
But they do appear on screen, along with other directors, cinematographers, and artists in a documentary called Side By Side.
Through interviews conducted by Hollywood actor Keanu Reeves, these filmmakers share their thoughts on the rise of digital filmmaking and its effects on the movie industry.
"The goal is to examine the worlds of film and digital cinema as they exist side by side," say Reeves, who also serves as one of the film's producers, in his official statement.
"The documentary will investigate the history, process and workflow of both digital and photochemical film creation.
"We aim to show what artists and filmmakers have been able to accomplish with both film and digital and how their needs and innovations have helped push filmmaking in new directions."
Reeves, who is best remembered for his character Neo in the sci-fi action flick The Matrix, says the changes he saw in the industry over time are what led him to do this documentary.
The actor has about 30 years of acting credit under his belt.
"I have seen this quiet revolution unfold in front of me on sets, in edit rooms and post-production facilities and on screens around the world," he says.
An example of this "revolution" is when Slumdog Millionaire won best cinematography at the 2009 Oscars, which Reeves considers as a turning point in the history of film.
"For the first time, the award for cinematography went to a movie shot almost entirely digitally and not on film.