From all indications, Maine Mendoza, 27, and Arjo Atayde, 31, are bucking the apparent trend in showbiz of reel love teams making it real.
READ: Maine Mendoza and Arjo Atayde are engaged
They were not even paired off in the movie that brought them together—the 2018 Metro Manila Film Fest (MMFF) entry Jack Em Popoy: The Puliscredibles in which she was the leading lady and he the kontrabida.
They also come from rival networks.
At GMA-7, Maine rose to fame with her name attached to Alden Richards, and together they formed the phenomenal love team AlDub so loved by an army of fans.

At ABS-CBN, Arjo built a name as an actor playing out-of-the-box character roles in various teleserye.
But for all his growing popularity, he managed to shy away from any showbiz chatter about a seeming love life.
What were the odds their paths would eventually cross to make a movie, let alone go steady dating thereafter?
But here they are, Maine and Arjo catching everyone off-guard with their admission in that they are engaged to be married after more than three years of being a couple.
Here is a timeline tracing the events leading to Arjo and Maine going public about their blossoming romance.
JULY 28, 2013: "ARJO CUTIE"
Long before the couple met, Maine Mendoza expressed admiration for Arjo Atayde whom she described as a "cutie."
She tweeted about it on July 28, 2013, or five years before they actually met for the first time!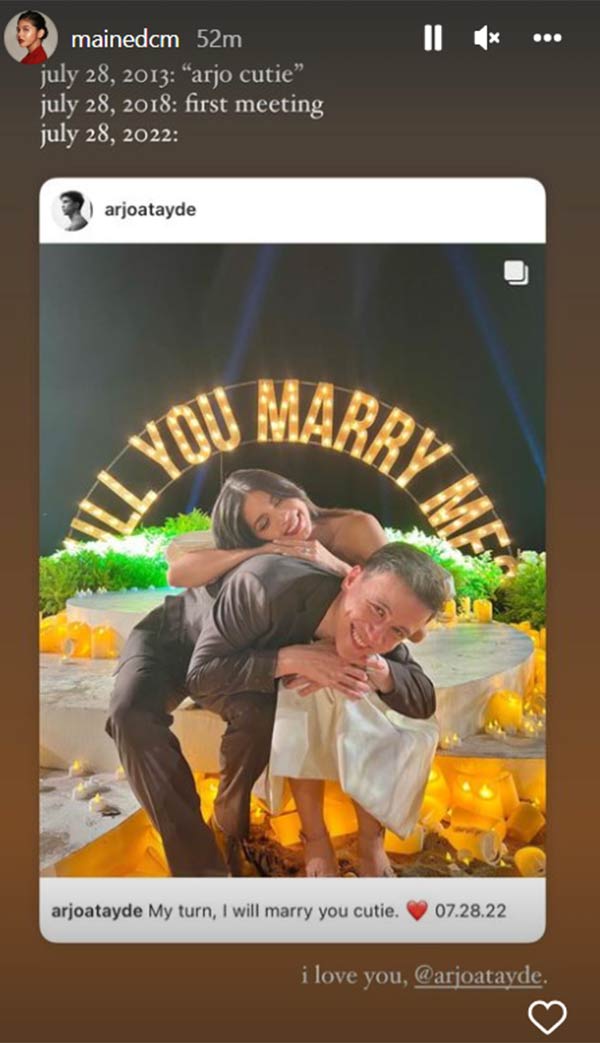 READ: Maine Mendoza tweets about AlDub, Arjo Atayde, stardom are prophetic, fans say
JULY 28, 2018: THE FIRST MEETING

Maine and Arjo attended the story conference for Jack Em Popoy: The Puliscredibles, held at Novotel Hotel in Quezon City.
The film was co-headlined by ABS-CBN's Coco Martin together with Eat Bulaga! Dabarkads' Vic Sotto and Maine.
As seen in this wacky group shot, all the cast members were in high spirits and ready to roll: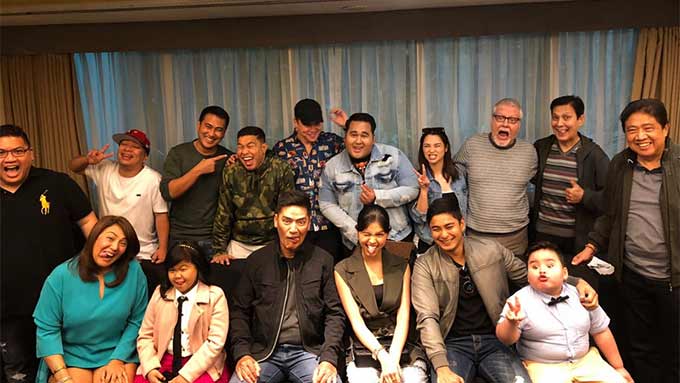 AUGUST 2018: MAINE AND ARJO'S FIGHT SCENE
This was the month when they started shooting the film, where Maine and Coco played as police officers who eventually fall for each other.
Arjo played a leader of a drug syndicate, whose one-time encounter with Maine's character was during a scene where he attempted to hurt her in order to escape the clutches of Coco.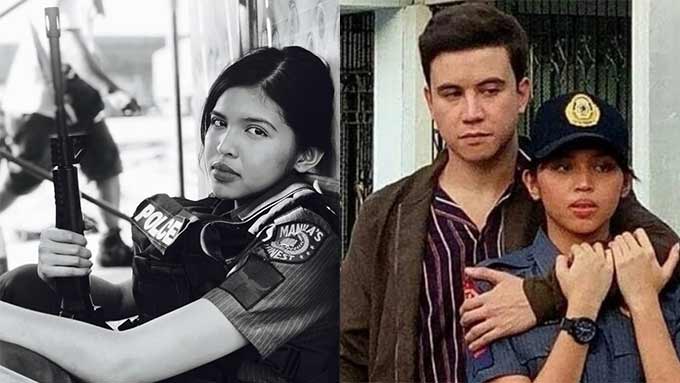 SEPTEMBER 19, 2018: ARJO SUPPORTS MAINE
Arjo joined Maine at an event for a lipstick brand that she was endorsing, and netizens took notice.
What was he doing there? Having fun, apprently.
The Kapamilya actor was photographed with other celebs who attended the event, including Christine Babao and Sheena Halili.
From Christine's Instagram story, here is a snapshot of Arjo goofing around with the girls: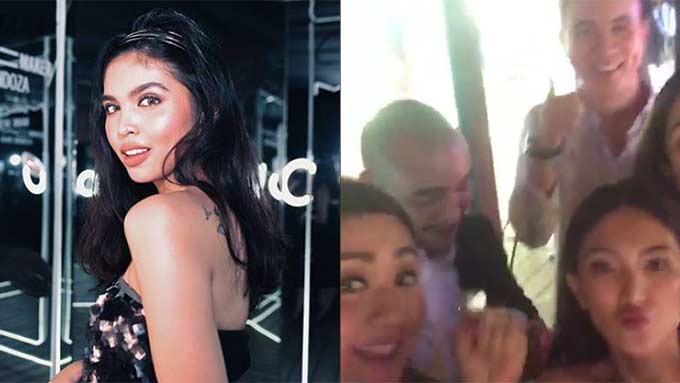 OCTOBER 11, 2018: MAINE MENDOZA AND ARJO ATAYDE FIRST SIGHTING
PEP.ph landed a scoop when a source sighted Maine Mendoza and Arjo Atayde enjoying a meal at a Makati restaurant, on a Thursday afternoon.
It marked the first time Maine and Arjo were seen going out on a date.
The two stars were photographed chatting animatedly and laughing, like they were having a good time.
The source added that it was just Maine and Arjo, and there were no production crew around, indicating they were spending time together outside work.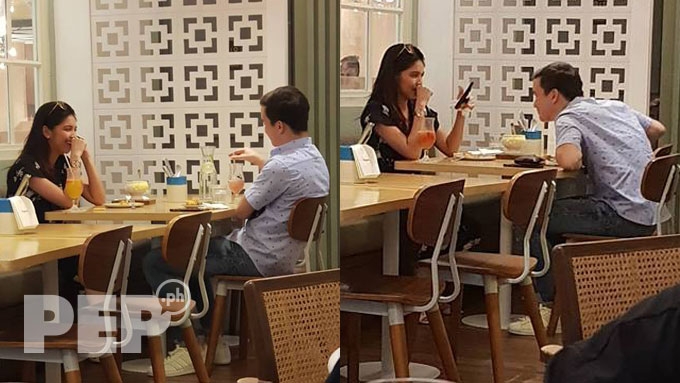 OCTOBER 15, 2018: MAINE AND ARJO DATING RUMOR PERSISTS
After that paparazzi shot at a Makati restaurant, the curiosity level about Arjo Atayde and Maine Mendoza went a pitch higher.
Eagle-eyed Twitter users soon found screenshots of an earlier sighting of Maine and Arjo at a restaurant in Poblacion, Makati City.
It was originally posted by a netizen on Facebook, and the time stamp was dated September 3, 2018.
In the photos, Maine and Arjo were separately photographed with the same group of people who seemed to have asked for a photo-op with the two stars.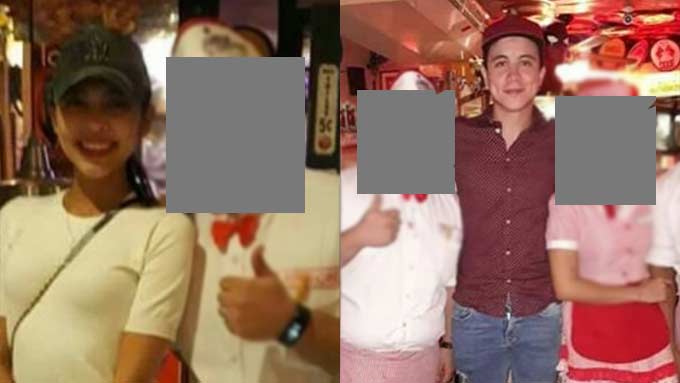 OCTOBER 20, 2018: MAINE AND ARJO NIGHT OUT
They never really posted on their social media accounts the times they were together, whether just the two of them or with friends. But people who spotted them here and there would.
Netizens got hold of a video of Arjo and Maine partying at a bar in Bonifacio Global City in Taguig City.
In the video, Maine appeared to be dancing and singing while Zedd's "Clarity" blasted in the background. And there was Arjo swaying to the beat in front of Maine.
The video also showed that Arjo's cousin JM Rodriguez was partying with them.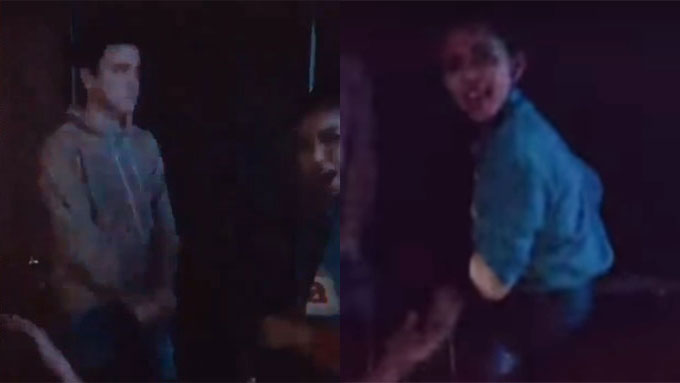 OCTOBER 31, 2018: FIRST HALLOWEEN DATE
By this time, Maine and Arjo were becoming more visible as a pair.
They even wore matching Halloween costumes when they went to a bar in Taguig on October 31.
They were channeling Fred and Daphne, a couple who started out as friends in the cartoon series Scooby-Doo.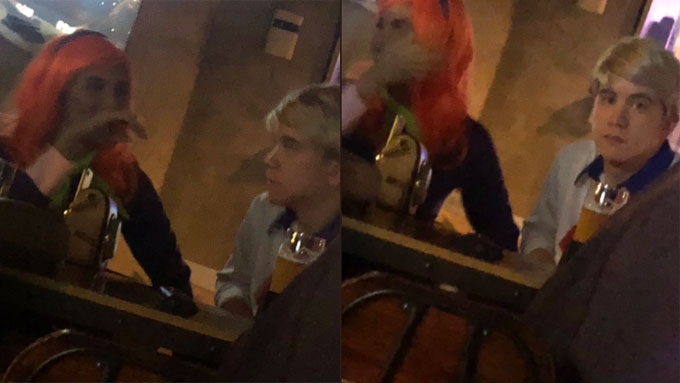 NOVEMBER 4, 2018: BALI TRIP
Four days later, on November 4, Maine and Arjo had their fans guessing whether they were part of the the same group that went to Bali, Indonesia for a vacation.
Netizens picked up clues from a photo of Maine sitting on a life-size bird's nest, indicating she was at a famous tourist destination in Bali.
It so happened that Arjo was also in the same location, based on Instagram Stories that his companions posted online.
Some netizens even pointed out that the girl wearing the same outfit as Maine's was caught in an Instagram Story posted by Arjo's cousin, Gab Atayde.
However, both Maine and Arjo still kept mum about that sighting.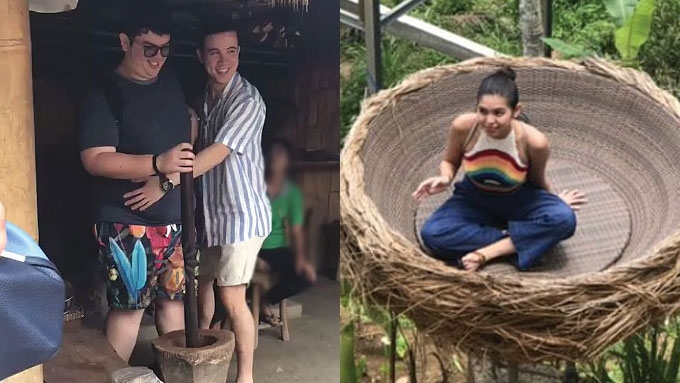 NOVEMBER 9, 2018: CONCERT SIGHTING
Back in Manila, Maine and Arjo were spotted on this day at the Mix 3 of 2018 concert, featuring the likes of The Royal Concept, Bruno Major, Cigarettes After Sex, Urbandub, Jess Connelly, and UDD.
Maine happened to be an avid concert-goer, and Arjo seemed game enough to escort her to the concert that night at Vertis Tent in Quezon City.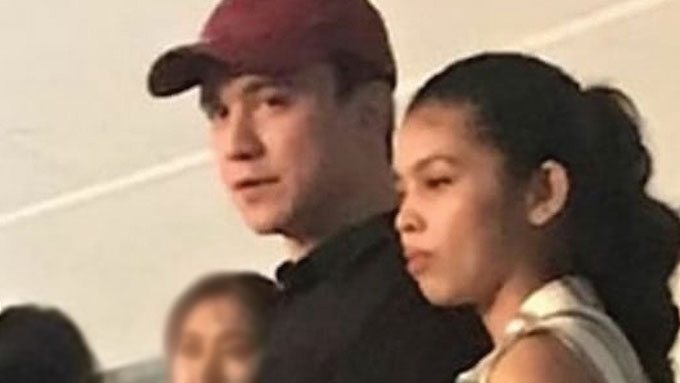 NOVEMBER 15, 2018: GO HAPPY HEART
Arjo described the state of his love life as "happy" in an interview with ABS-CBN News Online, but kept his statement short.
Earlier, on October 19, Maine basically said the same thing in an interview with PEP.ph and other reporters.
She hinted at feeling "happy" and "inspired," but did not mention Arjo's name in her interview.
All she said was, when the time comes that she gets into a relationship, she would not hide her love life from the public but she would keep some things "private."
.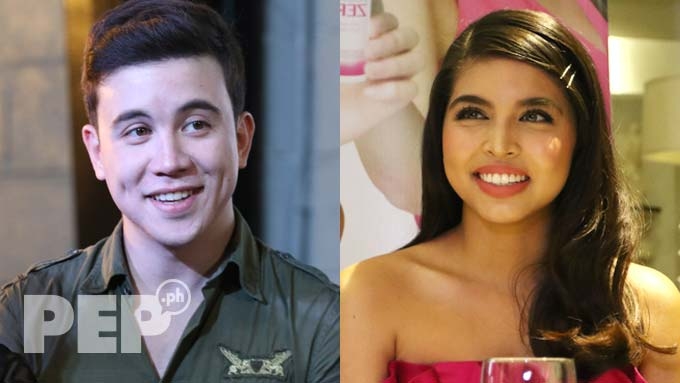 DECEMBER 6, 2018: MAINE AND ARJO GETTING TO KNOW EACH OTHER
At the presscon for Jack Em Popoy: The Puliscredibles, Maine was grilled about the real score between her and Arjo.
She said that they were "going out as friends" and were still "getting to know each other first."
Arjo, who was part of the movie, was not able to attend the event.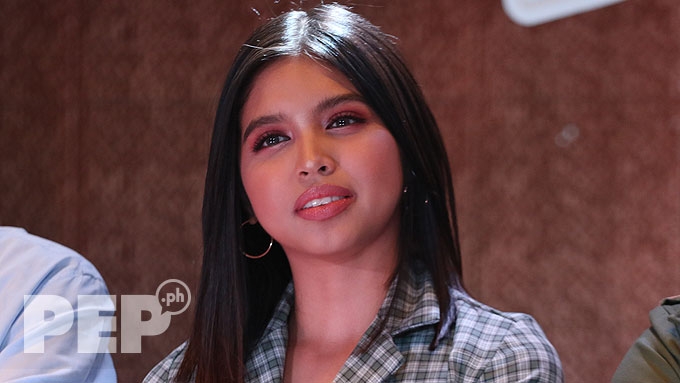 JANUARY 22, 2019: MAINE AND ARJO EXCLUSIVELY DATING
Arjo Atayde finally admitted that he and Maine Mendoza have been "exclusively dating."
Speaking to PEP.ph and other reporters, Arjo said that he likes "everything" about Maine and that he is at his "happiest" because of her.
He said he was aware of the negative reaction of the AlDub fans towards him, and made it clear he had no problem with bashers as long as they kept his family and Maine out of their zone.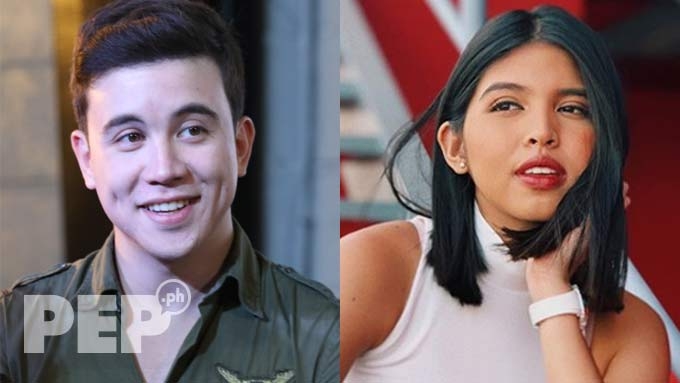 JANUARY 30, 2019: PROOF OF DATING STATUS
On this day, PEP.ph reported that Arjo and Maine were again seen out on a date at a restaurant in Rockwell, Makati City.
It was not clear when the photo was taken.
Netizens, however, were drawing their own conclusion, pointing to the photo as further proof that romance was indeed in the air for Maine and Arjo.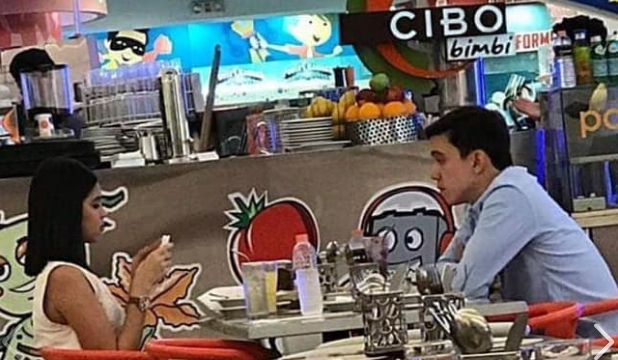 FEBRUARY 20, 2019: MAINE AND ARJO INSTAGRAM OFFICIAL
On February 20, Maine surprised her Instagram followers when she posted a photo with Arjo for the first time.
It was a wacky shot of her sitting precariously on a wrecking ball, while Arjo was standing behind it, game enough to pose for the cameras.
Their candid photo-op happened on the sidelines of an event for Maine's new makeup endorsement.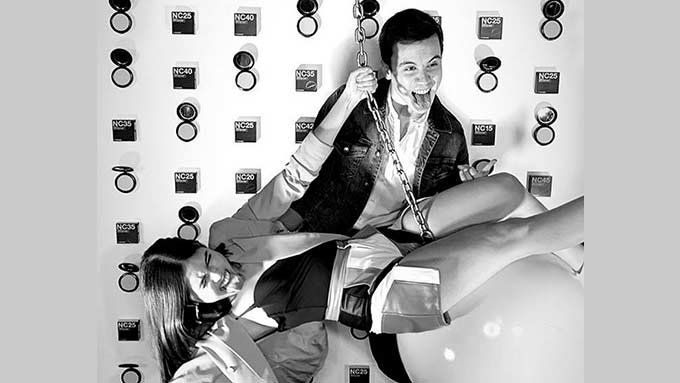 MARCH 2, 2019: MAINE'S ADMISSION
Maine finally spoke.
"It's true, I am dating Arjo," she wrote in her blog on the eve of her 24th birthday.
She admitted that Arjo makes her feel really special and happy.
She related an instance when he made an effort to pay her parents a visit at her family home in Bulacan.
She said Arjo looked nervous when he assured her parents that he has nothing but "good intentions" for their daughter.
Maine also appealed to her fans to respect her decision to give Arjo and herself a chance to express their feelings for each other.
She laid it all out to the AlDub fans, saying she and Alden are just "good friends and workmates" in real life.
"Sadly, I cannot stay as Yaya Dub forever. This is Maine, the real me. And this is real life. And I cannot go on with my life behind a fictional character," Maine said in part.
Most importantly, Maine asserted that her own family and friends are behind her.
She said, "I am making the right decision of making my heart happy this time."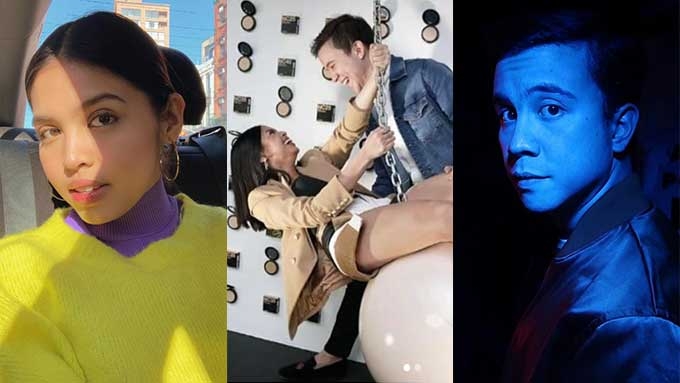 MARCH 3, 2019: ARJO'S BIRTHDAY MESSAGE FOR MAINE
On her birthday, Arjo declared Maine to be "my main" and "my reason for being."
He also posted on his Instagram feed a photo showing them hugging, wearing mega-watt smiles, and obvously at their happiest together.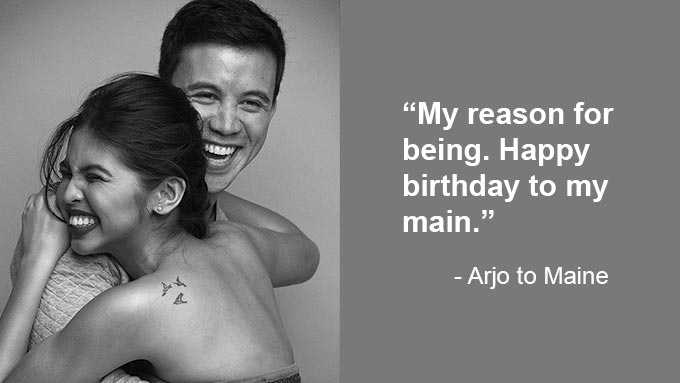 That same day, Maine and Arjo flew to Taiwan where she celebrated her 24th birthday.
The rumored couple, along with Maine's handler Mike Uycoco, was spotted at an airport terminal in Taiwan.
They capped the night at a high-end bar in Ximending, Taipei, based on Maine's own Instagram Story.
Her manager, Rams David, later confirmed that Maine is currently in Taiwan with Arjo and a couple of her friends.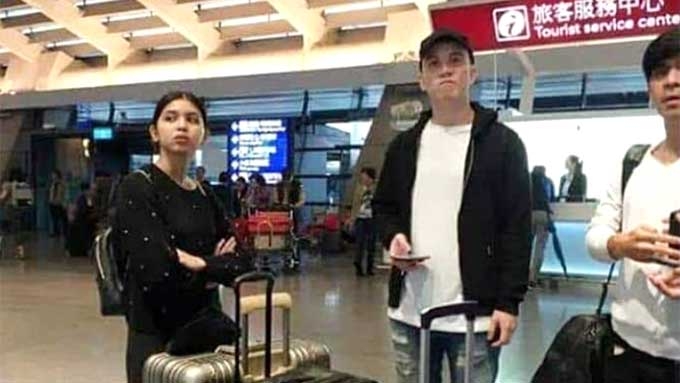 DECEMBER 21, 2019: MAINE AND ARJO'S ANNIVERSARY
On December 21, 2019, Maine and Marjo marked their first anniversary as a couple.
Arjo took Maine on a yacht date on this special occasion.
His sweet message for her: "Thank you for everything, babs. Happy first anniversary!!!"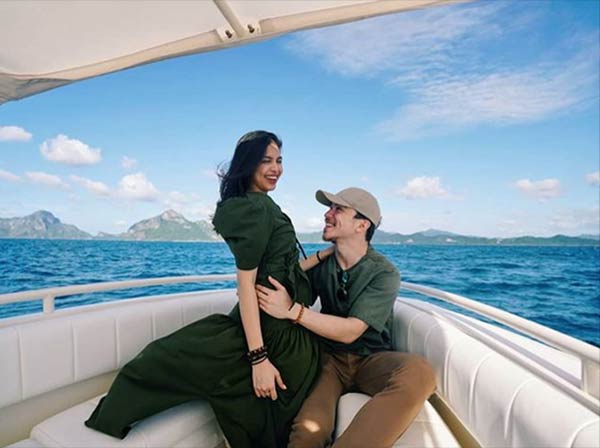 DECEMBER 21, 2020: SECOND ANNIVERSARY
Whereas before they kept their relationship low key, Maine and Arjo eventually became more open about how they spend time together.
On their second anniversary, they posted photos of their trip to the beach.
Arjo, for his part, proudly professed his love for Maine, saying, "I love you more than you could possible imagine. Happy 2nd Anniversary bubs!"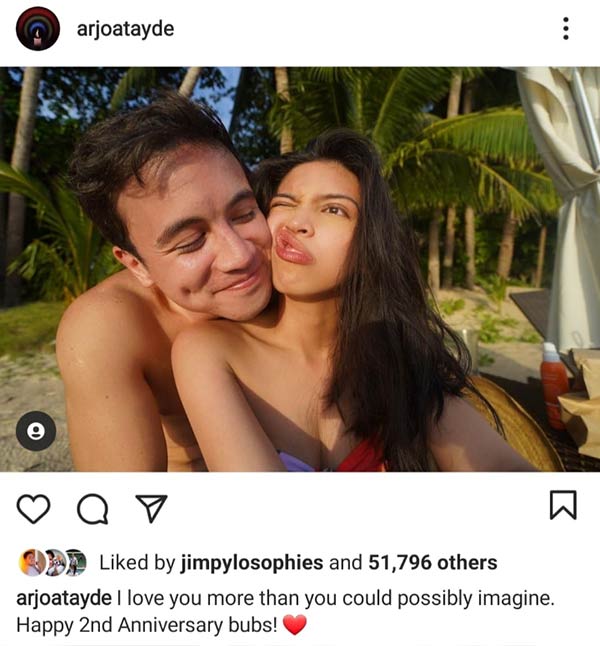 DECEMBER 21, 2021: THIRD ANNIVERSAY
On their third anniversary, the couple went on a picnic on a yacht while watching the sunset together.
They happily ate cold cuts and cookies during their date.
Arjo's sweet message for Maine: "Life with you just keeps getting better. Happy 3rd Anniversary my bubba pie pie."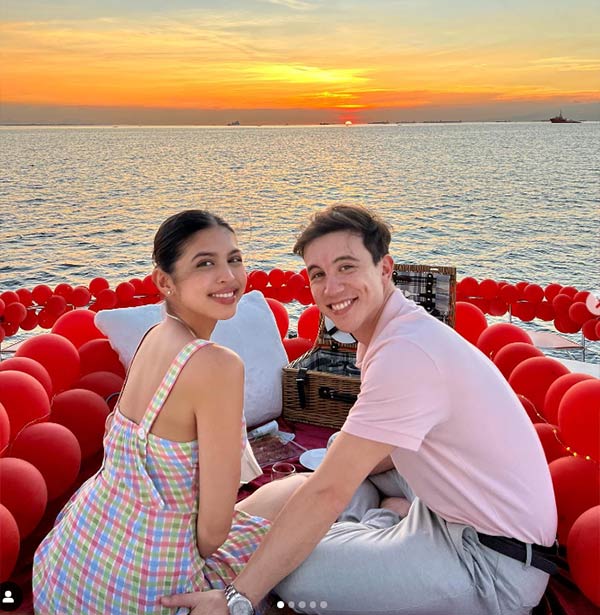 JULY 19, 2022: MAINE AND ARJO ARE ENGAGED!
Then after three years and seven months together, Arjo finally proposed marriage to Maine.
Arjo popped the big question at a beautiful garden with white roses.
Maine announced it first by posting on Instagram a wacky photo of her and Arjo with the diamond ring evidently seen on her ring finger.
This time, it was Arjo's turn to say, "I will marry you, cutie."
Maine and Arjo's respective families are both be present during this unforgettable occasion.