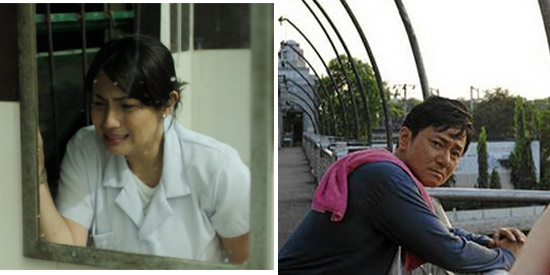 Diana Zubiri (left) will receive the Best Performance plum for her work in the Cinemalaya entry Bahay Bata while Jacky Woo (right) stars in Haruo, which was chosen as the Best Film by the Young Critics Circle.
The Film Desk of the Young Critics Circle will recognize the best Filipino films of 2011 in an awarding ceremony to be held on June 27, 2012 at the Jorge B. Vargas Museum, University of the Philippines, Diliman, Quezon City.

The awarding ceremony is slated at 3 o'clock in the afternoon, with sociologist and stage director Dr. Ricardo Abad as the ceremony's guest speaker.
The Best Film award will be given to Adolfo Alix Jr. for his film Haruo, a poignant tale about a Yakuza member seeking to lead a new life in Manila. Haruo stars Jacky Woo as well as Rosanna Roces, Perla Bautista, Evelyn Vargas, Roxanne Barcelo, and Arnold Reyes.


The film, released as one of the digital entries in the 37th Metro Manila Film Festival, was also nominated for Best Screenplay, Best Cinematography and Visual Design, and Best Editing.

The award is Direk Adolf's second YCC Best Film recognition after his Adela swept all six awards in 2009.
Haruo was cited by the YCC for the film's "deft portrayal of an exile's struggle to live an anonymous and simple life as he tries to forget his criminal past. Its skillful combination of the poetic form haiku, the floral arrangement of ikebana, the number puzzle Sudoku, along with other referents of the author's distinctly Japanese existence, within the protagonist's small living space in an old district of Manila questions a foreigner's troubled condition of living astride geographies and times. Haruo's investigation of the possibilities of forgetting and atonement, crime and punishment, and love and loss in an international and multilingual project that blends the Asian action genre with an austere performance of the cast, moreover, attempts to insert the movie within a global cinematic undertaking."


Only two other films competed with Haruo in the Best Film category: Bahay Bata (directed by Eduard Roy), which revolves around a stressed-out nurse making her rounds in an overcrowded maternity hospital; and Señorita (directed by Vincent Sandoval), a noir thriller about a transgender woman leading a double life in a Philippine province.
For the first time in YCC's 22-year history, six different films won in the six categories that the body hands out annually.

The Best Performance award will be given to Diana Zubiri for her role as a nurse in Bahay Bata. She was able to beat fellow nominees Arthur Acuña (Niño), Fides Cuyugan Asensio (Niño), Shamaine Centenera-Buencamino (Niño), Vincent Sandoval (Señorita), Alfred Vargas (Teoriya) and the entire cast of Bisperas.


Meanwhile, the Best Screenplay award will go to Rodolfo "Rody" Vera for Niño, a story about the decline of a once-powerful family. Best Editing will be awarded to Señorita, while Teoriya will bag the Best Achievement in Cinematography and Visual Design. The Best Achievement in Sound and Aural Orchestration award will be given to Ang Sayaw ng Dalawang Kaliwang Paa.


Aside from the above six films, only two other films made it to the shortlist: Bisperas and Six Degrees of Seperation from Lilia Cuntapay. Only short-listed films earn the privilege to be nominated for any of the six categories. YCC does not confer nominations on artistic or technical merit if the film does not qualify in the shortlist.


Established in 1990, YCC is the academe-based critics group with members coming from various disciplines.
Here is the complete list of winners and nominees for this year's YCC film awards:
The Film Desk of the Young Critics' Circle
22nd Annual Circle Citations for Distinguished Achievement in Film for 2011
Best Film of the Year
Winner: Haruo directed by Adolfo Alix Jr. (Forward Entertainment and Annex Inc.; Yoshiyuki Ohira, producer)
Nominees:
Bahay Bata directed by Eduardo Roy Jr. (Cinemalaya Productions; Almond Derla, Demy Derla, MarloDerla, executive producers; Ferdinand Lapuz, producer)
Señorita directed by Vincent Sandoval (Autodidact Pictures; Vincent Sandoval, Darlene Malimas, producers; Jose Marie Gochangco, executive producer; AbdallahTabbara& Jonathan Lee, associate producers)

Best Screenplay
Winner: Niño (Rodolfo Vera)
Nominees:
Ang Sayaw ng Dalawang Kaliwang Paa (Alvin Yapan)
Bisperas (Paul Sta. Ana)
Haruo (Jerome Zamora)
Señorita (Vincent Sandoval and Roy SevillaHo)
Teoriya (Zurich Chan)
Best Performance by Male or Female, Adult or Child, Individual or Ensemble in Leading or Supporting Role
Winner: Diana Zubiri in Bahay Bata
Nominees:
Arthur Acuña in Niño
Fides Cuyugan Asensio in Niño
Shamaine Centenera-Buencamino in Niño
The entire cast of Bisperas
Vincent Sandoval in Señorita
Alfred Vargas in Teoriya
Best Achievement in Cinematography and Visual Design
Winner: Teoriya (Dexter dela Peña, cinematographer; Paul Marquez, production designer)
Nominees:
Bahay Bata (OgiSugatan, cinematographer; Harry Alcasid, production designer; Armand Samonte, art director; Tessa Aquino, costume)
Bisperas (Roberto Yniquez, director of photography; Rodrigo Ricio, production designer; Tessa Aquino, costume)
Haruo (Albert Banzon, director of photography; Roland Rubenecia, production designer)
Señorita (Ruel Dahis Antipuesto, director of photography; Armi Rae Cacanindin, production designer)
Best Achievement in Sound and Aural Orchestration
Winner: Ang Sayaw ng Dalawang Kaliwang Paa (Arnold Reodica, sound designer and engineer; Christine Muyco and Jema Pamintuan, musical scorers)
Nominees:
Bahay Bata (Albert Michael Idioma, sound designer and engineer; Toni Muñoz, musical scorer)
Niño (Albert Michael Idioma, sound designer; Jerrold Tarog, musical scorer)
Best Achievement in Film Editing
Winner: Señorita (Charliebebs Gohetia)
Nominee:
Haruo (Aleks Castañeda)