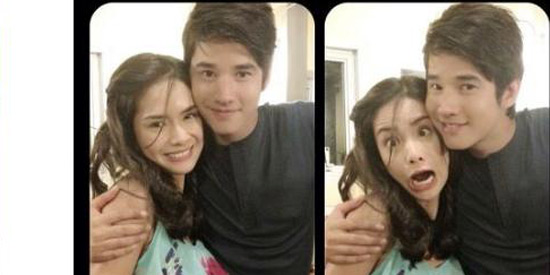 Photo: From Mario Maurer's Twitter account
Erich Gonzales has finished shooting her scenes with Mario Maurer in Bangkok, Thailand.
The Thai heartthrob revealed that their last shooting day for the movie was held last June 19. On that day, Mario comforted the staff of the movie who were emotional as they bid farewell. He posted his photo with this caption: "last day for movie I wanna say thx u to all my filipino team don't cry we will see u soon love u." Through his official Twitter account (@ohohmario), Mario also shared a photo of him with Erich. He also provided this caption: "Don't forget to support me and erich gonzales for our movie "suddenly it's magic" good bye friend." Erich spent around two weeks in Bangkok to shoot her scenes with her leading man. The Star Magic actress is scheduled to arrive in the Philippines this Sunday, June 24. Titled
Suddenly It's Magic,
this movie is directed by Rory Quintos and produced by Star Cinema. Aside from shooting scenes in Bangkok, the love team partners also shot for several days in Ilocos. Mario is best known for his films
Love of Siam
and
Crazy Little Thing Called Love.
In
Suddenly It's Magic,
he is cast as a Thai superstar who goes to the Philippines to escape from his frantic lifestyle. He then meets a romantically jaded pastry chef portrayed by Erich. (
CLICK HERE
to read more about this movie)