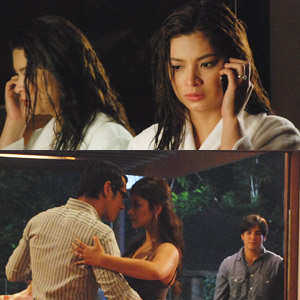 Angel Locsin (top frame) is paired with Jake Cuenca (bottom frame, left) and Aga Muhlach in the romantic drama,
In the Name of Love.
Photo: Courtesy of Star Cinema
Star Cinema's In the Name of Love landed at 15th place in a Top 20 list of movies worldwide with the highest gross.

The Angel Locsin-Aga Muhlach romantic drama grossed $1,917,443 (approximately P84 million) in the box office, as reported by the Associated Press on May 19.

The movie opened in local theaters on May 11.
The data came from Rentrak, a media measurement and research company that has been providing industry data for over two decades.

On May 21, Angel Locsin posted in her Twitter account: "wow! Thank u so much! RT
@
erikarabaya
:
#
InTheNameOfLove
Top15 most watched movies in the world http://bit.ly/igHReL Another Filipino Pride."

(CLICK HERE to read PEP's review of this movie)

Here are the top 20 movies at international theaters last weekend, followed by international gross for the weekend (excluding North America), number of theater locations, number of territories, worldwide gross to date (including North America), and number of weeks in release as compiled Wednesday (May 18) by Rentrak Theatrical and provided by Hollywood.com:
1. "Fast Five," $44,464,276, 9,142 locations, 52 territories, $437,030,300, four weeks.
2. "Thor," $24,299,795, 9,177 locations, 53 territories, $351,672,123, four weeks.
3. "Priest," $15,537,120, 5,928 locations, 42 territories, $42,319,187, two weeks.
4. "Rio," $11,446,722, 7,144 locations, 54 territories, $418,781,999, six weeks.
5. "Water For Elephants," $9,952,838, 5,144 territories, 44 locations, $72,420,355, five weeks.
6. "Midnight In Paris," $5,497,429, 676 locations, three territories, $6,486,812, one week.
7. "Source Code," $4,655,971, 1,236 locations, 24 territories, $101,288,698, seven weeks.
8. "Sunny," $4,238,124, NA locations, one territory, $12,370,699, two weeks.