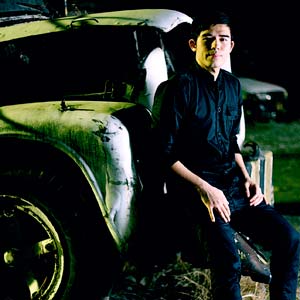 Champ Lui Pio steps out from the shadow of his former band, Hale, by releasing his solo album under PolyEast Records titled
Synergy
.
Photo: Courtesy of PolyEast Records
"Solo na ko," singer-songwriter Champ Lui Pio told PEP (Philippine Entertainment Portal) while putting his signature on the cover of his debut album under PolyEast Records titled Synergy.
It has been months since Champ's former band, Hale, broke up, but he has been doing his best to move forward with his career.
To say that Hale's decision to disband was brought about by "creative" and "personal" differences sounds cliché in the world of rock n' roll. But like every other group before and after them, that's just how things turned out, regardless of the success and hit singles.
Champ recalls the events leading to the breakup: "We're not on the same page anymore. Nag-usap kami this January, when the year started, we really evaluated everything—where we are as a band, where we want to go, and kung gusto pa ba namin to operate as a unit.
"Then we gave a timeline, from May to have a break or whatever, disband, and then after na matapos namin lahat ng obligations namin, tumigil na kami. We stopped talking."
Champ admits that the parting of ways was not easy: "There's always going to be tension. But I think we handled it pretty well... It happens to everyone, to all the bands, there will come to a point where you're gonna have to stop playing as a unit because you have different priorities and that's what happened."
Formed in 2004, Hale—which is composed of Champ, Roll Martinez, Sheldon Gellada, Omnie Saroca, then later on Paolo Santiago—was responsible for the hits "Kahit Pa," "Kung Wala Ka," "Blue Sky," "Pitong Araw," and "The Day You Said Goodnight."
A FRESH START. The days following the band's disbandment left Champ feeling lost and "depressed."
Interestingly, it was music that helped Champ recover from the funk. Picking up the guitar and writing words on paper was a natural outlet for the 28-year-old musician, only this time the emotions felt more real and raw.
Champ also found the entire process liberating since he was creating solely to express himself and not merely to meet a recording deadline set by management.
Armed with new songs, Champ decided to assemble a group of musician friends to record the materials with the intention of releasing them to the public soon.
Working for the first time without his Hale comrades was unnerving at first. But it was also an exciting period since Champ found an opportunity to play music alongside other great musicians, which helped greatly in shaping the quality of the materials.
"It is unfamiliar territory for me kasi for the first time I'm stepping out of my comfort zone and 'yong chemistry namin [Hale] fix na. Going solo is like I'm starting over again and I have to start form scratch, like back to the drawing room," says Champ.
"I started with one song and then I started fixing the lineup of my session band. So, I get close friends of mine then we started with one song, and then with another, and then slowly nag-inject na kami ng iba't-ibang tao."