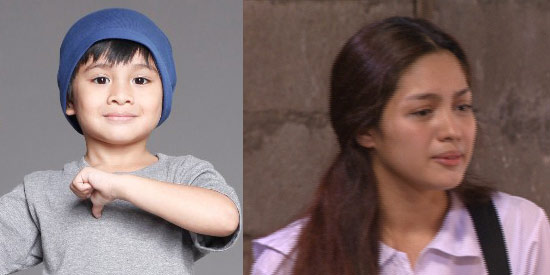 Child star Raikko Mateo (left) is the title character in primetime series Honesto while Star Magic Circle Batch 2013 member Jane Oineza starred in the top-rating Maalaala Mo Kaya episode last October 26.
Photo: Courtesy of ABS-CBN
Juan Dela Cruz ended its journey at the top while its successor Honesto made an honest-to-goodness start as its pilot episode emerged as the most-watched primetime show last October 28. During the weekend, the "Cake" episode of Maalaala Mo Kaya starring Jane Oineza topped October 26 ratings while Korina Sanchez's magazine show Rated K tied in first place with Pepito Manaloto: Ang Tunay Na Kuwento on October 27.
Here are the comparative Household Ratings of ABS-CBN, TV5, and GMA-7 programs from October 24 to 28, 2013 based on the overnight ratings of Kantar Media/TNS among Total Philippines (Urban & Rural) households:
24 October 2013 (Thursday)


Morning:
Kape't Pandasal (ABS-CBN) 0.6%; TNT Tapatan Ni Tunying Replay (ABS-CBN) 0.9%; Born To Be Wild Replay (GMA-7) 1.5%

Umagang Kay Ganda (ABS-CBN) 4.2%; Unang Hirit (GMA-7) 4.1%
Kris TV (ABS-CBN) 4.9%; Dragon Ball (GMA-7) 6.6%; Mojacko! (GMA-7) 7.6%
Power Rangers RPM (ABS-CBN) 6%; One Piece (GMA-7) 8.7%
Jackie Chan Fantasia (ABS-CBN) 6.3%; Bleach (GMA-7) 6.9%; Ghost Fighter (GMA-7) 7.2%
Mr. Bean (ABS-CBN) 7.5%; Kusina Master Sikreto Ng Experto (GMA-7) 5.7%
Wish Upon A Star (ABS-CBN) 10%; Lola (GMA-7) 5.6%
Minute To Win It (ABS-CBN) 12.8%; Anak Ko 'Yan! (GMA-7) 7%
Afternoon:
Be Careful With My Heart (ABS-CBN) 19.6%; The Ryzza Mae Show (GMA-7) 10.1%
It's Showtime (ABS-CBN) 18.5%; Eat... Bulaga! (GMA-7) 12.8%
Kapamilya Blockbusters: Da Best In Da West 2 Da Western Pulis Istori (ABS-CBN) 13.4%; Mga Basang Sisiw (GMA-7) 12.8%; Magkano Ba Ang Pag-Ibig? (GMA-7) 10.3%
Galema Anak Ni Zuma (ABS-CBN) 15.1%; Pyra Babaeng Apoy (GMA-7) 8.7%
TNT Tapatan Ni Tunying (ABS-CBN) 7.7%; The Love Story of Kang Chi (ABS-CBN) 12.3%; My Daughter Seoyoung (GMA-7) 8.3%
Evening:
Annaliza (ABS-CBN) 24.7%; Prinsesa Ng Buhay Ko (GMA-7) 12.9%
TV Patrol (ABS-CBN) 28.7%; 24 Oras (GMA-7) 17.9%; Let's Ask Pilipinas (TV5) 3.6%; Madam Chairman (TV5) 3.5%
Juan Dela Cruz (ABS-CBN) 34.7%; Genesis (GMA-7) 14.3%; For Love or Money (TV5) 2.7%
Got To Believe (ABS-CBN) 29.9%; Kahit Nasaan Ka Man (GMA-7) 13.1%; Posi+ive (TV5) 3.2%
Maria Mercedes (ABS-CBN) 21%; Akin Pa Rin Ang Bukas (GMA-7) 11%; History With Lourd: Tsismis Noon, Kasaysayan Ngayon (TV5) 1.7%
Bukas Na Lang Kita Mamahalin (ABS-CBN) 13.5%; The Innocent Man (GMA-7) 7.1%; Pilipinas News (TV5) 1%
Bandila (ABS-CBN) 4.6%; Saksi: Liga Ng Katotohanan (GMA-7) 4.2%; Reaksyon Kasama Si Luchi Cruz-Valdes (TV5) 0.8%; Crime Klasik (TV5) 0.7%
Banana Nite (ABS-CBN) 1.9%; O Shopping (ABS-CBN) 0.6%; Alisto! (GMA-7) 2.4%
25 October 2013 (Friday)
Morning:
Matanglawin Replay (ABS-CBN) 0.8%; Born Impact Born To Be Wild Weekend Edition (Replay) (GMA-7) 1.3%

Umagang Kay Ganda (ABS-CBN) 4.3%; Unang Hirit (GMA-7) 3.8%

Kris TV (ABS-CBN) 5.6%; Dragon Ball (GMA-7) 7.3%; Mojacko! (GMA-7) 8.5%
Power Rangers RPM (ABS-CBN) 7%; One Piece (GMA-7) 8.8%
Jackie Chan Fantasia (ABS-CBN) 7.5%; Bleach (GMA-7) 7%; Ghost Fighter (GMA-7) 7.5%
Mr. Bean (ABS-CBN) 8.4%; Kusina Master Sikreto Ng Experto (GMA-7) 5.8%
Wish Upon A Star (ABS-CBN) 10.7%; Lola (GMA-7) 6%
Minute To Win It (ABS-CBN) 12.7%; Anak Ko 'Yan! (GMA-7) 6.1%
Afternoon:
Be Careful With My Heart (ABS-CBN) 18.6%; The Ryzza Mae Show (GMA-7) 10.2%

It's Showtime (ABS-CBN) 18.2%; Eat... Bulaga! (GMA-7) 13.3%

Kapamilya Blockbusters' Whitehouse (ABS-CBN) 13.3%; Mga Basang Sisiw (GMA-7) 12.5%; Magkano Ba Ang Pag-Ibig? (GMA-7) 9.5%

Galema: Anak Ni Zuma (ABS-CBN) 14.8%; Pyra: Babaeng Apoy (GMA-7) 8.6%

Hiwaga (ABS-CBN) 11.4%; The Love Story of Kang Chi (ABS-CBN) 14.7%; My Daughter Seoyoung (GMA-7) 8.7%
Evening:
Annaliza (ABS-CBN) 25.6%; Prinsesa Ng Buhay Ko (GMA-7) 12%

TV Patrol (ABS-CBN) 29.8%; 24 Oras (GMA-7) 16.3%; Let's Ask Pilipinas (TV5) 4.1%; Madam Chairman (TV5) 3.6%
Juan Dela Cruz (ABS-CBN) 38.3%; Genesis (GMA-7) 12.6%; 2013 PBA Governor's Cup Finals - Live (TV5) 8.8%
Got To Believe (ABS-CBN) 29.8%; Kahit Nasaan Ka Man (GMA-7) 11.7%
Maria Mercedes (ABS-CBN) 18%; Akin Pa Rin Ang Bukas (GMA-7) 9.1%
Bukas Na Lang Kita Mamahalin (ABS-CBN) 11.3%; Bandila (ABS-CBN) 4.1%; Bubble Gang (GMA-7) 6.8%; Astig: Sa Sports Walang Tsamba (TV5) 2.5%); Pilipinas News (TV5) 0.9%; Reaksyon Kasama Si Luchi Cruz-Valdes (TV5) 0.4%
Banana Nite (ABS-CBN) 1.8%; O Shopping (ABS-CBN) 0.6%; Saksi Liga Ng Katotohanan (GMA-7) 2.4%; Chef vs. Mom (TV5) 0.2%
26 October 2013 (Saturday)
Morning:
Sa Kabukiran (ABS-CBN) 0.9%; Kapwa Ko Mahal Ko (GMA-7) 1.9%