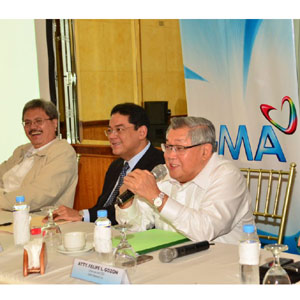 (From left) GMA Chief Financial Officer and SVP for Corporate Services Group Felipe S. Yalong, GMA President and COO Gilberto R. Duavit, Jr., GMA Chairman and CEO Atty. Felipe L. Gozon, GMPI President during the analysts and press briefing held August 2 at the GMA Network Center. The Company reported a 14 percent growth in consolidated revenues to P3.587 billion in Q2 versus Q1. Net income after taxes settled at P521 million at the end of the second quarter, and at P1.055 billion at the end of the first half.
Photo: GMA-7
PRESS STATEMENT FROM GMA-7:
"GMA Network, Inc. (GMA) showed strong momentum in the first half of 2011 as it improved regular advertising revenues and nationwide ratings—the industry players' two most important performance indicators—quarter-on-quarter.
"Given GMA's sustained nationwide dominance since the start of the year, GMA posted a 14 percent increase worth P449 million in consolidated revenues to P3.587 billion in the second quarter from the previous quarter's P3.138 billion.
"Airtime revenues across all platforms were on the uptrend due to the outstanding program performance on television and radio.
"Top performing business unit Channel 7 delivered P3.093 billion worth of revenues, 14 percent higher than the amount earned during the first quarter, while newly launched all-news channel 11 GMA News TV (GNTV) made 30 percent more revenues at P58 million.
"GMA Regional TV (RTV), on account of stronger programming and aggressive promotional efforts in the regions, recorded a 38 percent increase in its top line contribution at P46 million, while GMA Radio generated P97 million, 15 percent higher than the amount made in the January to March period.
"GMA International, which continues to widen the Network's reach overseas, made P239 million during the second quarter, four percent up from the previous quarter's P230 million—despite the appreciation of the peso versus GMA International's foreign-denominated revenues. This is due to GMA's unrelenting expansion and subscriber generation and retention efforts that won over 279,000 subscribers for flagship international channel GMA Pinoy TV (GPTV) and 121,000 subscribers for GMA Life TV (GLTV).

"The figures translate to an estimated 1.85 million viewers for GPTV and one million viewers for GLTV. The GMA International channels remained competitive with robust subscriber take-up despite the prolonged US recession and the weak demand for subscription in some parts of the Middle East and in Japan during the period. Several countries in the Middle East were rocked by political turmoil, while northeastern Japan was devastated by an earthquake and tsunami during the period.
"GMA International's linear channels continued to penetrate new markets in key Filipino-American hubs in the US, namely New Jersey, Philadelphia, Pennsylvania, Virginia, Maryland and Washington DC. They were also launched in many parts of Detroit, Hawaii and upstate New York and New England. Elsewhere, the channels were also launched by additional carriers in Australia and Papua New Guinea.
"GMA International recently started distributing its third channel, the international edition of GMA News TV (GNTV). Fresh from its launch this July, GNTV International is now airing in Japan, Australia, Guam, and Papua New Guinea and will soon expand distribution to key markets in the Middle East and North America to better serve expatriate Filipinos hungry for news from home.


"On the other hand, GMA's syndication sales and acquisition arm, GMA Worldwide, Inc. (GWI), reported P8 million worth of revenues this second quarter on strong sales in China, Nigeria, Vietnam, Malaysia, Singapore, and Cambodia.
"Along with the double digit growth in gross revenues for the second quarter, total operating expenses (OPEX) grew 16 percent as the Company set a higher programming benchmark especially for primetime productions, namely, Amaya and Captain Barbell.
"Meanwhile, general and administrative expenses (GAEX) were up by 12 percent to P1.022 billion mainly on account of higher personnel cost and extensive nationwide promotional campaigns.
"In all, the Company's net income after taxes for the second quarter is at P521 million. At the end of the semester, GMA posted P1.055 billion net.
"GMA Network Chairman and CEO Atty. Felipe L. Gozon said the Company remains focused in achieving the 2011 target and sustaining its nationwide ratings dominance. "I am confident that GMA will deliver even much better performances in both ratings and revenues in the second half of 2011. In the opening of the second semester this July, GMA increased revenues by over one third of the amount made last year and pulled further away in nationwide ratings versus ABS-CBN," he said.
"As GMA proceeds with its multi-million-peso project to upgrade its signal and facilities and increased promotional efforts in the regions, the Network registered better ratings performance relative to competitor ABS-CBN nationwide. This is according to the household data surveyed by Nielsen TV Audience Measurement—the broadcast industry's most trusted ratings service provider.
"The Nielsen TV Audience Measurement used by GMA is used by 21 companies including two other local networks, namely, TV5 and Solar Entertainment; Faulkner Media; CBN Asia; 13 advertising agencies and three regional clients. On the other hand, ABS-CBN is the only major local TV network reportedly subscribing to Kantar Media, formerly known as TNS.