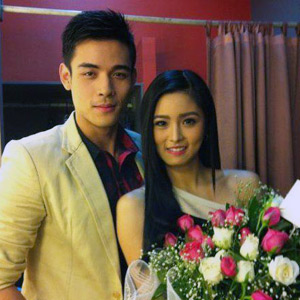 "I'm sincere sa friendship natin. I'm happy and I'm comfortable around you. Masaya kang kasama. Sobra," says Xian Lim to his leading lady Kim Chiu.
Photo: From KimIan OFFICIAL Fanpage (Kim Chiu and Xian Lim)
TV host-actress Kris Aquino recently sat down with Kim Chiu and her leading man Xian Lim to talk about growing-up pains, heartbreak, and their respective careers.
To begin their guesting at the December 9 episode of Kris TV, Kim and Xian performed a duet that elicited cheers and applause from the audience.
Growing up lonely. Kris pointed out that Kim moved around a lot while growing up.
Kim narrated: "Opo, from one city to another... five times. From Tacloban to Cebu, Cagayan de Oro to Gen San [General Santos City], tapos Mindoro, tapos Cebu ulit."
Since she moved around a lot, Kim didn't have a permanent set of friends.
Xian, on the other hand, spent most of his growing-up years in the United States where he felt like an Asian kid who didn't belong.
He admitted, "I felt like an outcast. Sa Filipino community na ito, ha. Sa Filipino community sa Daly City."
Xian moved to the U.S. with his mom at a young age.
Kris asked, 'Wala kang friends?"
The model-actor replied, "Siyempre, meron na silang barkada." He mentioned that for a time, he had to eat lunch in the little boy's room.
"Nangyari po 'yon. Since high school, meron na silang sariling cliques. May mga groups like the jocks, the basketball team on one side, mga popular girls on one side. Even the nerds had their own. I really didn't have anyone to hang out. Parang naisip ko, punta na lang ako sa banyo. There was a point in time naging ganoon."
One similarity between Kim and Xian is that they came from "broken homes." Xian's father separated from his mom when he was little; Kim's parents separated when she was nine years old.
On working with Kim Chiu. While working together on the primetime series My Binondo Girl, Kim and Xian developed close friendship.