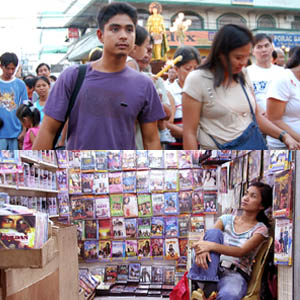 Brillante Mendoza's Serbis (top photo) is one of the 25 films in competition at the 61st Cannes Film Festival while Raya Martin's Now Showing (bottom) will be featured in Director's Fortnight category.
Photo: File photos
PARIS, FRANCE—The much awaited 61st Cannes Film Festival opens May 14 with the Philippine entry in competition, Brillante Mendoza's Serbis, screening on May 18. Yet, plane tickets, lodgings, and travel documents were still being confirmed for most until three days ago. When we left Manila a week ago, Serbis was still in post-production, having been accepted on the basis of a rough edit without any sound. It seems that the film is finally finished and on its way.
Although there has not been much worry from the Filipinos—being prone to the "bahala na" convention—the Philippine embassy here is in a flurry coordinating with the Film Development Council in Manila in support of the two films to be shown at Cannes.
Apart from Serbis, 23-year-old Raya Martin's four-hour 40-minute film, Now Showing, has also been accepted for screening at the Director's Fortnight May 22. This was where Brillante Mendoza showed Foster Child to a five-minute standing ovation last year. There are hopes that Raya will follow in Brilliante's footsteps this year.
The selection of Serbis is a momentous triumph for the Philippines, being the first since Lino Brocka's groundbreaking participation in 1980 and 1984 with Jaguar and Kapit sa Patalim.
If the Manila film community's excitement over this dual accomplishment appears limited to film buffs, students, and the media, the reaction here in Paris has filtered down from the embassy officials to the paperless domestic awaiting legalization and wondering wrongly if Piolo Pascual would be among those going to Cannes.
The embassy headed by Ambassador Jose Zaide and consuls Rose Prospero and Angela Ponce have coordinated smoothly with the FDCP headed by Jackie Atienza with Christine Dayrit coming over to oversee happenings in Cannes.
"We provide logistical support by tapping host Filipino families in Cannes to house the Filipino contingent," says consul Angela Ponce.
Other countries have booked their lodgings way in advance in areas near the Croisette where the films will be shown. The Filipino contingent is large due to the dual participation. Expected to be in Cannes by May 17 are the parties of Serbis, composed of co-producer Ferdie Lapuz, director Mendoza, and the cast of Gina Pareño, Jaclyn Jose, Dan Alvaro, Julio Diaz, and Coco Martin, and possibly the multi-awarded screenwriter Bing Lao.
Angelo Ponce also expects a large retinue from Raya Martin's group, with line producer Arleen Cuevas, and Raya's family on hand to provide support to this first-timer at Cannes.
Serbis, among 25 films in competition, is the story of a family in Angeles, Pampanga, operating a run-down movie house that fronts as a provider for sexual favors.
Mendoza's Serbis will be competing against Atom Egoyan's Adoration, Fernando Meirelles's Blindness, Steven Soderbergh's Che, Wim Wenders's Palermo Shooting, Charlie Kaufman's Synedoche, New York, Clint Eastwood's The Exchange, among others.
Now Showing, among 25 selected for the Director's Fortnight, follows the life of a young girl selling pirated DVSs in Manila. Both films have brought back the interest in Filipino films that almost died along with Brocka in 1991.
It is providential that director Mendoza's Foster Child was recently screened mainstream in Paris. Among those who watched the film was Maria Maganon from the UNESCO Paris. Maganon observes that the film caused quite a stir among the Parisiens for its subject matter of the Filipino poor providing care to abandoned children.
On the heels of the Cannes participation will be the Paris Cinema Focus on the Philippines on July 1-13 with some 30-40 films of various genres to be screened. Among them will be documentaries, short films, and features. But to a large extent, says Consul Ponce, the focus will be on indie films.
It does appear that the Philippine flag is once again poised to fly proudly in the international cinema scene, especially here in Paris. Much of this can be attributed to the aggressive independent movement in the country, which has revived a movie industry has long been mourned as dead.