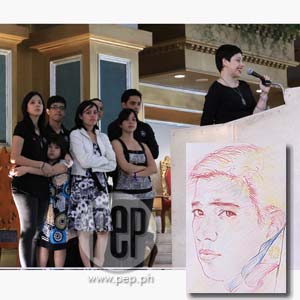 "On the second time [of remission], I told him, 'You know Frans, it's really okay if you have to go, you can go with a light heart because you have achieved so much,'" related Pia Arroyo about her last goodbye to husband Francis Magalona.
Photo: Noel Orsal and Melo Balingit (inset)
After his colleagues and friends recalled their fondest memory of the late Francis Magalona, the Master Rapper's immediate family also shared their happy moments with him during the Eulogy held last March 10, at Christ the King Memorial Chapel in Greenmeadows, Quezon City.
Francis's sister, Pie Magalona, also presented a posthumous "Best Brother" award to the Master Rapper in her Eulogy.
Francis's sister, who is based in Los Angeles, recalled the moment when they found out about their brother's condition. "I remember telling myself over and over again, 'You cannot break down. You have to be strong. You have to be positive for Francis's sake.' As it turned out, I didn't have to be. Francis himself was strong," she narrated.
She also mentioned how courageous her brother was in facing what he called "the happy battle."
"My first conversation with him, I remember I mumbled something like, 'Frans, hang in there, this is a glitch in your system, take care of it and move forward.' He responded to me, 'Sis, these are the cards I was dealt and I will play it. I'm not ready to give up my microphone just yet.' That's just like Francis."
Despite the loss, Pie is positive about the path that Francis would be taking in the afterlife. "If you all have heard about Disneyland, then you know that it's oftentimes called 'the happiest place on earth.' The good news is it's no longer the happiest place on earth. Heaven is the happiest place on earth because my brother's there," said Pie.
Meanwhile, Pia Arroyo related to the people who attended the last night of her husband's wake that Francis was peaceful about his passing.
"He just accepted it and I know for a fact that he said, he always said when he prays to God that: 'Dear God I pray to you to heal me, for me to be able to spend more time with my family, though it's for my family I would like to stay longer. But then again, whatever is your will, I will accept it, I accept it wholeheartedly," she said.
Later on, she described Francis as someone every Filipino could be proud of. "He just wanted to do what makes him happy and in such a way he has given us so much and I'm very proud of him, very proud of his very existence—his being a poet, his being an artist, and his being a Filipino."
At the end of her Eulogy, Pia expressed her appreciation to everyone who has supported her in this "happy battle."
She said, "I'd like to thank everyone who's been there all this time, during his illness. He chose to be brave about it that's why it always seemed that it's going to get better. Although the AML (acute myelogenous leukemia), the type that he has, was really the worst and just for seven months that his life was extended, I think that is it, that is all the rest to it. And I'm really glad for the time given, the time given by God to us to share him in our life."
"GOODBYE, POP." Francis's kids were also given their moment to say their farewell to their "tatay."
His stepchildren Unna and Nicolo thanked the Master Rapper for treating them like his own kids.
In her Eulogy for her Papa, eldest daughter Unna said, "You took us in and treated us like any of the other kids, so thank you very much for that. Thank you for loving us and thank you for being an inspiration to everybody."