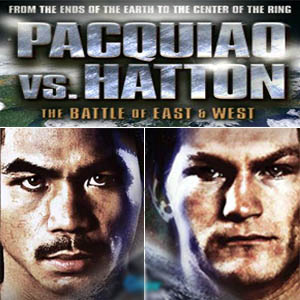 The entire Philippines watched in astonishment as our boxing hero Manny "Pacman" Pacquiao demolished Britain's Ricky "Hitman" Hatton during their quick match yesterday, May 3. The said match, shown in GMA-7 from 1:45 p.m. to 3:30 p.m., posted an amazing 56.7 percent! The whole telecast, including the undercard matches, averaged a whopping 43 percent.
Completing the Top 5 in the daytime race were Dear Friend: Igorota (15.8 percent), Showbiz Central (15.1 percent), and the rerun of One More Chance (14 percent).
Kap's Amazing Stories topped the daytime race with 29.1 percent; followed by My Dad Is Better Than Your Dad (26.3 percent), Mel & Joey (22.7 percent), Rated K ( 20.5 percent), and TV Patrol (17.1 percent).
Eat Bulaga! and Kapuso Mo, Jessica Soho ruled the ratings game last Saturday, May 2.
Zorro and Totoy Bato are still in a tight race for the weeknights primetime supremacy, while Dapat Ka Bang Mahalin? achieved greater heights when it posted its highest rating so far, 32.4 percent, last Thursday, April 30.
Ang Babaeng Hinugot Sa Aking Tadyang, starring Dingdong Dantes and Marian Rivera, ended last Friday, May 1, on a high note. It placed second overall, behind Totoy Bato, with 32 percent.
Here are the comparative TV ratings of ABS-CBN, TV5, and GMA-7 programs from April 28 to May 3, based on the overnight ratings of AGB Nielsen Philippines among Mega Manila households:
April 28, Tuesday
Non-Primetime:
Unang Hirit (GMA-7) 4.5%; Umagang Kay Ganda (ABS-CBN) 3.9%; Pingu (TV5) 1.6%; Barney & Friends (TV5) 2.2%; Thomas & Friends (TV5) 3.8%; Dora The Explorer (TV5) 4.4%; Wonder Pets (TV5) 5.6%
Gadget Boy (GMA-7) 6.4%; Lastikman (ABS-CBN) 5.2%; Mr. Bean (ABS-CBN) 8.9%; Spongebob Squarepants (TV5) 9.1%
Battle B-Daman Fire Spirits (GMA-7) 6.4%; Reborn (ABS-CBN) 6.5%; Catdog (TV5) 5.2%
Pokemon: Master Quest (GMA-7) 11.4%; Naruto (ABS-CBN) 7.3%; Danny Phantom (TV5) 3.3%
Slamdunk (GMA-7) 16.4%; The Adventures of Jimmy Neutron (TV5) 4.7%
SiS (GMA-7) 10%; Ruffa and Ai (ABS-CBN) 4.4%; Bratz (TV5) 5.3%; The Adventures of Bubble Carp (TV5) 4.9%
Lalola (GMA-7) 9.9%; Pilipinas, Game KNB? (ABS-CBN) 11.1%; Juicy (TV5) 1.6%
Eat Bulaga! (GMA-7) 23.8%; Wowowee (ABS-CBN) 17.2%; Video Zonkers (TV5) 1.3%; Barney & Friends (TV5) 1.5%; Thomas & Friends (TV5) 1.8%
Daisy Siete (GMA-7) 19.9%; Kambal Sa Uma (ABS-CBN) 15.3%; Play With Me Sesame (TV5) 1.4%; Elmo's World (TV5) 1.9%; Global Grover (TV5) 1.5%
Paano Ba ang Mangarap? (GMA-7) 24%; Pieta (ABS-CBN) 9.3%; Postman Pat (TV5) 1.8%; Bob the Builder (TV5) 2.3%
Dapat Ka Bang Mahalin? (GMA-7) 29.8%; La Traicion (ABS-CBN) 7%; Ranma ½ (TV5) 3%
Chil Princesses (GMA-7) 12.3%; Kiba (ABS-CBN) 4.6%; Mr. Bean Live (ABS-CBN) 7.6%; The Adventures of Jimmy Neutron (TV5) 5.5%; Spongebob Squarepants (TV5) 8.2%
Gokusen 3 (GMA-7) 13.7%; Hot Shot (ABS-CBN) 11%; Avatar: The Legend of Aang (TV5) 4.9%
Primetime:
Hole In The Wall (GMA-7) 25.6%; Pinoy Bingo Night (ABS-CBN) 11.1%; Masked Rider Hibiki (TV5) 1.8%
24 Oras (GMA-7) 28.3%; TV Patrol World (ABS-CBN) 25.3%; Lovely Detective Labyrinth (TV5) 1.9%; Hero Tales Destiny (TV5) 2.8%
Zorro (GMA-7) 31.45%; May Bukas Pa (ABS-CBN) 26.8%; Witchblade (TV5) 3.6%; Baikingu (TV5) 3.3%
Totoy Bato (GMA-7) 32.2%; Only You (ABS-CBN) 27%; Kiddie Kwela (TV5) 4.7%
Ang Babaeng Hinugot Sa Aking Tadyang (GMA-7) 28.1%; Tayong Dalawa (ABS-CBN) 27.2%; 5 Max Movies: Timeline (TV5) 5.5%; All About Eve (GMA-7) 26.3%
Fated To Love You (GMA-7) 25.9%; SNN: Showbiz News Ngayon (ABS-CBN) 18%
Outrageous and Courageous (GMA-7) 15.5%; Bandila (ABS-CBN) 11.3%; TEN: The Evening News (TV5) 1.7%
Saksi (GMA-7) 7.6%; The Correspondents (ABS-CBN) 6.4%; Juicy (TV5) 1.1%
Reporters Notebook (GMA-7) 5.6%; Games Uplate (ABS-CBN) 1.9%; Rescue Mission (TV5) 0.6%; Shall We Dance? (TV5) 1%
April 29, Wednesday
Non-Primetime:
Unang Hirit (GMA-7) 5.5%; Umagang Kay Ganda (ABS-CBN) 5.1%; Pingu (TV5) 0.8%; Barney & Friends (TV5) 2.8%; Thomas & Friends (TV5) 4.4%; Dora The Explorer (TV5) 5.1%; Wonder Pets (TV5) 7.7%
Gadget Boy (GMA-7) 5.4%; Lastikman (ABS-CBN) 6.2%; Spongebob Squarepants (TV5) 9.6%
Battle B-Daman Fire Spirits (GMA-7) 6.8%; Mr. Bean (ABS-CBN) 8.9%; Reborn (ABS-CBN) 7.2%; Catdog (TV5) 4.6%
Pokemon: Master Quest (GMA-7) 11%; Naruto (ABS-CBN) 7.1%; Danny Phantom (TV5) 3.7%
Slamdunk (GMA-7) 14.6%; The Adventures of Jimmy Neutron (TV5) 4.2%
SiS (GMA-7) 10%; Ruffa and Ai (ABS-CBN) 5.1%; Bratz (TV5) 4.1%
Lalola (GMA-7) 11.8%; Pilipinas, Game KNB? (ABS-CBN) 11.9%; The Adventures of Bubble Carp (TV5) 5.9%; Juicy (TV5) 1%
Eat Bulaga! (GMA-7) 20.9%; Wowowee (ABS-CBN) 20.1%; Video Zonkers (TV5) 1.9%; Barney & Friends (TV5) 1.5%; Thomas & Friends (TV5) 2.1%; Play With Me Sesame (TV5) 2.4%
Daisy Siete (GMA-7) 18.6%; Kambal Sa Uma (ABS-CBN) 14.9%; Elmo's World (TV5) 2.5%; Global Grover (TV5) 2.4%
Paano Ba ang Mangarap? (GMA-7) 24%; Pieta (ABS-CBN) 10.7%; Postman Pat (TV5) 1.6%; Bob the Builder (TV5) 3.4%
Dapat Ka Bang Mahalin? (GMA-7) 29.1%; La Traicion (ABS-CBN) 8.2%; Ranma ½ (TV5) 4.5%
Chil Princesses (GMA-7) 12.1%; Kiba (ABS-CBN) 6.6%; Mr. Bean Live (ABS-CBN) 10.9%; The Adventures of Jimmy Neutron (TV5) 6.1%
Gokusen 3 (GMA-7) 13.8%; Hot Shot (ABS-CBN) 12.6%; Spongebob Squarepants (TV5) 7.6%; Avatar: The Legend of Aang (TV5) 4.4%
Primetime:
Hole In The Wall (GMA-7) 26.8%; Pinoy Bingo Night (ABS-CBN) 10.8%; Masked Rider Hibiki (TV5) 1.6%
24 Oras (GMA-7) 30.3%; TV Patrol World (ABS-CBN) 24%; Lovely Detective Labyrinth (TV5) 1.7%; Hero Tales Destiny (TV5) 2.5%
Zorro (GMA-7) 31.6%; May Bukas Pa (ABS-CBN) 25.5%; Witchblade (TV5) 2.2%; Shock Attack (TV5) 3.9%
Totoy Bato (GMA-7) 30.4%; Only You (ABS-CBN) 25%; Ogags (TV5) 5.6%
Ang Babaeng Hinugot Sa Aking Tadyang (GMA-7) 26.4%; Tayong Dalawa (ABS-CBN) 27.4%; 5 Max Movies: Pet Sematary 2 (TV5) 6.1%
All About Eve (GMA-7) 24.7%; Fated To Love You (GMA-7) 22.7%; SNN: Showbiz News Ngayon (ABS-CBN) 21.4%
Wow Hayop (GMA-7) 16.4%; Bandila (ABS-CBN) 9.2%; TEN: The Evening News (TV5) 1%
Saksi (GMA-7) 8.4%; Probe (ABS-CBN) 4.6%; Juicy (TV5) 0.7%
Born To Be Wild (GMA-7) 5.2%; Games Uplate (ABS-CBN) 1.1%; Rescue Mission (TV5) 0.3%; Midnight DJ (TV5) 0.2%
April 30, Thursday
Non-Primetime:
Unang Hirit (GMA-7) 7.2%; Umagang Kay Ganda (ABS-CBN) 4.8%; Bob The Builder (TV5) 0.8%; Barney & Friends (TV5) 2.1%; Thomas & Friends (TV5) 3.3%; Go Diego Go (TV5) 5.7%; Blue's Clues (TV5) 5.9%
Gadget Boy (GMA-7) 6.5%; Lastikman (ABS-CBN) 6.7%; Mr. Bean (ABS-CBN) 9.2%; Spongebob Squarepants (TV5) 9.6%
Battle B-Daman Fire Spirits (GMA-7) 7.9%; Reborn (ABS-CBN) 6.9%; Catdog (TV5) 7%
Pokemon: Master Quest (GMA-7) 13.8%; Naruto (ABS-CBN) 8.2%; Danny Phantom (TV5) 5.3%
Slamdunk (GMA-7) 15.6%; The Adventures of Jimmy Neutron (TV5) 5.6%
SiS (GMA-7) 11.4%; Ruffa and Ai (ABS-CBN) 6.8%; Bratz (TV5) 6%
Lalola (GMA-7) 14%; Pilipinas, Game KNB? (ABS-CBN) 12.4%; The Adventures of Bubble Carp (TV5) 6.8%; Juicy (TV5) 1.6%
Eat Bulaga! (GMA-7) 24%; Wowowee (ABS-CBN) 22.3%; Video Zonkers (TV5) 2.2%; Barney & Friends (TV5) 2.4%; Thomas & Friends (TV5) 3.1%
Daisy Siete (GMA-7) 21%; Paano Ba ang Mangarap? (GMA-7) 25.9%; Kambal Sa Uma (ABS-CBN) 16.6%; Play With Me Sesame (TV5) 3.6%; Elmo's World (TV5) 3.4%; Global Grover (TV5) 3.2%; Postman Pat (TV5) 3.9%
Dapat Ka Bang Mahalin? (GMA-7) 32.4%; Pieta (ABS-CBN) 12.6%; La Traicion (ABS-CBN) 8.1%; Bob The Builder (TV5) 3.4%; Ranma 1/2 (TV5) 4.7%
Chil Princesses (GMA-7) 14.5%; Kiba (ABS-CBN) 5.6%; Mr. Bean Live (ABS-CBN) 9%; The Adventures of Jimmy Neutron (TV5) 3.5%
Gokusen 3 (GMA-7) 12.7%; Hot Shot (ABS-CBN) 10.7%; Spongebob Squarepants (TV5) 7.7%; Avatar: The Legend of Aang (TV5) 7.8%
Primetime:
Hole In The Wall (GMA-7) 21.9%; Pinoy Bingo Night (ABS-CBN) 10.9%; Masked Rider Hibiki (TV5) 3.5%
24 Oras (GMA-7) 31%; TV Patrol World (ABS-CBN) 23.4%; Lovely Detective Labyrinth (TV5) 1.3%; Hero Tales Destiniy Warrior (TV5) 1.8%; Witchblade (TV5) 2.6%
Zorro (GMA-7) 34.5%; May Bukas Pa (ABS-CBN) 25.9%; Everybody Hapi (TV5) 4.8%
Totoy Bato (GMA-7) 32.6%; Only You (ABS-CBN) 27.7%; Ang Babaeng Hinugot Sa Aking Tadyang (GMA-7) 29.5%; 5 Max Movies: The Pledge (TV5) 3.2%
All About Eve (GMA-7) 27%; Tayong Dalawa (ABS-CBN) 31.3%
Fated To Love You (GMA-7) 27.6%; SNN: Showbiz News Ngayon (ABS-CBN) 21.9%
SRO Cinemaserye Presents Ganti (GMA-7) 16.8%; Bandila (ABS-CBN) 15%; TEN: The Evening News (TV5) 1%
I Survived (ABS-CBN) 9.7%; Juicy (TV5) 0.5%
Saksi (GMA-7) 8.9%; Games Uplate Live (ABS-CBN) 1.2%; Rescue Mission (TV5) 1.2%
Case Unclosed (GMA-7) 5.1%; Talentadong Pinoy (TV5) 1.1%
May 1, Friday
Non-Primetime:
Unang Hirit (GMA-7) 6.1%; Umagang Kay Ganda (ABS-CBN) 3.9%; Bob The Builder (TV5) 0.4%; Barney & Friends (TV5) 1.4%; Thomas & Friends (TV5) 2.3%; Go Diego Go (TV5) 3.3%; Blue's Clues (TV5) 4%
Gadget Boy (GMA-7) 8%; Lastikman (ABS-CBN) 5.9%; Spongebob Squarepants (TV5) 7.8%
Battle B-Daman Fire Spirits (GMA-7) 9%; Mr. Bean (ABS-CBN) 8.1%; Catdog (TV5) 5.2%
Pokemon: Master Quest (GMA-7) 13.3%; Reborn (ABS-CBN) 7.1%; Danny Phantom (TV5) 3.6%
Slamdunk (GMA-7) 16.2%; Naruto (ABS-CBN) 5.6%
SiS (GMA-7) 10.5%; Ruffa and Ai (ABS-CBN) 3.8%; The Adventures of Jimmy Neutron (TV5) 4.2%; Makibaoh (TV5) 4.3%
Lalola (GMA-7) 12.6%; Pilipinas, Game KNB? (ABS-CBN) 10.6%; The Adventures of Bubble Carp (TV5) 5%; Juicy (TV5) 2%
Eat Bulaga! (GMA-7) 22.7%; Wowowee (ABS-CBN) 18.4%; Video Zonkers (TV5) 2.9%; Barney & Friends (TV5) 2.1%; Thomas & Friends (TV5) 2.4%
Daisy Siete (GMA-7) 19.4%; Play With Me Sesame (TV5) 1.8%; Elmo's World (TV5) 2.2%; Global Grover (TV5) 2.3%
Paano Ba ang Mangarap? (GMA-7) 23.4%; Kambal Sa Uma (ABS-CBN) 14.2%; Pieta (ABS-CBN) 12.7%; Postman Pat (TV5) 2.5%; Bob The Builder (TV5) 2.1%
Dapat Ka Bang Mahalin? (GMA-7) 27.3%; La Traicion (ABS-CBN) 8.6%; Ranma 1/2 (TV5) 2,6%
Chil Princesses (GMA-7) 11.9%; Kiba (ABS-CBN) 6.1%; The Adventures of Jimmy Neutron (TV5) 5.3%
Gokusen 3 (GMA-7) 12.4%; Mr. Bean Live (ABS-CBN) 7.7%; Hot Shot (ABS-CBN) 9.6%; Spongebob Squarepants (TV5) 7.1%; Avatar: The Legend of Aang (TV5) 3.5%