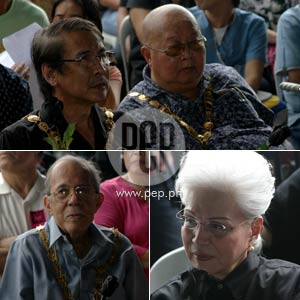 National Artists led by director Eddie Romero (lower left frame), theater designer Salvador Bernal and novelist F. Sionil Jose hold a black rose as a sign of protest to the recent awarding of National Artist that bypassed fellow peers in other fields. Armida Siguion-Reyna was also one of the personalities who joined the protest rally held today, August 7, at the CCP ramp.
Photo: Paul Mata
Artists from different fields gathered this afternoon, August 7, at the Cultural Center of the Philippines (CCP) to protest the selection of Carlo J. Caparas (Film and Visual Arts) and Cecile Guidote-Alvarez (Theater) as National Artists.
The indignation rally for the "death" of the National Artist awards started at around 3:30 p.m. today with a program of speeches by key personalities.
National Artist for Visual Arts Ben Cabrera, National Artist for Literature Bienvenido Lumbera, National Artist for Theater Design Salvador Bernal, National Artist for Literature Virgilio Almario, and National Artist for Film Eddie Romero held black roses as signs of protest. Virgilio Almario is also known by his nom de plume, Rio Alma.
Other National Artists present included sculptor Napoleon Abueva, author F. Sionil Jose, and painter Arturo Luz.
The advocacy group Concerned Artists of the Philippines was led by Carlos Siguion-Reyna. He was joined by his wife Bibeth Orteza. Theater actress Isay Alvarez, singer Bituin Escalante, and actor-director Bart Guingona also made it a point to attend the protest rally.
Congresswoman Imee Marcos, an ardent supporter of films and the arts, also showed her concern over the issue.
Celebrities Eugene Domingo, Ces Quesada, and Iliac Diaz were spotted at the CCP ramp this afternoon. Film directors Joey Reyes, Joel Lamangan, Jim Paredes, and Mark Meily were also there to show their protest over the alleged manipulation of President Gloria Macapagal-Arroyo regarding the persons named as National Artists this 2009.
Aside from adding the names of Cecile Guidote-Alvarez and Carlo J. Caparas, the incumbent president also named as National Artists Manuel Urbano a.k.a Manuel Conde (Film and Broadcast); Lazaro Francisco (Literature); Federico Aguilar Alcuaz (Visual Arts, Painting, Sculpture and Mixed Media); Francisco Manosa (Architecture); and Jose "Pitoy" Moreno (Fashion Design).
"NECROLOGICAL SERVICE." The symbolic necrological service started with a wreath processional of women carrying the logo representing Philippine arts. They also carried a black wreath signifying the demise of National Artists award.
Bituin Escalante led the singing of the National Anthem.
National Artist for Theatre Salvador Bernal spoke of the importance of the gathering. "We should recognize the gifts of our fellow peers," he said.
Performances were presented by the ethnic music group Kontra Gapi and cellist Renato Lucas.
An actress, who dubbed herself as "Juana Change," entertained the crowd with her performance called "National Artist na Ako! Have Mercy on Us." Her social commentary elicited roars of laughter from the crowd, countering the heavy mood of the protest action.
Akbayan party-list representative Risa Hontiveros-Baraquel then presented House Resolution 1305 that seeks to investigate the selection of the National Artists. The said resolution has been forwarded to the Basic Education Committee at the House of Representatives.
The National Artists present, as a final sign of protest, locked their medals in a box.