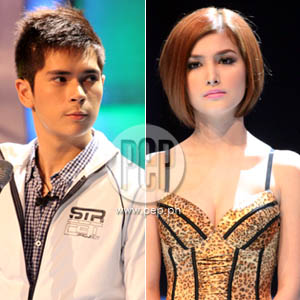 Piero Vergara (left) and Princess Snell got the boot in the double elimination of StarStruck V last Sunday, January 10. With their exit, only eight survivors remain—four boys and four girls—in the competition.
CLICK HERE for more photos.
Photo: Noel Orsal
Both Princess and Piero are still optimistic about their future in showbiz.
"I want to be able to show my potentials and push them to the limit," Piero said. He is also looking forward to going back to school while pursuing his dreams at the same time.
Princess is looking into improving her singing skills, and wants to follow in the footsteps of Marian Rivera.
PERCEPTION MATTERS. The StarStruck Council agreed that this is not the end of the road for Princess and Piero.
"They already have one foot in the door," commented Iza.
Lolit revealed that at this moment in the competition, the boys are taking the upper hand. "Kung puwede, dalawang lalake ang mananalo," she said.
But Floy observed, "The women are hungrier for it. The claws are coming out at this point the game."
The unanimous opinion of the judges was that the elimination of Princess and Piero was the audience's choice, more than anything else.
"Perception has a lot to do with it, and in this business, perception is everything," divulged Floy. "Kahit anong pagma-mask ng PR 'yan, how they are off camera and how people around them perceive them will be how the audience perceives them."
The Council revealed that as powerful as the audience perception is in the competition, it could easily be swayed at the drop of a hat, considering the many twists, turns and "Factors" present in the game.
"There have been cases when we like a person, then they will soon fade" said Iza.
"It may be a defeat but who knows, your time will come," Floy offered.
All the instances make for an exciting competition that audiences should not miss.
CLICK HERE for more photos.