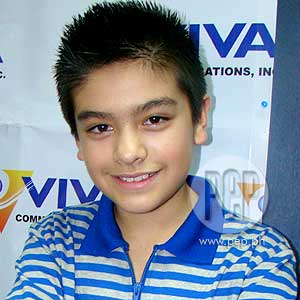 "I'd been eating a lot of Filipino food in England, so when I come over here, I'm not like scared to eat Filipino food," said 12-year-old Charlie Green about his favorite Filipino dishes. The half-British, half-Filipino singer is a former Britain's Got Talent contestant who recently signed a managerial and recording contract with Viva Entertainment.
Photo: Nerisa Almo
Charlie said that visiting the Philippines was one of the big changes that happened to him after Britain's Got Talent.
He recalled, "I think Sharon Cuneta saw me on her iPod and she showed it to Mr. Gabby Lopez [chairman of ABS-CBN]. She said, 'You have to bring him over here.' So, it just started from that and I had guesting on ASAP. I suppose coming to the Philippines is a little bit changing, [also] doing a CD with Viva and working with Christian de Walden."
As part of his plan to adapt to Pinoy culture, Charlie said he recently started to learn Tagalog.
"I'm learning from like a CD and I have headphones," he said. "So I really just started, 'cause you start up with like first word, a new language. Like a baby when you learn your first word. I start up like that. I really just started a couple of weeks ago so I started with the basics."
He also pointed out, "I wanna learn more Tagalog first 'cause I think it's more important in my career here."
PINOY LIFESTYLE. Aside from the chicken adobo, monggo beans, and pancit that his mom prepares for them in England, Charlie also likes the "relaxed lifestyle" of Filipinos.
It seems that the young British singer has already learned what's commonly known as "Filipino time."
"The people, [they have] more relaxed lifestyle," he said. "In England, I'm more used to be more like on time. In the Philippines, they say, 'Be there at 3:00, you'll meet them at 4:00. So, it's more relaxed. So, it suits me when I'm over here, which is quite nice."
Charlie is also happy about his guest appearances on local TV shows, which, according to him, was quite hard in England.
"In fact, I'm doing a lot of TV stuff over here. In England, it's quite hard to get into TV, while I have ASAP every week here on a Sunday. In England, it's very rare to see a star on TV. In the Philippines, I like the fact that all the stars are always on TV and the people get to see them all the time. In England, we don't get that."
Charlie will be performing again on ASAP XV this Sunday, February 7. He will also have a series of concerts to promote his upcoming album under Viva Records. The venues of his shows are the following: Eastwood City, Quezon City on February 10; McKinley Hill, Taguig City on February 12; and Glorietta Mall on February 26.
(CLICK HERE to watch video clip of Charlie's interview)