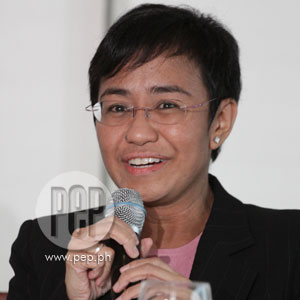 Maria Ressa explained why they have decided to drop the word 'World' in TV Patrol's title.
"Wala namang gumagamit ng 'World' e," she said. "TV Patrol pa rin 'yan kapag pinag-uusapan."
Photo: Noel B. Orsal
Last June 28, the ABS-CBN News and Current Affairs Department held a press conference at the network building's 14th floor to introduce the new formats of top news programs TV Patrol and Bandila, both of which will be launched tonight, June 30.
Department Head Maria Ressa, who entered ABS-CBN in 2005 after heading the Jakarta bureau of CNN International, was all too happy to answer questions from the press.
Also in the panel were news anchors Henry Omaga-Diaz, Alex Santos, Bernadette Sembrano, Julius Babao, and Karen Davila. Supporting them were Cheryl Favila, who handles all of the news production for ABS-CBN newscasts, and Anna Rodriguez, who heads the team's Multi-Platform Strategy, Program Development, and Customer Satisfaction department.
(Anchors who did not make it to the press conference were Ces Drilon, who was on an assignment, and Ted Failon, who had to attend to a "family affair.")
Ressa set things in order by enumerating the changes that viewers will see in TV Patrol and Bandila. Both will now aim to provide more in-depth news stories, empower citizens, and use state-of-the art technologies.
News analysis, for instance, will be added to TV Patrol, shown daily on early primetime. Ressa said they would tap the expertise of their senior reporter Lynda Jumilla for the analysis.
The news programs will also try to strengthen citizen journalism through "Bayan Mo, i-Patrol Mo."
"Everyone talks about change. Everyone complains about how horrible things [are] and how they want it to be better... Bayan Mo I-Patrol Mo gives you the ability to do that," Ressa said.
A spin-off from the elections gimmick "Boto Mo, i-Patrol Mo," the new segment will ask citizens to be involved in finding solutions to the problems in their own communities. It will be reported by Sol Aragones.
"Bayan Mo, i-Patrol Mo" will also strengthen ABS-CBN's connection to its viewers.
"I guess one of the changes that we can tell you is, hindi lang 'to kami. Kayo 'to. That's the global trend and you are helping us," Ressa said.
Complimenting all these changes is updated technology—the use of augmented reality, touch screens, and other advanced systems will be implemented in both TV Patrol and Bandila starting tonight, June 30.
NOT BIASED. The press did not pass the chance to ask Maria Ressa about the current issues thrown against her news team.
Among them is the accusation of bias, and the rumor that ABS-CBN will be the "official station" of incoming President Noynoy Aquino.
Ressa replied, "People have said we're biased, and I always answer back, 'Bias is in the eyes of the beholder.' An independent monitoring group, the Center for Media Freedom and Responsibility, analyzed all of the news programs of GMA-7 and ABS-CBN during elections and they came out with a study that showed that ABS-CBN had no bias in their coverage."